This post contains affiliate links for which I may earn a commission (at no extra cost to you) should you make a purchase. As an Amazon Associate I earn from qualifying purchases. Please see my disclaimer for more information.
Guacamole is a delicious Mexican dip made from avocados, and if you're vegan you can definitely have some!
There are some ingredients to look out for, so keep reading to learn more.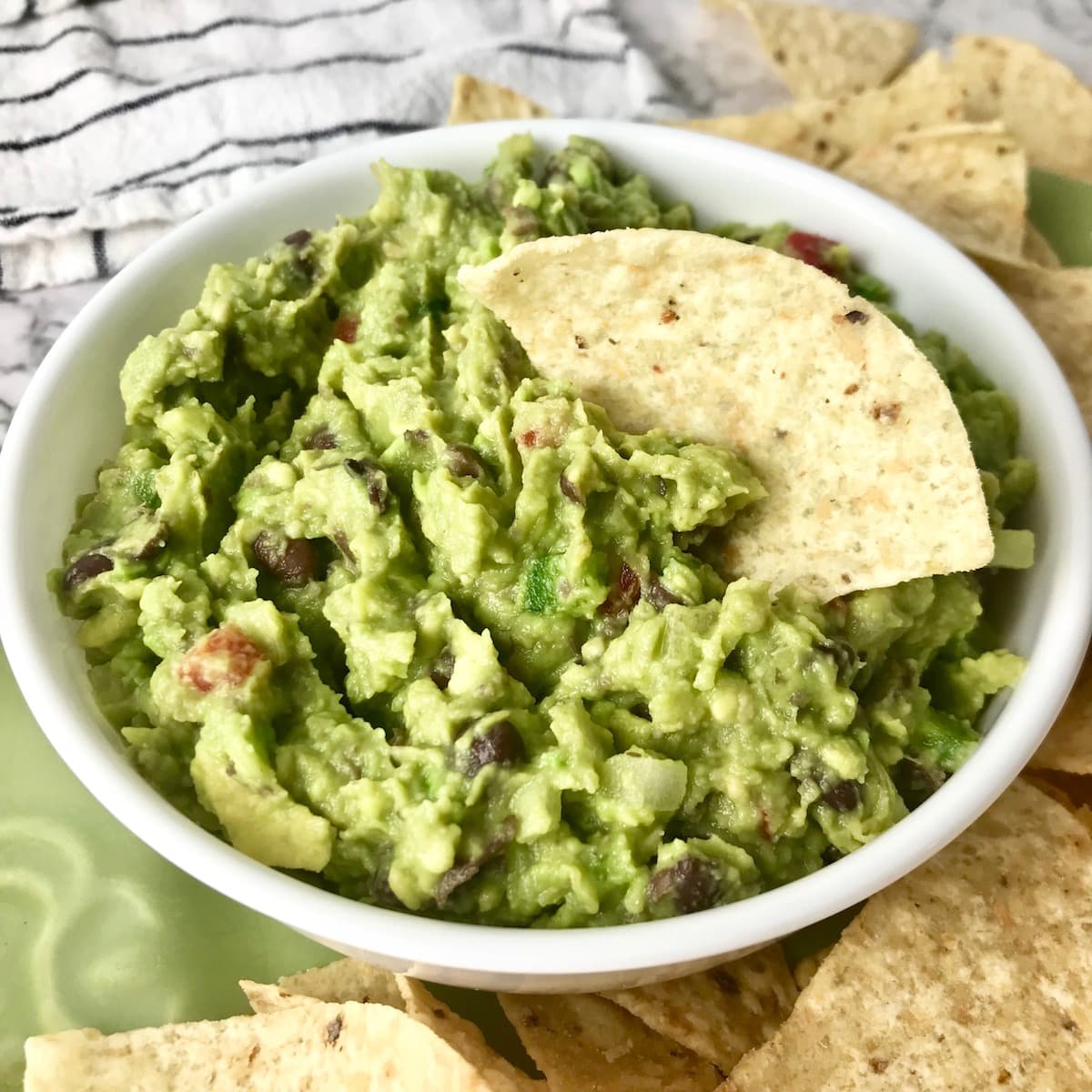 Ingredients in guacamole
Below are some of the most common, basic ingredients in classic guacamole:
Avocado
Onion
Tomato
Jalapeno peppers
Lime juice
Garlic
Salt
Cilantro
Other vegan ingredients that may be added to some guacamoles:
Corn
Peppers (bell peppers, jalapeno peppers, and/or others)
Black pepper
Beans
Herbs and spices
Non-vegan ingredients
Below are some potentially non-vegan ingredients that may be added to guacamole.
Sugar
Many guacamoles do not contain added sugar, but I have found some store-bought guacamoles that do contain sugar. Sometimes cane sugar is filtered through bone char, which is charred animals bones.
Some vegans are okay with this filtration process as the sugar does not actually contain animal bones. However, some vegans avoid all sugar that is not confirmed to be vegan.
You can reach out to companies and ask restaurants if the sugar they use in their guacamole is filtered through bone char. If this is something you are concerned with, it's easiest to stick to guacamole that does not contain any added sugar.
Dairy
It is quite rare for store-bought guacamole to contain dairy because the avocado provides plenty of creaminess. Dairy really isn't necessary for guacamole and it isn't one of the traditional ingredients, but you will find it in some guacamole products and recipes, so always check ingredients!
For example, Simply Organic makes guacamole dip mixes that you just mix with avocados, but one of them contains milk ingredients.
Packaged guacamole should have any dairy ingredients listed on the ingredients label and there will also likely be a statement that says the product contains milk ingredients.
If you want guacamole at a restaurant, ask if it contains dairy!
Vinegar
Vinegar is a tricky ingredient because it doesn't contain any animal ingredients and it is usually completely vegan, but sometimes certain vinegars are fined through isinglass, which is derived from the swim bladders of fish. This is more of a concern with wine vinegars.
If you are concerned with how vinegar may be processed, reach out to companies to ask about the vinegar they use, or just choose guacamole that doesn't contain vinegar.
Natural flavors
Natural flavors can be made from animal ingredients or plant-based ingredients. The only way to find out the source of natural flavors is to ask the company, but many companies don't disclose the source of their natural flavors anyway.
So if a product contains natural flavors and isn't labeled as vegan, it is easiest to avoid it. But most store-bought guacamole I have found does not have natural flavors as an ingredient, so this isn't a big issue for guacamole.
Vegan store-bought guacamole brands
In the list below, I have not added any guacamole that contains sugar unless the product is certified vegan. This eliminates the question of whether or not the sugar used was filtered through bone char.
Good Foods
Chunky Traditional Guacamole
Spicy Chunky Guacamole
Sabra
Classic Guacamole
Classic Guacamole with Lime
365 by Whole Foods Market
Traditional Guacamole
Spicy Guacamole
Casa Sanchez
Trader Joe's
Organic Chunky Homestyle Guacamole
Simple Truth
Traditional Guacamole
Spicy Guacamole
Everything Bagel Seasoning Mashed Avocado Single Serve On-The-Go-Packs
Herdez
Traditional Guacamole (Mild)
Traditional Guacamole (Spicy)
What about restaurant guacamole?
If you want to know if guacamole served at a restaurant is vegan, you will need to ask the restaurant to be sure. Some people working at restaurants may not be aware of all potential non-vegan ingredients in guacamole, so it's best to ask specific questions.
Ask about the ingredients listed above, such as dairy, as well as sugar and vinegar filtration if that is a concern for you.
Vegan guacamole recipe
There are a bunch of guacamole recipes online, and a lot of them are vegan. Just check for the ingredients listed above.
If you want to make a guacamole that contains sugar or vinegar, just buy these products from companies that don't filter them through non-vegan ingredients. Or if you aren't concerned with that, just don't worry about it!
My favorite guacamole recipe is this black bean guacamole.
More of "Is It Vegan?"
Just getting started with a plant-based diet? Make sure you're getting all the nutrients you need. I recommend checking out the supplements from Future Kind. Their Vegan Multivitamin is great for vegans!