This post contains affiliate links for which I may earn a commission (at no extra cost to you) should you make a purchase. As an Amazon Associate I earn from qualifying purchases. Please see my disclaimer for more information.
Who doesn't love peanut butter? It's the perfect spread for toast, and it's also great on crackers, fruit, celery sticks, and in many baked goods!
If you're vegan you can still enjoy peanut butter, but there are some ingredients to look out for.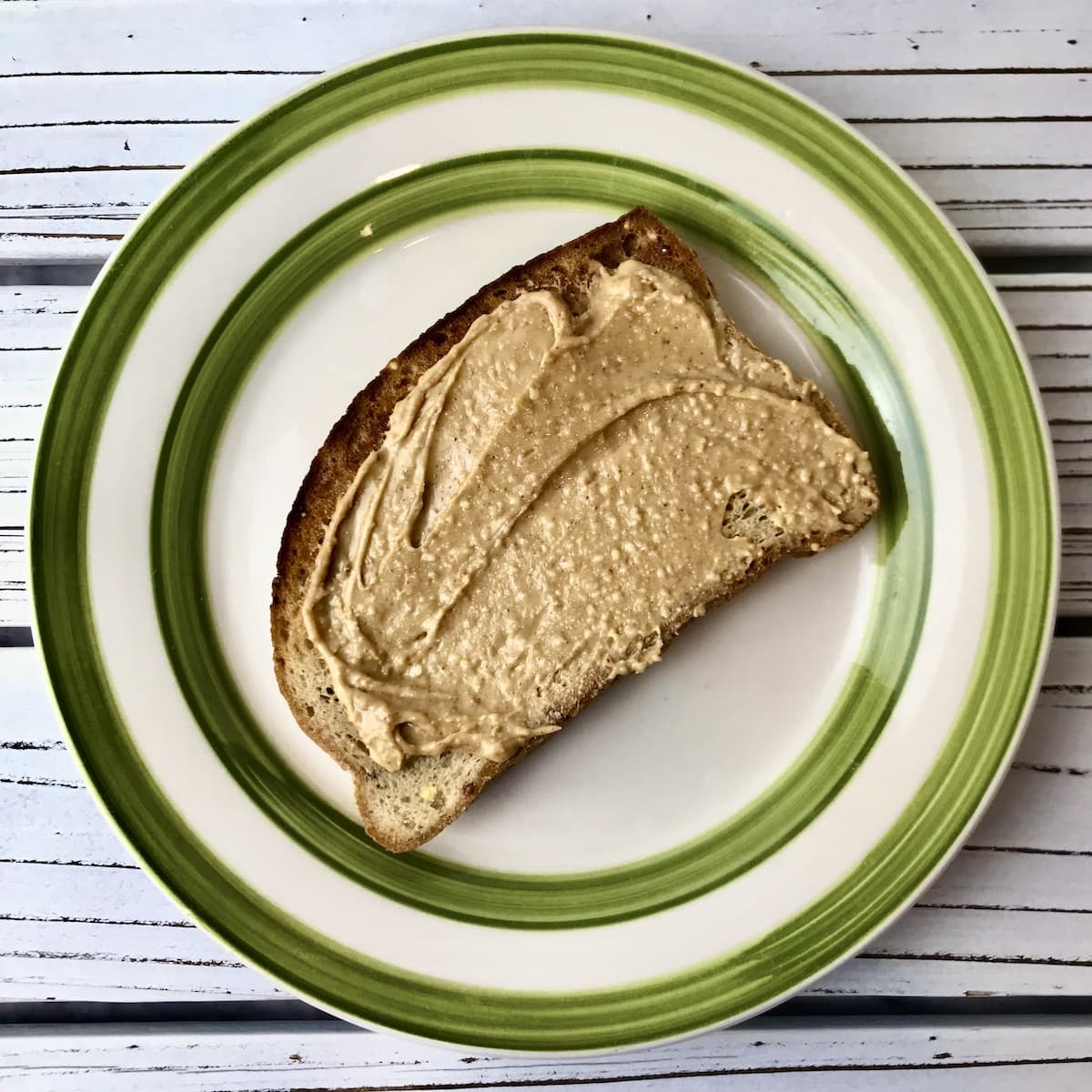 Jump to:
What is in peanut butter?
Peanut butter is made from peanuts, and also usually contains added salt and oil. It often contains added sugar as well.
None of these ingredients contain animal products, so you would think that peanut butter is always vegan.
But sometimes non-vegan ingredients are added to peanut butter, and many vegans would even consider peanut butter with added cane sugar to not be vegan. Keep reading to find out why.
Non-vegan ingredients in peanut butter
Sugar
A lot of peanut butter contains added sugar. Cane sugar is sometimes filtered through bone char during processing, which some vegans are not okay with.
Bone char is charred animal bones! When sugar is filtered through bone char, it comes in contact with bone char, though it does not actually contain bone char. Some vegans are okay with this because many processed foods contain bone-char-filtered sugar.
But a lot of vegans avoid sugar that is processed in this way. If you want a peanut butter with added sugar, look for one that is certified vegan. Many big brands use sugar suppliers that filter their sugar through bone char.
Honey
Some brands of peanut butter make peanut butter sweetened with honey. Vegans don't eat honey as it comes from bees.
If peanut butter contains honey, it will likely be stated in the name of the product on the front of the container. And it will of course be listed as an ingredient, so make sure you check the ingredients label.
Omega-3s
Some peanut butter contains added omega-3s, which often come from fish oil. This should be stated in the ingredients list on packaging.
As with most processed food that is not certified vegan, there is also a risk of cross-contamination with non-vegan ingredients.
To find out if cross-contamination is a high risk, reach out to the company and ask if they use separate equipment for vegan and non-vegan products. If they use shared equipment, ask if it is thoroughly cleaned between the processing of vegan and non-vegan products.
Vegan peanut butter brands
To avoid non-vegan additives in peanut butter, it's easiest to stick to natural peanut butter. This means that the only ingredient is peanuts, and maybe some salt. This is the easiest way to avoid added sugar that may be processed with bone char.
Below are some natural peanut butters, with affiliate links to purchase on Amazon. Not all peanut butter from these brands is vegan though, as many of them also make peanut butter that contains sugar and other potentially non-vegan ingredients!
Natural peanut butter tends to be more expensive than the sugary peanut butter, but there may also be a store brand at whatever local store you shop at, which will likely be the cheapest natural peanut butter option.
If you want to have a sweeter or flavored peanut butter, Peanut Butter and Co has many peanut butters that are certified vegan by Vegan Action:
Cinnamon Swirl
Smooth Operator
Dark Chocolatey Dreams
White Chocolatey Wonderful
Crunch Time
Simply Smooth
Simply Crunchy
Mighty Maple
Old Fashioned Smooth (all natural, with no added sugar or oil)
Old Fashioned Crunchy (all natural, with no added sugar or oil)
Final thoughts
When in doubt, you can reach out to the company that makes the peanut butter you would like to buy.
But buying a natural peanut butter that only contains peanuts and maybe added salt is sure to be a safe option for vegans!
You can also make your own peanut butter if you have a high-powered food processor. Just make sure you are using plain peanuts. You can roast them yourself before blending, and add in some salt and a little oil if you'd like. You can also sweeten it with vegan sugar!
More of "Is It Vegan?"