This post contains affiliate links for which I may earn a commission (at no extra cost to you) should you make a purchase. As an Amazon Associate I earn from qualifying purchases. Please see my disclaimer for more information.
Pure maple syrup is naturally vegan because it is made from only maple sap. But sometimes non-vegan ingredients are used in the production process. Get the details below!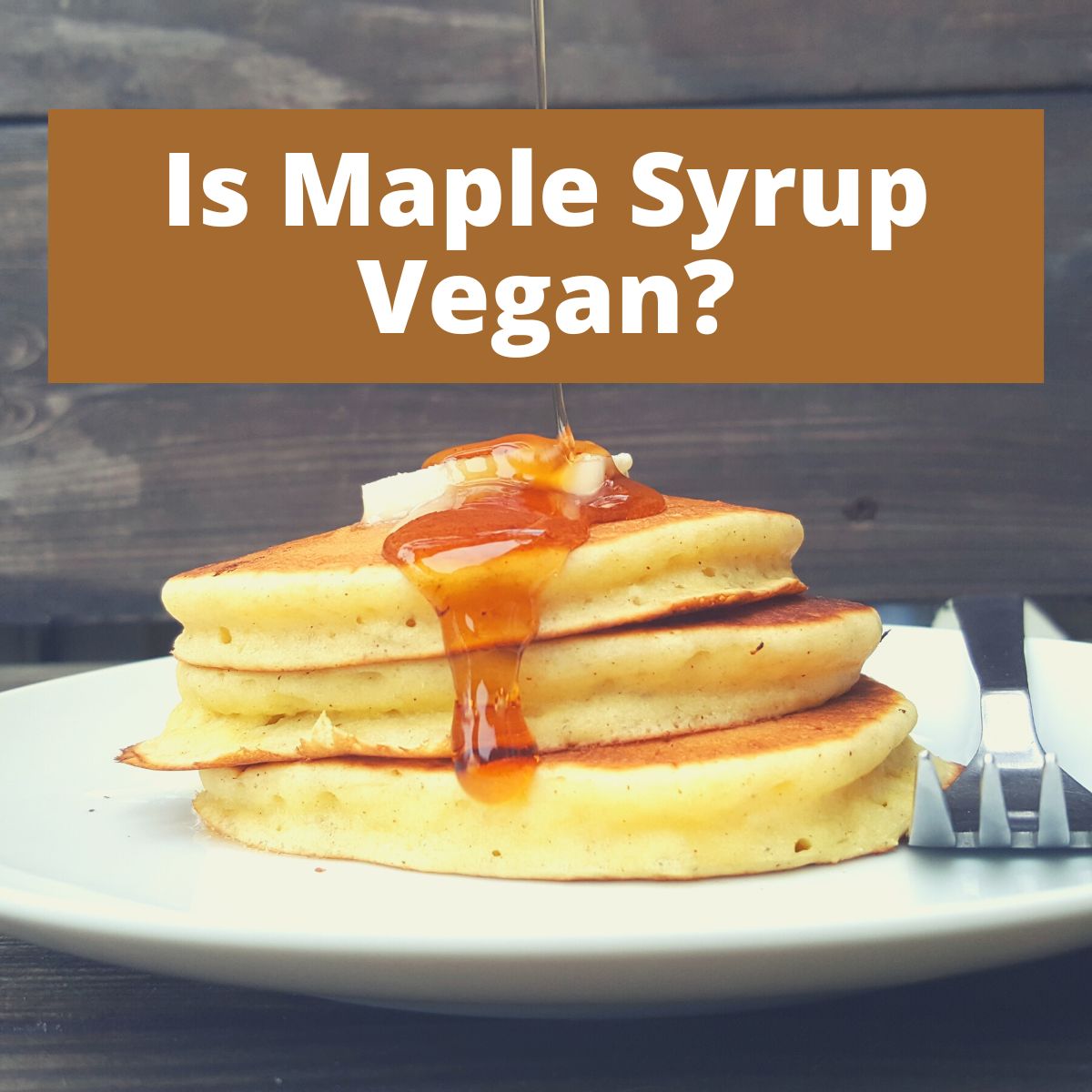 How is maple syrup made?
First, sap is collected from maple trees. The sap is then boiled down to thicken it into maple syrup.
The syrup is then filtered and it's ready to eat!
Read more about how maple syrup is produced here.
Is maple syrup vegan?
It seems like maple sap is all that is needed to make maple syrup, but there are actually a couple of other ingredients used during production.
One is the filter aid, which is usually food-grade diatomaceous earth.
The other is a defoamer, which is where things get a little tricky for vegans. When sap is boiled, foam is created and a defoamer is needed to prevent the sap from boiling over.
Defoamers are composed of some kind of fat, such as oil. Various types of oils can be used, but sometimes fat derived from animals is used. This can include cream, butter, beeswax, or other animal-based fat.
There are also synthetic defoamers. It seems much more common for large maple syrup companies to use a plant-based defoamer such as oil or something synthetic, but to know what kind of defoamer a company uses, you would need to reach out to them.
Most vegans don't worry about this because animal-based defoamers are usually only used these days by smaller companies. If you're buying a popular brand-name maple syrup at your grocery store, it is probably vegan.
Is pancake syrup vegan?
Many people do not buy pure maple syrup because it is way more expensive than pancake syrups.
But pancake syrup has a lot of different ingredients and it is not always vegan. When you are buying a packaged syrup from the store, it is important to look at the list of ingredients to determine if it is vegan. Unless of course you see a vegan certification label on the package.
Pancake syrup is usually made with a combination of the following ingredients: corn syrup, high fructose corn syrup, sugar, caramel color, natural and artificial flavoring, and preservatives. It doesn't actually contain any maple syrup, but the flavoring can somewhat mimic a maple flavor.
Corn syrup is vegan, but natural flavor and sugar are somewhat controversial ingredients for vegans.
Some cane sugar is filtered through bone char, which is charred animal bones. Some vegans are okay with this because the sugar does not actually contain bone char, while other vegans strictly avoid it.
Many store-bought pancake syrups in the US likely contain sugar filtered through bone char, but to find out for sure you would need to contact the company and ask.
Natural flavors can be another issue because they can be sourced from plants or animals. Even though it seems like there would be no animal-sourced flavoring in maple syrup, you never know for sure unless you ask the company that makes the product. Even then, they may not be able to reveal whether or not their natural flavors are vegan.
Some preservatives in pancake syrup may also not be vegan. So it can be pretty complicated figuring out if pancake syrup is vegan for those who are strict about sugar, natural flavors, and so on.
For vegans who aren't super strict, most pancake syrups should be acceptable.
Vegan recipes with maple syrup
Maple syrup is used as a sweetener in many baking recipes, and it can also be added to dressings and more.
Check out these recipes that use maple syrup as an ingredient:
More of "Is It Vegan?"