This post contains affiliate links for which I may earn a commission (at no extra cost to you) should you make a purchase. As an Amazon Associate I earn from qualifying purchases. Please see my disclaimer for more information.
This vegan iced coffee is tasty and super easy to make. It is made with oat milk and sweetened with maple syrup to create a deliciously sweet and refreshing iced coffee.
So many people love starting their day with a hot cup of coffee, but sometimes it's nice to switch it up and have an iced coffee instead. This is especially great in warmer weather when you want something cool and refreshing!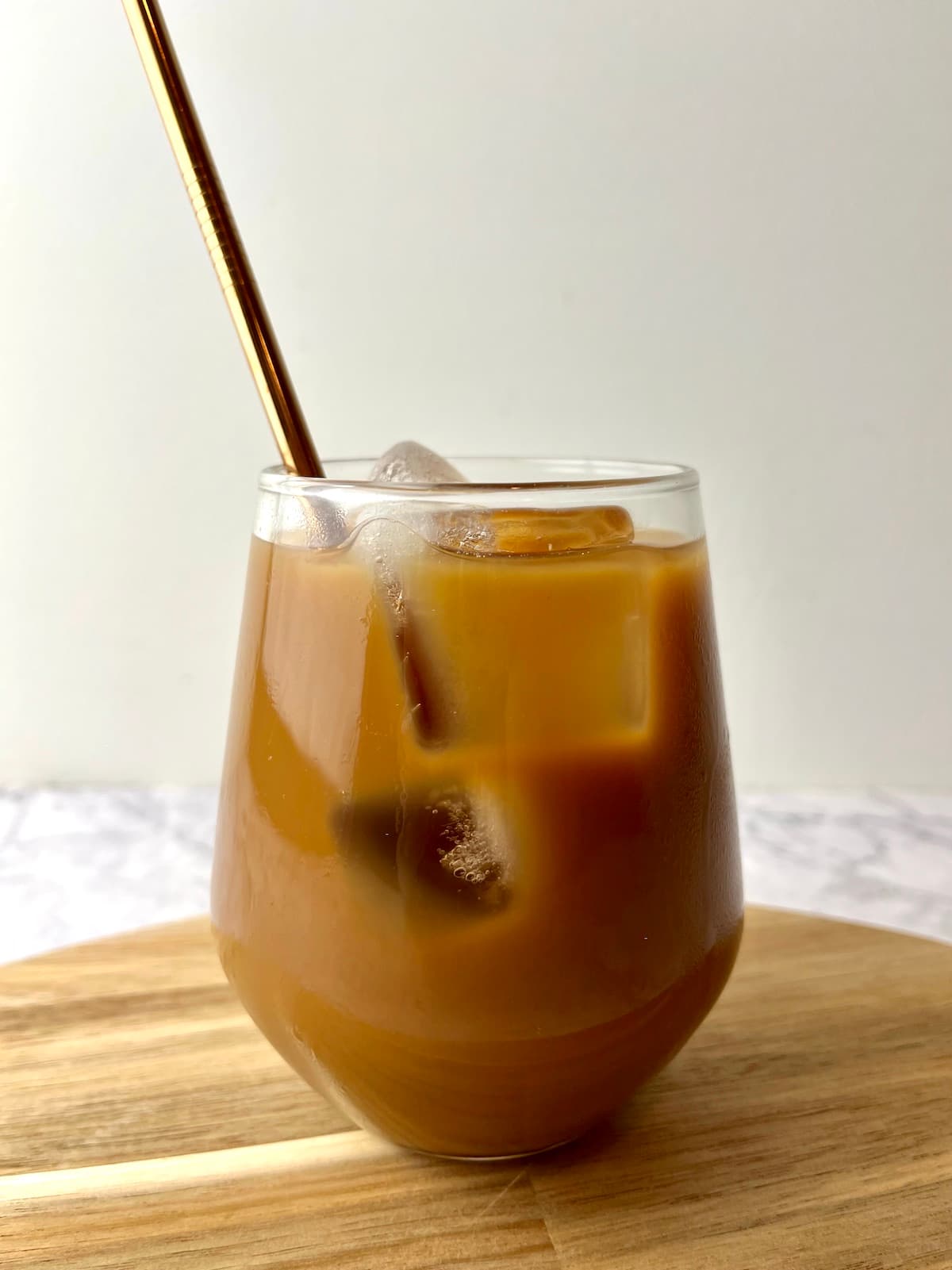 I always add oat milk and maple syrup to my coffee because they make a great combination and are perfect for coffee. Oat milk is a great addition to many drinks other than coffee too, such as this oat milk hot chocolate and this oat milk iced matcha latte.
Jump to:
Why you'll love this oat milk iced coffee
This vegan iced coffee is:
Vegan
Refined-sugar free
Really tasty
Refreshing
Super easy to make!
Ingredients
*Scroll down to the recipe box for quantities and instructions.
Coffee: Brew a cup of plain black coffee, then chill it before making this oat milk iced coffee.
Oat milk: Oat milk is a great vegan alternative to cream or milk in coffee. It is a bit thicker than other vegan milks and creates a great texture and has a subtle taste in coffee.
Maple syrup: This is a great vegan sweetener for coffee.
Vanilla extract (optional): Vanilla adds some delicious flavor to this iced coffee.
Ice cubes: Of course, ice cubes are used to chill your iced coffee.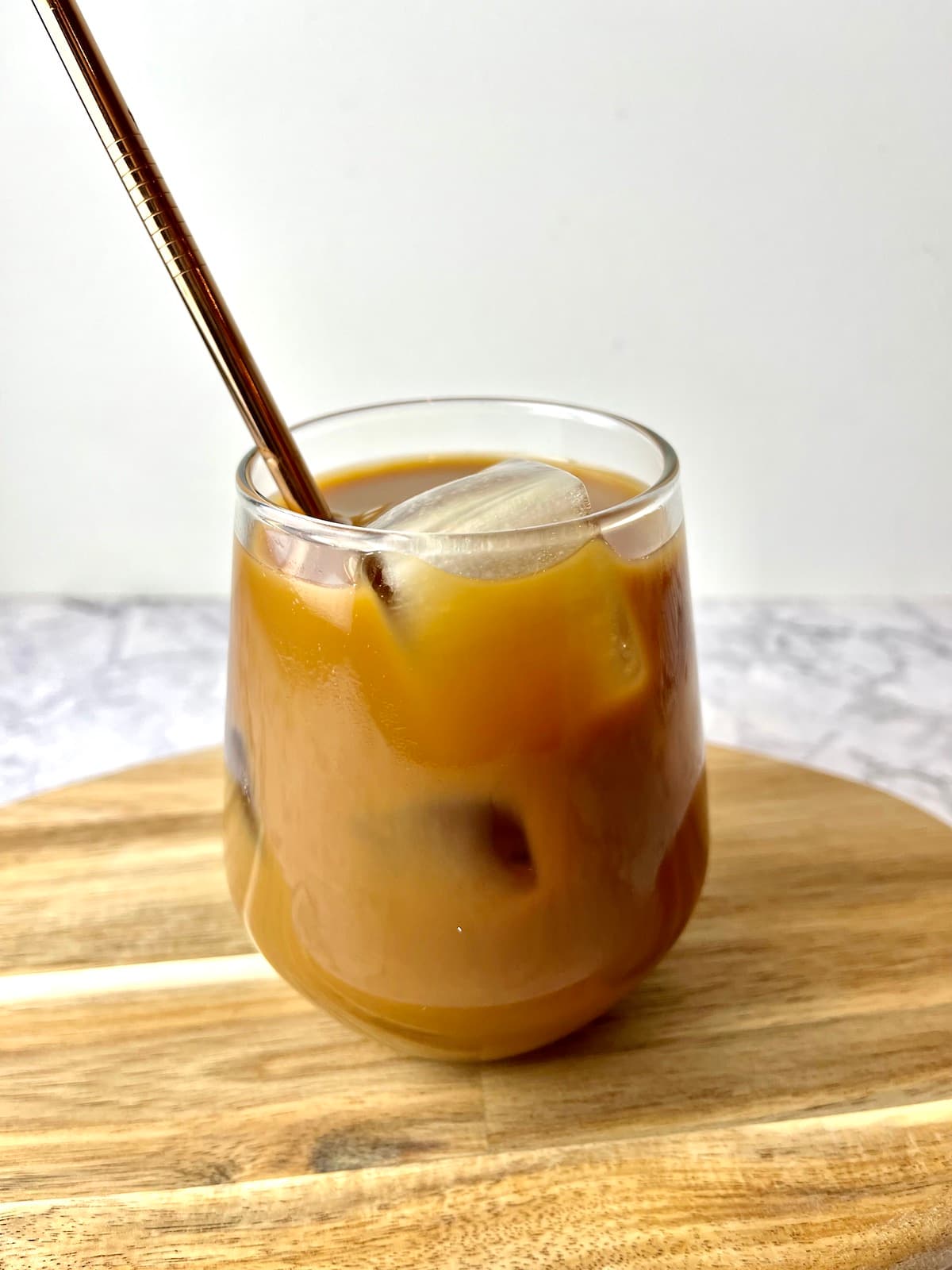 How to make this vegan iced coffee
Here's a step-by-step breakdown of how to make my favourite iced coffee:
Step 1
First, make a cup of coffee. You can do this however you'd like, which means you could even use instant coffee if that's easier for you.
You want to make sure that you measure out 1 cup of coffee, which is about 240 ml. This may look like a small amount, but we will be adding oat milk to increase the size of the drink.
Step 2
Once you have your cup of coffee, you will need to wait for it to cool down. If you add the ice right away, it's just going to melt immediately and water down your coffee.
I find it takes about an hour for a hot cup of coffee to cool down enough in the fridge, but you could put it in the freezer for about 30 minutes to speed up the process. Just don't forget about it because you don't want it to freeze!
Step 3
Once your coffee has cooled, pour it over ice and mix in your maple syrup, oat milk, and vanilla extract if desired.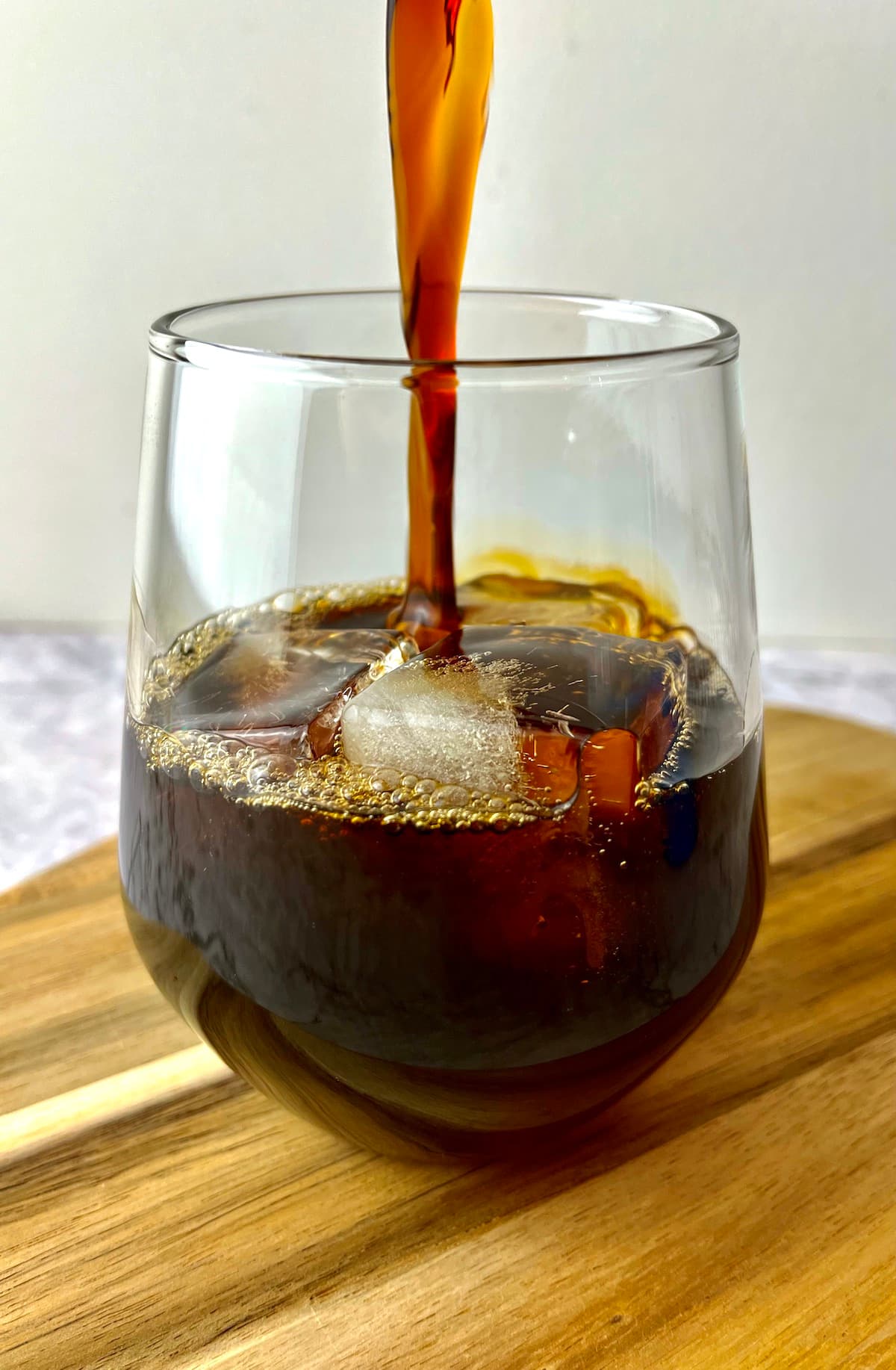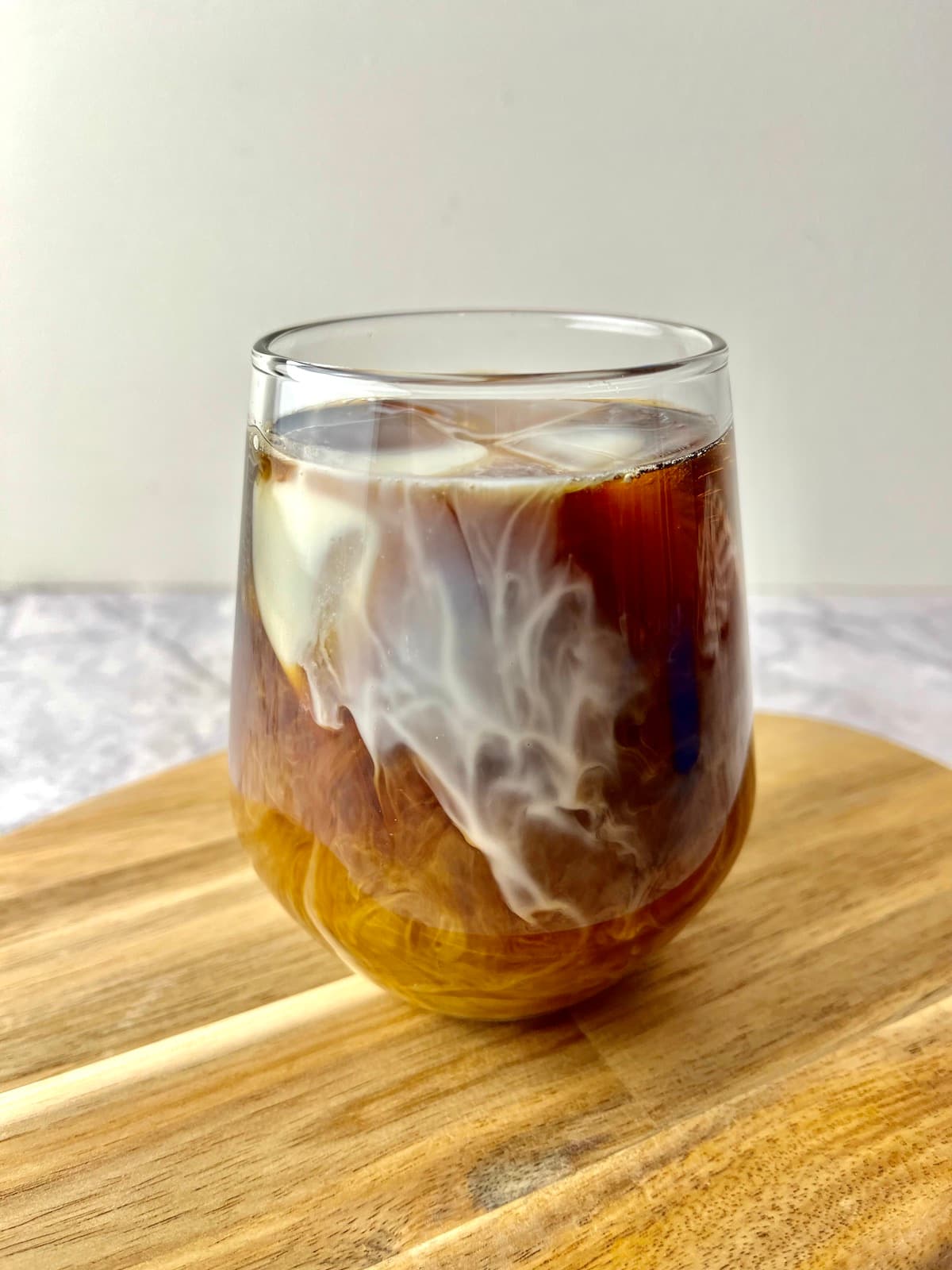 Drink immediately after adding the ice!
Tips and adjustments
Adjust the amount of ice to your preference. If you're going to drink your coffee super fast, adding more ice is okay, but if you want to sip it slowly, I recommend not overdoing the ice. I find 3-4 large ice cubes is plenty to make this coffee cold and refreshing. If you add too much ice and don't drink fast, your coffee will get watered down as the ice melts. You could alternatively use frozen cubes of coffee so that the coffee doesn't get watered down.
Cool your coffee before adding the ice. This comes back to the issue of ice watering down your coffee. The ice will melt quickly if you don't let your coffee cool down first! Cool it to room temperature or colder before adding ice. If you do this, the ice will actually take quite a long time to melt completely. You will probably finish drinking your coffee before this happens.
Make your coffee ahead of time. Because you need to wait while your coffee cools, you may want to plan ahead and make your coffee in advance of when you want it.
Add ice last if that's easier for you. You can pour the ingredients over ice, then mix everything together, but you may prefer to mix the coffee, oat milk, vanilla extract, and maple syrup before adding the ice. Some people find that the ice gets in the way when trying to mix everything together.
Feel free to adjust the amount of oat milk and maple syrup. The amount of preferred milk and sweetener varies greatly from person to person, so add more or less if you want! It also depends on how strong you make your coffee, so your preferences may be different than mine.
More vegan coffee recipes
I hope you enjoy this delicious vegan iced coffee! Comment below if you try it out.
If you want some more tips on going vegan, check out this guide to veganism for beginners.
Recipe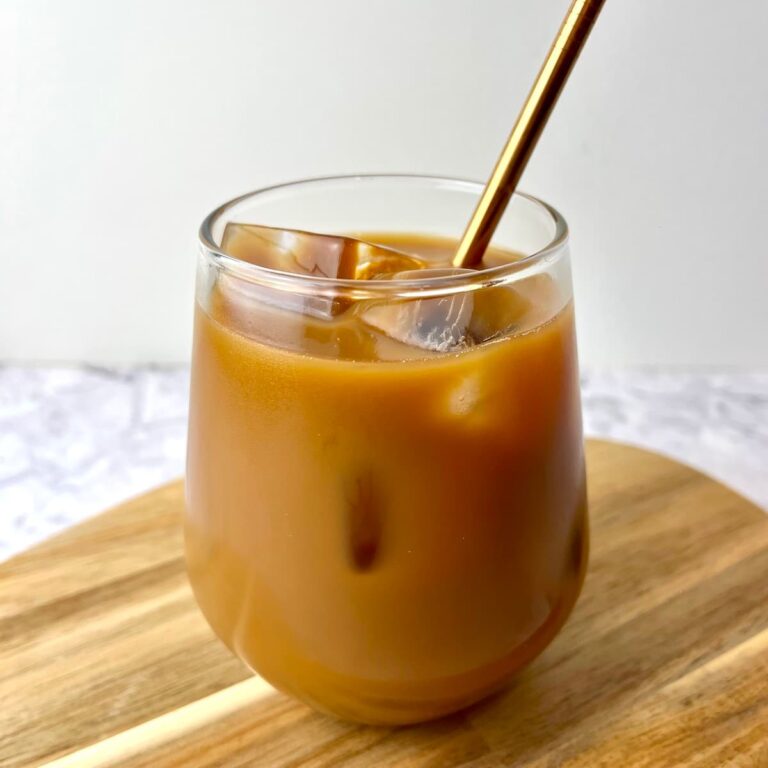 Print Recipe
Vegan Iced Coffee
This vegan iced coffee is tasty and super easy to make.It is made with oat milk and sweetened with maple syrup to create a deliciously sweet iced coffee.
Ingredients
1

cup

coffee

(240 ml)

¼

cup

oat milk

(unsweetened)

1-1 ½

tablespoons

maple syrup

¼

teaspoon

vanilla extract

(optional)

3-4

large

ice cubes
Instructions
Make one cup of coffee (any method you want) and allow it to cool. If you want it quickly, you can put it in the freezer for about 30 minutes. You need it to cool at least to room temperature so the ice won't melt in the coffee immediately.

Once the coffee has cooled, add the oat milk, maple syrup, and vanilla if desired. Mix thoroughly.

Pour your coffee over ice. I suggest only 3-4 ice cubes because if you add too much ice it will dilute the coffee more as it melts. Add more ice if that's what you prefer. Drink immediately once the ice is added.
Notes
Add an extra 2 tablespoons of oat milk if desired.
If you don't like your coffee very sweet, start with only 1 tablespoon of maple syrup, then add more if desired.
Nutrition
Calories:
112
kcal
|
Carbohydrates:
25
g
|
Protein:
1
g
|
Fat:
1
g
|
Sodium:
38
mg
|
Potassium:
184
mg
|
Fiber:
1
g
|
Sugar:
19
g
|
Vitamin A:
123
IU
|
Calcium:
108
mg
|
Iron:
1
mg
Nutrition Disclaimer
Nutrition information is an estimate generated from a nutrition calculator. There may be errors here or variations based on ingredients you use.