This post contains affiliate links for which I may earn a commission (at no extra cost to you) should you make a purchase. As an Amazon Associate I earn from qualifying purchases. Please see my disclaimer for more information.
This banana coffee smoothie is so creamy and delicious! It's dairy-free and vegan, and a great way to start your day.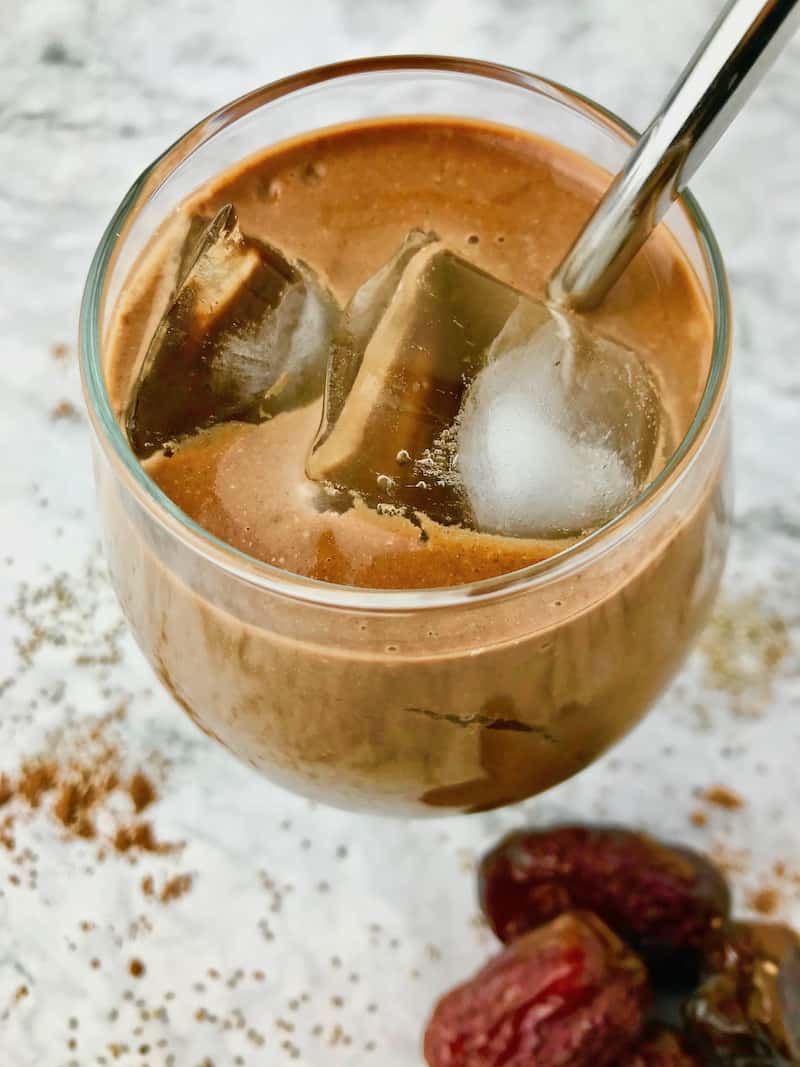 If you want to start your day off with some caffeine, but you're getting a bit bored of your regular cup of coffee, try this banana coffee smoothie! I love switching it up and I love cold coffee drinks, like this vegan iced coffee.
This coffee smoothie recipe is my newest favourite because it's not just a drink. It's a filling snack of even breakfast. So it can double as your morning coffee and meal in just one glass! It's a fairly healthy option as well, as it is sweetened with dates and banana instead of refined sugar.
This Coffee Smoothie Is:
Creamy
Smooth
Vegan
Filling
Easy to make
Refined-sugar free
Way more exciting than a plain cup of coffee!
Ingredients
Coffee
Peanut butter (all-natural, with no added sugar or oil)
Frozen banana (must be frozen)
Vanilla extract
Medjool dates
Cacao powder
Chia seeds
Ice (optional)
How to Make
Making this coffee smoothie is super easy!
Start by soaking your dates to soften them if needed (more information in the tips below).
Next, just blend everything in a blender. Add ice if you want your smoothie to be colder. You can blend in a few ice cubes or just add them in a glass like you would with any other drink.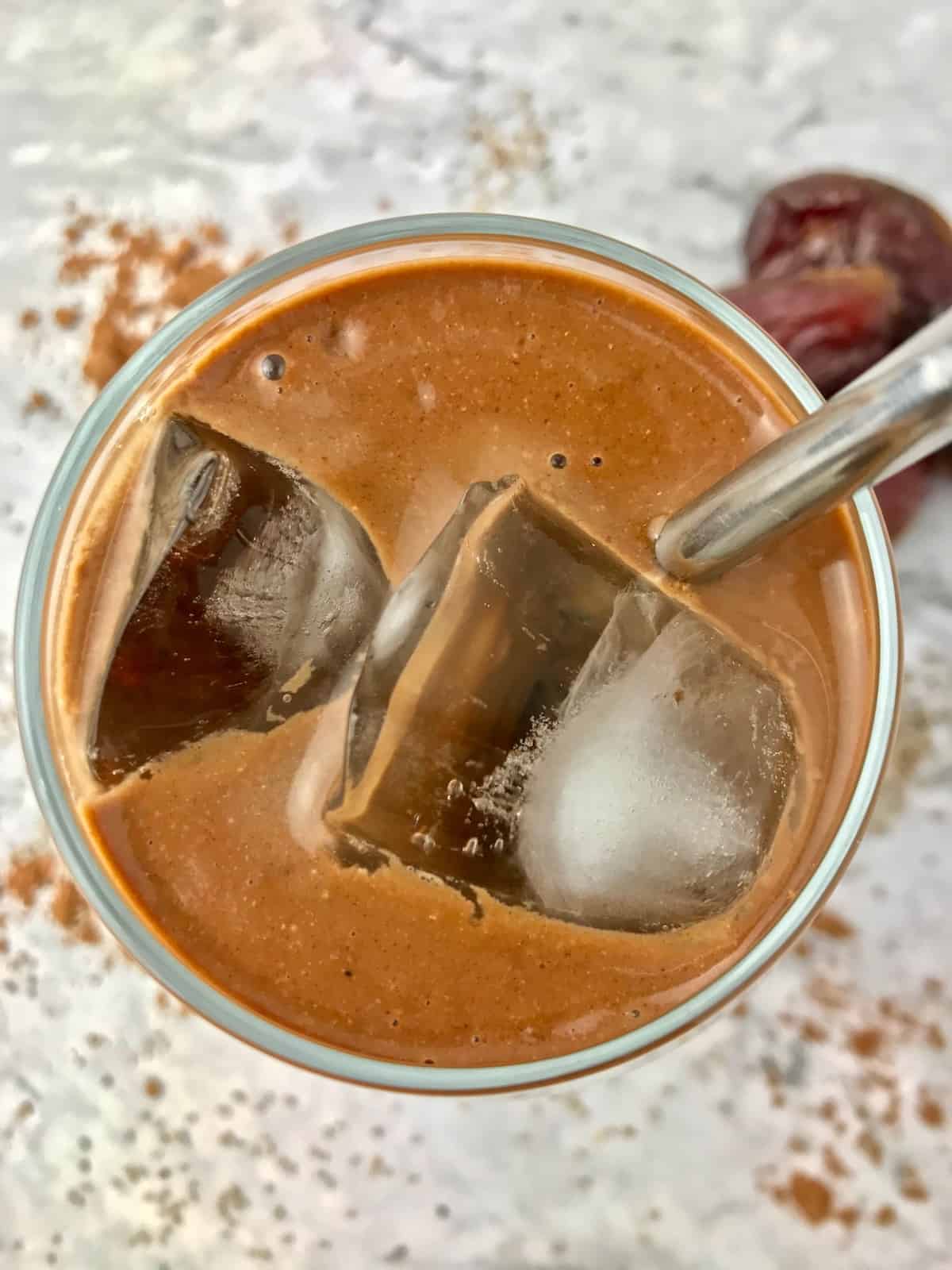 Tips
Soak your dates if they are dried up. After a while, some dates dry up and become quite firm. This makes them more difficult to blend, especially if you don't have a high-powered blender. If your dates are dry, you should soften them up by soaking them in water. Boil some water and place the dates in the water for about 30 minutes. This should make them much easier to blend.
Use frozen banana. Frozen banana helps to chill the smoothie, but more importantly it makes this coffee smoothie creamy and thick. If the banana is not frozen, the texture will be way off. I like to peel my bananas, then chop them into halves or fourths before freezing so that they blend more easily.
Chia seeds are essential for thickening. As mentioned, the frozen banana helps to thicken this smoothie, but the chia seeds help even more. Blend them with everything else to prevent your smoothie from being too thin. Chia seeds also add healthy fats and plant-based protein.
To reduce calories, use less Medjool dates or eliminate the peanut butter. For a smoothie, this is pretty high in calories, but that's why it's great as a breakfast. If you want it as a lighter snack during the day, you could try using just one Medjool date for added sweetness, and/or eliminate the peanut butter. Medjool dates and natural peanut butter aren't bad for you, but they do raise the calorie count of this coffee smoothie quite significantly.
What Kind of Coffee Should I Use for This Smoothie?
This recipe calls for 1 cup of coffee. You can use any coffee that you'd like, including instant coffee if that's easier for you or if it's what you prefer.
You can make this smoothie with freshly made hot coffee or with coffee that has been chilled in the fridge.
If using hot coffee, you'll want to add some ice to your smoothie to cool it down. You can blend it in or just mix it in before drinking.
If you love this banana coffee smoothie, try this vegan iced coffee!
Other Banana Smoothies
Print Recipe
Banana Coffee Smoothie
This banana coffee smoothie is so creamy and delicious! It's dairy-free and vegan, and a great way to start your day.
Instructions
You may need to start by soaking your dates if they have hardened or if you don't have a high-powered blender. Soft dates in a powerful blender will be fine without soaking. To soften the dates, soak them in boiled water for 30 minutes.

Add everything to your blender and blend until smooth. If you used hot coffee and would like to cool down your smoothie, blend in a few ice cubes or just put ice cubes into your glass and enjoy!
Notes
The banana you use for this smoothie needs to be frozen to ensure that the smoothie has a creamy, smooth texture.
You can use fresh hot coffee or coffee that has been cooled. Just add some ice if you want your smoothie to be colder.
Nutrition information is an estimate only.
Nutrition
Calories:
407
kcal
|
Protein:
9
g