This post contains affiliate links for which I may earn a commission (at no extra cost to you) should you make a purchase. As an Amazon Associate I earn from qualifying purchases. Please see my disclaimer for more information.
This oat milk matcha latte is creamy, smooth, and the perfect way to start your day!
A matcha latte is the perfect drink for anyone who wants a delicious calm energy that won't leave you feeling jittery.
For a stronger boost of caffeine, you can try this oat milk iced coffee or this banana coffee smoothie.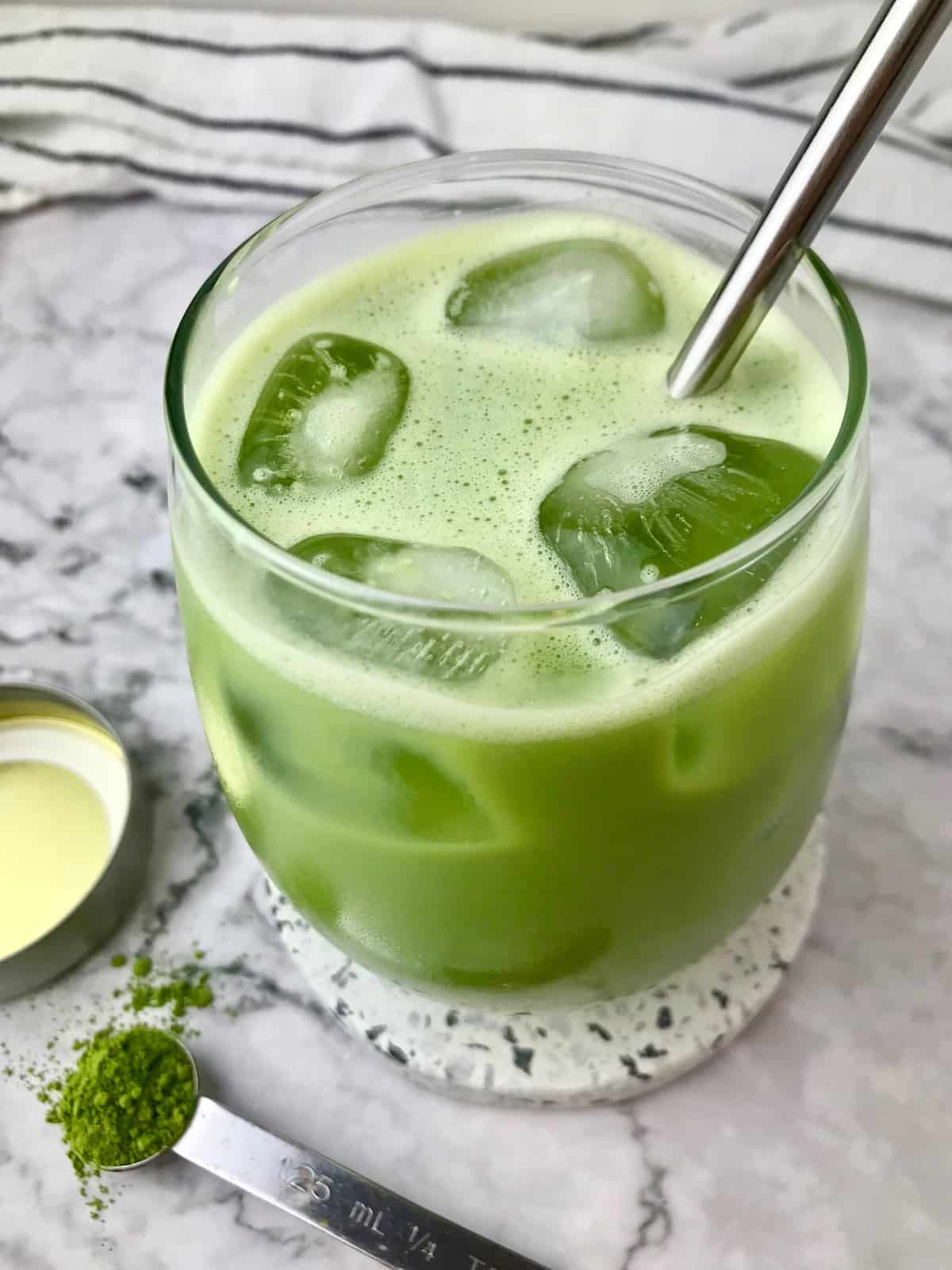 Jump to:
What is matcha?
Matcha is a green tea that is made from tea leaves ground into a powder. To make matcha tea, you whisk some of the powder with hot water to form a frothy tea.
Matcha is traditionally a ceremonial tea made in Japan, but people all over the world now enjoy matcha in various ways. You can find recipes for matcha ice cream, cake, pancakes, and more!
Drinking matcha green tea gives you more nutrients and antioxidants than regular green tea, because with match you are consuming the tea leaves instead of just steeping them in water and throwing them out.
Does matcha contain caffeine?
Yes, matcha does contain caffeine, but a cup of matcha does not typically have as much caffeine as a cup of coffee. That's why matcha is a great option for anyone who feels like they need a bit of caffeine, but also wants to reduce their caffeine consumption.
I have heard of many people switching from coffee to matcha for this reason.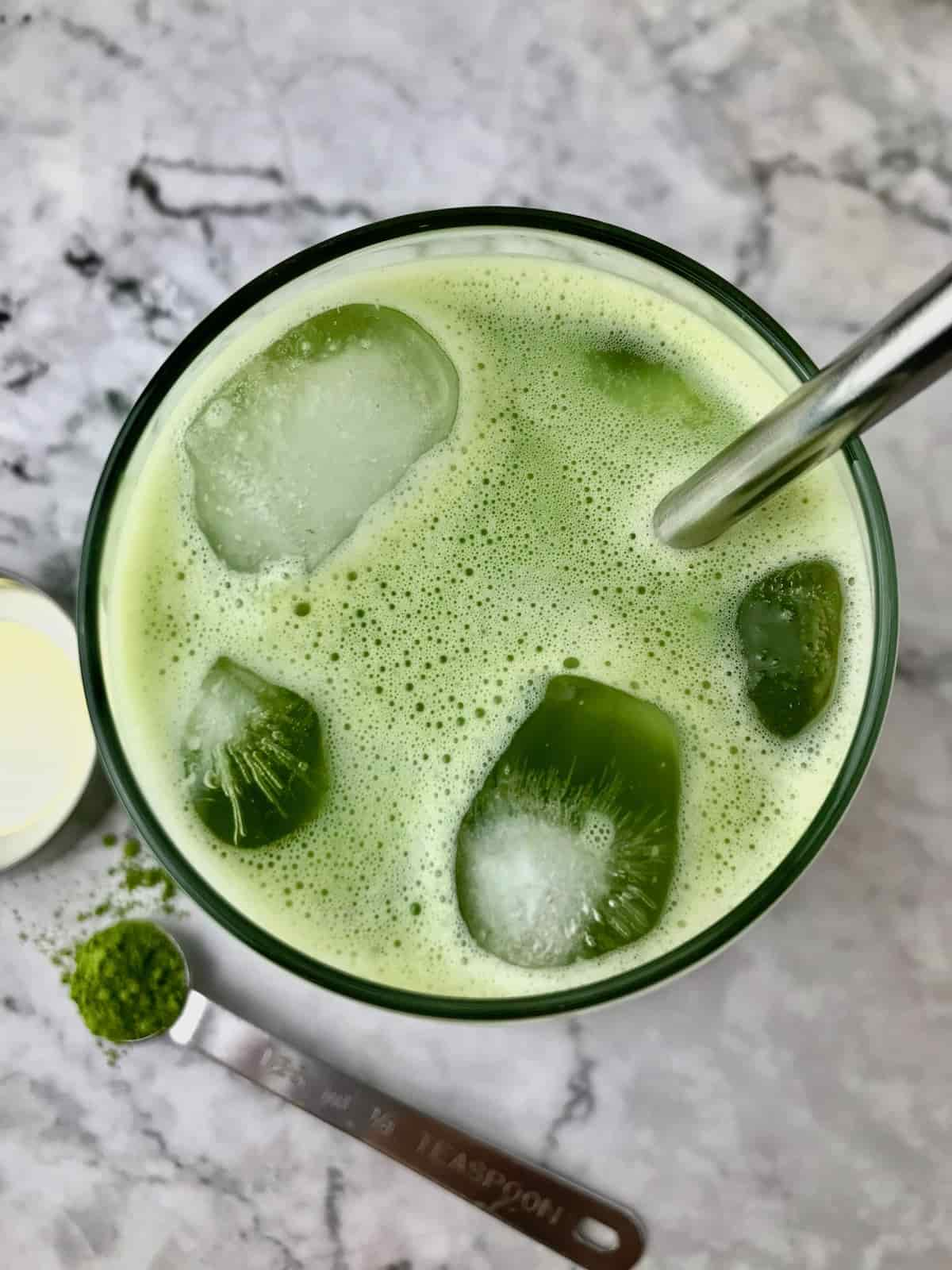 Ingredient information
*For ingredient quantities and full instructions, scroll down to the recipe box.
Matcha powder

I recommend the highest quality you can afford. The better the quality, the better the taste!

Oat milk

I find that oat milk gives the creamiest matcha latte without an over-powering flavor.

Maple syrup

You can adjust this to your liking to make your matcha latte as sweet as you want.

Vanilla extract
Ice

I think iced matcha lattes are so much tastier than hot! Add as much or as little ice as you'd like. Keep in mind that if you use a lot of ice and drink your latte slowly, it will get pretty watered down.
How to make a matcha latte
To make matcha in the traditional way would require whisking some matcha with a bit of hot water.
I have tried this method several times with various matcha brands, and I consistently have a difficult time getting all the lumps out (even when I sift the matcha), so I use a blender instead and it is so easy!!
Just blend everything together (except the ice), then fill a glass with ice and pour the matcha latte over it.
Tips
Ensure you use a blender for best results. As mentioned, it can sometimes be difficult to get rid of all the lumps when whisking matcha powder, but a blender will take care of this.
Don't add too much ice if you don't want your matcha latte to be watered down.
If you like your matcha latte to be really sweet, go ahead and add more maple syrup.
Buy a high quality matcha for the best-tasting matcha latte. There are different types of matcha out there, and ceremonial grade matcha is of the highest quality. Culinary matcha is cheaper, but also not quite as good. If you are on a tight budget you can try culinary matcha, but I personally don't like the taste of it and I have tried various brands. When I want some matcha I splurge on ceremonial grade because it tastes much better. I find that lower grade matcha sometimes has a strong fishy taste that is very off-putting. You can also tell a high-quality matcha from a low-quality matcha by looking at the color. Ceremonial grade matcha will be a nice, bright green, while other matchas are often more of a brown-green.
Adjustments
Add more maple syrup to your matcha latte if desired. This recipe recommends one tablespoon of maple syrup, but if you like it sweeter, add as much as you'd like. This may also help with the taste if you happen to use a low quality matcha that doesn't taste great.
Use more or less matcha if you'd like. The amount of matcha that you want can always be adjusted. I recommend 1 teaspoon, but you could also use ¾ teaspoons and up to 1 ½ teaspoons if you'd like.
If you're concerned about drinking too many calories, you can use less oat milk. Simply add some water instead. One cup of oat milk with ¼ cup of water works well instead of 1 ¼ cup of only oat milk.
Recipe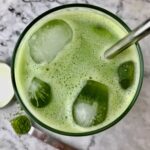 Print Recipe
Oat Milk Iced Matcha Latte
This oat milk matcha latte is creamy, smooth, and the perfect way to start your day!
Ingredients
1

teaspoon

matcha powder

1 ¼

cup

oat milk*

1

tablespoon

maple syrup

½

teaspoon

vanilla extract

Ice
Instructions
Add all ingredients (except the ice) to a blender and blend until the match is completely blended and you don't see any lumps.

Add some ice to a glass, then pour the blended matcha latte over the ice and enjoy!
Notes
*If you want to lower the amount of milk, you can use 1 cup oat milk and ¼ cup water.
Add some more maple syrup for a sweeter matcha latte.
Nutrition Disclaimer
Nutrition information is an estimate generated from a nutrition calculator. There may be errors here or variations based on ingredients you use.