This post may contain affiliate links. Please see my disclaimer for more information.
These vegan milkshakes are made with coconut milk. There are 3 recipes for 3 different flavours: chocolate, vanilla, and strawberry.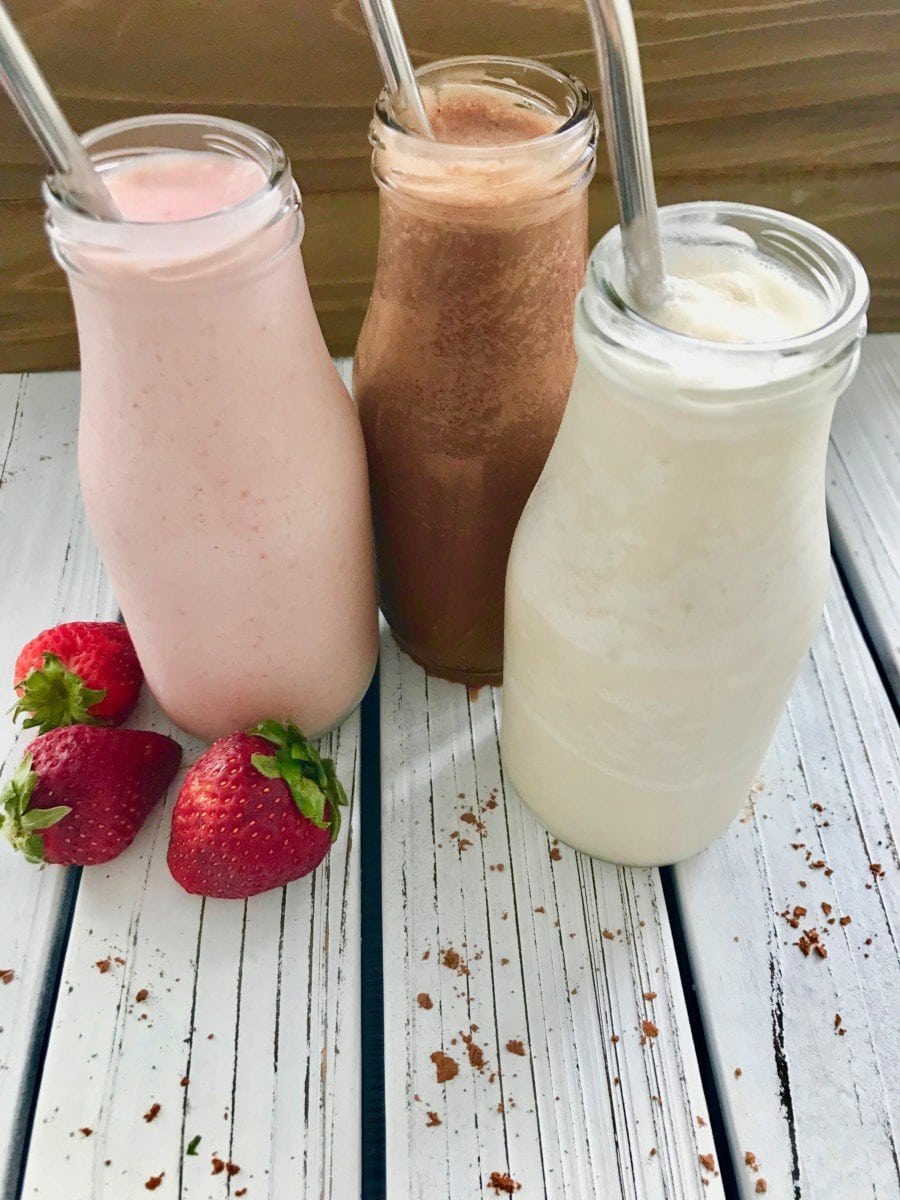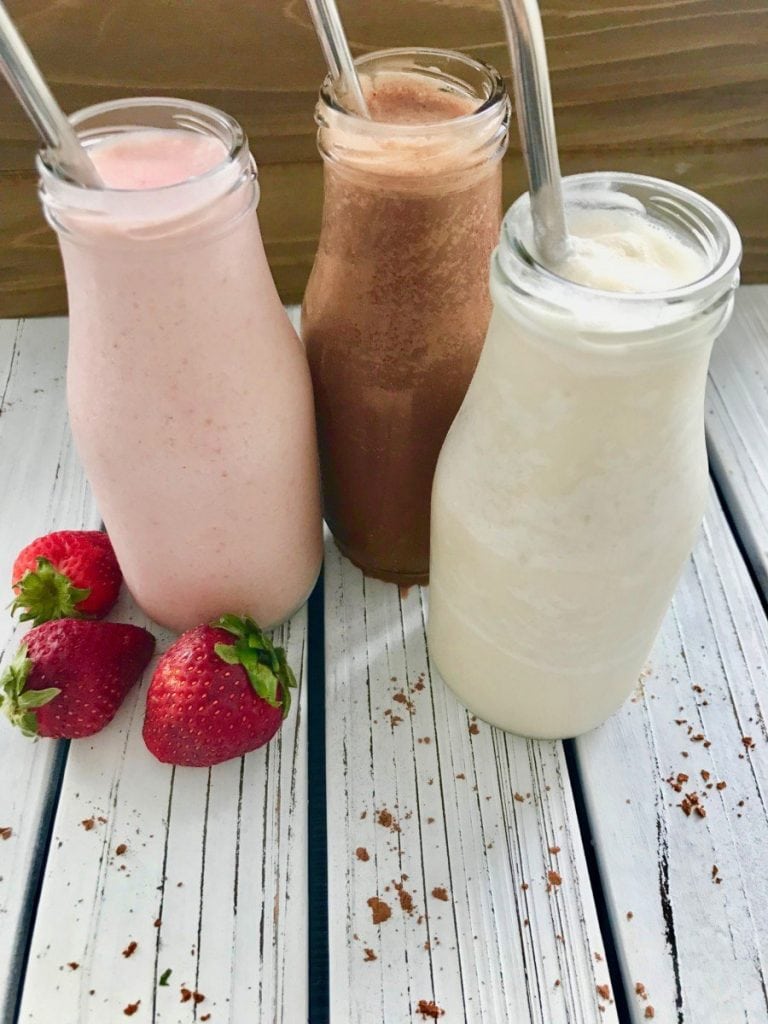 Who doesn't love a good milkshake?? When you go vegan, you may think you have to give up those cold, thick, tasty shakes, but fear not! These vegan milkshakes will leave your sweet tooth feeling satisfied and you won't feel like you're missing out on classic non-vegan foods.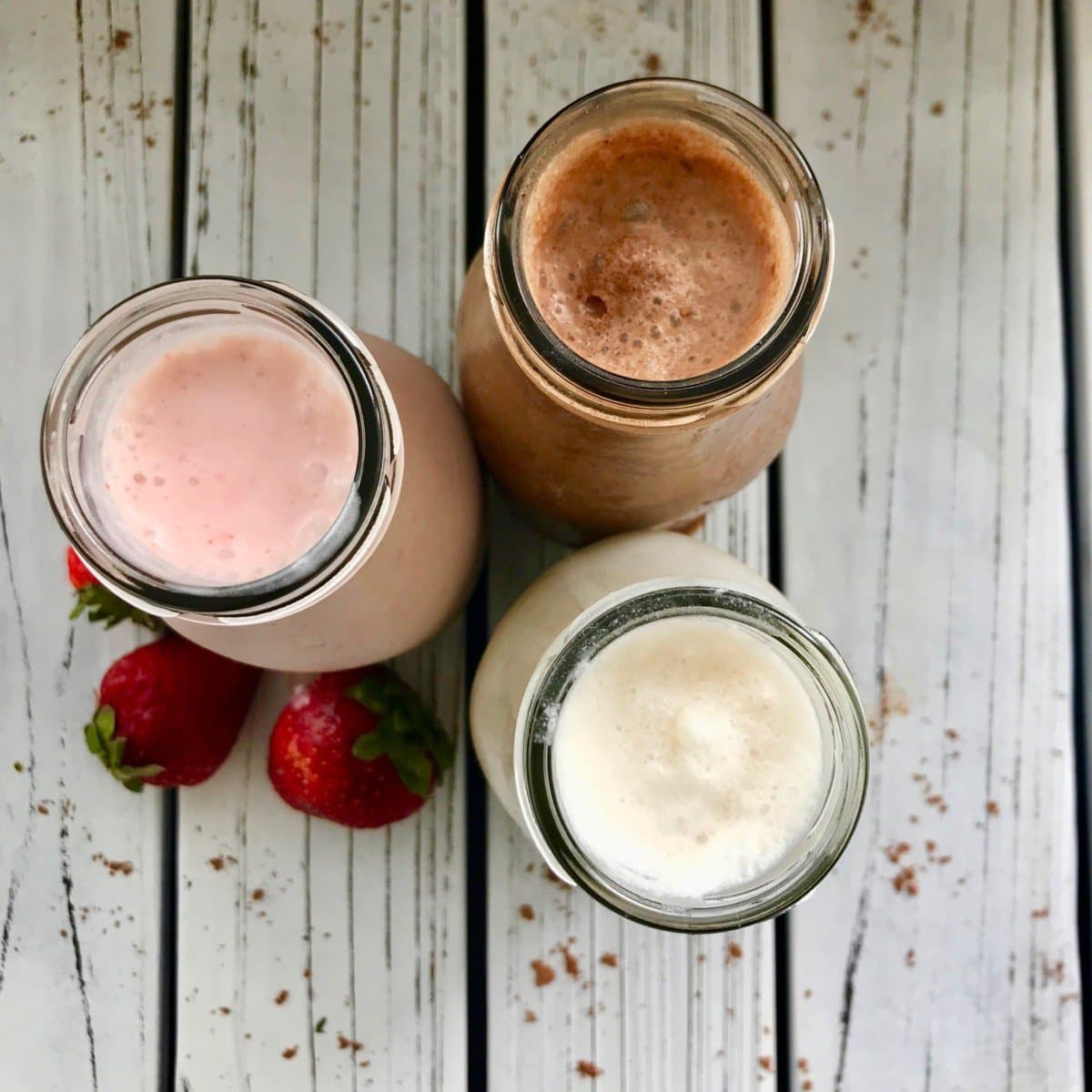 These vegan milkshakes are:
Easy to make
Refreshing
Delicious
Sweetened with maple syrup (no refined sugar!)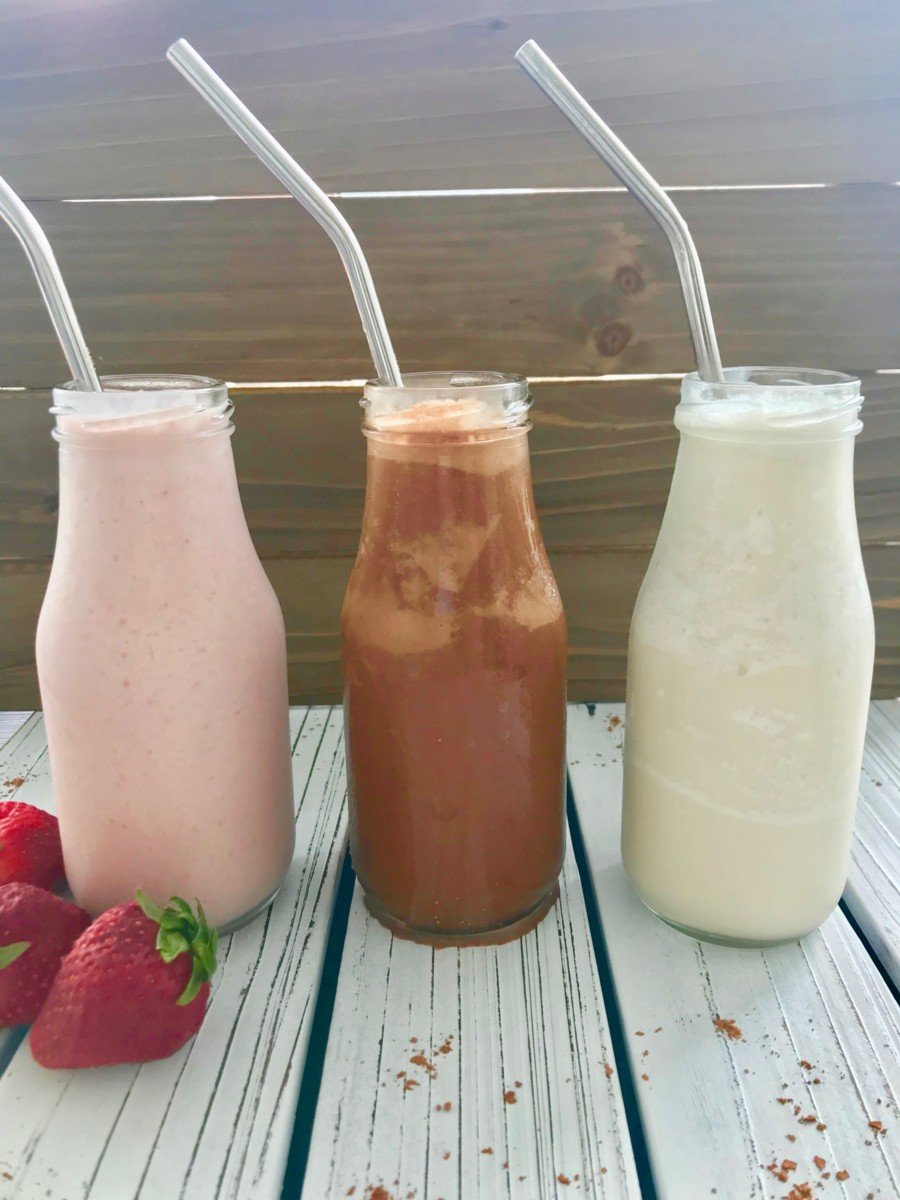 How are these vegan milkshakes thickened?
Most vegan shakes are thickened with frozen banana. I decided not to use banana for these shakes because I didn't want them to taste like banana at all.
Softened cashews are also a common thickener in vegan recipes, but again I didn't want that taste for these particular vegan milkshakes.
I was trying to achieve the classic taste of chocolate, vanilla, and strawberry milkshakes.
So, I used ice as a way to cool and thicken these shakes. That's why it is important to drink them right after blending. If the ice melts, these drinks will no longer have a "milkshake" texture to them.
I also added a tbsp of coconut flour to the vanilla shake to give it a slightly thicker texture, but this is not necessary. If you already have coconut flour in your pantry, go ahead and throw it in. But there's no need to go buy a package of coconut flour just for this vanilla shake.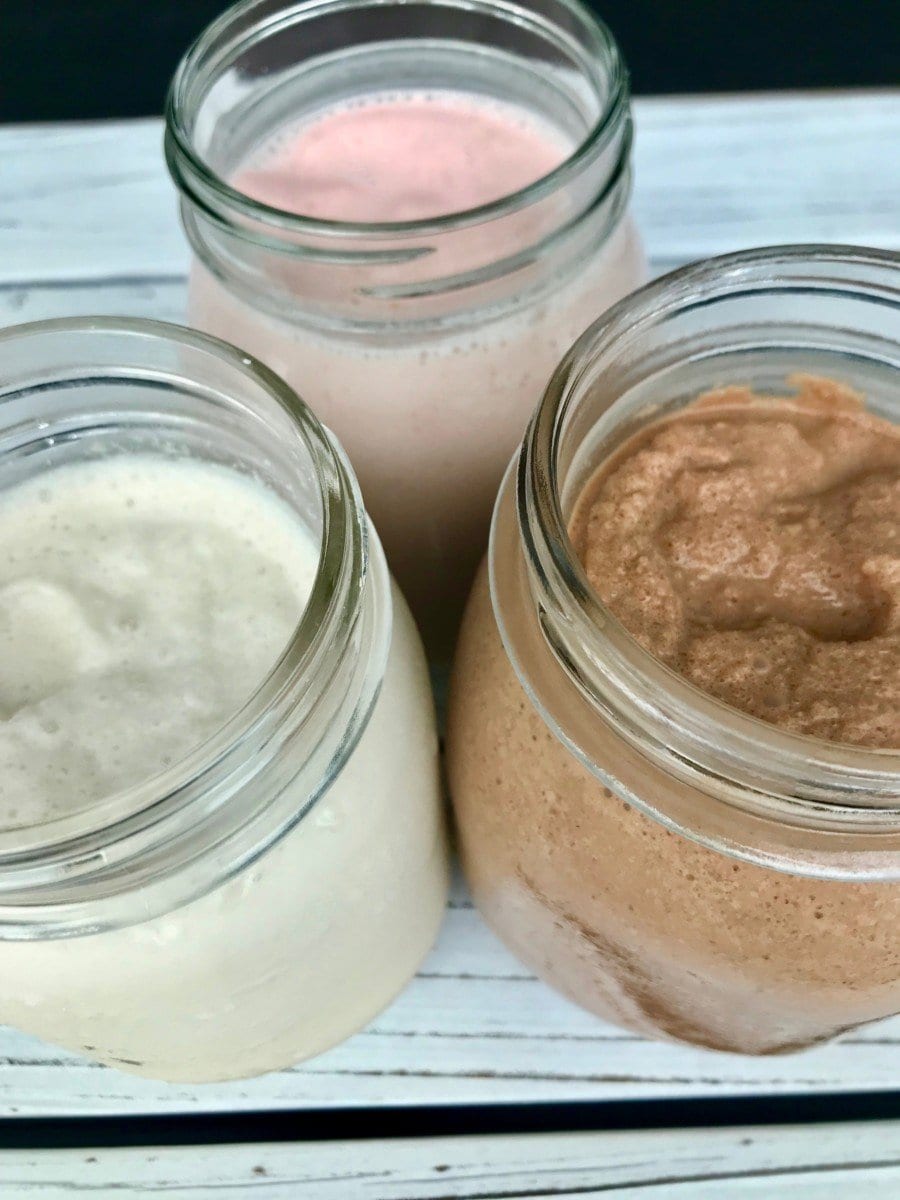 Why Coconut Milk?
These shakes use canned coconut milk as the base because it is thicker than most milks. Coconut milk is high in calories (about 400 calories per cup), but it is not bad for you in small quantities. Having one of these shakes every once in a while, will not harm your health or have a negative impact on your weight loss goals. In fact, it can benefit your health when not over-consumed.
Learn more about coconut milk here.
These vegan coconut milkshakes are much healthier than most!! Think of them as a healthy version of a treat.
These shakes make either one large serving or two smaller servings. If you're trying to lose weight, I suggest sticking to half of a recipe.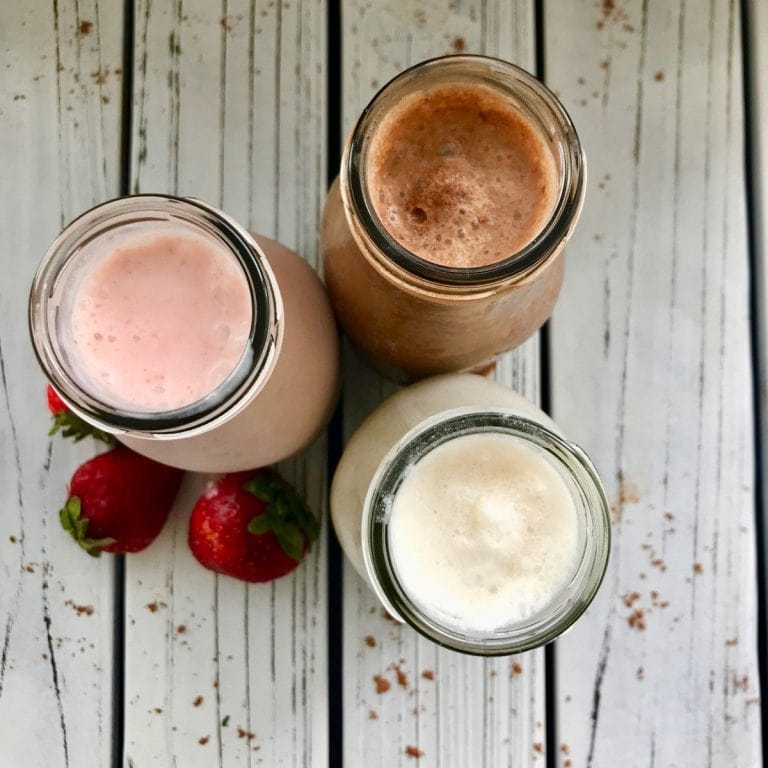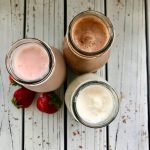 Print Recipe
Vegan Coconut Milkshakes (3 Flavours)
These vegan coconut milkshakes are filling and delicious. They are all made with coconut milk and sweetened with pure maple syrup.
Ingredients
Chocolate Milkshake Ingredients
Vanilla Milkshake Ingredients
1

cup

canned coconut milk

1.5

tsp

vanilla extract

2

tbsp

maple syrup

1

tbsp

coconut flour

(optional)

1.5

cups

ice cubes
Strawberry Milkshake Ingredients
1

cup

canned coconut milk

1

cup

frozen strawberry

2

tbsp

maple syrup

1/2

cup

ice cubes
Instructions
Instructions for each of these shakes are the same:
Shake the can of coconut milk to ensure that it is mixed before opening.

Add all ingredients to a blender and blend.

Drink immediately, before the ice melts.
Notes
Drink Immediately after making.
Each of these vegan milkshakes makes one large serving or two small servings.