This post contains affiliate links for which I may earn a commission (at no extra cost to you) should you make a purchase. As an Amazon Associate I earn from qualifying purchases. Please see my disclaimer for more information.
This vegan freezer fudge is absolutely delicious! It has a chocolate peanut butter flavour and is healthier than most fudge. No chocolate chips!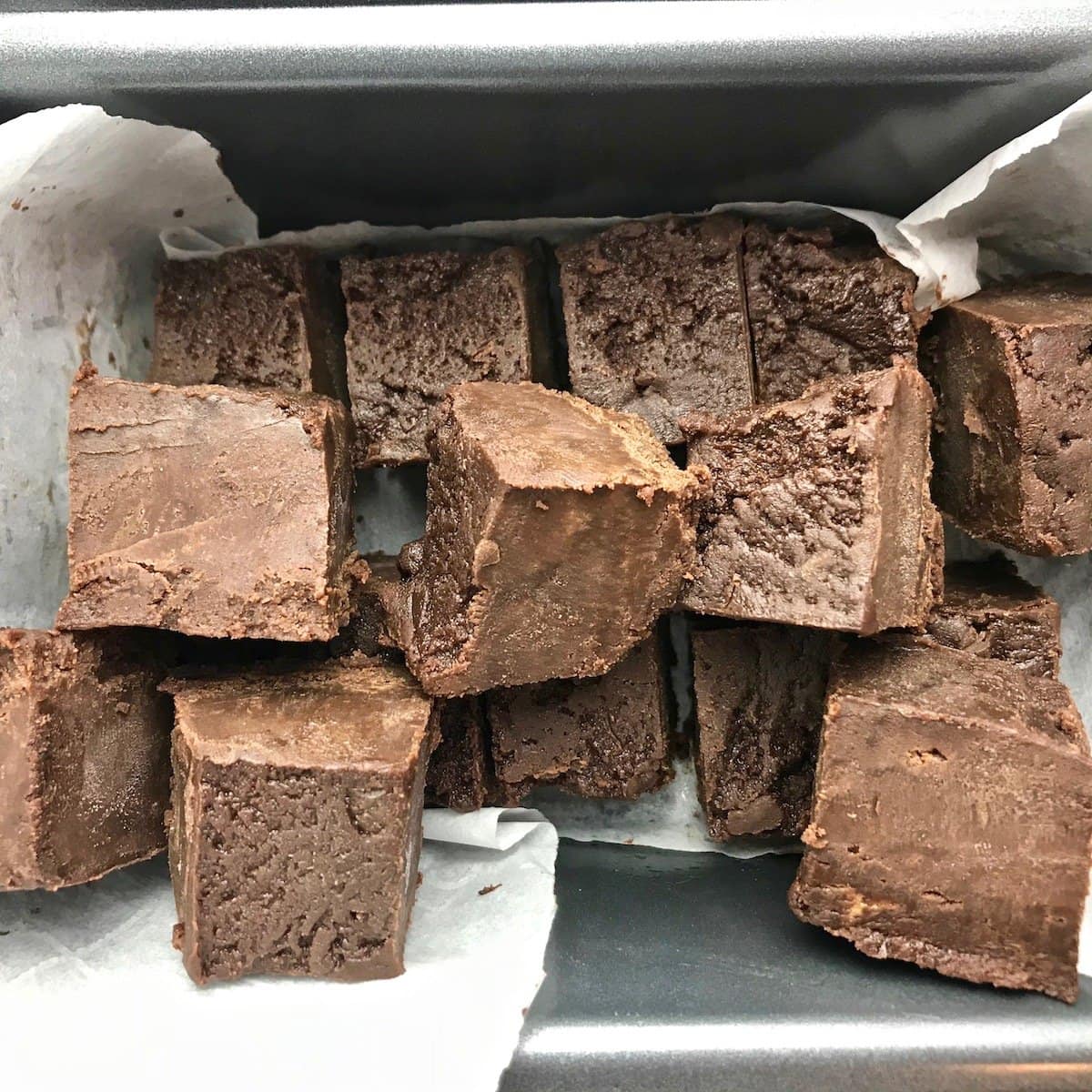 I am a huge fan of fudge. When I started eating a whole-foods plant-based diet, I had a hard time finding fudge that I could eat. Many vegan fudge recipes use vegan chocolate chips, which often contain oil or refined sugar.
So I decided to try making a chocolate peanut butter fudge without chocolate chips. After a lot of trial and error, it turned out great!
It isn't like a typical fudge, and it needs to stay in the freezer because of the lack of chocolate chips, but it tastes fantastic.
Love chocolate? Try this chocolate coconut frosting too!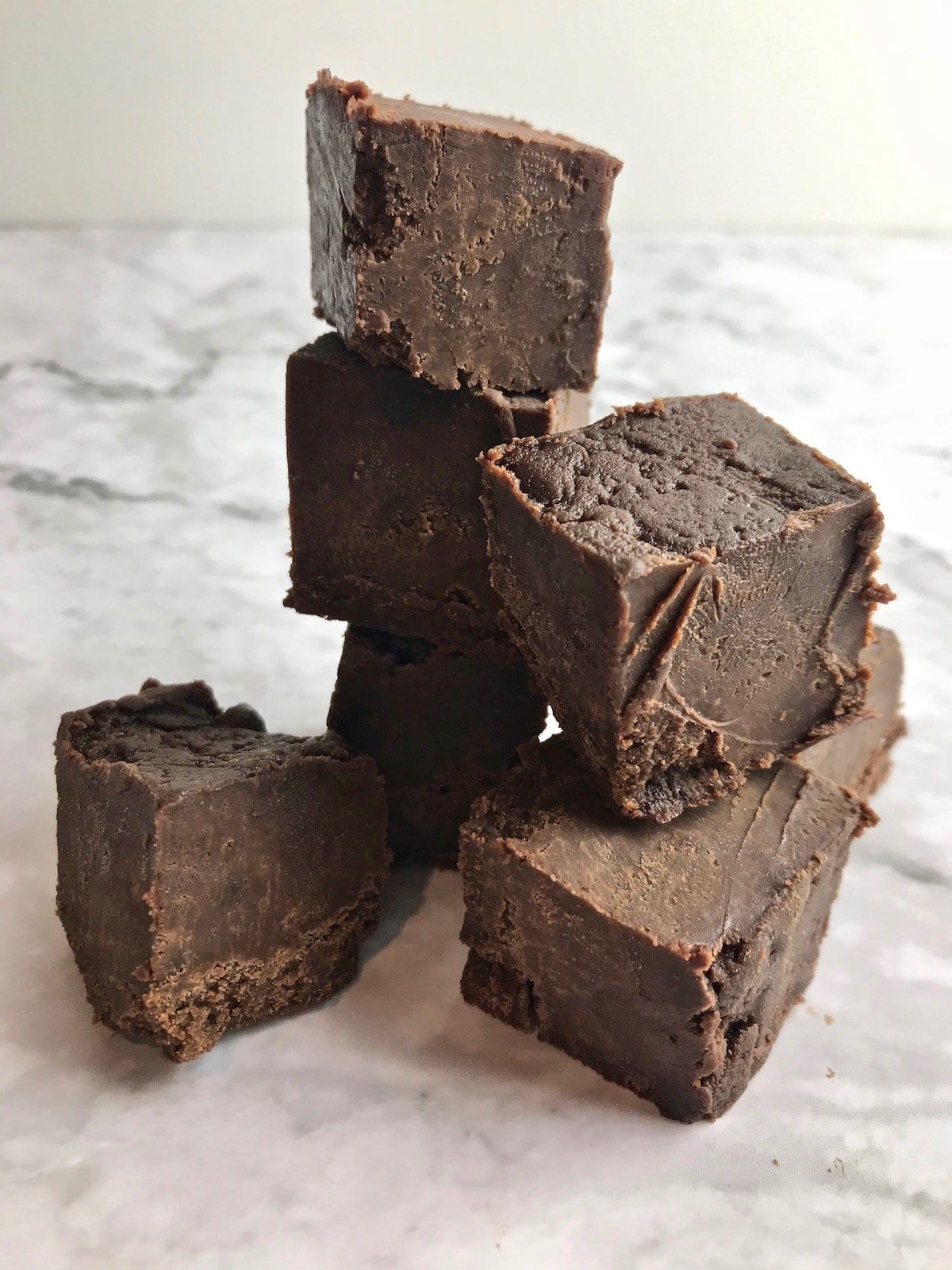 What is in this vegan freezer fudge?
Only 4 ingredients are required for this fudge recipe! You will need:
Peanut butter
Maple syrup
Coconut cream
Cacao powder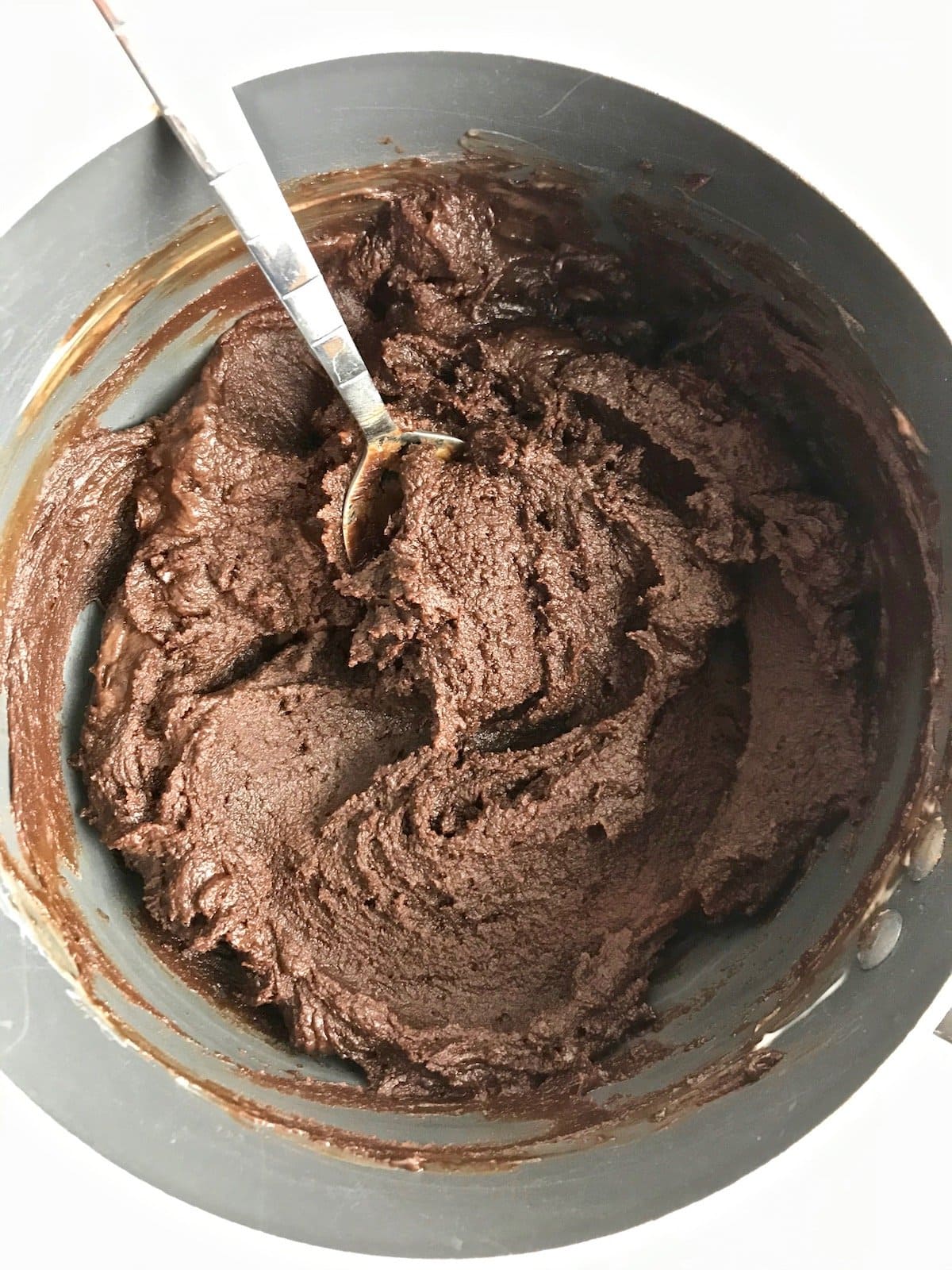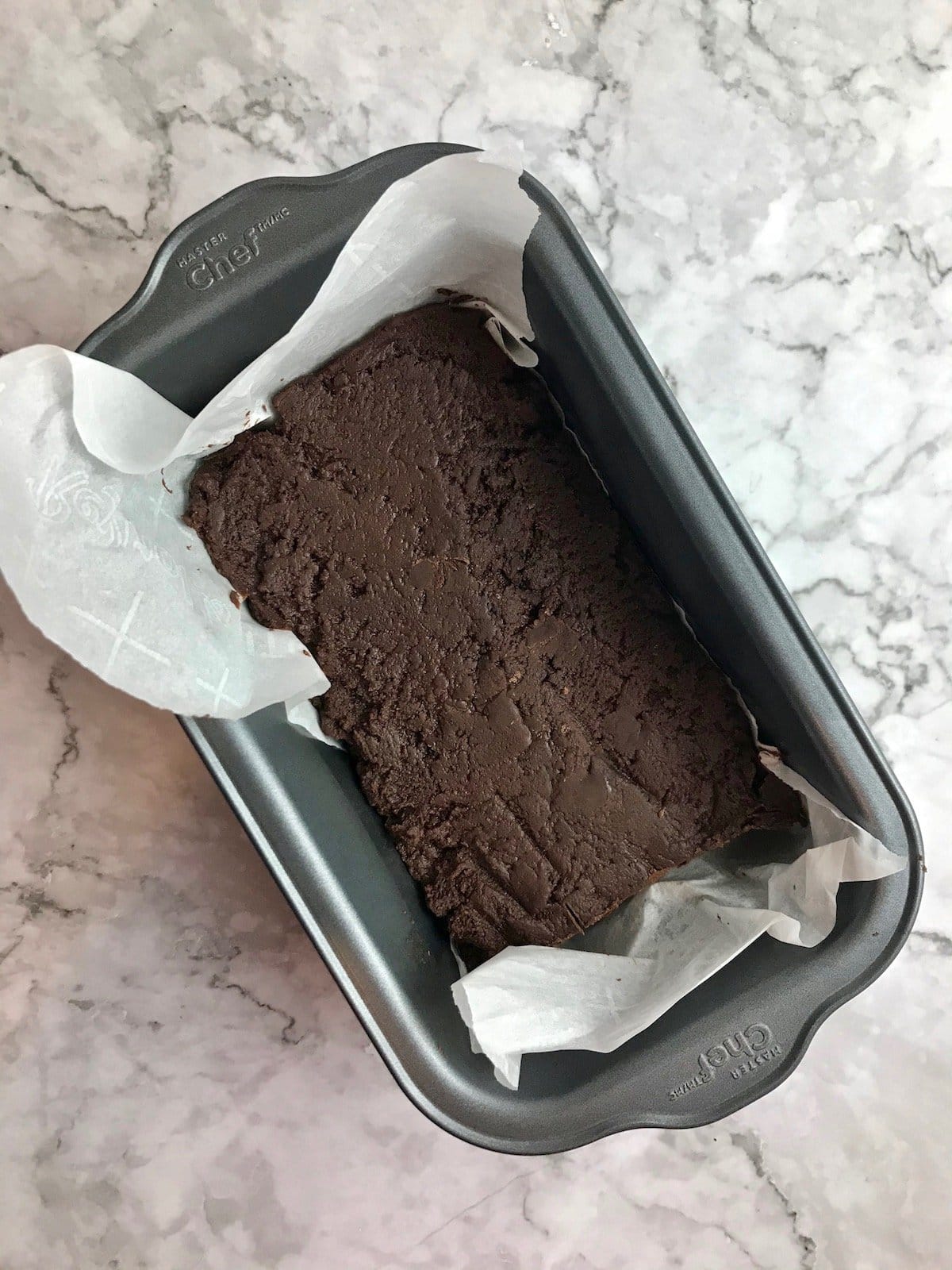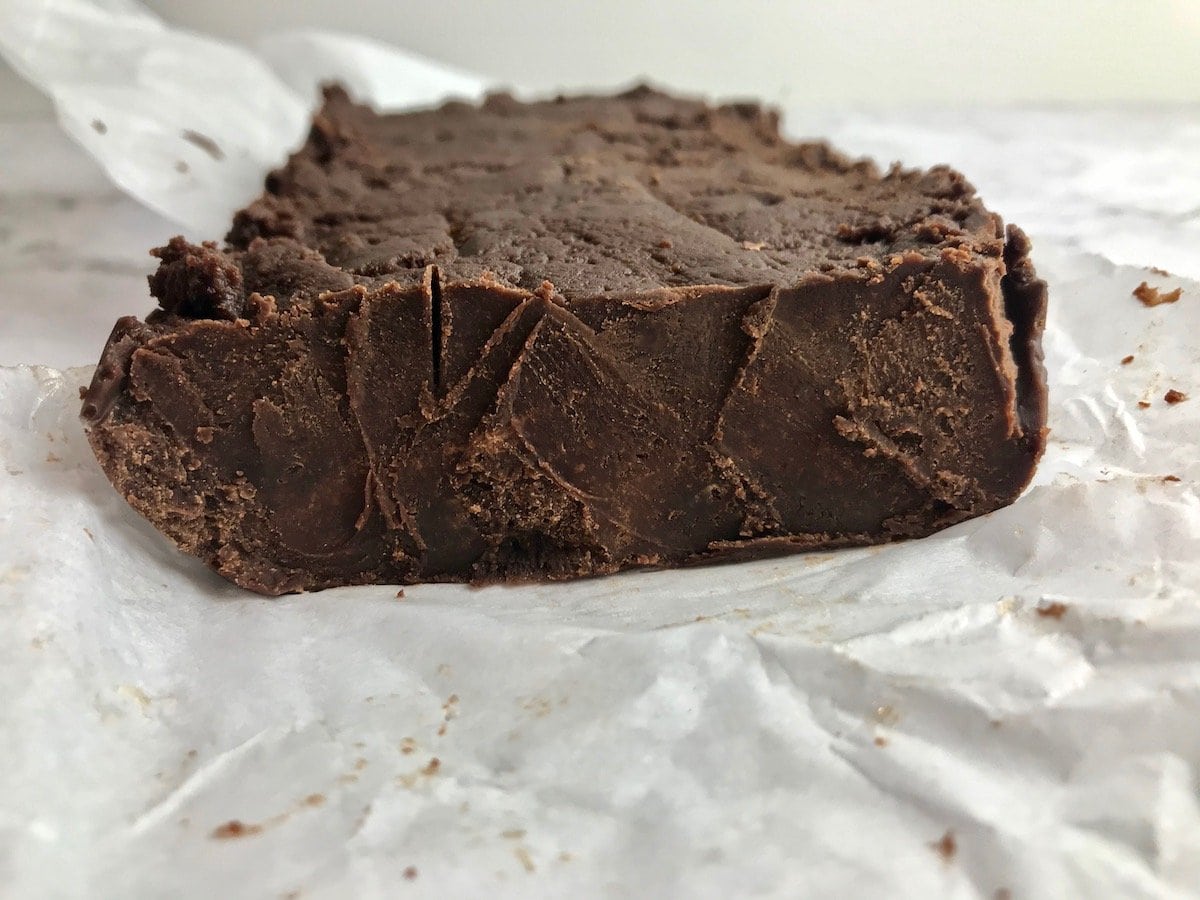 Tips for making this fudge
To get coconut cream, you can buy a can labelled as either coconut cream or coconut milk. The part that you want is the thick, cream part. It will settle at the top of the can, and there will be water underneath. In order to get the most coconut cream possible out of your can, you will need to refrigerate it. I recommend at least 12 hours in the fridge. It will take quite a while to really thicken. To get the most coconut cream out of the can, you can also check the percentage of coconut. Many cans will label the amount of coconut vs. water. You should get the highest percentage of coconut you can find.
You can use either the microwave or stove top to heat the ingredients. The mixture will end up being quite thick, but that is fine. If it was thinner it would not firm up as well in the freezer.
Because the mixture is quite thick, you will have to scoop it and press it into your pan. It will not pour like a typical fudge. Pat it down evenly with a spoon. A press and roll technique with the back of a spoon works well. Just press it down as flat as possible. It doesn't have to be perfectly smooth.
As I mentioned, this fudge needs to stay in the freezer! You can keep it out for 15 minutes or so, but over time it will soften up quite a bit. So when you want a piece, just grab it out of the freezer!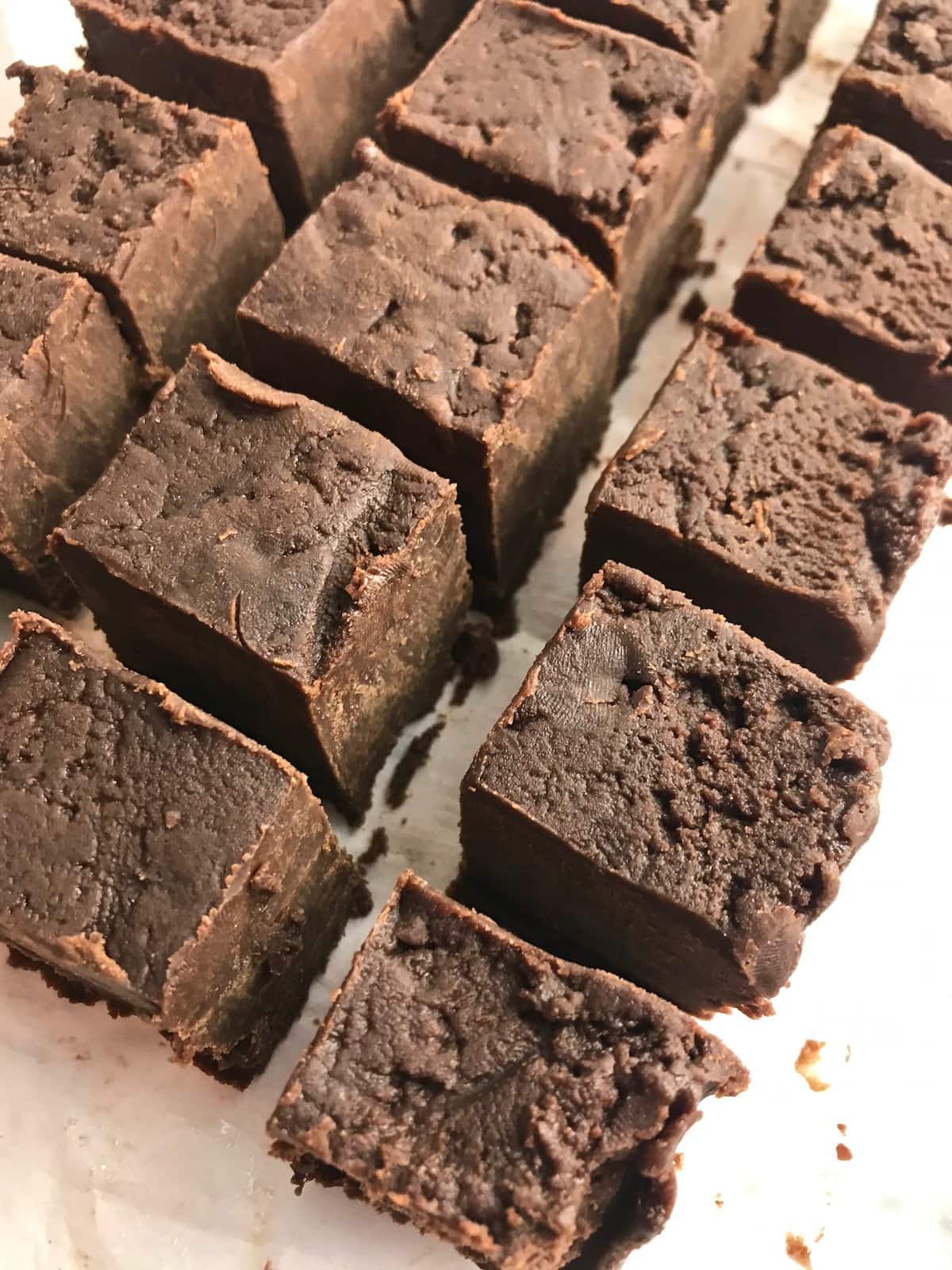 More chocolate vegan recipes
PIN IT FOR LATER!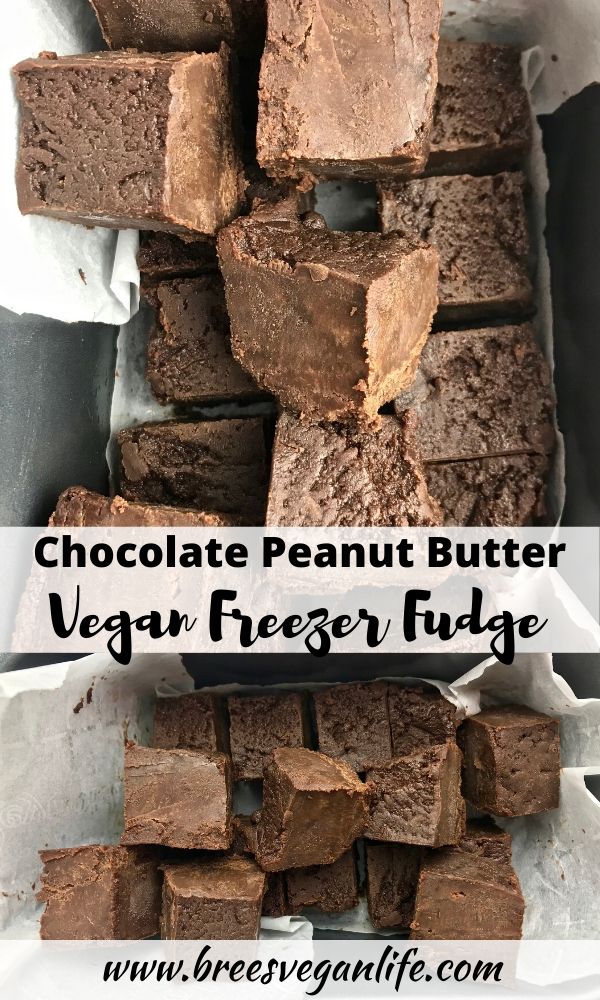 Recipe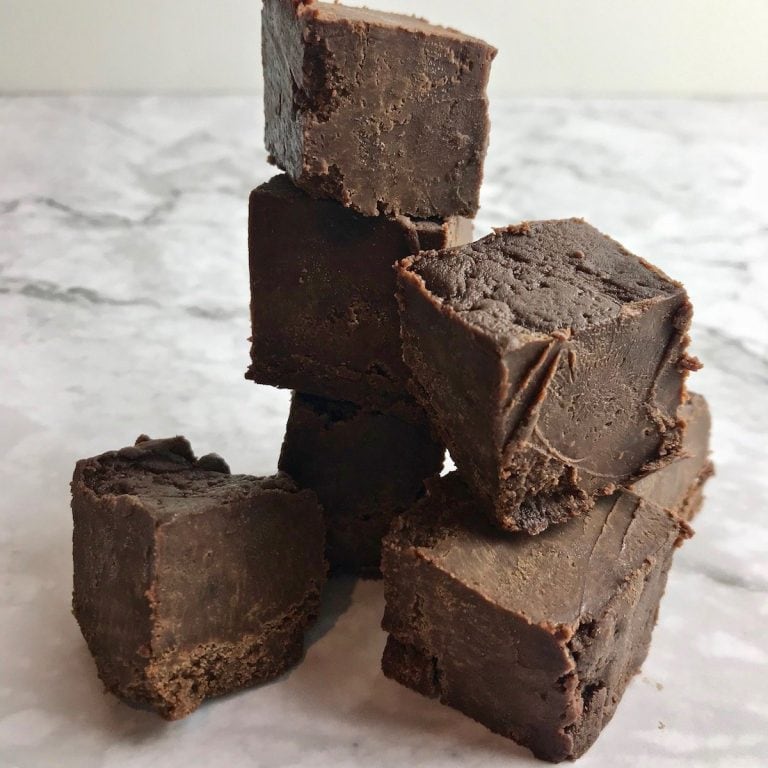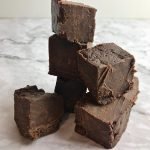 Print Recipe
Chocolate Peanut Butter Fudge (Vegan Freezer Fudge)
This vegan freezer fudge is absolutely delicious! It has a chocolate peanut butter flavour and is healthier than most fudge. No chocolate chips!
Instructions
Add all ingredients to a medium sized pot.

Put the pot on the stove and mix the ingredients together while heating on low heat. Turn off heat as soon as the ingredients are fully mixed together (should only take a couple of minutes).*

Once the ingredients are all fully mixed, the mixture will be quite thick. Scoop it into a loaf pan (lined with parchment paper to avoid sticking) and press it down evenly with the back of a spoon. You won't have much success trying to spread it out smoothly. Just press it down all over the surface until it is flat.

Place the loaf pan in the freezer for at least 2 hours.

Once the fudge is firm and ready, you can remove it from the pan and cut it into squares. Store the squares in a container in the freezer.
Notes
Make sure you freeze this fudge for at least two hours.
The coconut cream should be refrigerated overnight before making this recipe. Use the thick part at the top of the can. Do not mix it with the liquid underneath.
*The purpose of heating in this recipe is just to make it easier to mix the ingredients together. Instead of using the stove, you could put all ingredients in a bowl and microwave for 1-2 minutes. Check after 1 minute to see if the ingredients can be mixed thoroughly. If not, microwave again in 30 second increments.
Keep this fudge in the freezer. It will not hold its shape outside of the freezer.
Use a loaf pan for the fudge as it firms up in the freezer (8 ½ x 4 ½ inches for the pan).
Nutrition
Calories:
116
kcal
|
Carbohydrates:
9
g
|
Protein:
4
g
|
Fat:
8
g
|
Saturated Fat:
3
g
|
Sodium:
58
mg
|
Potassium:
147
mg
|
Fiber:
2
g
|
Sugar:
6
g
|
Vitamin C:
1
mg
|
Calcium:
17
mg
|
Iron:
1
mg
Nutrition Disclaimer
Nutrition information is an estimate generated from a nutrition calculator. There may be errors here or variations based on ingredients you use.