This post contains affiliate links for which I may earn a commission (at no extra cost to you) should you make a purchase. As an Amazon Associate I earn from qualifying purchases. Please see my disclaimer for more information.
Many gummy bears are not vegan because they contain gelatin, such as the original gummy bears by Haribo. But don't worry! There are some companies that make vegan gummy bears that are gelatin-free!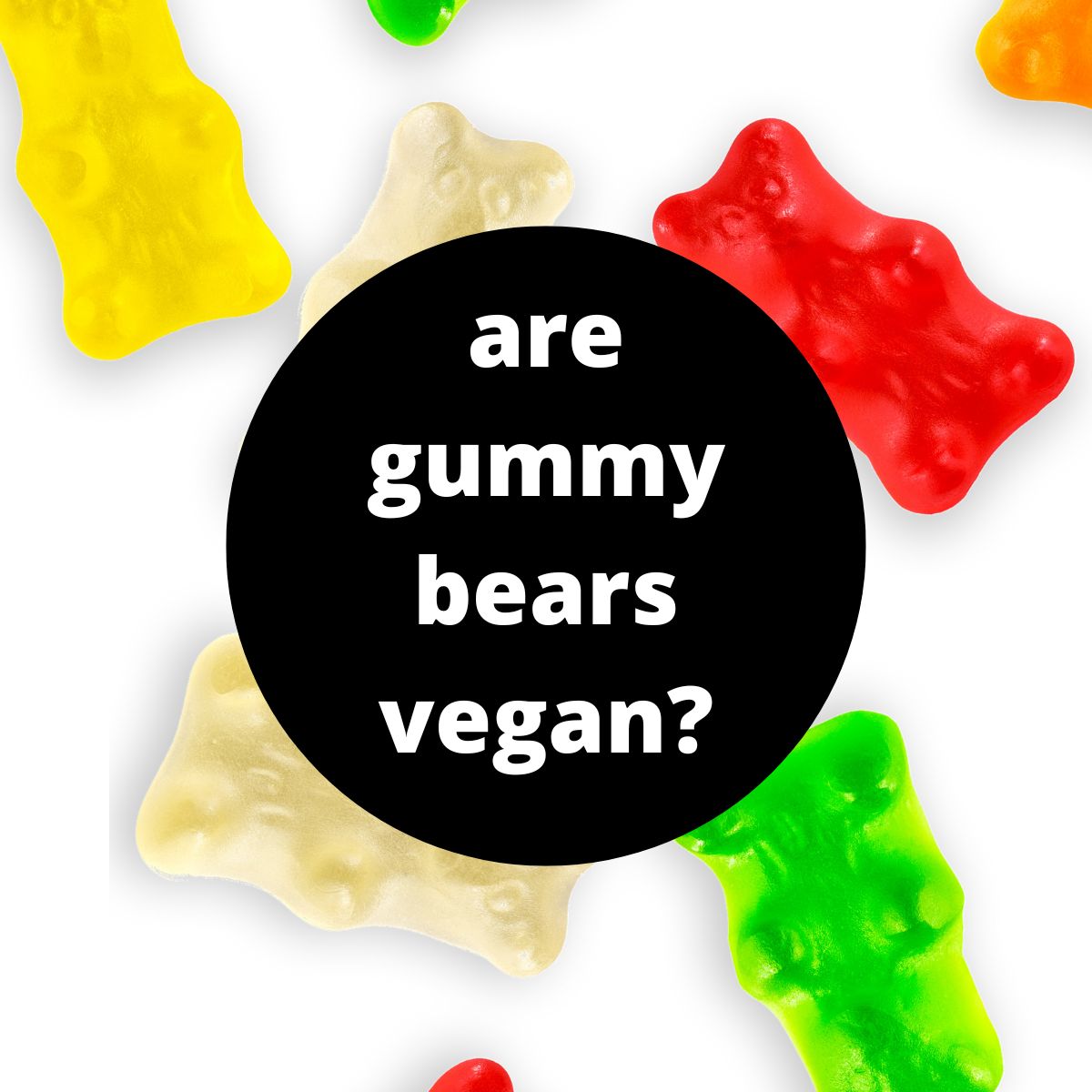 Non-vegan ingredients in gummy bears
Gelatin - Many gummy bear products contain gelatin to create that gummy texture. Gelatin is made from various animal parts like bones, tendons, skin, and ligaments.
Beeswax – Some gummy bear products, like Haribo Goldbears, contain beeswax. This comes from bees, so it is not vegan.
Ingredients to avoid for strict vegans
The ingredients below are not animal products, but strict vegans may choose to avoid them.
Sugar - Cane sugar is sometimes filtered through bone char during the refinement process. Bone char is literally charred animal bones. Cane sugar doesn't ever contain bone char, but it does come in contact with it if it is used.
Artificial colors – Gummy bears often come in a variety of colors, and some companies use artificial colors for this. Most artificial colors do not contain animal ingredients, but they may be periodically tested on animals. Some vegans are okay with this, while some are not.
Natural flavor - Some gummy bears may also contain natural flavor as an ingredient. This can be sourced from plants or animals and is usually not disclosed on packaging. Some vegans avoid all natural flavors of unknown sources. You can always reach out to companies and ask if their natural flavor in a specific product is vegan, but they are often unable to disclose this.
If a product is labeled as vegan, any natural flavor listed on packaging should be sourced from plants.
Gummy bears that are NOT vegan
The following popular gummy bear products contain gelatin:
Haribo Goldbears
Smart Sweets Fruity Gummy Bears
YumEarth Gummy Bears
Black Forest Gummy Bears
Albanese World's Best Gummi Bears
Vegan gummy bear brands
Squish makes the following vegan gummy bear products:
Squish Vegan Rainbow Bears*
Vegan Chili Watermelon Bears
Vegan Sour Rainbow Bears*
They also have plenty of other vegan chewy candies that aren't shaped like bears.
The Squish website confirms that their vegan gummies use sugar that is not processed with bone char.
*The Vegan Rainbow Bears and Vegan Sour Rainbow Bears from Squish contain artificial color. This is not an animal ingredient, but some vegans avoid artificial colors because they are sometimes tested on animals.
Yumy Bear makes 3 flavors of vegan gummy bears:
Sour Watermelon
Strawberry Kiwi
Peach
None of these Yumy Bear products contain artificial colors and they are of course gelatin-free.
These vegan gummy bears are made without any high fructose corn syrup, additives, or artificial colors.
Better Bears gummy bears are vegan and low in sugar and calories.
They come in the following flavors:
Mixed Berry: cherry, raspberry, and strawberry
Tropical: lime, orange, and pineapple
Variety Pack
Jealous Sweets makes the following vegan gummy bear products:
Happy Bears: a mix of apple and lemon flavored gummies.
Love Bears: a mix of pineapple and grapefruit flavored gummies.
Grizzly Bears: a mix of lemon, apple, orange, and strawberry flavored gummies.
Surf Sweets makes two vegan gummy bear products that are made without the Top 8 common allergens:
Organic Fruity Bears: cherry, grapefruit, grape, lemon, orange, and strawberry
Cinnamon Organic Bears
Project 7 makes candy that is low sugar, low carb, low calorie, and vegan. Their Gummy Bears product comes in packages containing 6 flavors of gummies.
These vegan gummy bears contain no artificial sweeteners, colors, flavors, or preservatives.
Vegobears Venice Beach Sour Gummy Bears: lemon, apple, and pineapple
Vegobears Malibu Foamy Gummy Bears: cherry and raspberry
Vegobears Santa Monica Fruity Gummy Bears: banana, pineapple, strawberry
More of "Is It Vegan?"