This post contains affiliate links for which I may earn a commission (at no extra cost to you) should you make a purchase. As an Amazon Associate I earn from qualifying purchases. Please see my disclaimer for more information.
Many bagels are vegan! However, there are some ingredients to look out for, especially when it comes to different flavors.
See below for some non-vegan ingredients to look out for in bagels, as well as popular coffee shops and bakeries that sell vegan bagels.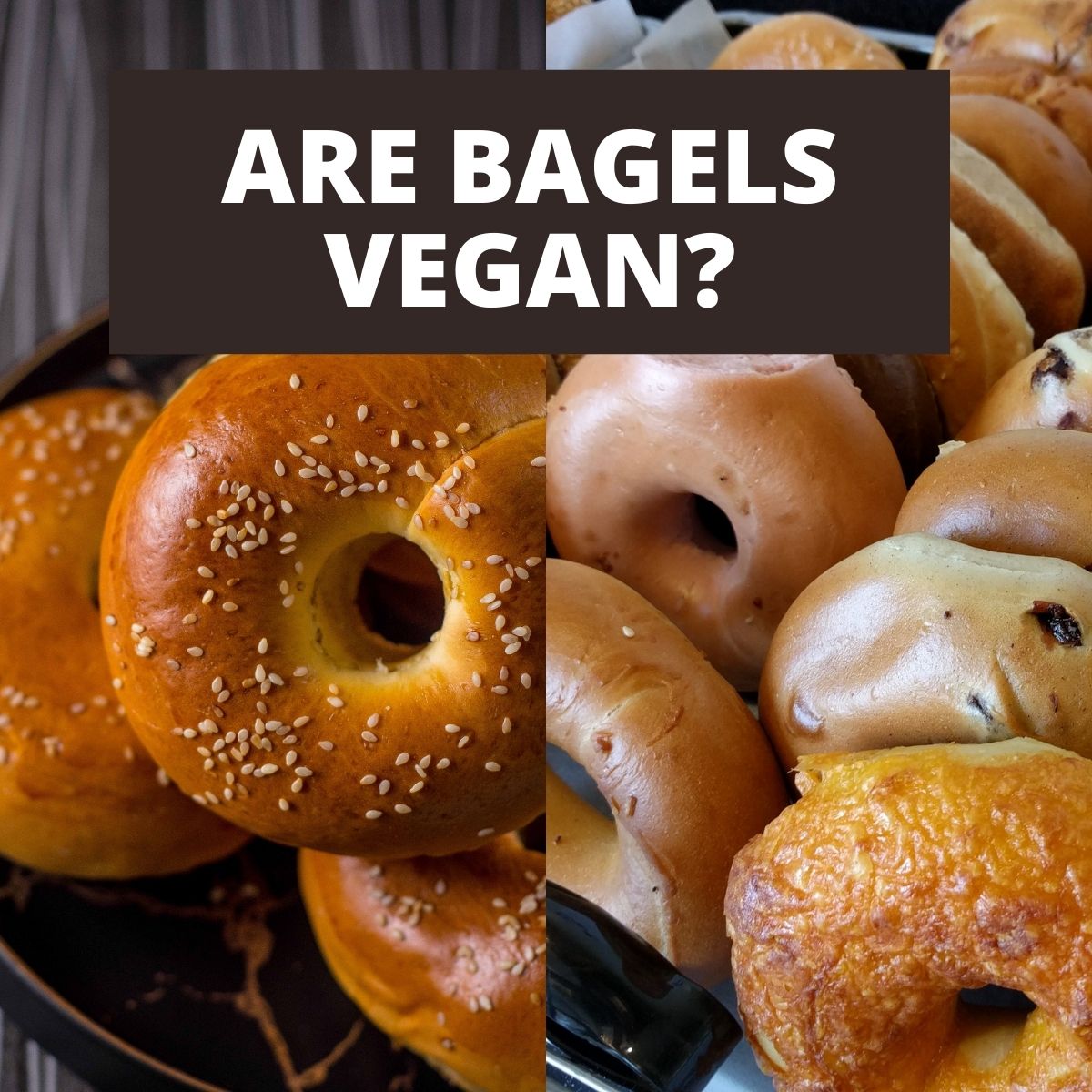 Ingredients in bagels
The basic ingredients for making bagels are flour, yeast, salt, water, and a sweetener. Sometimes eggs, milk, and/or butter are added as well. Flavored bagels also have other ingredients.
Non-vegan ingredients
So here are the non-vegan ingredients you need to look out for in plain bagels:
Eggs
Milk
Butter
Non-vegan sweetener (such as honey)
If you avoid cane sugar that is processed with bone char, you will need to look out for that as well. Some vegans avoid any cane sugar that isn't organic or certified vegan because it may come in contact with charred animal bones during filtration.
If you aren't concerned with this, don't worry when you see sugar listed as an ingredient.
Flavors
You will also need to look out for additional ingredients in bagels to create flavor. Here are some ingredients to avoid:
Cheese or any dairy ingredients
Meat
Honey
To figure out if a store-bought bagel is vegan, simply look at the list of ingredients on the packaging. At a bakery or restaurant, ask someone who works there if their bagels are vegan.
You could also check the company website and if you can't find the information there, you can send an email asking if their bagels are vegan.
Are bagel toppings vegan?
Most common bagel toppings are not vegan. Here are some toppings to avoid:
It is possible to find vegan cream cheese or to make your own, but many bakeries and restaurants still do not offer a vegan cream cheese or butter substitute.
In this case, you may want one of the following vegan toppings:
Peanut butter
Jam or jelly
Avocado
Hummus
If you are having bagels at home, try this cashew cream cheese recipe or make this vegan bagel sandwich.
Vegan cream cheese brands
If you want to buy some vegan cream cheese to spread on your bagels at home, check out these brands:
Vegan bagels at popular chains in the US
Below are some popular bakeries and coffee shops that sell vegan bagels. The vegan bagels listed are for US locations only.
Also note that most of the bagels sold at these places contain sugar that may be processed with bone char. Many vegans are okay with this. If you are not, you won't be able to have bagels at the locations listed here.
Einstein Bros
Einstein Bros sells a variety of bagels, categorized into classic bagels, gourmet bagels, and signature bagels. Below are all of the vegan bagels available.
*Note that some sources state that the Ancient Grain and Power Protein bagels are vegan, but they are not because they both contain honey.
Classic bagels:
Plain
Everything
Sesame Seed
Cinnamon Raisin
Cranberry
Poppy Seed
Onion
Garlic
Pumpernickel
Gourmet bagels:
Avocado Toast
Apple Cinnamon
Signature bagels:
Blueberry
Chocolate Chip
French Toast
Pretzel
Starbucks
Here are the vegan bagels available at Starbucks:
Plain
Cinnamon Raisin
Everything
Dunkin' Donuts
Here are the vegan bagels available at Dunkin' Donuts:
Cinnamon Raisin
Everything
Plain
Sesame Seed
Although it may seem vegan, the Multigrain Bagel contains honey.
Panera Bread
Here are the vegan bagels available at Panera Bread:
Plain
Everything
Blueberry
Sesame
More of "Is It Vegan?"