This post contains affiliate links for which I may earn a commission (at no extra cost to you) should you make a purchase. As an Amazon Associate I earn from qualifying purchases. Please see my disclaimer for more information.
Soy sauce is a salty, brown colored sauce that is used as a cooking ingredient and as a condiment. It's great in many rice and noodle dishes, and also in dressings, soups, and more.
But can vegans eat soy sauce? The answer is yes, but not all brands of soy sauce are entirely vegan. The explanation is complex, so keep reading to find out how to determine if a particular soy sauce is vegan.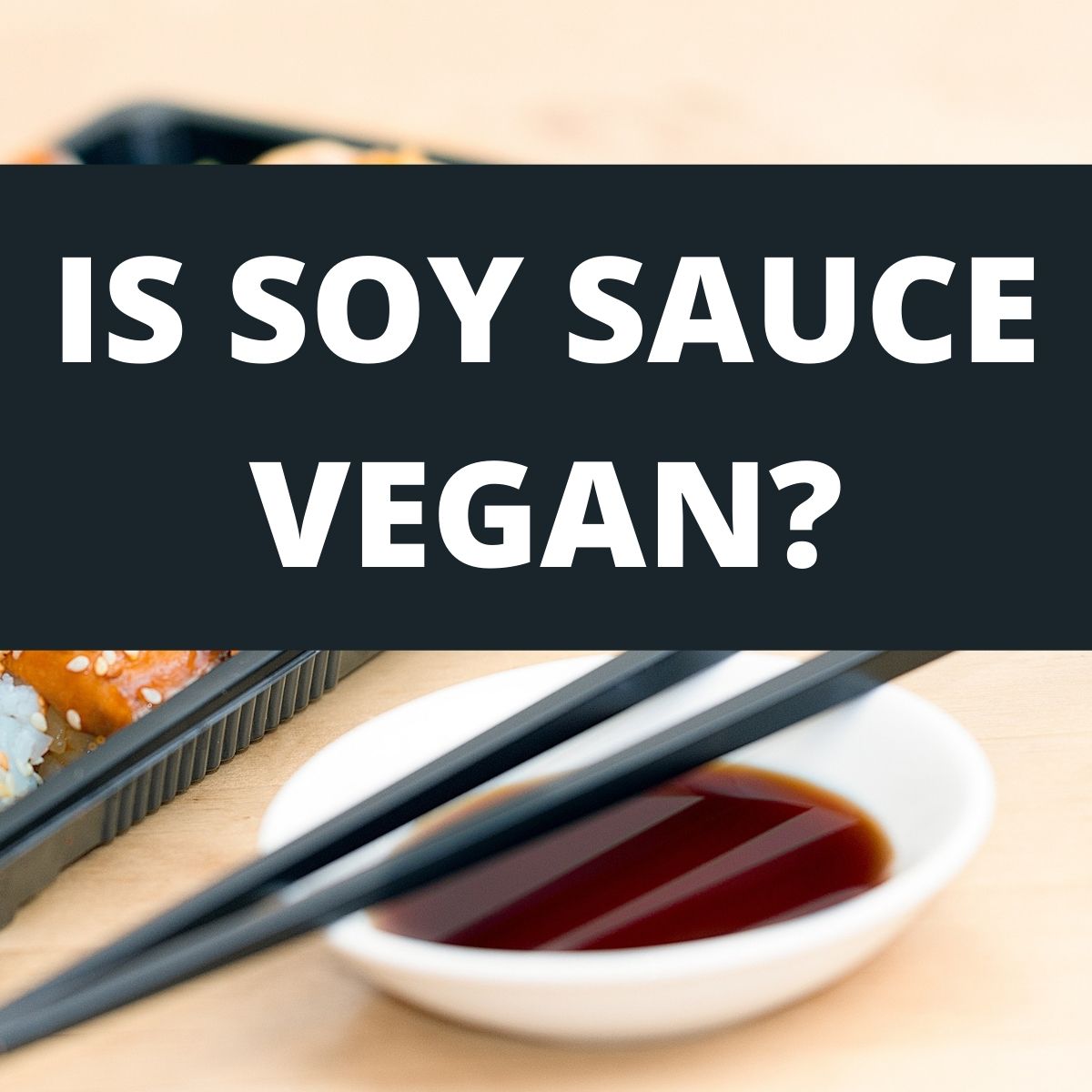 Ingredients in soy sauce
Soy sauce is made with soy beans, wheat, salt, and water.
These ingredients are fermented and brewed to make soy sauce, which is a long process that takes months. During fermentation bacterial and fungal cultures are added.
Sometimes soy sauce is also made through chemical hydrolysis, which is when hydrochloric acid is used to break down the soy proteins instead of undergoing the lengthy fermentation process.
This process takes only days instead of months.
For more information, check out this article on how soy sauce is made.
Potential non-vegan ingredients in soy sauce
Fermentation
A concern for vegans is that animal ingredients may be used in the fermentation process. To figure this out for sure, you would need to reach out to specific soy sauce brands and ask them.
If you are concerned about ingredients used in the fermentation process, you can try Bragg Liquid Aminos, which is a great soy sauce substitute that is not fermented. Or look for a soy sauce that has a vegan certification.
Sometimes lactic acid is used during fermentation, which may or may not be vegan, depending on what it is derived from.
Added ingredients
As mentioned, soy sauce is made with four basic ingredients: soy, wheat, water, and salt. However, some companies will add ingredients to enhance flavor and color. This is more common in soy sauce that is made through chemical hydrolysis.
Here are some examples of ingredients I have found added in some store-bought soy sauce:
Sugar: Sugar is sometimes filtered through bone char, which is avoided by "strict" vegans. If this is a concern for you, you would need to contact companies and ask if their sugar is filtered through bone char. It can be difficult to get a response though, so perhaps avoiding soy sauce with added sugar is best.
Caramel color: Caramel color is sometimes made from sugar, which as mentioned may be filtered through bone char. To know for sure, reach out to companies and ask what their caramel color is made from.
Animal testing
Some soy sauce brands may test some ingredients on animals. It may be difficult to find out whether or not a brand tests on animals, but you can ask anyways to see what they say.
Popular soy sauce brand Kikkoman was previously criticized for testing on animals. Here is their current statement on animal testing. It appears they still test on animals where required by law, so it is up to you to decide if you are okay with that.
Vegan and gluten-free soy sauce alternatives
Since soy sauce contains wheat, it is off limits for anyone who doesn't eat gluten. But there are some delicious gluten-free alternatives!
Tamari
Tamari is a type of soy sauce that is made without wheat, so it is usually safe for those who don't eat gluten. Make sure you check labels though!
There are tamari brands that have a gluten-free certification, such as San-J. This brand also has a vegan certification from Vegan Action on many of their products, so it's a great choice for anyone who wants 100% certainty that the soy sauce they are eating is vegan.
San-J tamari is what I personally use instead of regular soy sauce.
Coconut aminos
Coconut aminos is a great alternative to soy sauce, and it doesn't taste like coconut! This sauce is usually gluten-free, but always check labels to be sure.
All coconut aminos I have found seem to be completely vegan, being made with coconut sap and/or coconut nectar and salt. Look for a vegan label to be sure.
Here are some brands that make coconut aminos that are labeled as vegan:
Liquid aminos
Bragg Liquid Aminos is a product very similar to soy sauce that is made from soy protein. It is not fermented, so the risk of non-vegan ingredients during fermentation is eliminated.
This product is also made without wheat, so it is gluten-free!
Is soy sauce vegan?
So I know this may seem complicated, but it comes down to how serious you are about veganism. Some vegans may not be concerned with what is used in the fermentation process, in which case most fermented soy sauce would be fine to eat.
If you want to know that all ingredients used in the fermentation process are entirely vegan, reach out to the company and ask.
As for hydrolyzed soy sauce, some vegans may be concerned with the addition of sugar and/or color. Again, some vegans may be okay with this uncertainty, but if you are not you can contact the company.
More of "Is It Vegan?"