This post contains affiliate links for which I may earn a commission (at no extra cost to you) should you make a purchase. As an Amazon Associate I earn from qualifying purchases. Please see my disclaimer for more information.
Goldfish Crackers are a popular snack with many cheesy flavors. But do they actually contain cheese or are they vegan?
Find out below!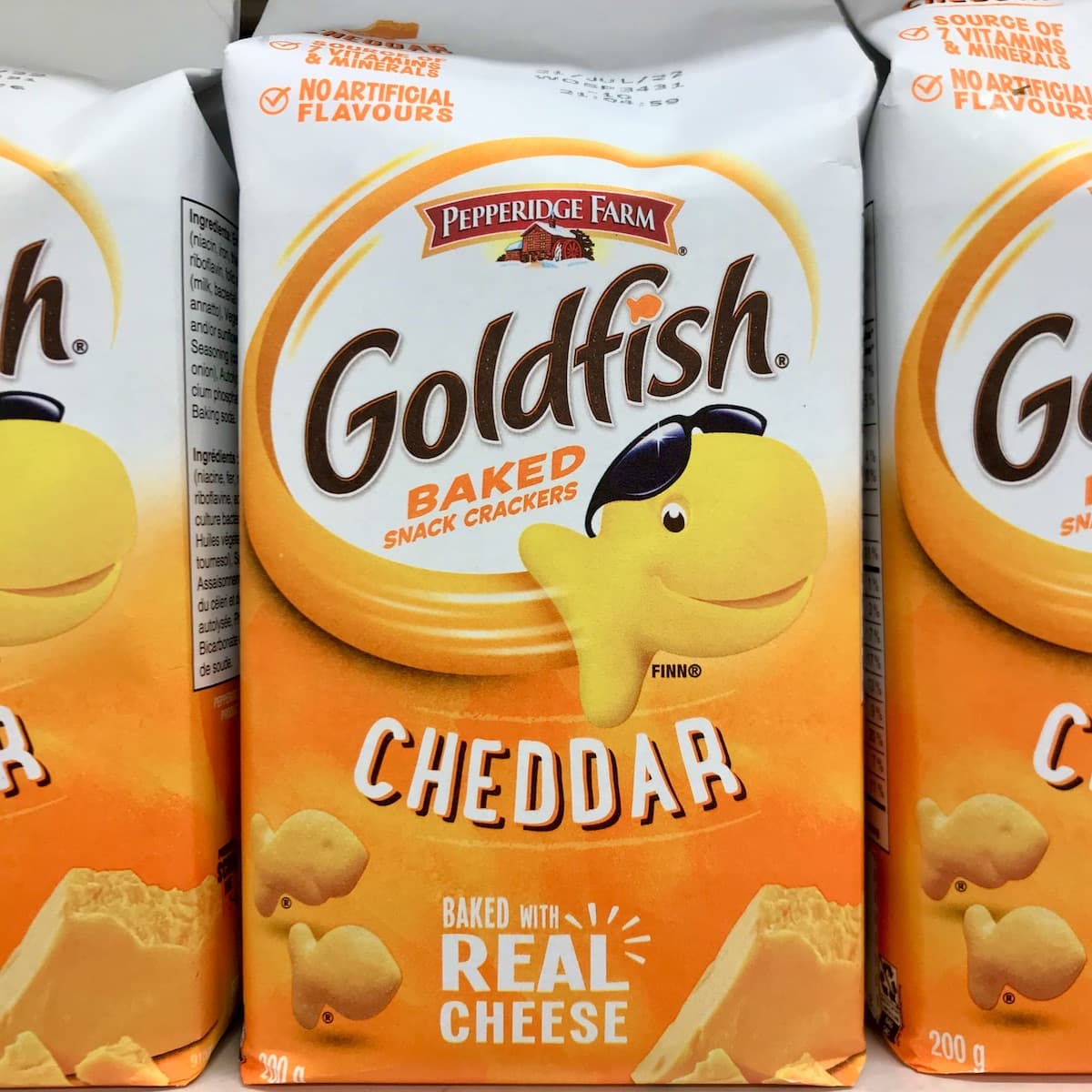 Non-vegan ingredients in Goldfish Crackers
Unfortunately, there are no vegan Goldfish Crackers as they all contain milk ingredients.
Keep reading if you want to know what specific non-vegan ingredients are found in Goldfish.
Milk
Each package of Goldfish contains at least one of the following milk ingredients:
Cheddar Cheese
Whey
Monterey Jack Cheese
Parmesan Cheese
Romano Cheese
Sweet Cream Solids
Sour Cream Solids
Cream
Milkfat
Nonfat Milk
Butter
Sugar
Cane sugar is sometimes filtered through bone char, which is charred animal bones. Sugar filtered with this method does not actually contain bone char, but it does come in contact with it.
Some vegans are okay with this, but some avoid all sugar that is filtered through bone char.
Some flavors of Goldfish also contain brown sugar, which is made with cane sugar that may be filtered through bone-char as well.
Gelatin
There is currently gelatin in one flavor of Goldfish Crackers - the S'mores flavor.
Honey
There is currently honey in one flavor of Goldfish Crackers - the S'mores flavor.
Natural flavors
Some Goldfish flavors contain natural flavors. Natural flavors come from either plants or animals, though this is usually not disclosed on packaging. So the natural flavors in Goldfish may or may not be vegan.
There are also some other ingredients in various Goldfish flavors that may be non-vegan, however those listed above are the most obviously non-vegan ingredients.
And the specifics of each ingredient don't need to be looked at because we already know that all Goldfish flavors contain milk ingredients anyways.
Are Goldfish gluten-free?
No. All Goldfish crackers contain wheat, therefore they are not gluten-free.
More of "Is It Vegan?"