This post contains affiliate links for which I may earn a commission (at no extra cost to you) should you make a purchase. As an Amazon Associate I earn from qualifying purchases. Please see my disclaimer for more information.
Donuts are a delicious, indulgent, sweet treat that can be made in various flavors! But can vegans enjoy these tasty, doughy treats?
Sometimes! Keep reading to learn about the ingredients in donuts and where you can find vegan donuts.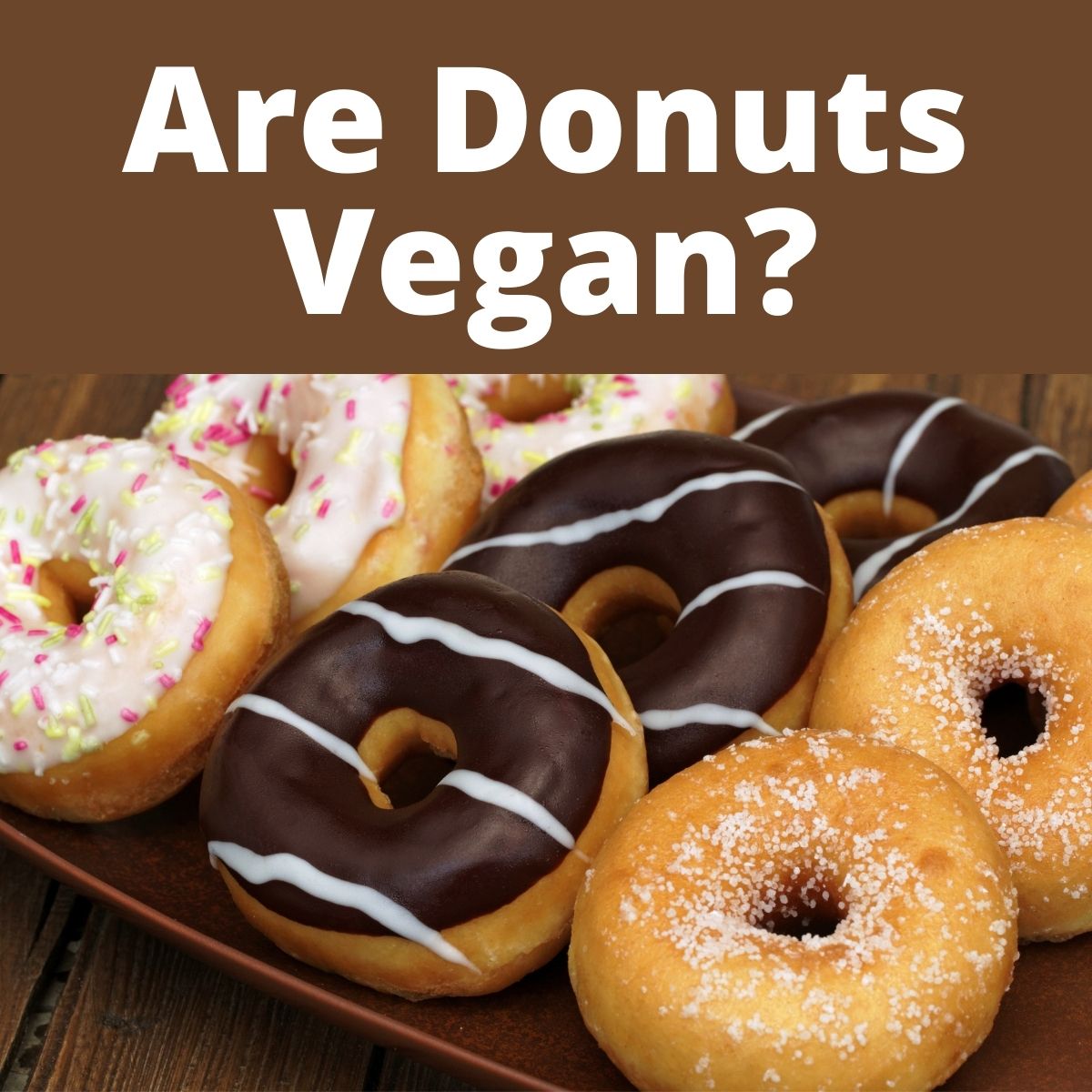 Ingredients in Donuts
Donuts are made of sweet dough that is fried and often topped with a glaze or icing. They also sometimes have a filling.
Donuts are typically NOT vegan as they are conventionally made with animal products.
Here are some common ingredients in donuts:
Flour
Sugar
Eggs
Milk
Butter
Oil
Baking powder or yeast
Salt
Shortening
These are just the basic ingredients, and of course other ingredients may be added for different flavors, such as fruit, nuts, and more.
Are donut glazes vegan?
A donut glaze may sometimes be vegan, but they often contain milk and sugar that could possibly be filtered-through bone char. Even if some glazes are vegan, they will likely be on donuts that are not vegan.
Potential glaze ingredients:
Gelatin
Sugar
Shortening
Milk
Artificial colors
Natural and/or Artificial Flavor
Filling ingredients can vary depending on flavor. Some common fillings types are cream, jelly, and chocolate.
Non-vegan ingredients in donuts
The 3 most common non-vegan ingredients in donuts are eggs, milk, and butter. Some strict vegans may also consider some cane sugar to be non-vegan because it is sometimes filtered through bone char, which is charred animal bones.
As for donut glazes, they sometimes contain gelatin which is definitely not vegan. There is also the potential issue of bone char-filtered sugar in a glaze, as well as animal-based shortening and milk. This will vary depending on what ingredients are used in a specific glaze.
Are any donuts vegan?
These days basically anything can be made in a vegan version, and if you have been vegan for awhile, you know that there are vegan "eggs", vegan "milk", and vegan "butter."
So even though most donuts that you will find at the store or in shops are not vegan, some places do sell vegan donuts! You can also find some recipes below to make vegan donuts at home.
Are donuts dairy-free?
Most donuts will contain milk and/or butter, so they are usually not dairy-free. Some may be dairy-free, but even when this is the case they usually contain eggs, which is why even dairy-free donuts may not be vegan.
Popular donuts – Are they vegan?
Are Krispy Kreme donuts vegan?
Krispy Kreme sells Original Glazed Vegan Doughnuts in the UK.
Unfortunately it seems they still do not sell any vegan donuts in Canada or the US. Krispy Kreme also operates in many other countries, but it appears they only have a vegan donut in the UK.
Are Tim Hortons donuts vegan?
Tim Hortons is a popular chain in Canada that sells plenty of donuts, but unfortunately they currently do not have any vegan donuts.
Are Dunkin' donuts vegan?
Dunkin' began selling a variety of vegan donuts in Belgium and Netherlands in 2021, but they do not sell any vegan donuts in the US.
Vegan packaged store-bought donuts
Unfortunately the store-bought donuts that I have found are almost always non-vegan. You can sometimes find packaged vegan donuts at Whole Foods, and you may be able to find some in your local store bakery section. This seems to be rare though.
Hopefully in the future more brands will make vegan donuts that we can buy in mainstream stores!
Vegan donuts at shops
Since vegan donuts aren't often available at popular chain stores and shops, you may want to look for a donut shop in your community that sells vegan donuts.
PETA has compiled a list of vegan donut shops in the US and Canada.
Vegan donut recipes
Below are some vegan donut recipes that you can make at home! If you are concerned about bone char-filtered sugar, make sure you use sugar that is organic or certified vegan.
Cinnamon Sugar Vegan Donuts by Nora Cooks
Vegan Donuts by Chocolate Covered Katie
Easy Vegan Glazed Donuts by It Doesn't Taste Like Chicken
Vegan Pumpkin Donuts by Food With Feeling
Recap
So as you can see, it is quite difficult to find vegan donuts at mainstream shops and stores. If you want vegan donuts, your best bet is to find a vegan donut shop near you or to make your own at home!
More of "Is It Vegan?"