This post contains affiliate links for which I may earn a commission (at no extra cost to you) should you make a purchase. As an Amazon Associate I earn from qualifying purchases. Please see my disclaimer for more information.
Not all SkinnyPop is vegan, but they do have many vegan flavors to chose from! They even have "cheesy" flavored popcorn products that are vegan!
SkinnyPop makes ready-to-eat Popped Popcorn, Popcorn Mini Cakes, Microwave Popcorn, and Popcorn Chips.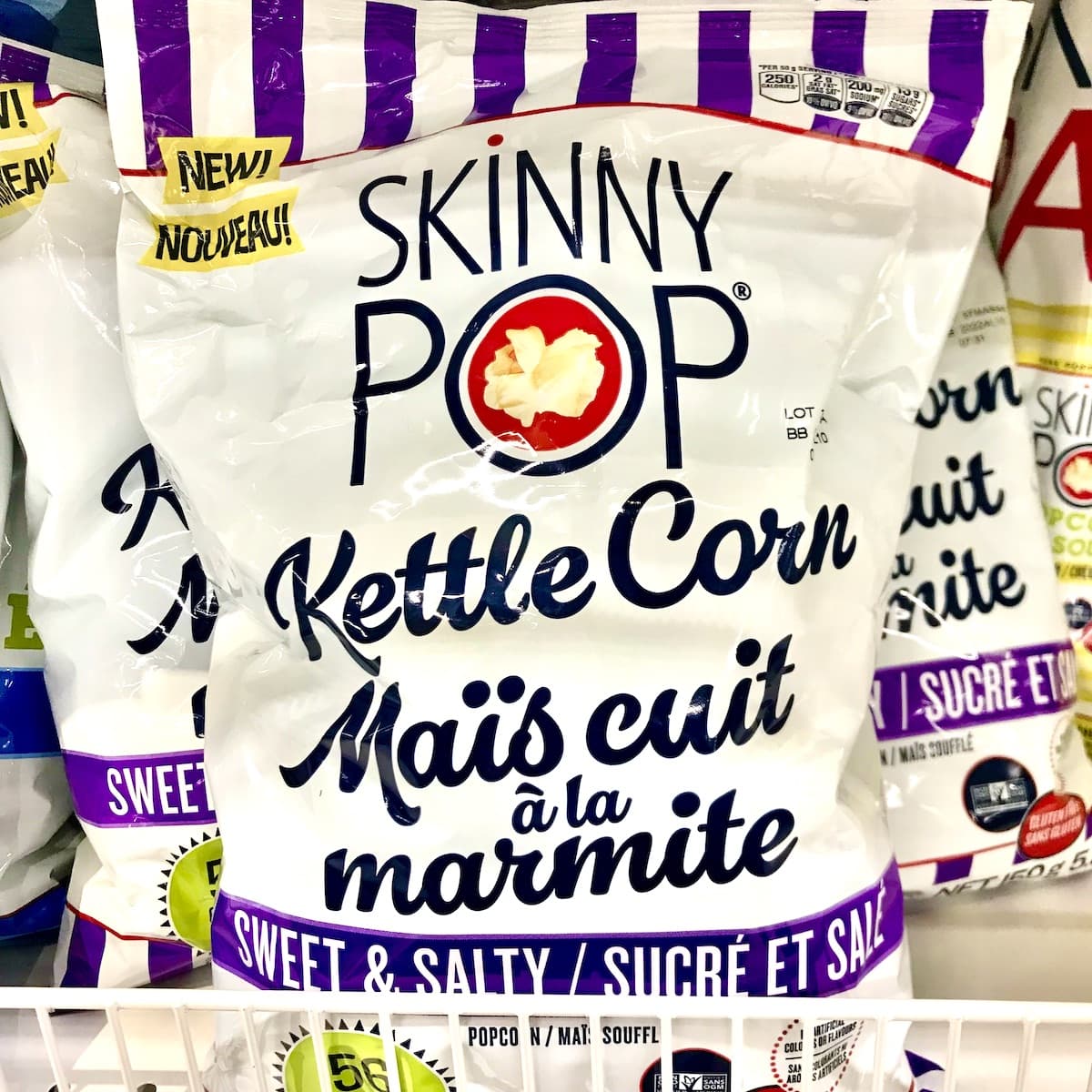 SkinnyPop ready-to-eat popcorn contains popcorn kernels, sunflower oil, and salt (this is all that is in the original flavor). Their flavored popcorn of course has additional ingredients, but the base ingredients are the same.
All SkinnyPop popcorn is free of GMOs, gluten, and preservatives. They are also peanut and tree nut free.
Now let's find out which flavors are vegan!
Jump to:
Vegan SkinnyPop Flavors
All of SkinnyPop's vegan flavors are certified vegan by Vegan Action (vegan.org).
Keep in mind that sometimes companies choose not to renew a certification and ingredients may change, so make sure you check for the Vegan Action certification logo before purchasing SkinnyPop.
Some SkinnyPop products do contain dairy, but the risk of cross-contamination with their vegan products is very low due to the cleaning of equipment and keeping non-dairy ingredients separate from dairy ingredients in their facilities.
Popped Vegan Flavors
Original
Sea Salt & Pepper
White Cheddar Flavor
Twist of Lime
Sweet & Salty Kettle Corn
Sweet Vanilla Kettle Corn
Microwave Popcorn Vegan Flavors
Popcorn Mini Cakes Vegan Flavors
Sea Salt
Sharp Cheddar Flavor
Cinnamon & Sugar
Salted Caramel
Everything Bagel
Popcorn Chips Vegan Flavors
Sea Salt
BBQ Flavor
Cheddar & Sour Cream Flavor
Non-Vegan SkinnyPop Flavors
There are currently only 2 non-vegan products that SkinnyPop makes. They are the following ready-to-eat Popped Popcorn flavors:
Aged White Cheddar (contains dairy)
Butter (contains dairy)
If there is a flavor that you can't find here, that means it is a flavor that has come out after the publishing of this article. SkinnyPop may create new flavors at any time and ingredients may change as well. To confirm that a product is vegan, check the packaging before purchasing.
More "Is It Vegan?" Articles