This post contains affiliate links for which I may earn a commission (at no extra cost to you) should you make a purchase. As an Amazon Associate I earn from qualifying purchases. Please see my disclaimer for more information.
Looking for a vegan probiotic supplement? Check out this list of supplements that will improve your digestion!
The Best Vegan Probiotic Supplements
This container of gummies comes with 30 servings that have a tasty strawberry flavor! There are 60 gummies per container, but the recommended serving size is 2 gummies.
These Future Kind probiotics contain a probiotic called DE111 Bacillus subtilis, with 5 billion colony-forming units.
They are also 100% organic and GMO-free.
Future Kind claims that these little probiotic gummies have the power to protect your gut microbiome, support your body's immune function, and improve your digestion by lowering your colon's pH level.
Some customers have reported that these probiotic gummies from Future Kind have gotten rid of bloating, gas, and constipation.
Pros: Great flavor and lowest cost per serving on this list.
Con: Must take 2 gummies for one serving.
Get Future Kind Probiotic Gummies here.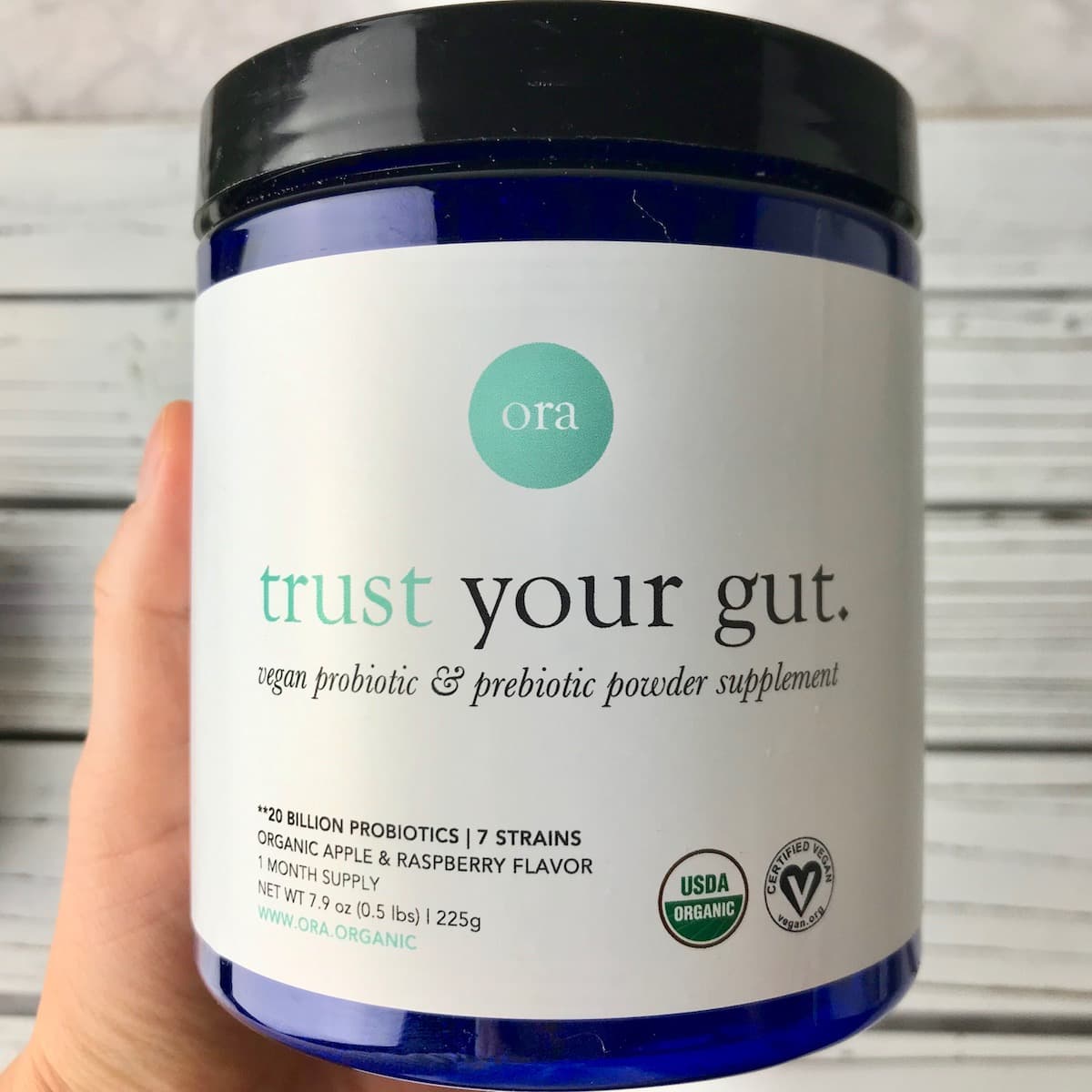 Ora Organic makes several probiotic and prebiotic supplements. They have powders and capsules.
The apple raspberry flavored powder contains 20 billion probiotics per serving, from 7 probiotic strains.
It also contains prebiotics which help the good bacteria in your gut thrive, helping your probiotics work.
Ora Organic claims that this probiotic supplement may help improve digestion, immune function, hair and skin, and more.
This container has 30 servings and comes with a convenient scoop inside to measure out each serving.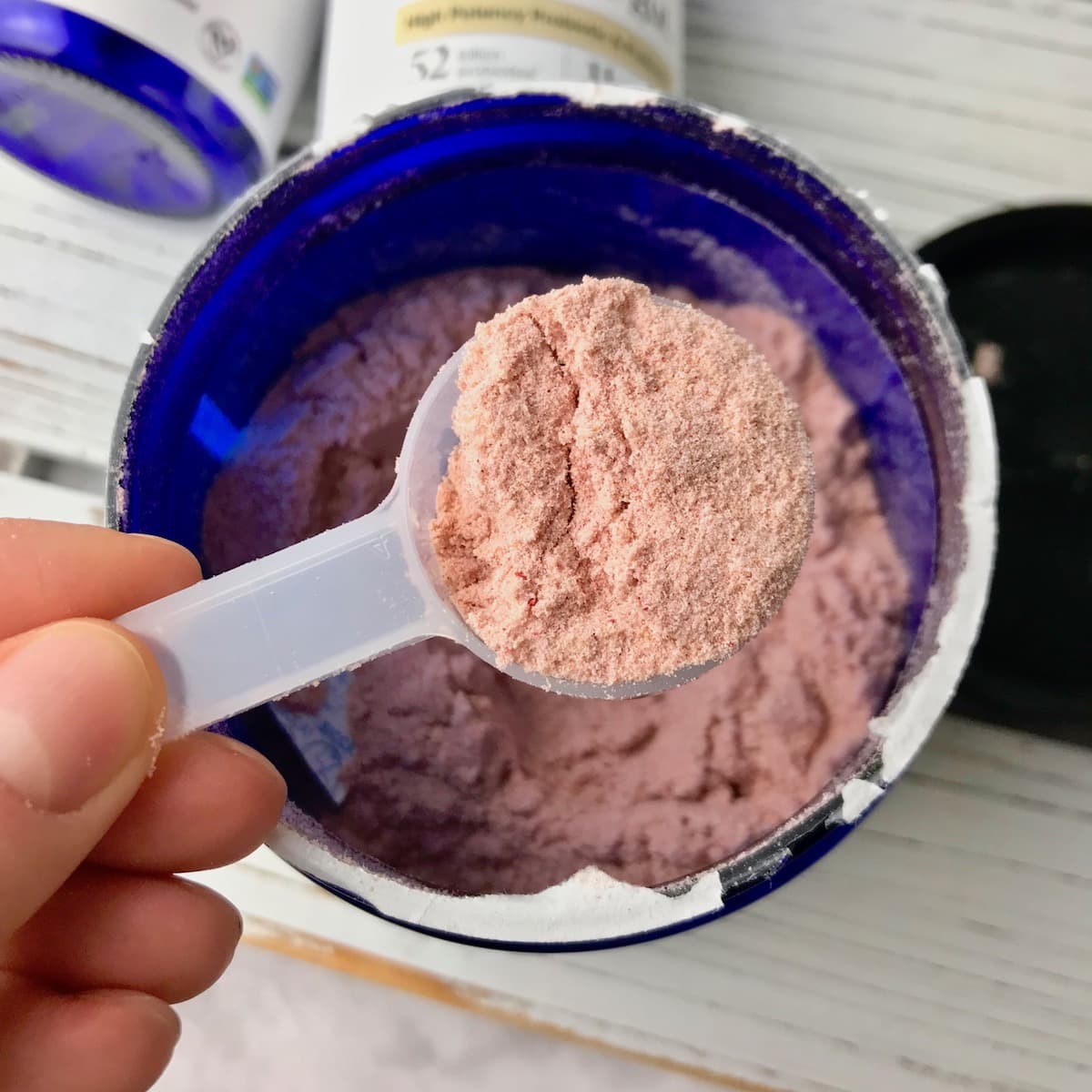 This probiotic powder can be mixed with a bit of water or blended into a smoothie. I have tried mixing this apple raspberry-flavored powder with just some water and I think it tastes just fine.
I do however prefer adding it to a smoothie. Here is the smoothie recipe I use:
1 frozen banana
½ cup frozen strawberry
¾ cups oat milk or almond milk
Pros: Tastes great in a smoothie and contains prebiotics to fuel the probiotics.
Con: Doesn't mix very well with cold water.
For more reviews of this probiotic, check out the product page on Ora Organic.
Get Ora Organic Apple Raspberry Probiotic Powder here.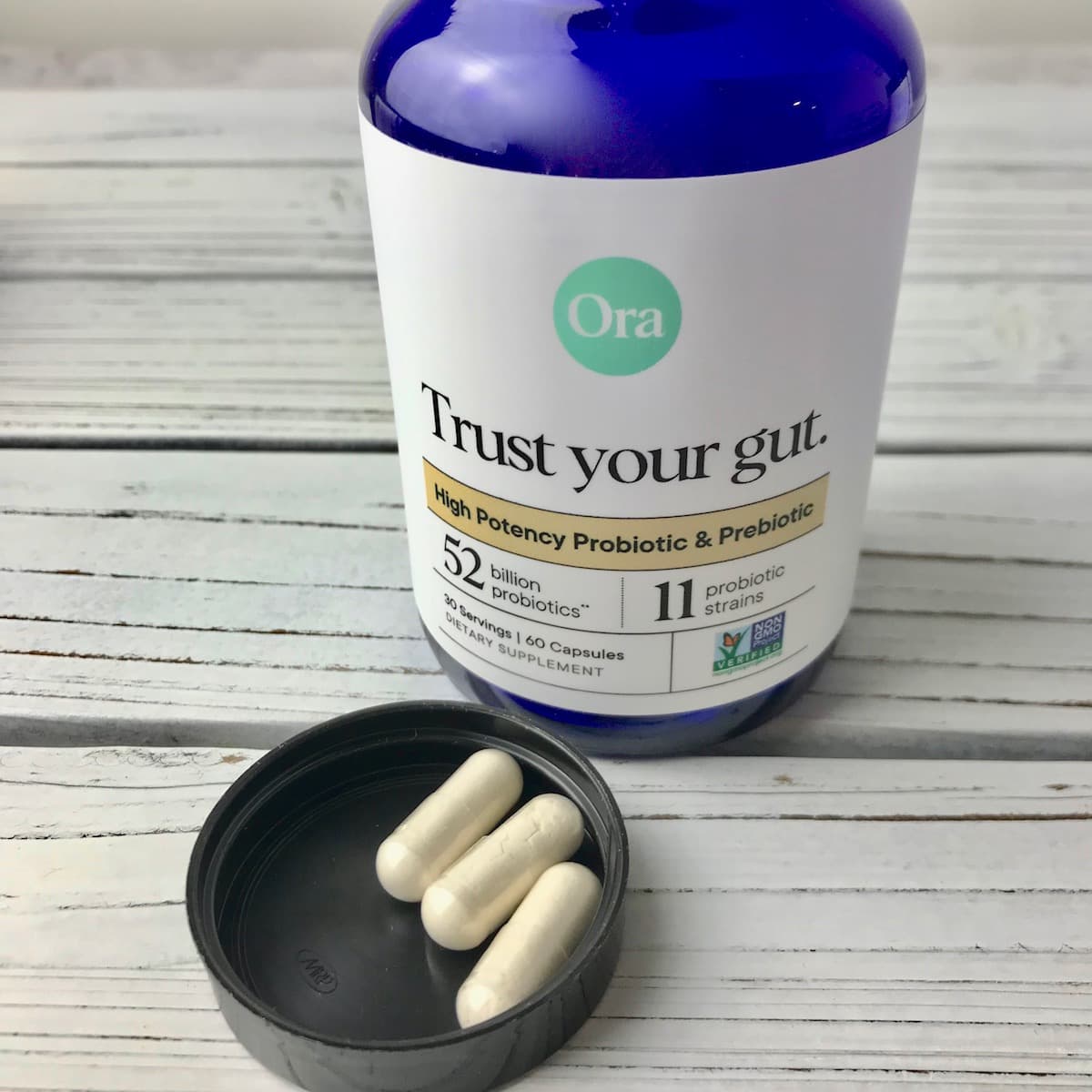 This bottle of probiotics contains 60 capsules, which is 30 servings because one serving is two capsules.
These probiotic capsules from Ora Organic contain 52 billion probiotics from 11 different strains.
This supplement also contains organic prebiotics to help ensure that the probiotics can be their most effective.
This probiotic supplement will help keep your gut microbiome healthy, which can improve your digestion, immunity and even mood. This supplement will also create probiotic diversity in your microbiome with 11 different strains.
Ora Organic states that this supplement is specifically great for a gut reset if you've just finished taking antibiotics.
For daily use, you may only need a less potent supplement like Ora Organics Trust Your Gut Daily Essential Probiotic & Prebiotic.
Pro: High potency – more probiotics per serving than any other supplement on this list.
Con: More expensive per serving because of the high potency.
Get Ora Organics High Potency Probiotics here.
Each serving of this probiotic supplement contains 35 billion probiotics from 8 different strains.
These supplements also contain 2 prebiotic fibers to support good gut bacteria. This blend of prebiotics and probiotics can withstand heat and acid in the gut so you can get the full benefits.
This supplement promotes a healthy digestive system, nutrient absorption, immunity, and may even help some with weight loss.
Some customers have reported that this probiotic supplement has regulated bowel movements.
Get Plant Fusion vegan probiotics here
This liquid probiotic supplement is made with 12 different probiotic strains and comes in 2 sizes: 4 oz bottle or a travel-friendly 2 oz bottle.
The full-size 4 oz bottle contains 40 servings, so it will last you longer than a month! You can take a serving of this supplement just plain, or you can add it to a drink or smoothie.
Pro: Options for consumption – plain, in a drink, or in a smoothie.
Con: Liquid drops make it more difficult to measure an accurate serving than capsules or gummies.
Get Mary Ruth's Organic Liquid Probiotics here.
What are probiotics?
Probiotics are good bacteria and yeasts in your body that are necessary to keep you healthy and your body functioning optimally.
You also have bad bacteria in your body and when there is too much bad bacteria, good bacteria like probiotics can help eliminate bad bacteria and return balance to your body.
Probiotics can help you with digestion, improve your immune system, and more. This happens naturally in your body, so a supplement isn't always necessary.
People often seek a probiotic supplement when they are having digestive issues such as bloating, gas, or constipation.
Are probiotics vegan?
Probiotics occur naturally in your body, so of course they are vegan in that form.
Probiotic supplements however are not always vegan.
There are also some foods that can increase probiotics in your body, and not all of these foods are vegan. For example, many people eat yogurt to get more probiotics, but yogurt is not vegan.
Some vegan foods that are rich in probiotics include kombucha, fermented pickles, fermented sauerkraut, some sourdough breads, tempeh, and miso.
Do you need a probiotic supplement?
If you are unsure whether or not you should be taking a probiotic supplement, consult with a healthcare provider.
Some people who may benefit from a probiotic supplement are anyone who has digestion issues such as bloating, gas, or constipation.
You may also consider taking a probiotic supplement after completing a round of antibiotics. This is because while antibiotics kill bad bacteria, they also kill good bacteria. A probiotic supplement can help replenish the good bacteria in your body.
You can learn more about probiotics here.
If you are also interested in finding a vegan collagen supplement, check out this list of collagen-boosting supplements.
You can also check out this list of the best vegan supplement brands!