This post contains affiliate links for which I may earn a commission (at no extra cost to you) should you make a purchase. As an Amazon Associate I earn from qualifying purchases. Please see my disclaimer for more information.
Looking for a vegan toothpaste? It can be hard to find toothpaste brands that don't test on animals, but this list will help you find a toothpaste that is vegan and cruelty-free!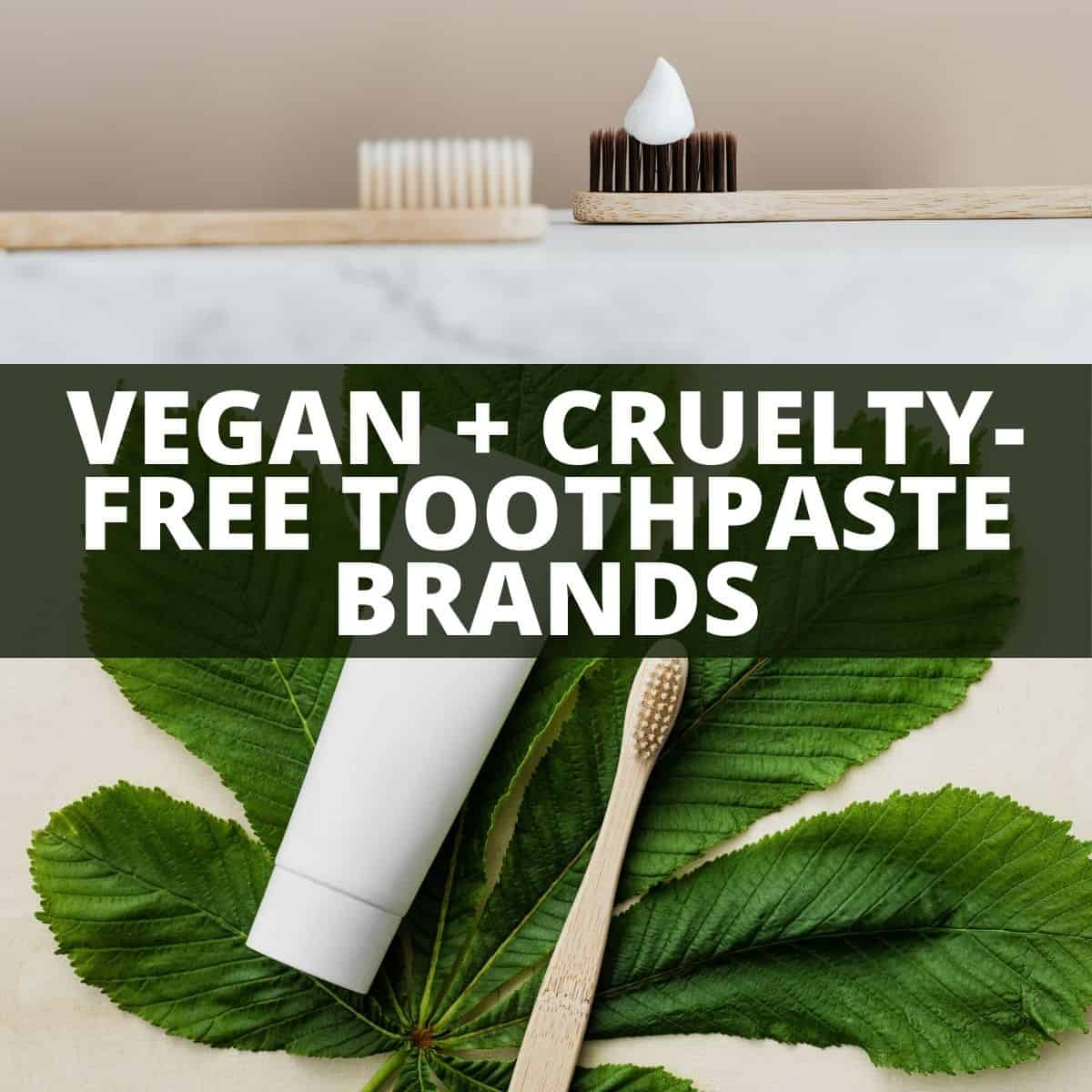 Is Toothpaste Vegan?
Like most products, there are some toothpastes that are vegan, and some that are not. Unfortunately, some companies use animal-derived ingredients in their toothpastes, and many big brands still test their ingredients and products on animals. Containing animal products or being tested on animals makes something non-vegan.
Common toothpaste brands to avoid (because they test on animals):
Colgate
Crest
Aquafresh
Pronamel
Sensodyne
Arm & Hammer
What is Fluoride?
Fluoride is a mineral found in soil, water, and some foods. It is often added to toothpaste and public water supplies to help prevent cavities.
There is some debate around whether or not people should use toothpaste that contains fluoride. Dentists recommend it because it strengthens tooth enamel and helps to prevent cavities, but some people choose to avoid it.
If you're unsure about whether or not you should be using a toothpaste with fluoride, you should always check with a qualified dentist.
This list of vegan toothpastes contains options for people who want toothpaste with fluoride and for those who want a fluoride-free toothpaste.
Vegan Toothpaste Tubes
Kiss My Face
Kiss My Face is not an entirely vegan company, but all of their toothpastes are vegan. They are completely cruelty-free, so none of their products are tested on animals.
Kiss My Face does not put phthalates or parabens in any of their products. Some of their toothpastes contain fluoride and some do not.
Fluoride Toothpastes
Whitening Cool Mint Gel With Fluoride
Fluoride-Free Toothpastes
Jason
Jason is a cruelty-free personal care company that is mostly vegan. Two of their products contain beeswax, but all of their toothpastes are vegan!
Fluoride-Free
Travel Size Powersmile Toothpaste
With Fluoride
Desert Essence
Desert Essence is completely cruelty-free and many of their products are vegan. All of their toothpastes are fluoride-free, and they use sodium coco sulfate (SCS) instead of sodium lauryl sulfate (SLS).
Desert Essence has several vegan toothpastes:
Cali White
Cali White is an oral care company that is vegan and cruelty-free. All of their products are fluoride-free.
They have 2 whitening toothpastes to choose from:
Auromere
Auromere is cruelty-free and most of their products are vegan, including all of their toothpastes. Their products are made with premium Ayurvedic herbs and botanical extracts.
Auromere toothpastes:
Davids
Davids makes completely vegan and cruelty-free toothpaste. It is fluoride and SLS free. The toothpaste tubes are made from metal to reduce the number of plastic toothpaste tubes that end up in landfills, and the inside of the tubes is lined with a Food Grade Non-BPA liner. The tubes can still be squeezed to get the toothpaste out with the use of a metal tube key that slides onto the end of the tube.
Flavors:
Dr. Bronner's
Dr. Bronner's is cruelty-free and most of their products are vegan. They have 4 toothpaste flavours to choose from and they are all vegan.
These vegan toothpastes are all fluoride and SLS-free as well. They are also low-foaming, free of carrageenan, free of preservatives, and free of synthetic sweeteners.
Dr. Bronner's toothpaste flavors:
Vegan Toothpaste Powders
Pretty Frank
Pretty Frank is a cruelty-free company that makes personal care products. Not all of their products are vegan, but the toothpaste powder is vegan!
They have a Mint Mineral Toothpaste Powder and a Mint Charcoal Toothpaste Powder. They contain no fluoride, glycerin, SLS, GMOs, or triclosan.
To use, simply sprinkle some of the powder onto a wet toothbrush and brush your teeth. That's it!
Uncle Harry's
Uncle Harry's makes vegan toothpaste in a jar and toothpaste powders. The tooth powder comes in 3 variations:
These toothpaste powders are free of preservatives, foaming agents, colors, artificial flavors, baking soda, and glycerin.
To use: Put a pinch of powder in the palm of your hand, then scoop it up with a wet toothbrush and brush your teeth.
More Vegan Product Guides
Looking for more vegan products? Check out the following articles: