This post contains affiliate links for which I may earn a commission (at no extra cost to you) should you make a purchase. As an Amazon Associate I earn from qualifying purchases. Please see my disclaimer for more information.
Looking for a vegan shampoo? I know how challenging it can be to figure out if a product is truly vegan and cruelty-free, so here is a list to make it easy for you!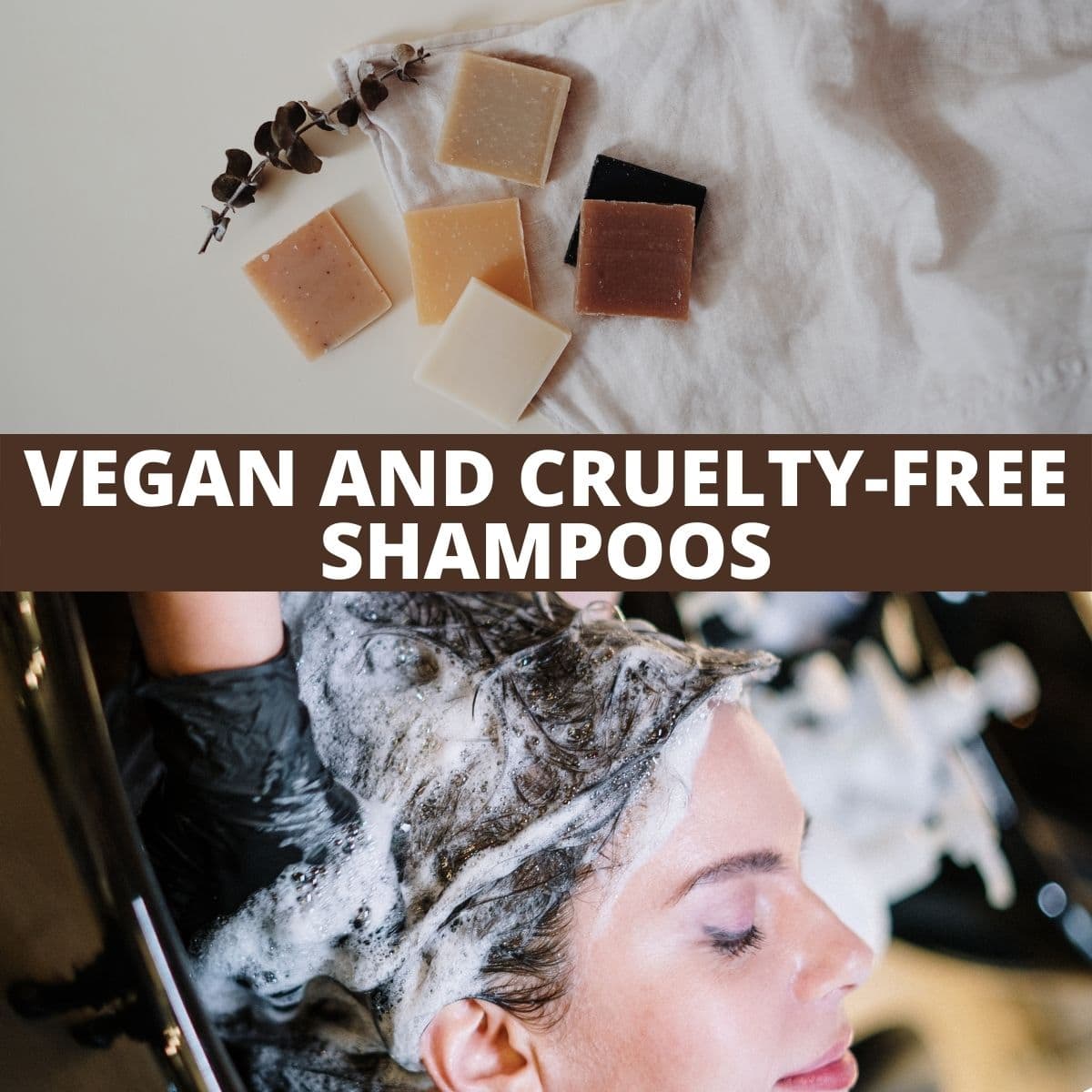 Being vegan involves so much more than just what you eat. You constantly need to be checking labels and looking up information on websites for any shoes, beauty products, etc. that you are interested in buying.
Luckily, more and more companies are offering vegan products and several beauty companies are committed to being cruelty-free!
Keep reading for a list of shampoos that are all vegan and cruelty-free.
What is the difference between vegan and cruelty-free?
Some people assume that vegan and cruelty-free are the same, and these terms are often used interchangeably, but they have different meanings. While it does seem logical that anything cruelty-free would also therefore be vegan and anything vegan would also be cruelty-free, this is not the way it works for product labeling.
Cruelty-Free
Cruelty-free relates to the production and testing process, not the ingredients that are in a product.
A beauty company can be certified as cruelty-free as long as they don't test anything on animals at any point during the production process. This means they don't test individual ingredients or products on any animals.
This also means they don't test on animals even where it is required by law, such as in China. So a truly cruelty-free company cannot sell any products in China.
But not all cruelty-free products are vegan. A cruelty-free product can still contain animal ingredients such as gelatin, beeswax, honey, and more.
Vegan
Calling a product vegan refers to the ingredients used. This means the product contains absolutely no animal-derived ingredients.
Unfortunately, companies may state that a product is vegan if it has no animal ingredients, even if it was tested on animals.
You need to look out for companies that label products as vegan even though they are not cruelty-free.
If we really consider what it means to be vegan, that would mean a vegan product should cause no harm to animals in any way, so a product must be cruelty-free and contain no animal products to be truly vegan.
Unfortunately being cruelty-free isn't a requirement for a vegan label which is why labels can often be misleading. That's why I recommend not using any products unless they are certified cruelty-free and contain no animal ingredients.
Because of how confusing it can be to determine if a product is vegan and cruelty-free, it is best to check for certification from a reputable organization, such as PETA, The Vegan Society, or Leaping Bunny.
All of the shampoos listed below are vegan and are from cruelty-free companies, all certified by PETA or Leaping Bunny. Some of these companies do not carry exclusively vegan products, however every shampoo on this list is vegan.
Vegan shampoos from 100% vegan and cruelty-free companies
This vegan and cruelty-free company has several shampoos. All of them are formulated without parabens or sulfates.
The Buildup Balancing Hemp & ACV Shampoo is fragrance free and works to reset your hair's pH balance. This is achieved with apple cider vinegar and hemp seed oil. It is perfect for those who have a sensitive scalp and/or are sensitive to scents.
Check price of Acure shampoo here.
Pacifica is a 100% vegan and cruelty-free company and they have 6 shampoos to choose from.
The Rose Water Sleek & Shiny Shampoo is enriched with rose flower oil, vitamins, and plant proteins. It is perfect for those with dry and colour-treated hair, as it locks in shine and moisture. This shampoo is also free of sulfates, SLS, parabens, and phthalates.
Check price of Pacifica shampoo here.
Puracy is a 100 % vegan and cruelty-free brand that sells various home and body cleaning products.
Their shampoo is completely sulfate-free and comes in a refreshing citrus + mint scent. They also have a conditioner that pairs well with it.
Puracy claims that their shampoo hydrates and strengthens hair while eliminating frizz. It is fortified with Vitamins E and B5, and is also safe for colour-treated hair.
Check price of Puracy shampoo here.
Ethique creates sustainable vegan beauty care products. They have several shampoo bars that come in various scents and target various hair concerns. All of the shampoo bars come in compostable packaging because this company is committed to being zero waste!
The Pinkalicious Shampoo Bar for Normal Hair is a great choice. This bar has a wonderful grapefruit and vanilla scent, and it's perfect for anyone who is unsure of what hair type they have or for anyone who doesn't have any specific hair concerns.
Check price of Ethique shampoo here.
Vegan shampoos from 100% cruelty-free companies
Live Clean has several vegan personal care products, all of which are labeled as "Pure Vegan" on the back of the product for easy identification.
All of their shampoos are labeled as vegan except for the biotin one. All of their products are also free from parabens and phthalates.
The Argan Oil Restorative Shampoo contains 100% pure argan oil, grape seed, and olive oil to replenish and give shine to the hair.
Check price of Live Clean shampoo here.
Avalon Organics is cruelty-free and all of their products are vegan, except for the lip balms (they contain beeswax). But this means all of their shampoos are vegan!
They have anti-dandruff shampoo, thickening shampoo, strengthening shampoo and more. They also all come in invigorating scents.
The Volumizing Rosemary Shampoo is great for thin, lifeless hair. It is free of parabens, harsh sulfates, synthetic colors or fragrances, and phthalates. This shampoo is formulated with rosemary essential oil, quinoa protein, calendula, aloe, and vitamin E.
Check price of Avalon Organics shampoo here.
The Seaweed Bath Co. is a cruelty-free company that has several vegan shampoo options. There are 4 scents and an unscented option, all of which are sulfate and paraben-free. Each of these shampoos is also formulated with bladderwrack seaweed that is sustainably harvested off the coast of Maine.
The Hydrating Smoothing shampoo has a citrus vanilla scent and is designed to protect hair and achieve sleek and shiny tresses. It contains argan oil to maintain healthy moisture and shine, as well as borage oil, broccoli seed oil, Vitamin C and more to create smooth, silky hair.
Check price of The Seaweed Bath Co. shampoo here.
This company is cruelty-free and has mostly vegan products. All of their shampoos are vegan!
The Exotic Marula Oil Silky Smooth Shampoo is formulated to hydrate and soften hair. It contains Andalou Naturals' Fruit Stem Cell complex and powerful antioxidants. This is a shampoo that is safe for colour-treated hair and works to make coarse hair sleek and shiny.
Check price of Andalou Naturals shampoo here.
All Desert Essence shampoos are vegan except for the Anti-Breakage Shampoo.
The Coconut Shampoo is designed specifically for dry hair. It is free of parabens, sulfates, and phthalates, and it helps bring shine and health back to damaged hair. The coconut oil in this shampoo provides intense moisture, along with added jojoba oil and olive oil.
Check price of Desert Essence shampoo here.
If you are interested in more vegan products, check out these vegan deodorants and vegan soaps.
You can also check out this list of vegan shoes from 100% vegan brands.