This post contains affiliate links for which I may earn a commission (at no extra cost to you) should you make a purchase. As an Amazon Associate I earn from qualifying purchases. Please see my disclaimer for more information.
Are you wanting to lower your spending and reduce your impact on the environment? Buying secondhand clothing from online thrift shops is the perfect way to do just that!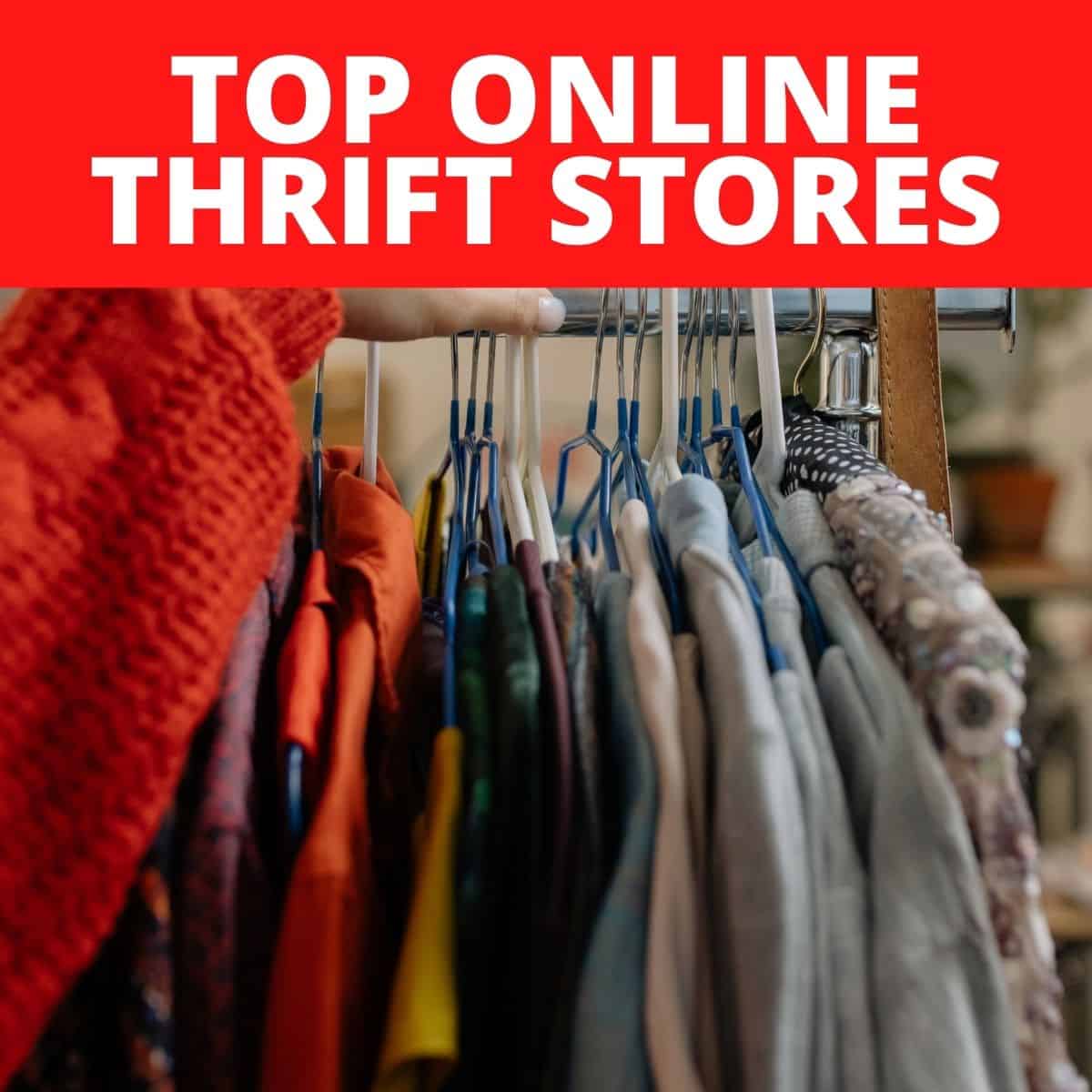 Why Should You Buy From Online Thrift Stores?
Thrift shopping is a way to extend the life of clothing, which slows down the amount of garments going to waste, and reduces the number of new garments that need to be made.
If a piece of clothing is still in decent condition, someone else should use it. Throwing out clothing that is still wearable just adds to the tons of waste piling up in landfills.
Buying from thrift stores is also cheaper, so it's going to help you save money. Of course any item that isn't brand new will not be sold at full price, and if there is nothing wrong with the used items, why not buy them?
If you think that secondhand clothing is gross, think again. I know some people can't get past the thought of wearing something that someone else who they don't even know has worn. But clothing sold in thrift stores isn't dirty and falling apart! There are inspections and cleaning requirements to ensure that secondhand clothes sold in thrift shops and online thrift stores are clean and in good condition. Also, most of the online thrift stores on this list will gladly send you a refund if somehow you end up with a garment that is torn or damaged in any way.
What is Fast Fashion?
Fast fashion refers to a manufacturing process that some clothing companies use to produce high volumes of trendy clothing very quickly, before it goes out of style. Then it's quickly on to the next trend. Many people like to purchase fast fashion items because they are cheap due to the low-quality materials used in production. However, fast fashion has negative impacts on the environment and the people making the garments.
This clothing is often made with toxic chemicals and dyes that get into water supplies, then they get thrown into a landfill and release more toxins. Workers are usually underpaid and not treated well, while also being exposed to these chemicals everyday.
Even though you may be tempted to buy these items due to their low price tag, the low quality will ensure that the clothes don't last long, and you'll have to purchase more. This takes more of your money and the constant production of more garments continues taking a toll on the environment. Learn more about how clothing production affects the environment here.
So, is it okay to buy secondhand clothes from fast fashion brands? That is completely up to you. It's already been made, so it's best that someone continues getting use out of it as long as possible. In the end, do what you feel comfortable with, but I recommend not buying new clothes from fast fashion brands. Thrifting is so much better!
Top Online Thrift Stores for a Budget
The following online thrift stores are a great place to find decent items for anyone on a tight budget, although you can also find some higher priced items. Inventories for most of these sites are large, and new items are added everyday, so I'm sure you can find some secondhand clothes that you will love!
ThredUP
ThredUp is one of the biggest and most well-known online thrift stores.
They only sell women's and kid's clothes, but they have a wide variety of brands (35 thousand!) and thousands of new items are added to their inventory every day.
And you'll find more than just clothing on ThredUp. Look for secondhand shoes, handbags, and accessories too!
ThredUp does allow returns, but you need to start a return request within 14 days of delivery, and items must be in their original condition. Check their website for more information.
Patagonia Worn Wear
Patagonia is an outdoor clothing and gear brand that has a trade-in program for Patagonia used clothing called Patagonia Worn Wear. So anyone who has Patagonia clothing that is in good, fully functioning condition can trade it in to Patagonia for store credit, then it will be re-sold at a lower price.
Worn Wear includes clothing for men, women, kids, and babies. Backpacks and bags are also available, which is perfect for those on a budget, because a good quality backpack can be quite expensive.
Patagonia is an environmentally conscious company, so they clean most secondhand items without water (they use liquid CO2 instead), which is pretty awesome!
Can you return Patagonia Worn Wear items? Yes, but of course they must be in the same condition they were in when you received them. You are also responsible for the cost of return shipping.
Poshmark
Poshmark is an online thrift store where anyone can sell and buy clothing, accessories, and home goods. Items listed on Poshmark can be new or used (but in good condition), but I have noticed there is way more used clothing than new!
It may make you nervous to know that anyone can post something to sell on Poshmark, but they have "Posh Protect" policies to ensure that if you buy something that does not match the listing description, you will get a full refund. However, you cannot return something just because you don't like it.
Depop
Depop is similar to Poshmark in that people can sign up to sell or buy used or new clothing. Get the app on your phone and sign up to sell clothing you no longer want, or buy secondhand clothes that are in good condition.
Choose from millions of items from a variety of brands at lower prices. According to Depop's website, their biggest categories include vintage, streetwear, one-of-a-kind, and Y2K.
A downside to Depop is that they don't assist with any returns. You will have to deal directly with the seller if you want to return anything, and they have no obligation to accept returns, even if there is something wrong with an item they sent you. Depop recommends opening a dispute with Paypal if you receive an item that is not as described.
Swap.com
Swap.com is an online thrift store that has thousands of new items added to its inventory everyday.
People can send their pre-owned items to Swap's fulfillment center where items are held until someone purchases them.
Swap.com is not just a place to find used clothing. They also have accessories, toys for kids, movies, books, and more! There is something for everyone on their site, and the prices are great for anyone trying to save money.
Does Swap.com accept returns? Yes. You can return items within 30 days and you don't have to pay for the return shipping!
Etsy
You are probably familiar with Etsy already. It is an online marketplace where people can sell handmade or used items. Sellers create an Etsy shop and then list items for sale.
There are several shops on Etsy that sell used clothing, including vintage clothing. Just use the search bar to browse thrift clothing or other used items that you interested in purchasing. You can find a lot of great shops on there!
Beacon's Closet
Beacon's Closet sells used clothing for men and women. Find on-trend styles, vintage clothing, and designer items, all in good condition.
If you want to sell through Beacon's Closet, send your items to be inspected and for any approved items, you will get cash or store credit.
They carry a variety of brands and have both budget and higher priced items.
It's important to note that if you receive an item you don't like, returns will not get refunded. Online returns are available for store credit (but you won't get credit for shipping costs) for domestic orders, provided that items are returned within 14 days of delivery date and the tags are still attached.
Top Luxury Online Thrift Stores
Interested in buying designer items, but not willing to dish out the full price? These luxury online thrift stores are exactly what you're looking for! These items are still quite expensive, but of course not as expensive as they would be if you purchased them brand new.
Tradesy
Tradesy is a buying and selling platform for luxury designer items including clothing, accessories, shoes, and bags. They claim to be the largest peer-to-peer luxury platform in the US.
If you're interested in thrift stores because you're on a tight budget, Tradesy probably isn't for you. However, if you would love to have designer items at a lower cost, this is a great place to look!
All of the items available on Tradesy are authentic, as they do not allow the selling of replicas. A very small amount of inauthentic items may pass Tradesy's screening, but if you buy and receive an inauthentic item, you can send it to Tradesy to have it checked out and get your money back if their inspection reveals the item is in fact a replica.
Returns can be processed if they are requested within 4 days of delivery, but this is not possible on items marked Final Sale.
Grailed
Grailed is a marketplace to buy and sell menswear. You can find both new and used items to buy, and Grailed ensures everything is authentic. If it isn't, you can get a full refund, but refunds are only guaranteed by Grailed if you purchase items using Paypal.
This is the place for men to find secondhand designer clothing and footwear from a variety of high-end brands. You can search by designer or category on the website to find exactly what you're looking for!
Designer brands to shop from include Balenciaga, Gucci, Louis Vuitton, and more.
Vestiaire Collective
Vestiaire Collective is a marketplace for pre-owned luxury and designer fashion. Their inventory includes designer clothing, accessories, and bags for men and women. You can also find some home décor items, pet items, sport items, and more. Over 3,000 items are added to their inventory each day, so there is plenty to choose from!
After you make a purchase from a seller on Vestiaire Collective, the item will be authenticated by a team of experts. If the item is found to be a replica, you will be refunded, so you don't have to worry about being duped!
Vestiaire Collective has items listed from both professional sellers and individual sellers. Anything you purchase from an individual seller that has passed the authentication process cannot be returned. Items purchased from professional sellers can be returned for a full refund within 14 days.
Rebag
On Rebag, you can buy and sell designer handbags and accessories. Find backpacks, briefcases, clutches, cross body bags, and more. Accessories available include watches, sunglasses, belts, scarves, wallets, and more.
You can find items from over 50 designers on Rebag, and items are inspected for authenticity. Rebag states that all items undergo an in-person review process, so you don't have to be concerned with purchasing a fake.
Returns are only accepted within the US and the return request must be submitted within 7 business days of delivery. You will however be charged for return shipping and you will not be refunded the shipping you paid for the order.
Is Online Thrift Shopping Vegan?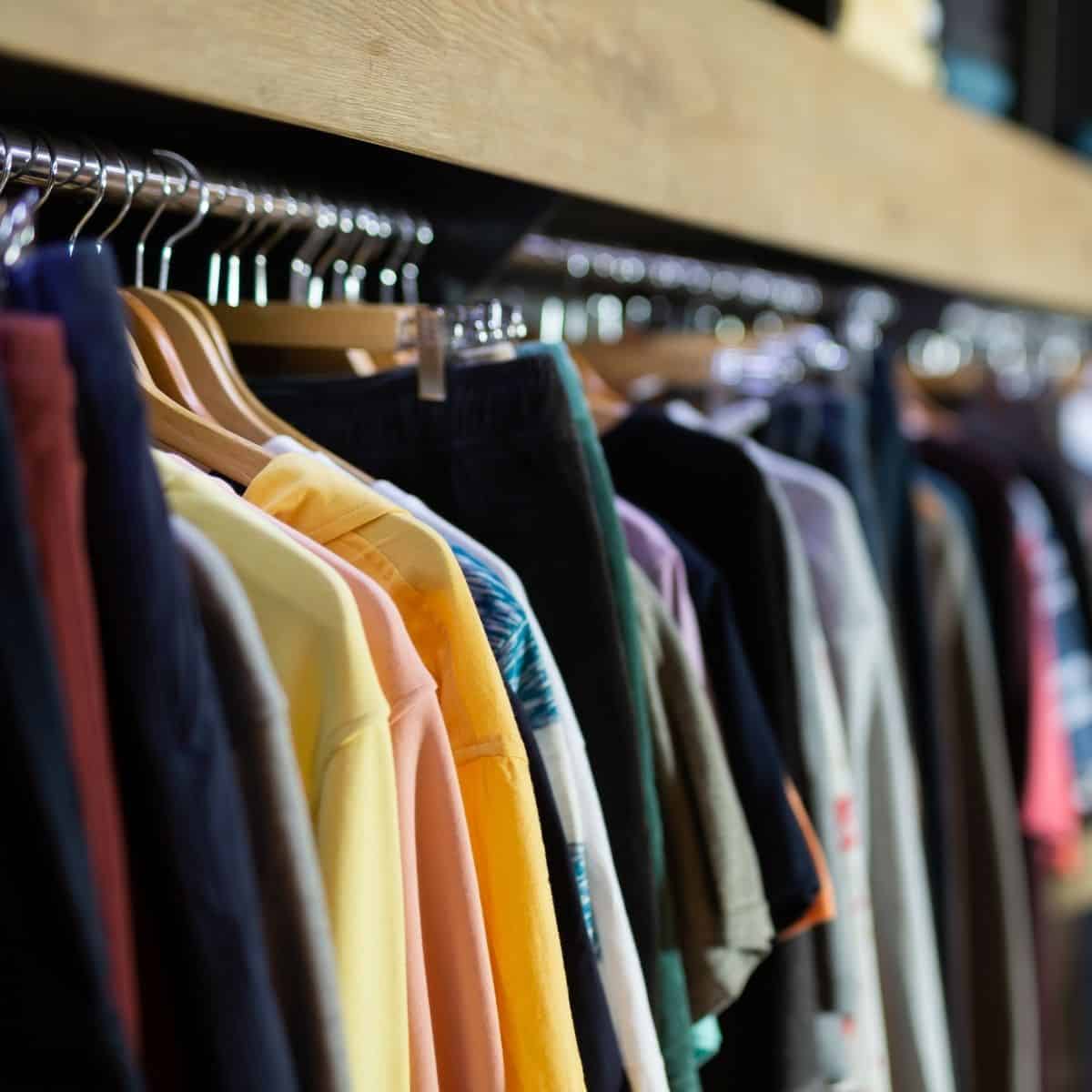 Thrifted clothing can be vegan or non vegan. Buying secondhand clothes that were not made with the use of animal-derived materials is of course vegan.
But is it vegan to buy used clothing, bags, and shoes that were made with non-vegan materials such as leather and wool? The answer is basically that it's up to you. Many people would argue that it's not vegan because it's made from animals and by purchasing these items you are sending a message that it's okay to wear them.
However, some people think it's okay because you aren't buying it new, which means you didn't directly contribute to the production of a non vegan item. It comes down to what you are comfortable with.
Many vegans would not be comfortable wearing animal materials, but of course buying it secondhand is better than buying it new. If it already exists, someone else might as well use it as opposed to letting it go to a landfill when it could still be useful.
If you want to avoid this dilemma altogether, just browse online thrift shops for items made with vegan materials. There are many out there! If you can't figure out what something is made from, you can check the website of the company that made the garment. You can often find a list of materials used.
To be truly 100% vegan would be impossible in the world we live in today. So I say if you're okay with it, don't beat yourself up over buying non-vegan items second hand.
Looking for more vegan ways to reduce your environmental impact? Check out these articles: