This post contains affiliate links for which I may earn a commission (at no extra cost to you) should you make a purchase. As an Amazon Associate I earn from qualifying purchases. Please see my disclaimer for more information.
Who doesn't love receiving a gift basket? It's always exciting to see what's inside, whether it's snack items, chocolates, or beauty items!
If you have someone in your life who is vegan, you should always do your best to make sure that any gifts you get them are vegan. Maybe you're thinking of giving them the excitement of a gift basket or a small gift box, but it's so hard to figure out if every item inside is suitable for vegans!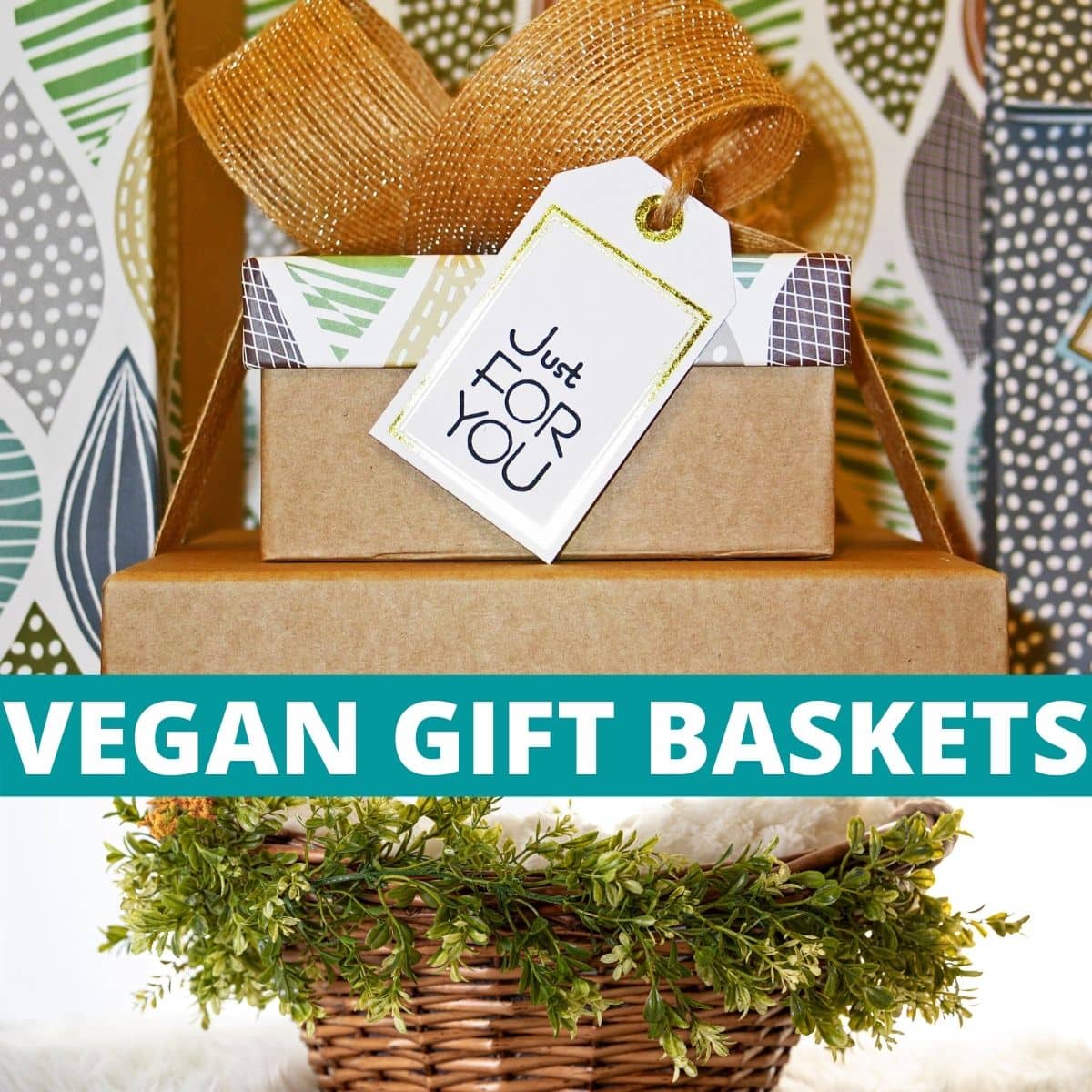 Food items need to be completely free of all animal products, including dairy, eggs, gelatin, etc. It can be tricky because sometimes ingredients like "natural flavour" may not be vegan, but you can't know for sure unless the product is labeled as vegan, or you contact the company to ask.
For beauty items, you need to make sure that there are no animal products in the items, but that's not all.
You also need to make sure the companies that make the items are cruelty-free, which means they don't test any of their products on animals. To make things even more complicated, if something is labeled as cruelty-free, that doesn't necessarily mean that it's vegan.
Don't worry, though! I have compiled a list of vegan gift baskets and boxes that contain items that are all completely vegan! Some are filled with snack items, some are filled with beauty items, some are big, and some are small boxes with only a few items. But they are all vegan, so take your pick!
Jump to:
Best Vegan Gift Baskets with Food Items
This gift tower includes three boxes filled with yummy vegan treats from Marge's Bakery. These delicious treats include two varieties of cookies, carrot cake, zucchini bread, and "California Snowballs."
Marge's Bakery makes vegan and non-vegan treats, so make sure you are purchasing the vegan tower!
This little box contains 16 chocolates that are all vegan, gluten-free, soy-free, and nut-free! These are dark chocolates with a high cocoa content, which most vegans will love! The box contains an assortment of flavours made with organic, sustainably sourced ingredients.
SnackSack is a company that sells subscription snack boxes. They come in three different options: Classic, Gluten-Free, and Vegan. Of course, make sure you're getting the vegan one.
Each box contains 11-15 snack items and a SnackSack tote bag. The items in the box change each month and include things such as bars, cookies, chips, nuts, seeds, and more.
You can send this to someone as a gift one time, or sign up for a subscription and receive a new box every month.
This box of vegan goodies includes some yummy sweet treats as well as some more hearty food items for cooking.
In this wooden box you will find items such as quinoa, couscous, olives, pistachios, oat crackers, dark chocolate, granola, and more! Items in the box will vary slightly based on availability.
This vegan gift basket is sold on the Fluffy Cat Candles Etsy shop. It contains a scented soy candle, a relaxation "spacemask," two vegan chocolate bars, tea, and vegan candy.
You can also add a hand written card if you have a message you would like to give to the recipient of this gift basket!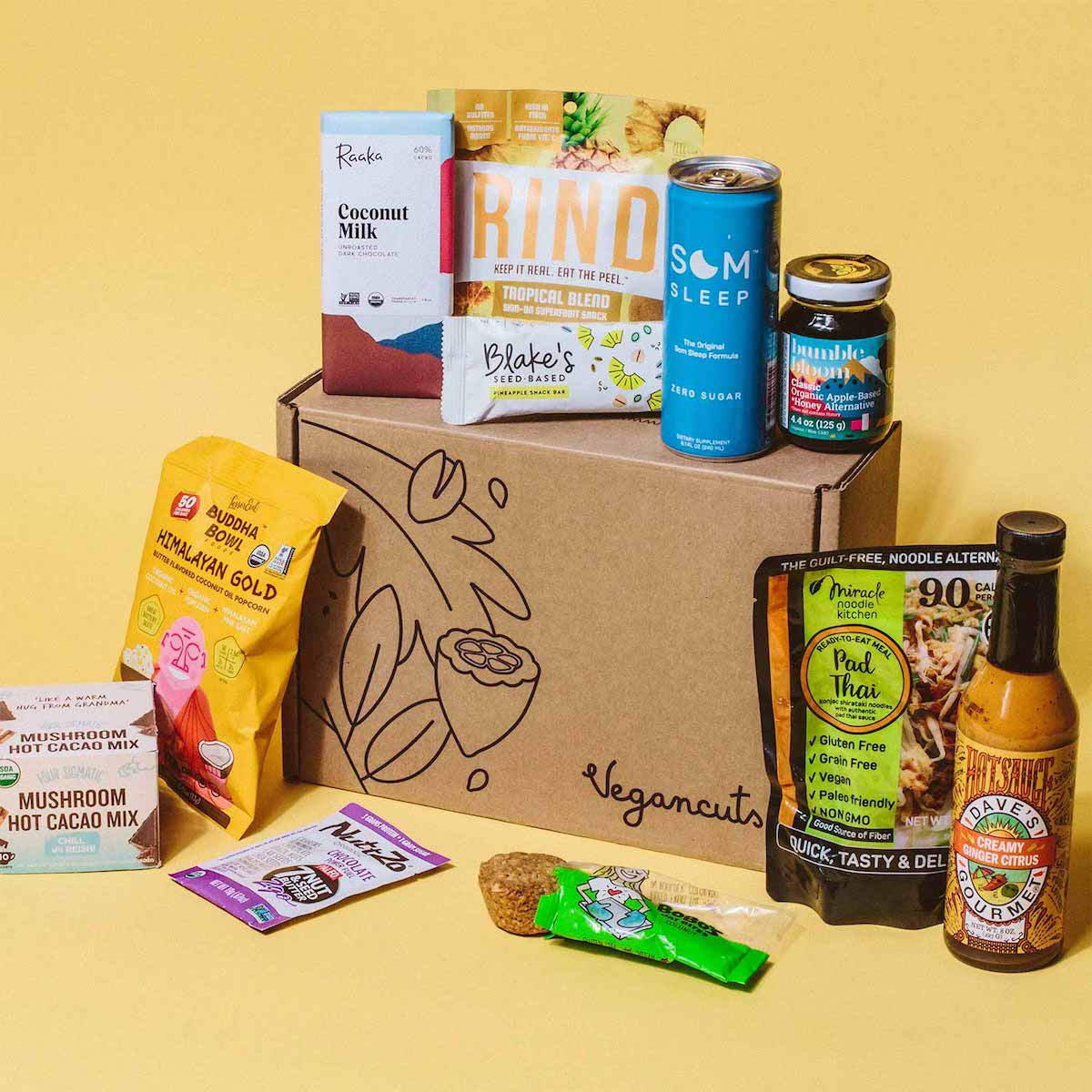 This snack box comes with at least 10 different snacks, all of which are vegan of course. Each box is different, so you don't know what you'll get, but they include things like chips, cookies, and bars.
If you want to send this snack box as a gift, sign up for the monthly subscription, then cancel if you don't want to continue sending it monthly.
Shipping is free within the United States.
This box of chocolate truffles includes 5 different flavours: "milk fudge", raspberry, salted caramel, coffee, and Grand Marnier.
They are all completely vegan, gluten-free, kosher, and allergen-friendly. You can order this box of truffles with 15 pieces or 24 pieces.
These chocolates come in a beautiful little gift box. You can choose from 15, 24, or 48 pieces, and you must select the vegan flavour option, which is dark chocolate (there is also a milk chocolate flavour which is not vegan).
This box includes chocolate truffles and clusters of delicious chocolate mixed with ground nuts.
This collection of dried fruit comes in an exquisite apple-shaped wooden bowl that can be turned into a basket with a handle.
The dried fruit includes a variety of mango, apricots, peaches, pears, apples, dates, kiwis, plums, and prunes.
This unique bowl will look great on anyone's countertop or as a table centrepiece. It's a great gift for any holiday!
Best Vegan Gift Boxes with Beauty Items
This is a subscription beauty box that contains vegan and cruelty-free products worth over $50 USD.
Each box contains 4 beauty products which may include a variety of makeup, hair care, body care, and skincare items.
To send one box as a gift, sign up for the subscription then cancel once the box has shipped.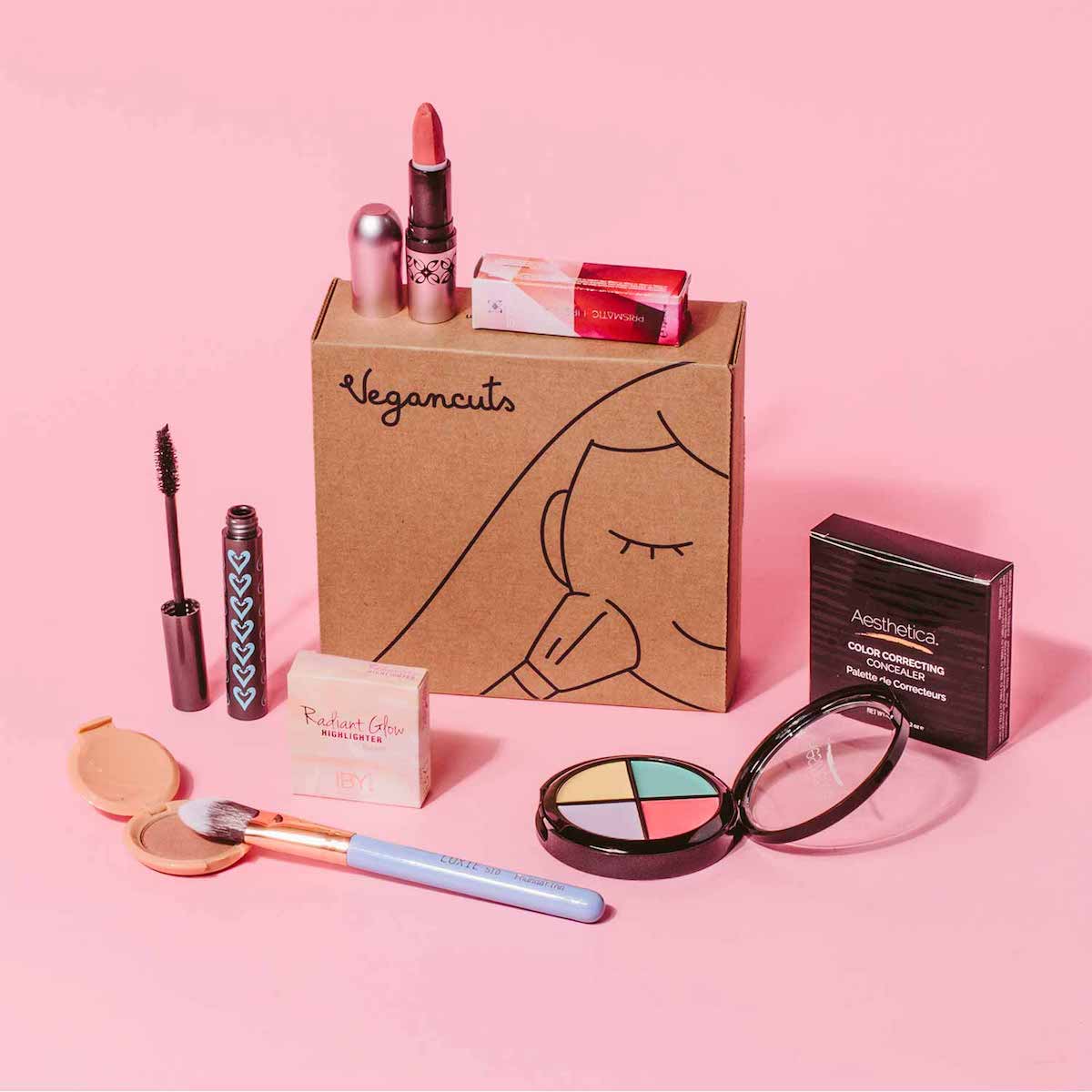 Vegancuts sells subscription snack and beauty boxes. The beauty box contains at least 4 full-size vegan and cruelty-free beauty items, including skin care and body care products.
The value of the items in each box ranges from $60-$110, but the box sells for only $24.95 USD.
Shipping for this beauty box is free in the United States.
This 16-piece spa gift basket contains a variety of body bars, soap bars, body creams, body wash, body scrub, shampoo, conditioner, and bath bombs.
It is the perfect body care gift for anyone who is vegan! All of the products are organic and created without sulfates or parabens. They are also all vegan, gluten-free, and soy-free.
This skincare box contains a face wash, energy scrub, and face balm.
All of these products are free of artificial additives and they are perfect for a natural skincare routine for men or women.
Thrive Natural Care only creates products that are completely vegan, so this is a great choice for a vegan friend or family member!
This bath bomb set features 9 vegan bath bombs made with essential oils. When you order this box, you will get a variety of scents that will vary based on season and popularity.
This four-piece gift set includes a body butter, body scrub, shower gel, and hand cream.
All of these products come in a wonderful warm vanilla scent. This set is great as a Christmas gift, but can also be given for any other occasion!
Not every product from The Body Shop is vegan, but all four items in this set are!
This soap set comes with 8 individual small soap samples. Each soap is handmade with natural and organic ingredients.
Ingredients include shea butter, coconut oil, and olive oil. This box includes a variety of best-selling scents and each soap is beautifully decorated!
More Vegan Product Guides