This post contains affiliate links for which I may earn a commission (at no extra cost to you) should you make a purchase. As an Amazon Associate I earn from qualifying purchases. Please see my disclaimer for more information.
This banana swirl is incredibly simple to make and only requires two ingredients, with optional add-ins for extra flavour!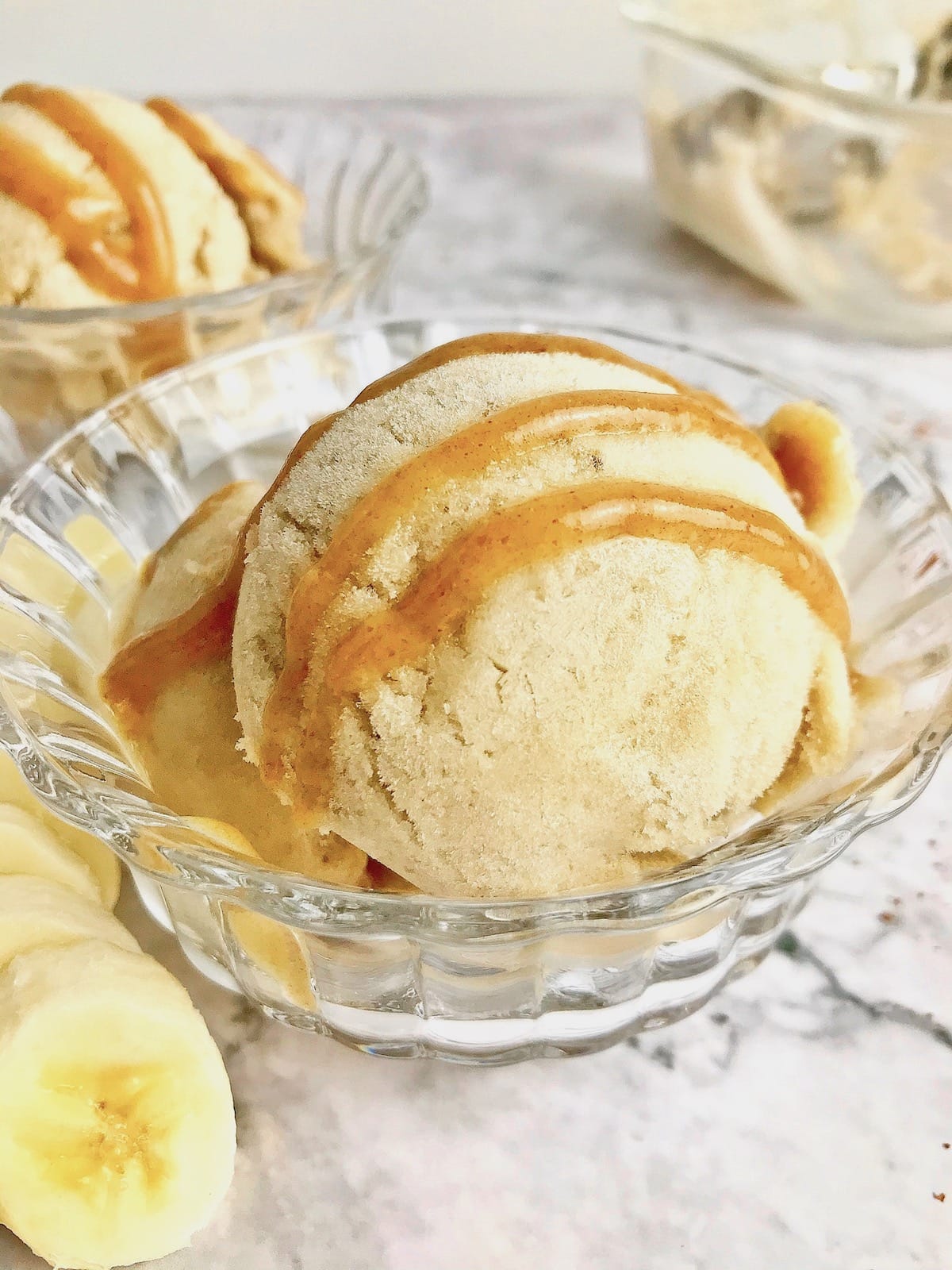 So, what is banana swirl? Banana swirl is a simple treat that is perfect for satisfying your sweet tooth in a healthy way. It's simply frozen bananas blended together, which you may know as banana "nice cream."
Why You Will Love This Banana Swirl
It is super easy to make
It only has 2 required ingredients
It is healthy
It is satisfyingly sweet
It takes about 5 minutes to make
You can add any flavours you want
Ingredients
Banana swirl is simply frozen bananas blended into soft-serve banana "nice cream." It helps to use some liquid to blend the bananas, so there are only 2 required ingredients for this recipe:
Frozen bananas
Plant-based milk of choice
Optional ingredients:
Maple syrup
Vanilla extract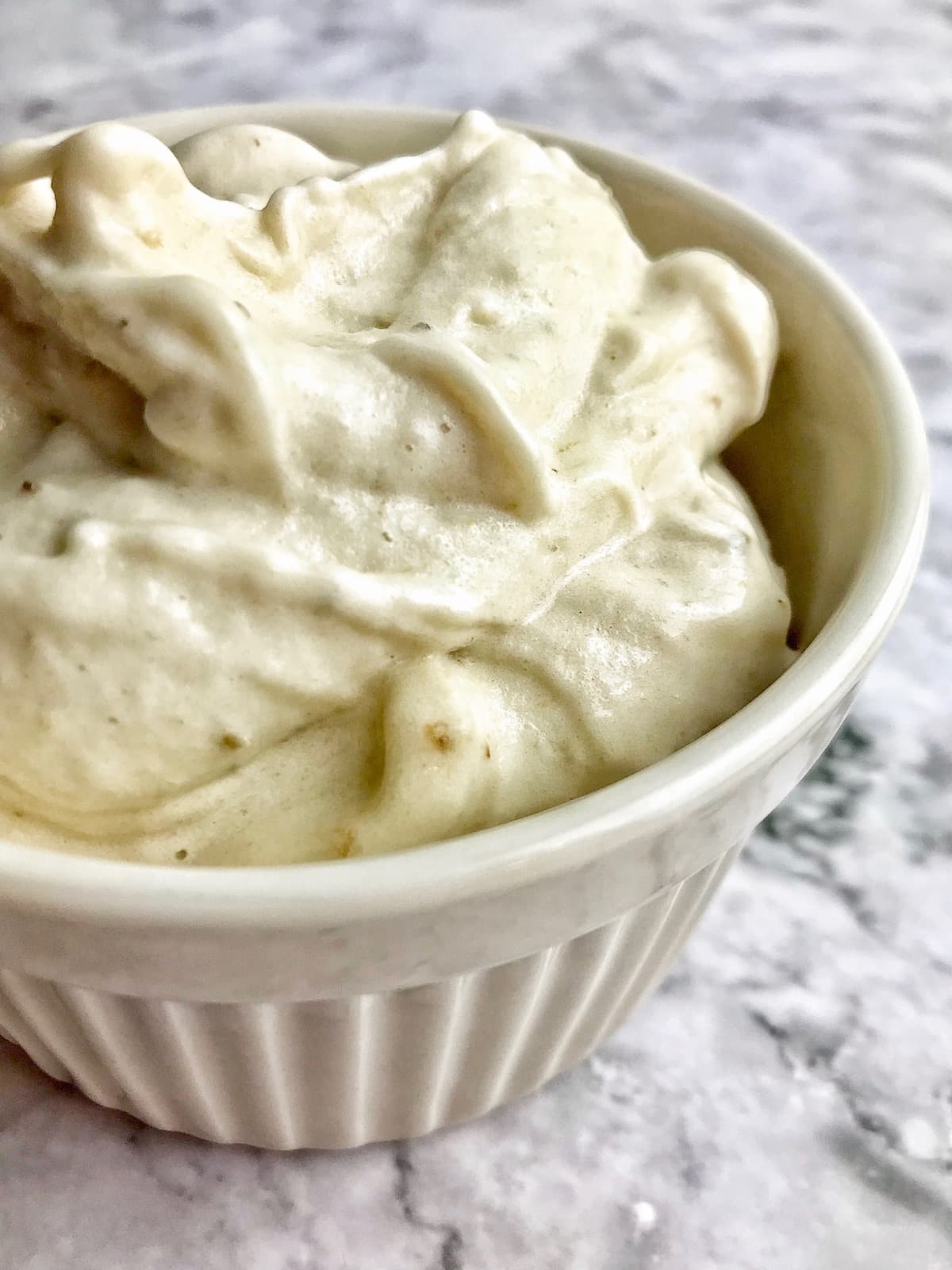 How to Freeze Your Bananas
Before you freeze your bananas, make sure that they are fairly ripe. The more ripe they are, the sweeter they will be.
It is easiest if you chop your bananas before freezing them so they will be ready to go once they are frozen.
Peel and chop each banana into about 4-5 pieces. Place them in a container, ensuring to separate layers with a piece of parchment paper to prevent the pieces from sticking together. Then place the container in the freezer and leave it until the bananas are completely frozen.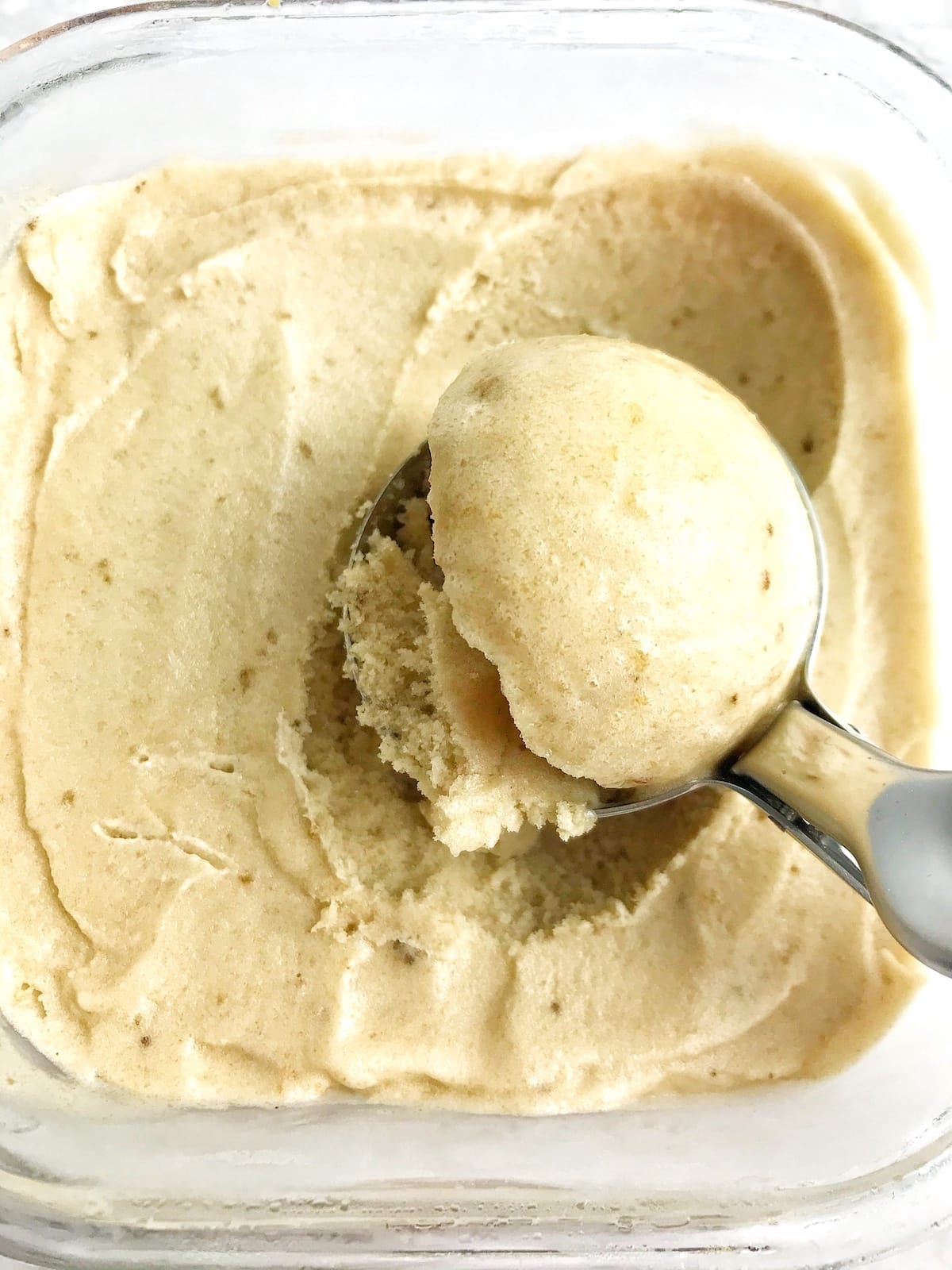 Tips
When you are ready to blend your frozen bananas, it is best to use a food processor instead of a blender. I find a blender does not work as well, as it can be more difficult to get the bananas blending. With a food processor, you will need less liquid therefore the banana swirl won't be as thin and melted.
Blend quickly and eat immediately if you want soft-serve. You may need to let your bananas sit for a couple of minutes to soften them for blending, but if you wait too long they will thaw too much. If this happens, you may have to put all of the banana swirl into the freezer after making it. This is fine, but you will not have the soft-serve texture. You could also add some more frozen banana to re-thicken it if it is too melted and you don't want to put it in the freezer.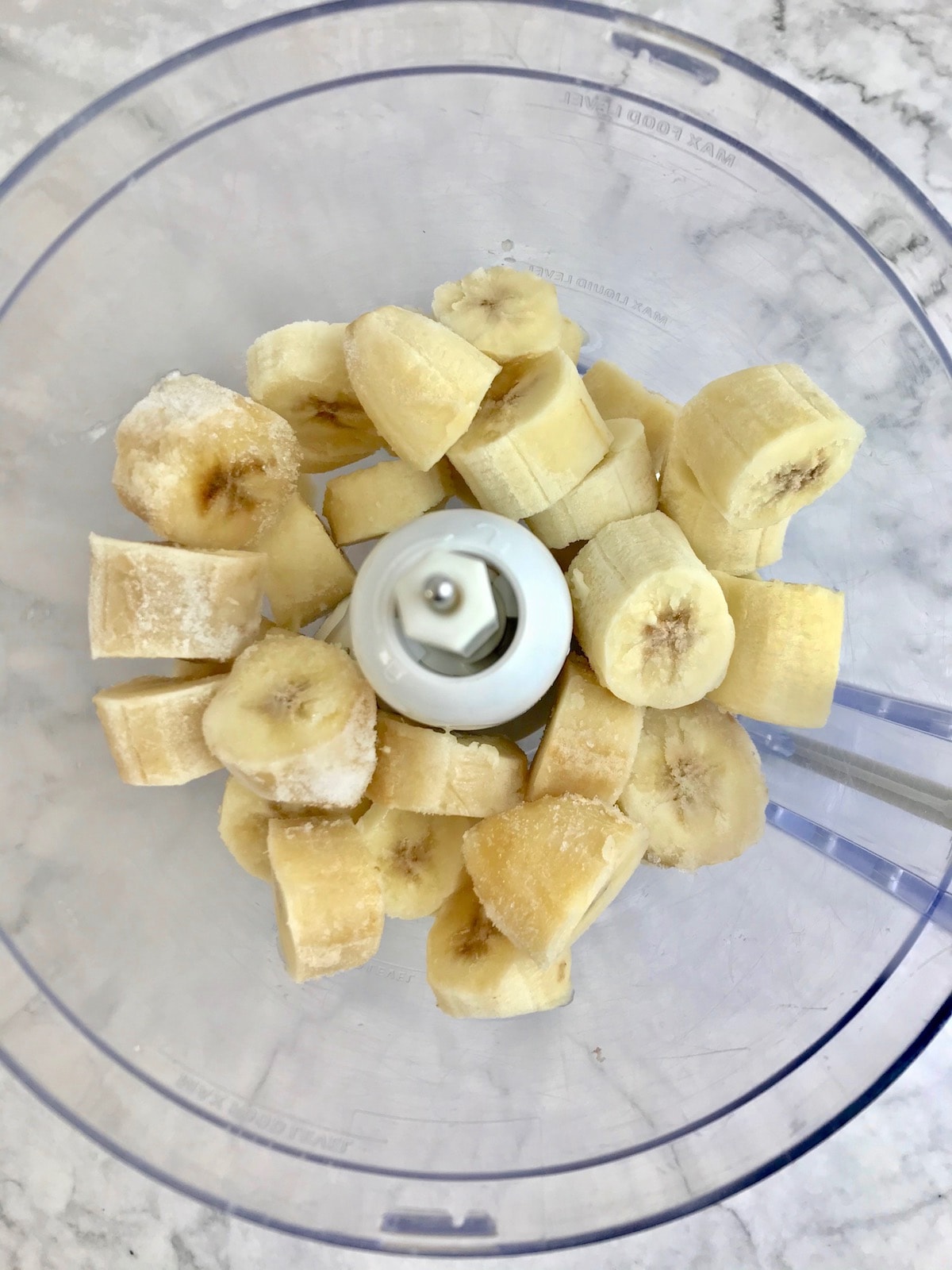 Add-Ins and Toppings
Banana swirl is a basic recipe, but there is almost an endless amount of yummy add-ins and toppings that pair well with it.
My Favourite Add-Ins:
Peanut butter
Nuts
Cacao powder
Chocolate chips
You can mix these add-ins with your food processor or just stir them into the banana swirl with a spoon.
My Favourite Toppings:
Chocolate sauce
Coconut flakes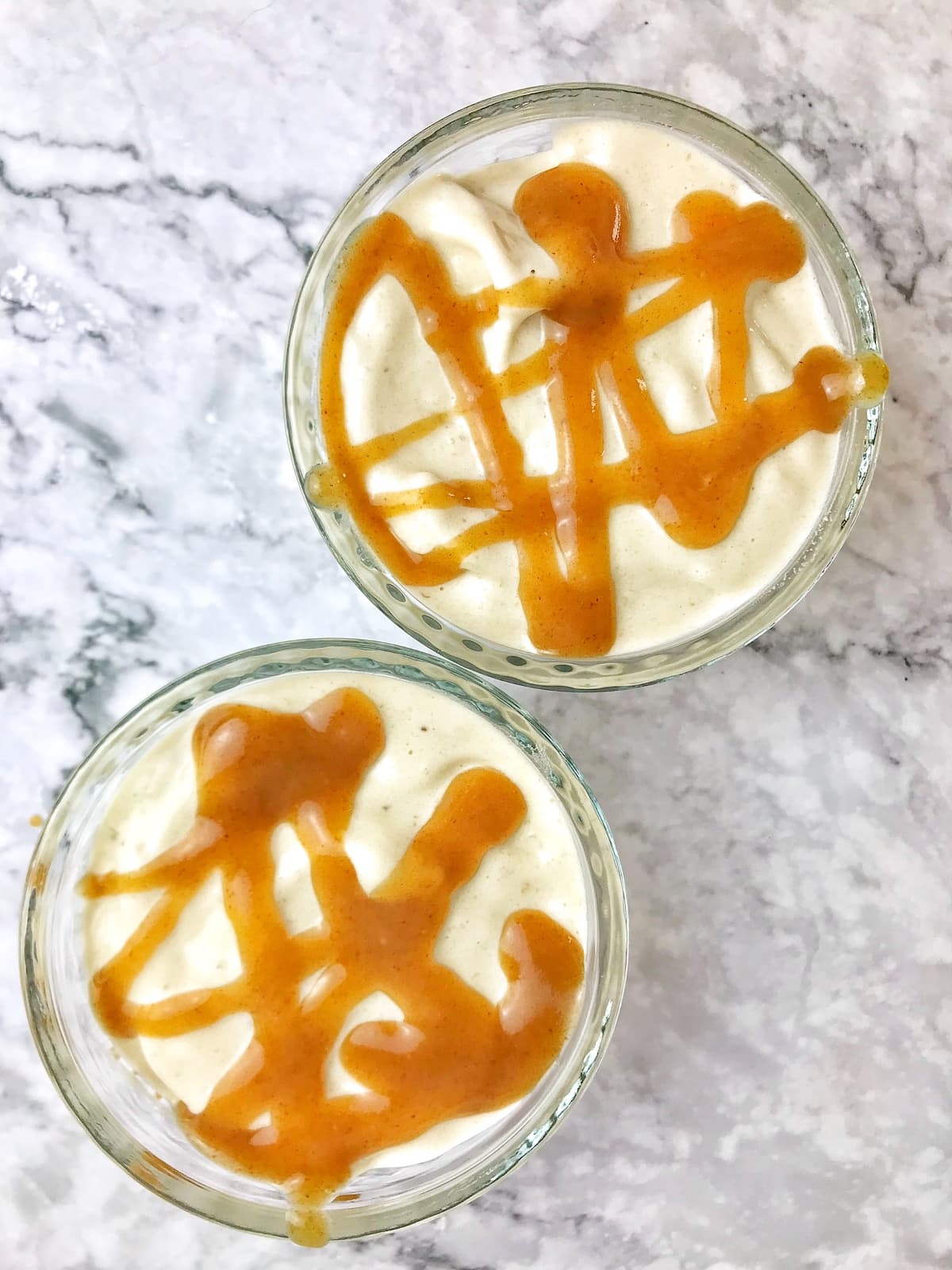 Check out these other vegan banana recipes:
For more information on starting a plant-based diet, check out this plant-based grocery list and these plant-based books!
Recipe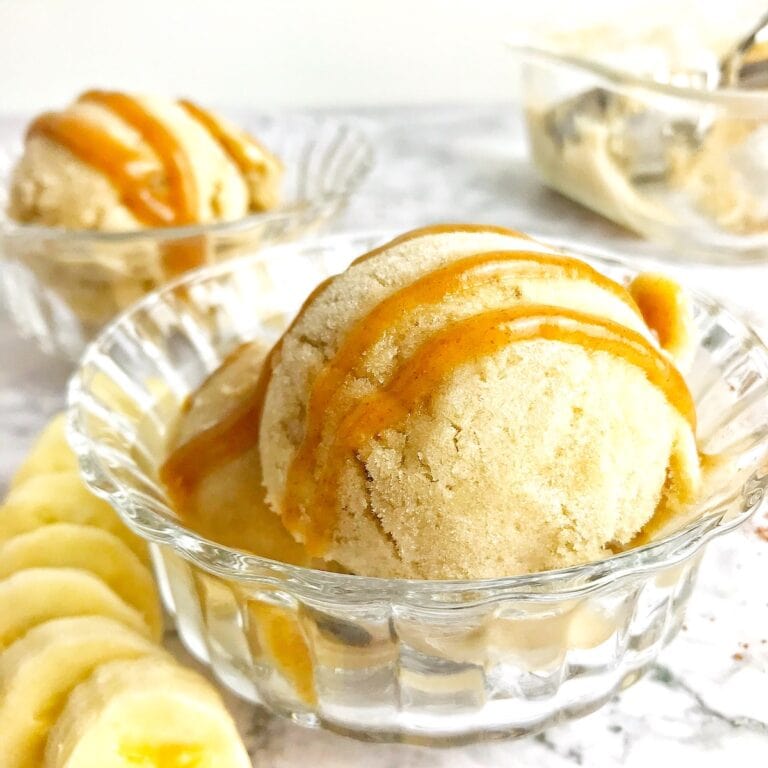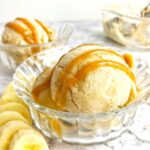 Print Recipe
Banana Swirl (Nice Cream)
This banana swirl is incredibly simple to make and only requires two ingredients, with optional add-ins for extra flavour!
Ingredients
2

frozen bananas

(peeled and chopped)

1

tablespoon

plant-based milk

2

teaspoons

vanilla extract

(optional)

1

tablespoon

maple syrup

(optional)
Instructions
If your bananas are not frozen yet, you will need to freeze them. I recommend peeling them first, then chop them and put them in the freezer.

Place the frozen banana pieces into your food processor along with one tablespoon of plant-based milk and the maple syrup and vanilla extract if desired. Blend until smooth. If your food processor is struggling to get the bananas blended you can wait a few minutes for them to soften a bit, but don't wait too long if you want soft-serve. If the bananas thaw too much the banana swirl will be thin and melted.

Once the bananas are fully blended, eat immediately for a soft serve banana swirl. If you want it to be more firm, place it in a container in the freezer.
Notes
If you choose to put your banana nice cream in the freezer, it will be quite hard when it comes out. Just let it sit for a few minutes and it should be ready to eat.
Feel free to add other ingredients to your banana swirl. I sometimes add cacao powder for a bit of a chocolate taste, or some peanut butter or coconut flakes. I also like to top it with chocolate sauce or caramel sauce!
Nutrition information is for half of this recipe, with the vanilla and maple syrup included. 
Nutrition
Calories:
145
kcal
|
Carbohydrates:
34
g
|
Protein:
1
g
|
Fat:
1
g
|
Saturated Fat:
1
g
|
Sodium:
12
mg
|
Potassium:
445
mg
|
Fiber:
3
g
|
Sugar:
21
g
|
Vitamin A:
76
IU
|
Vitamin C:
10
mg
|
Calcium:
26
mg
|
Iron:
1
mg
Nutrition Disclaimer
Nutrition information is an estimate generated from a nutrition calculator. There may be errors here or variations based on ingredients you use.