This post contains affiliate links for which I may earn a commission (at no extra cost to you) should you make a purchase. As an Amazon Associate I earn from qualifying purchases. Please see my disclaimer for more information.
This pumpkin peanut butter smoothie is perfect for Fall. It is super easy to make, vegan, and has a delicious pumpkin spice taste!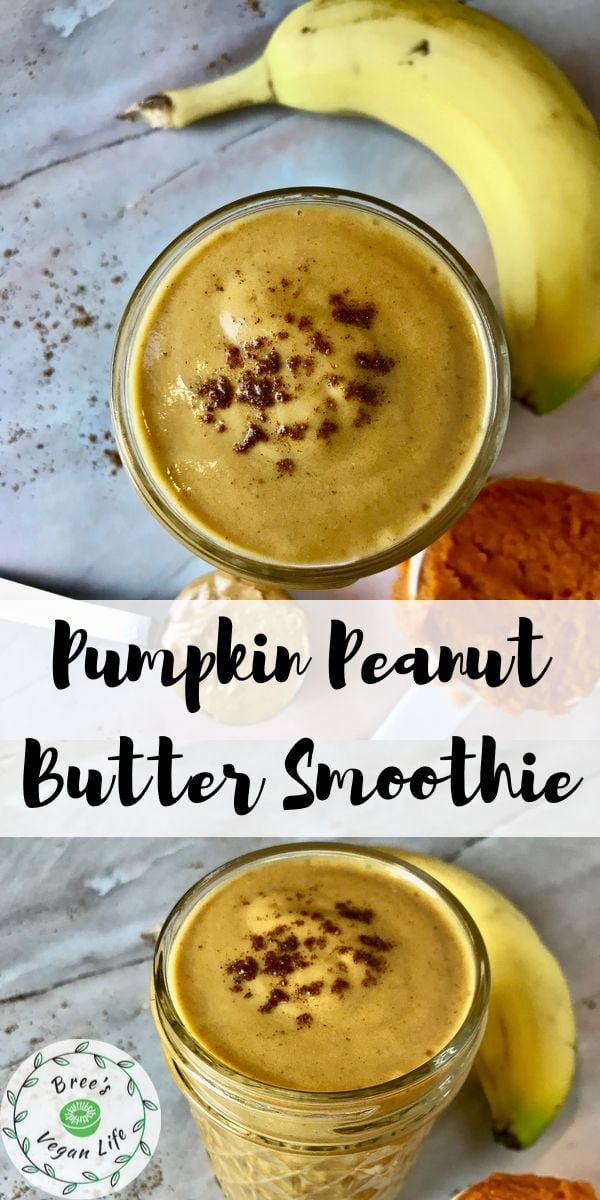 It is officially pumpkin season! This means making a pumpkin spice version of everything and anything.
I am a huge smoothie lover and I had some leftover pumpkin in the fridge, so I decided to turn it into a smoothie. And of course, I had to add plenty of peanut butter because I'm obsessed with peanut butter!
This smoothie is very filling and has plenty of nutritional value, so it's great for a simple, yet tasty breakfast.
What is in this smoothie?
1 cup almond milk ­­– 40 calories
2 tablespoon maple syrup – 100 calories
½ cup pumpkin puree – 30 calories
1 or 2 tablespoon peanut butter – 100 or 200 calories
1 teaspoon pumpkin pie spice – 6 calories
1 frozen banana – 105 calories
Total calorie count: 381 or 481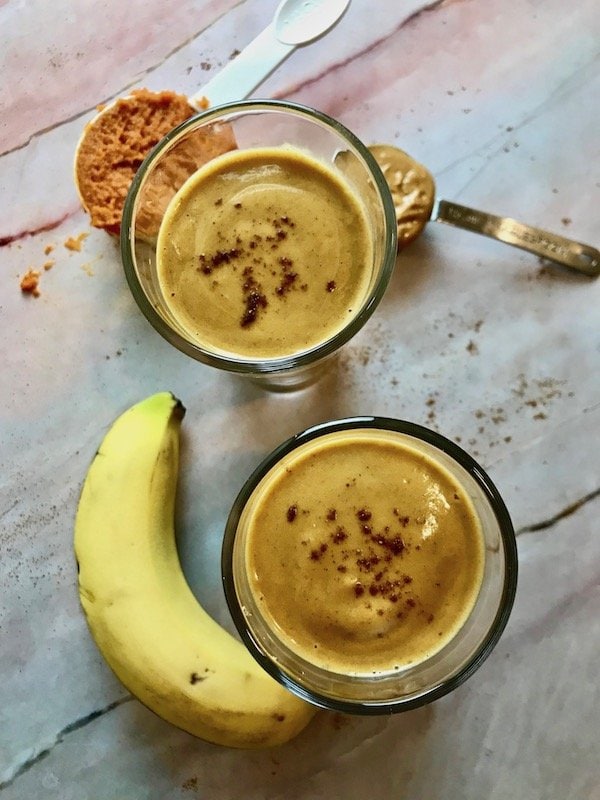 Is this pumpkin peanut butter smoothie healthy?
As always, I made this recipe with healthy, whole-food plant-based ingredients. None of the ingredients in this smoothie are bad for your health!
However, the calorie count is high for this smoothie, so you need to take into account your own desired caloric intake. This will depend on your height, weight, exercise routine, and weight goals.
The full serving of this pumpkin peanut butter smoothie has approximately 481 calories.
If you want to reduce the calories and fat (even thought it's healthy fat), you can choose to use 1 tablespoon of peanut butter instead of two. Also ensure that you are using all-natural peanut butter. The only ingredients on the jar should be peanuts. No oils or sugar!
You also need to make sure that the pumpkin you use is 100% pure pumpkin. Make sure that you don't buy canned pumpkin pie filling with added sugar and oil. This will reduce the level of health of this smoothie.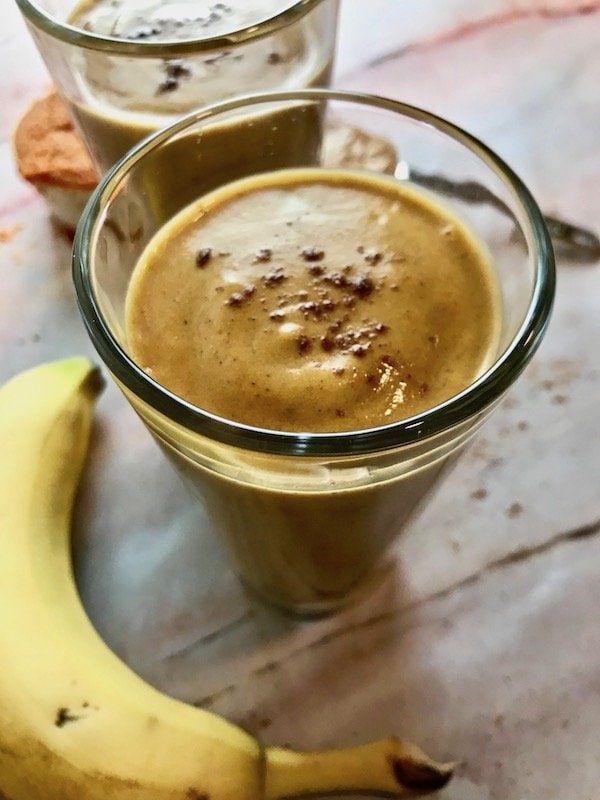 When should you have this smoothie?
This smoothie can be consumed anytime, but I recommend you have it as a meal, especially if you are using both tablespoons of peanut butter. We often think of smoothies as snacks, but this smoothie is super filling and should be considered as more than just a snack for most people.
This smoothie would also be great as a dessert, but I would recommend only drinking a half serving if you consume this smoothie after a meal.
Try these other vegan smoothies:
Print Recipe
Pumpkin Peanut Butter Smoothie (Vegan)
This pumpkin peanut butter smoothie is perfect for Fall. It is super easy to make, vegan, and has a delicious pumpkin spice taste.
Ingredients
1

cup

almond milk

2

tablespoon

maple syrup

½

cup

pumpkin puree

1

or 2 tablespoon peanut butter

1

teaspoon

pumpkin pie spice

1

frozen banana
Instructions
Add all ingredients to a blender and blend until smooth.
Notes
Ensure that the pumpkin puree is only mashed pumpkins, with no unhealthy additives–don't use pumpkin pie filling because it usually has added sugar.
Depending on the power of your blender, you may need to chop your banana into smaller pieces before freezing. This will make it easier to blend.
Nutrition Information is based on using 1 tablespoon of peanut butter.
This recipe makes 1 large smoothie or 2 small smoothies.
Nutrition
Calories:
381
kcal
|
Carbohydrates:
69
g
|
Protein:
8
g
|
Fat:
12
g
|
Saturated Fat:
2
g
|
Sodium:
410
mg
|
Potassium:
869
mg
|
Fiber:
9
g
|
Sugar:
44
g
|
Vitamin A:
19140
IU
|
Vitamin C:
15
mg
|
Calcium:
387
mg
|
Iron:
3
mg