This post contains affiliate links for which I may earn a commission (at no extra cost to you) should you make a purchase. As an Amazon Associate I earn from qualifying purchases. Please see my disclaimer for more information.
These oil-free roasted potatoes are perfect as a breakfast side. They are easy to make and so satisfying!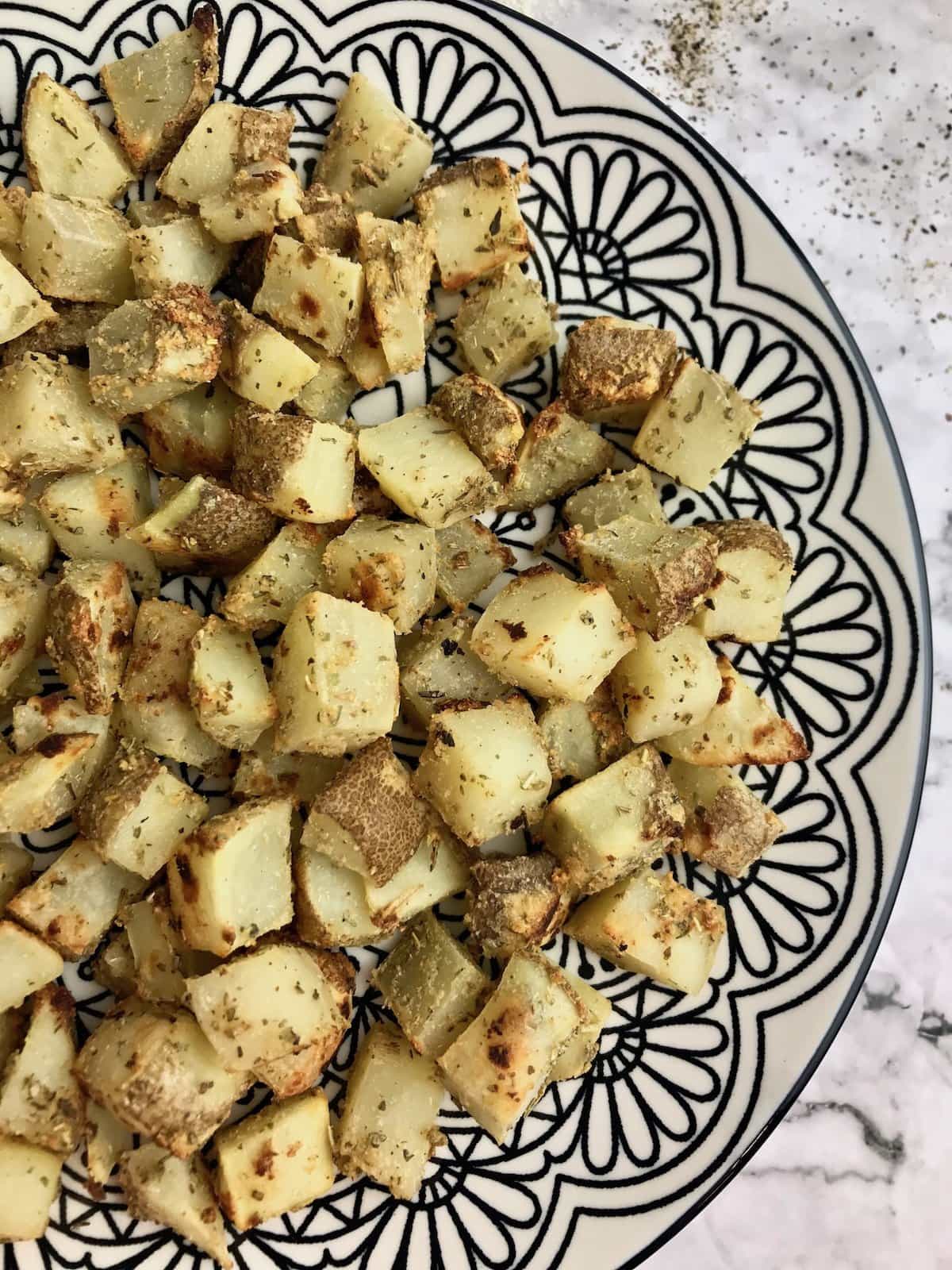 A hearty, filling breakfast should always include a side of potatoes! They are one of my favourite comfort foods and without all the added oil, they aren't even bad for you.
Ingredients for these oil free roasted potatoes
These roasted breakfast potatoes have minimal ingredients. You just need some seasoning to give them a classic flavour. Here is what you'll need:
Potatoes (any kind should work. I like a combination of russet and yellow potatoes)
Maple syrup
Garlic powder
Onion powder
Italian seasoning
Salt
Ground black pepper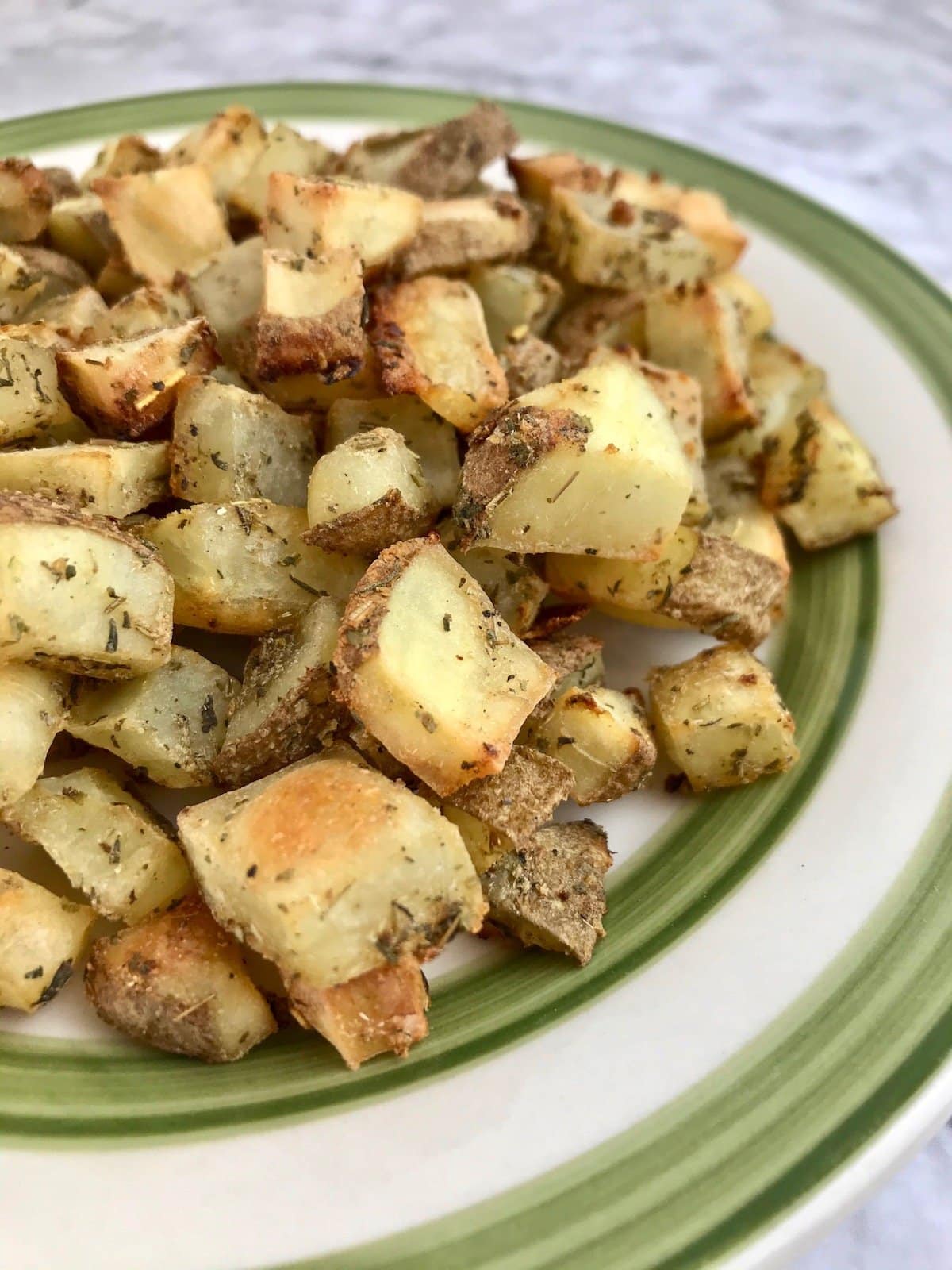 Are potatoes good for you?
Potatoes are starchy vegetables, which are fine to consume in their whole, unprocessed forms. Starchy vegetables and whole grains actually make up a significant portion of a healthy whole-foods plant-based diet.
On this type of diet, carbs are not the enemy! Potatoes are perfectly fine to eat, but the nutritional benefits depend on which type of potatoes you are consuming.
Potatoes with more vibrant colour such as sweet potatoes and purple potatoes are higher in antioxidants, so choosing these on a more regular basis is best. Antioxidants fight against cell damage from free radicals. You can learn more about antioxidants here.
However, more bland coloured potatoes such as yellow and white potatoes are a fine choice every once in a while. I wouldn't recommend eating them every single day, but they aren't bad for you! Especially when you don't coat them in fatty oils before cooking them.
Potatoes are also quite filling, so eating them can actually fill you up and prevent you from overeating other foods.
How to make these breakfast potatoes
Making these oil free roasted potatoes is super simple.
First, set your oven to 425 degrees Fahrenheit.
Next, dice up about 2 cups of potatoes. You don't have to peel them first, but you can if that's your preference.
Then, put your potatoes in a medium-sized mixing bowl and add all the other ingredients. Mix everything together.
When everything is evenly mixed, spread the diced potatoes evenly on a baking sheet. Line the baking sheet with something such as parchment paper first to prevent the potatoes from sticking.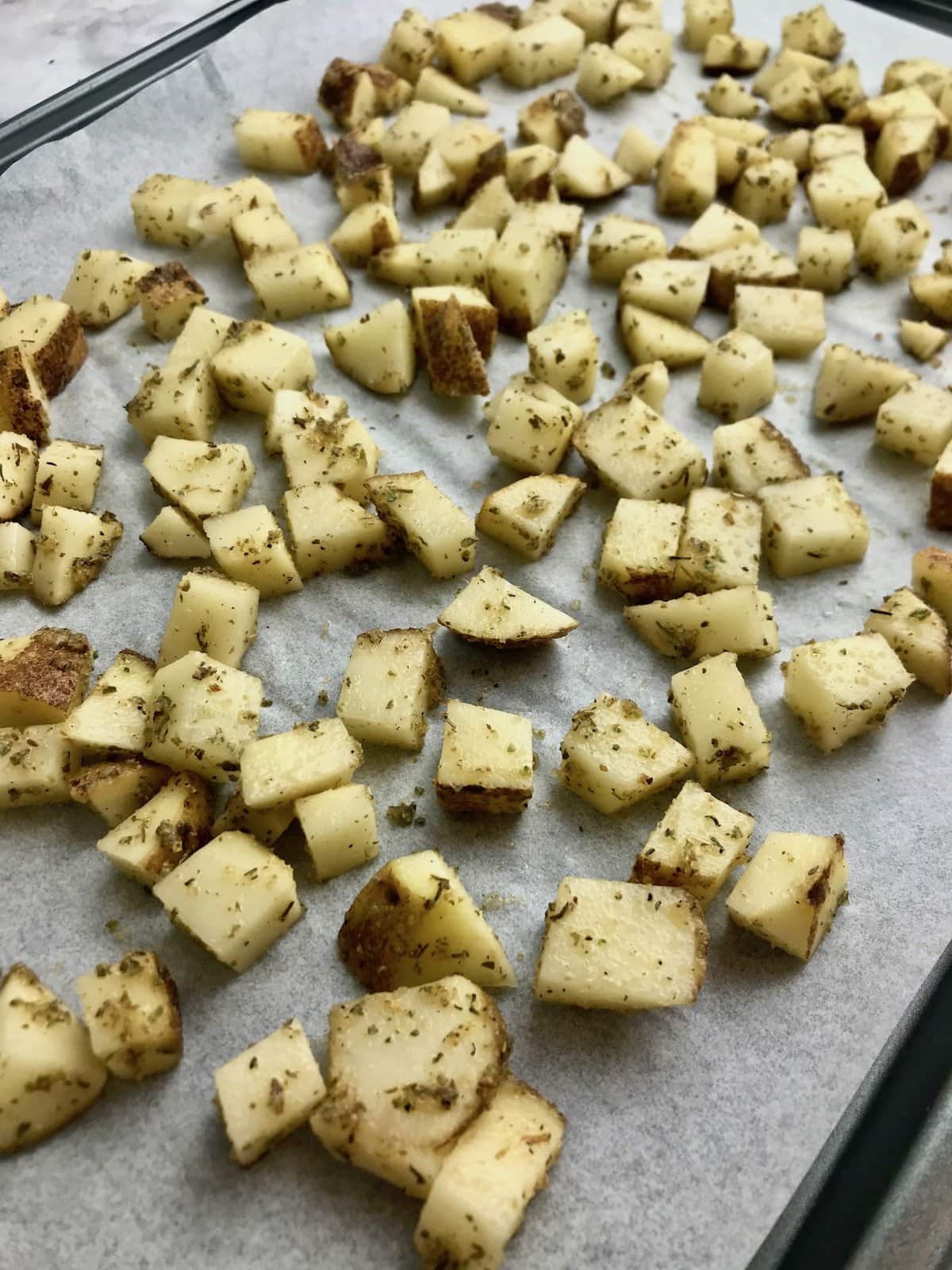 When your oven has preheated, bake your potatoes for a total of 25-30 minutes. Remove the pan halfway through baking and mix the potatoes around to ensure even cooking.
Pair these potatoes with…
As mentioned, these potatoes are fantastic as a breakfast side. You can pair them with various other foods, such as:
Toast
A variety of cooked vegetables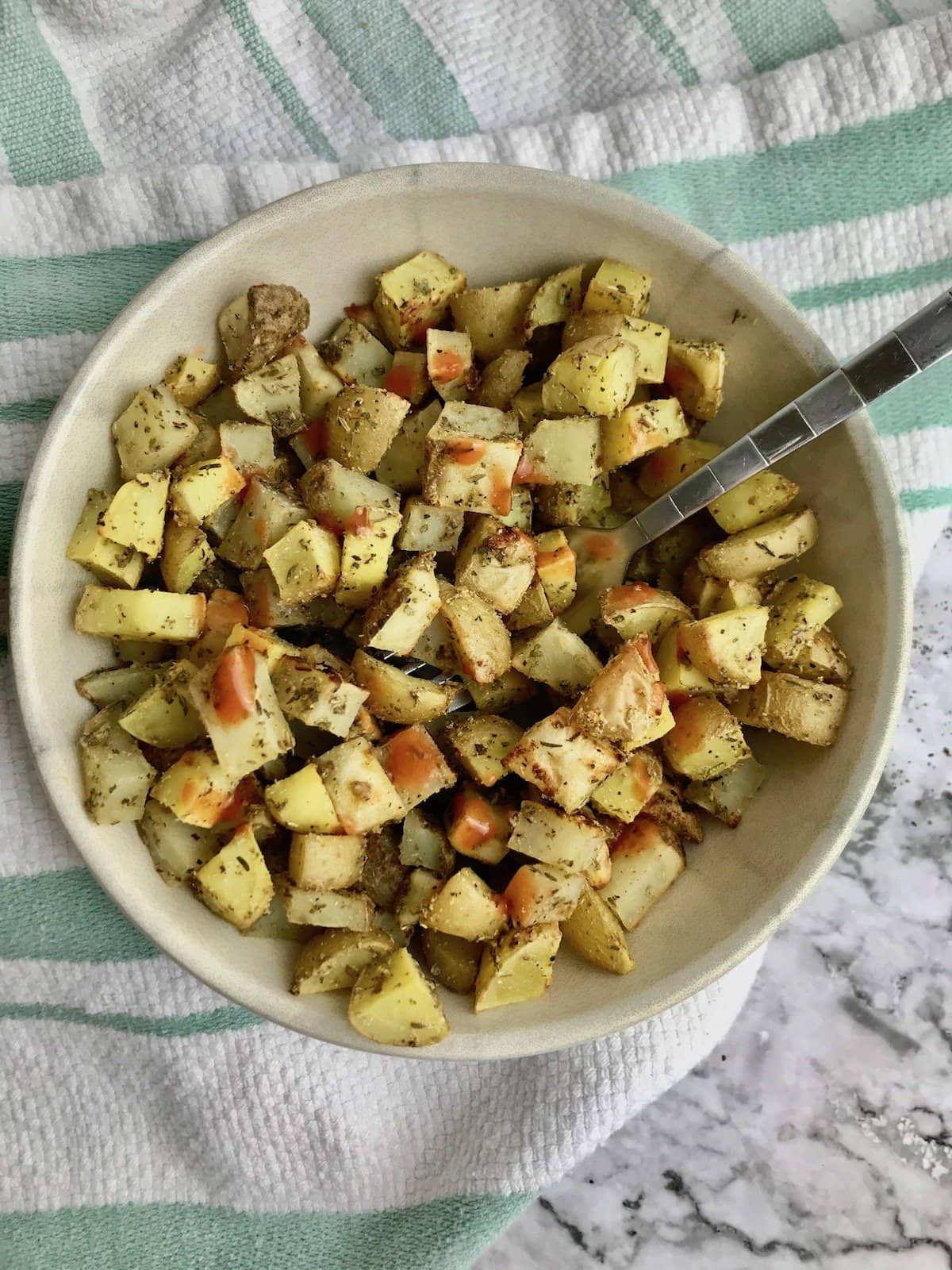 Possible toppings or dips include:
hot sauce
homemade refined-sugar free ketchup
These potatoes can also be added to any lunch or dinner. They are really great for any meal of the day, but I especially love them for breakfast!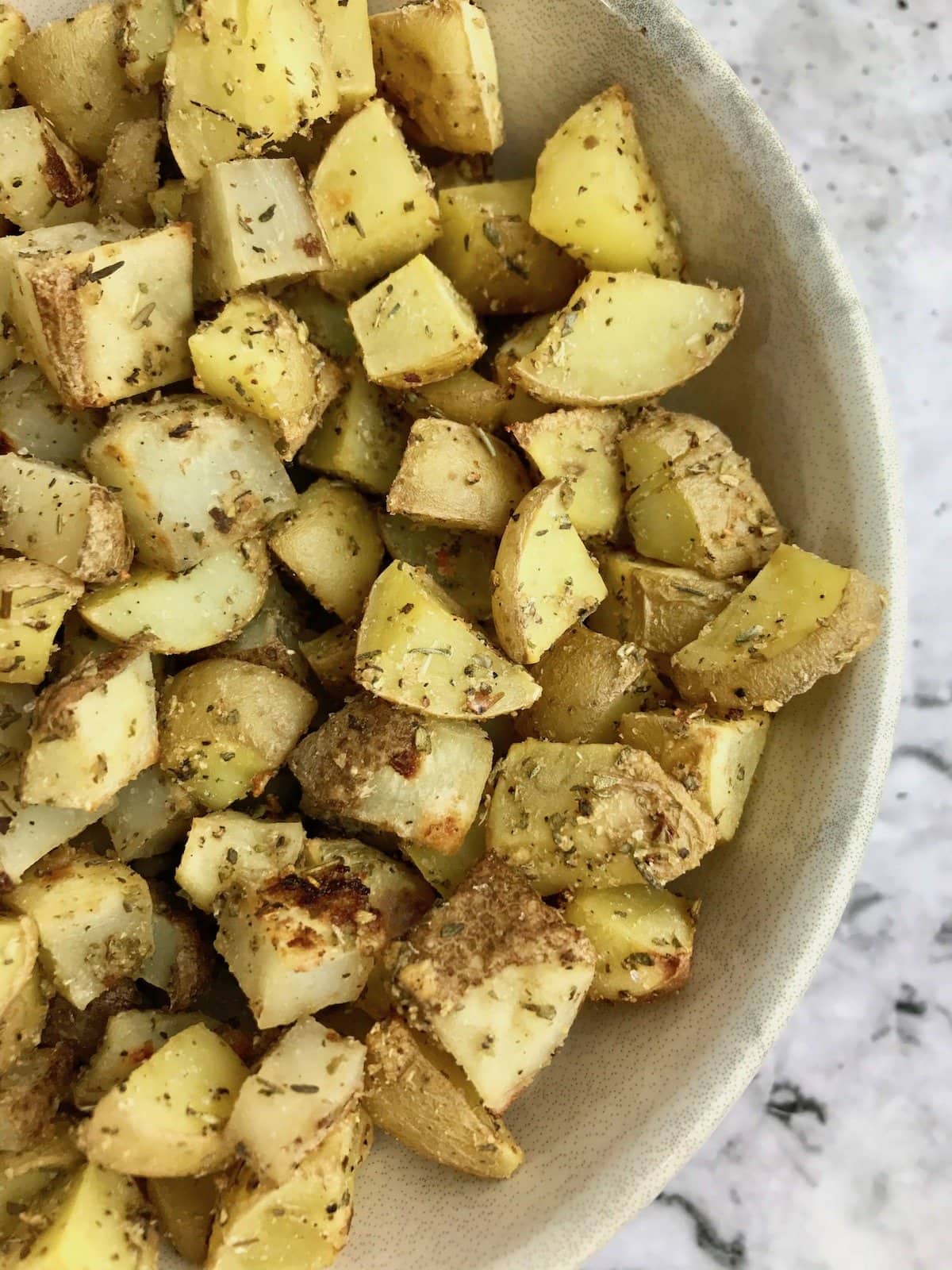 Recipe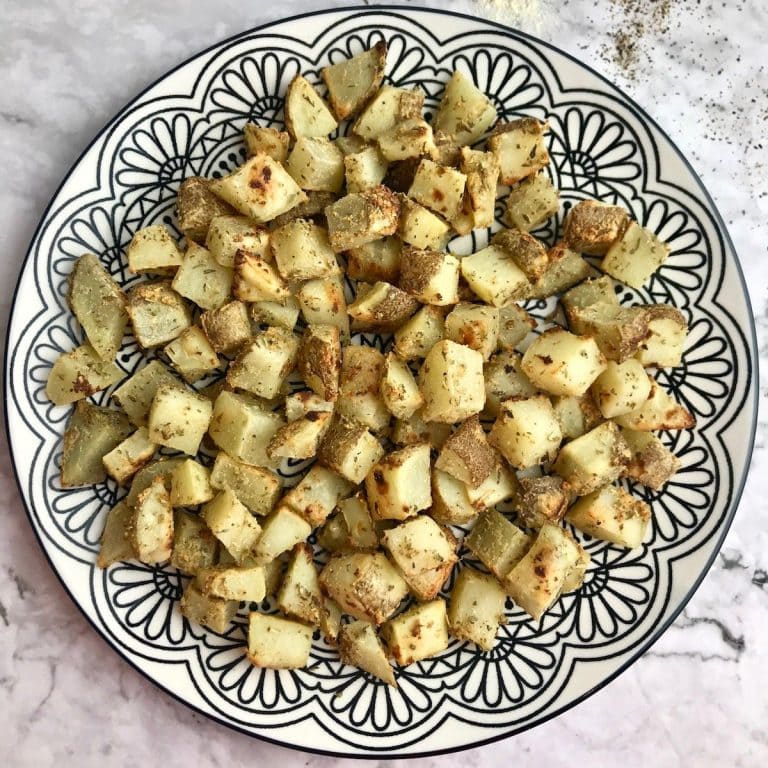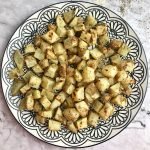 Print Recipe
Oil-Free Roasted Breakfast Potatoes
These oil-free roasted potatoes are perfect as a breakfast side. They are easy to make and so satisfying!
Ingredients
2

cups

diced potatoes

(white, yellow, or russet are best)

1 ½

teaspoons

maple syrup

½

teaspoon

garlic powder

½

teaspoon

onion powder

1

teaspoon

Italian seasoning

⅛

teaspoon

salt

⅛

teaspoon

ground black pepper
Instructions
Set your oven to 425 degrees Fahrenheit.

Dice your potato into fairly small pieces (see images for reference). There is no need to peel your potatoes first, but you can if you want to.

Put your diced potatoes in a mixing bowl, then add all other ingredients and mix everything together.

Line your baking sheet with parchment paper to avoid sticking, then spread out the potatoes evenly.

Bake for 15 minutes, then mix.

Bake for an additional 10-15 minutes.
Nutrition
Calories:
183
kcal
|
Carbohydrates:
42
g
|
Protein:
5
g
|
Fat:
0.3
g
|
Saturated Fat:
0.1
g
|
Polyunsaturated Fat:
0.1
g
|
Monounsaturated Fat:
0.01
g
|
Sodium:
160
mg
|
Potassium:
924
mg
|
Fiber:
5
g
|
Sugar:
5
g
|
Vitamin A:
22
IU
|
Vitamin C:
42
mg
|
Calcium:
50
mg
|
Iron:
2
mg
Nutrition Disclaimer
Nutrition information is an estimate generated from a nutrition calculator. There may be errors here or variations based on ingredients you use.