This post contains affiliate links for which I may earn a commission (at no extra cost to you) should you make a purchase. As an Amazon Associate I earn from qualifying purchases. Please see my disclaimer for more information.
Trying to find something vegan at Baskin-Robbins? Check out the list below for some options!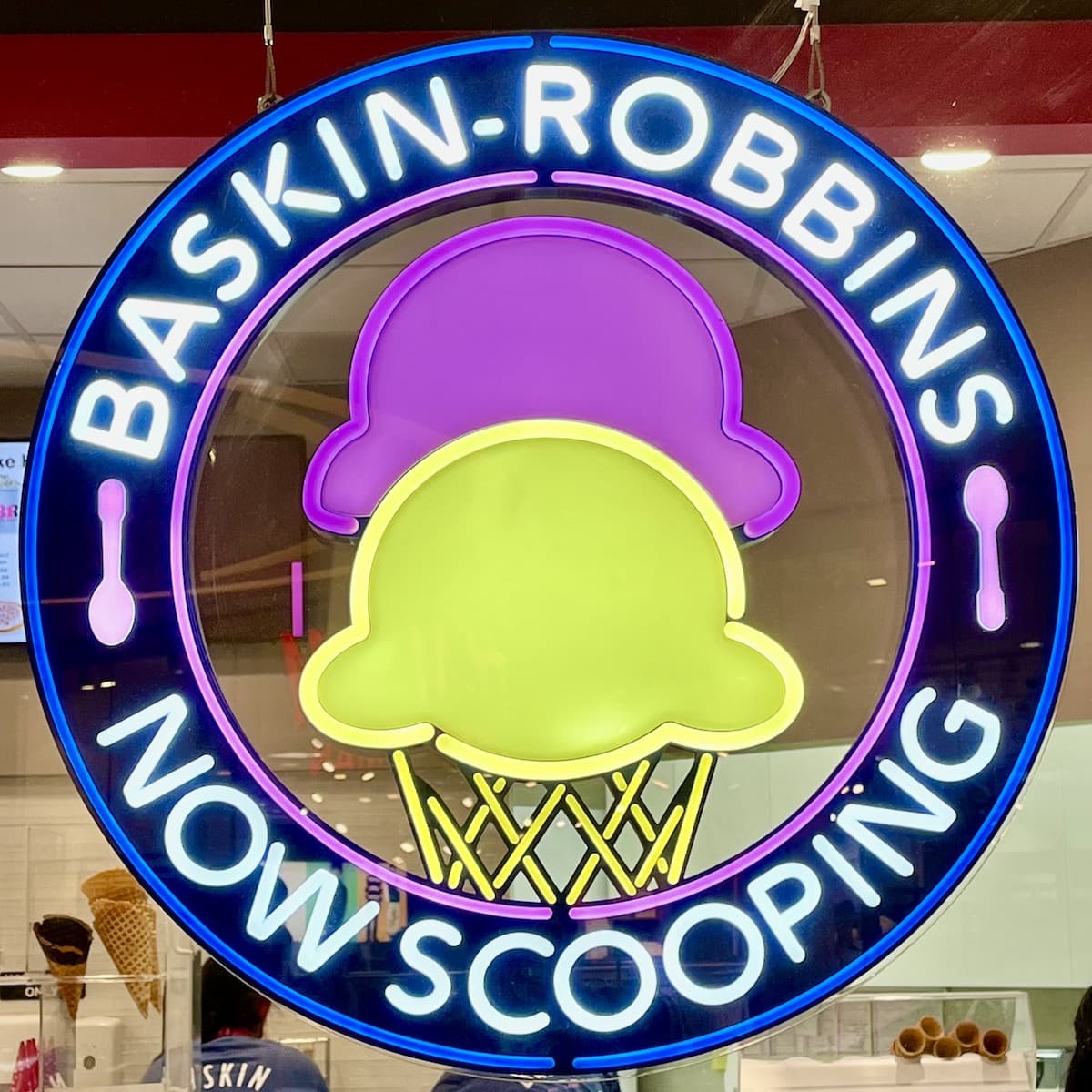 *Keep in mind that whenever you order vegan food, there is a risk of cross-contamination. Any products at Baskin-Robbins could potentially come in contact with animal products, including eggs, fish, and milk.
Also note that sugar used at Baskin-Robbins may be filtered through bone char. Some vegans are okay with this, while others are not.
Vegan options at Baskin-Robbins
Baskin-Robbins can change their menu at any time, so it is possible that some options below are no longer available. They may also not be available at certain locations.
Daiquiri Ice
The Daiquiri Ice at Baskin-Robbins is a lime-flavored sorbet dessert with a splash of non-alcoholic rum flavoring.
Watermelon Burst Sorbet
This is a sweet watermelon-flavored sorbet with sour watermelon-flavored swirls.
Non-Dairy Salted Fudge Bar
Made with oat milk, this vegan ice cream dessert has a salted dark chocolate flavor with fudge pieces and swirls
Non-Dairy Mint Chocochunk
This vegan ice cream alternative is made with coconut milk. It has a mint flavor with chocolate chunks and gooey swirls of fudge.
Mangonada
This beverage is a combination of savory and sweet, made with mango and Tajin seasoning and chamoy.
Freeze Beverage
Your choice of ice cream with your choice of soda. Choose from the vegan ice creams available at your location. Most soda is considered vegan as long as you are okay with consuming sugar filtered through bone char and artificial colors.
Sundaes
Some of the sundae toppings at Baskin Robbins are not vegan, but you can modify a sundae to make something vegan if your location allows it. You'll be missing out on the best parts though, so you may not find it worth it.
If it's available at your location, try a banana split with whatever vegan ice cream is available, topped with chopped almonds, cherries, and chocolate syrup!
Non vegan sundae ingredients:
Caramel praline topping
Whipped cream
Marshmallow topping
Hot fudge topping
Brownie
Vegan sundae toppings:
Chopped almonds
Bananas
Maraschino cherries (if you are okay with artificial color – Red 40)
Pineapple topping
Chocolate syrup
Baskin-Robbins Vegan FAQs
Does Baskin-Robbins have vegan Polar Pizza Ice Cream Treats?
No, they all contain milk.
Are Baskin-Robbins Smoothies vegan?
No, unfortunately the smoothies contain yogurt.
Is the waffle cone vegan?
No, it contains egg and milk ingredients. However, the Cake Cone is vegan! The Sugar Cone contains honey, so stick with the Cake Cone.
More guides to vegan restaurants