This post contains affiliate links for which I may earn a commission (at no extra cost to you) should you make a purchase. As an Amazon Associate I earn from qualifying purchases. Please see my disclaimer for more information.
This vegan bowl recipe contains 30 grams of protein and is the perfect tasty meal to boost your energy and fill you up.
Getting enough protein on a vegan diet has been a controversial topic for years. Hopefully this vegan bowl recipe will help you see how easy it can be to reach your required daily protein intake.
How much protein do you need?
The amount of protein that you need in a day really differs from person to person, so I can't tell you exactly how much you need. It depends on whether you're male or female, your height, your weight, your level of physical activity, and your body goals.
The Harvard Health Blog states that the Recommended Dietary Allowance (RDA) for protein is 0.8 grams of protein per kilogram of body weight. This is however just a general rule for the minimum protein requirement, and other factors may need to be considered. If you want to know for sure how much protein you should be consuming, you should consult with a health care professional.
As an example using the RDA, I am a fairly short female who is lightly active, so I need at least 45 g of protein per day. However, it could be completely healthy for somebody else to consume 70 g of protein per day.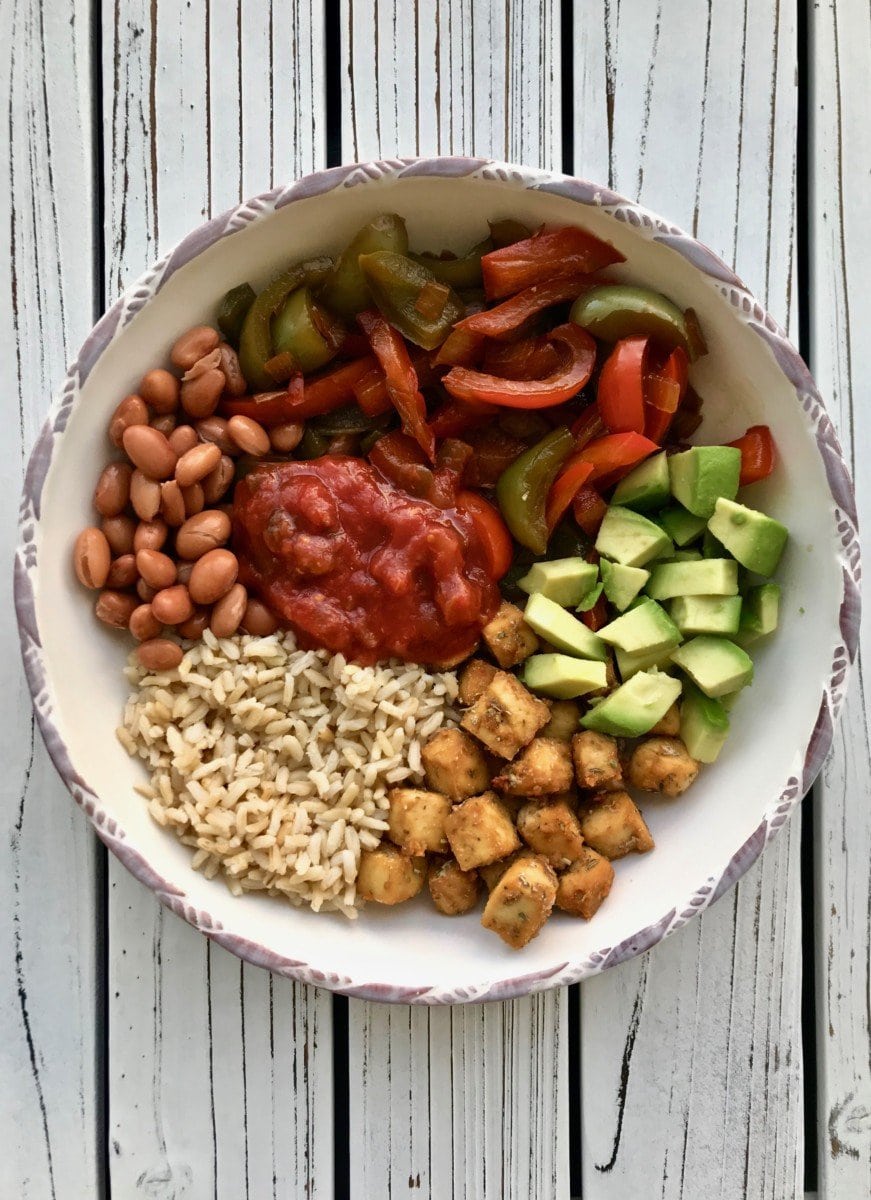 What is in this high-protein vegan bowl recipe?
This vegan bowl recipe contains a healthy mix of rice, tofu, beans, vegetables, and avocado. It is topped with salsa because I find that to be the easiest and quickest alternative to making your own sauce or dressing. I put salsa on all my rice bowls when I'm hungry and want to add some extra flavour quickly!
This is the perfect meal to have when you need to boost your protein. It is super filling and will stave off hunger for hours after you eat it. It's not something I eat often because for me it's a lot of food to eat at once, but it's my go-to bowl when I'm super hungry and feel like I haven't gotten enough protein in my other meals during the day.
Here is a breakdown of what is in this high-protein vegan bowl recipe, along with protein and calorie counts:
| | | |
| --- | --- | --- |
| Ingredient | Protein (g) | Calories |
| Oil-free crispy tofu | 15 | 170 |
| Onion and peppers mix | 6 (if using 2 tablespoons of tamari) | 80 |
| ½ cup brown rice | 2.5 | 108 |
| ¼ cup pinto beans | 3.5 | 45 |
| ¼ cup salsa | 1 | 20 |
| ½ avocado | 2 | 150 |
These values are approximate and may vary based on sizes of vegetables, brands of ingredients, etc.
Total protein = 30 grams
Total calories = 573 calories
A simple way to reduce the number of calories for this bowl would be to eliminate the avocado.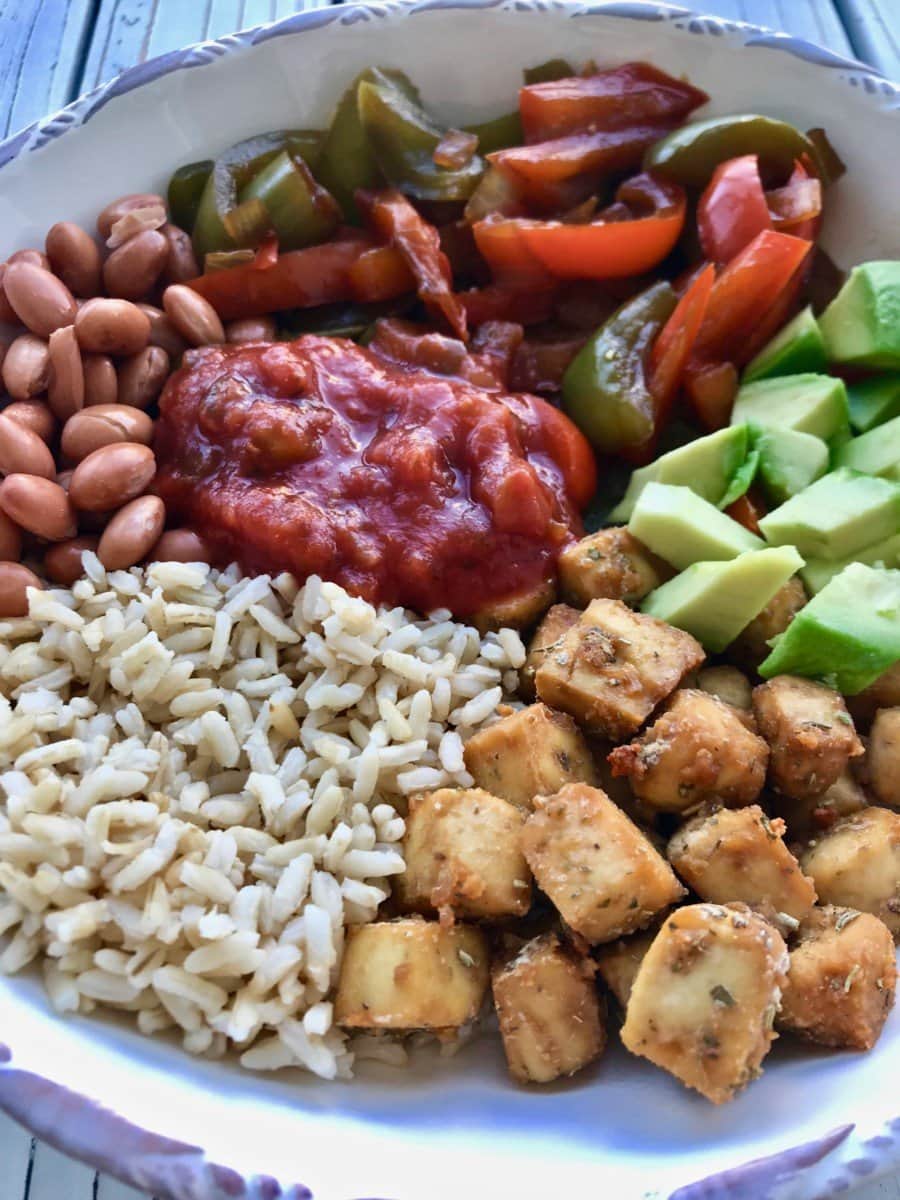 Should you eat tofu?
I have heard a lot of debate surrounding tofu. Some people say it's awful for you, while others promote it as a health food. This is the case for many foods and it's always difficult to sort through conflicting information.
One common argument against tofu is that it contains antinutrients. These can make it more difficult for your body to digest protein and reduce your body's ability to absorb nutrients.
However, Healthline states that this should only be a concern if you are relying on only tofu to get your daily intake of iron and zinc. Harvard School of Public Health agrees that consuming antinutrients should not be of concern, unless you have a health issue such as anemia or osteoporosis. Other beans and legumes also contain antinutrients, but that doesn't mean they're bad for you!
Some people have noticed an intolerance to soy, so tofu gives them digestive issues, but that's the case for many foods. Every body is different and different people have different food intolerances. So I would say just listen to your body. If you haven't experienced any physical discomfort or pain from eating tofu, continue to eat it.
From what I've read, I am comfortable with eating organic, non-GMO tofu from time to time. It's a great source of protein and various other nutrients, and I've had no issues with it. Just make sure you buy organic and non-GMO.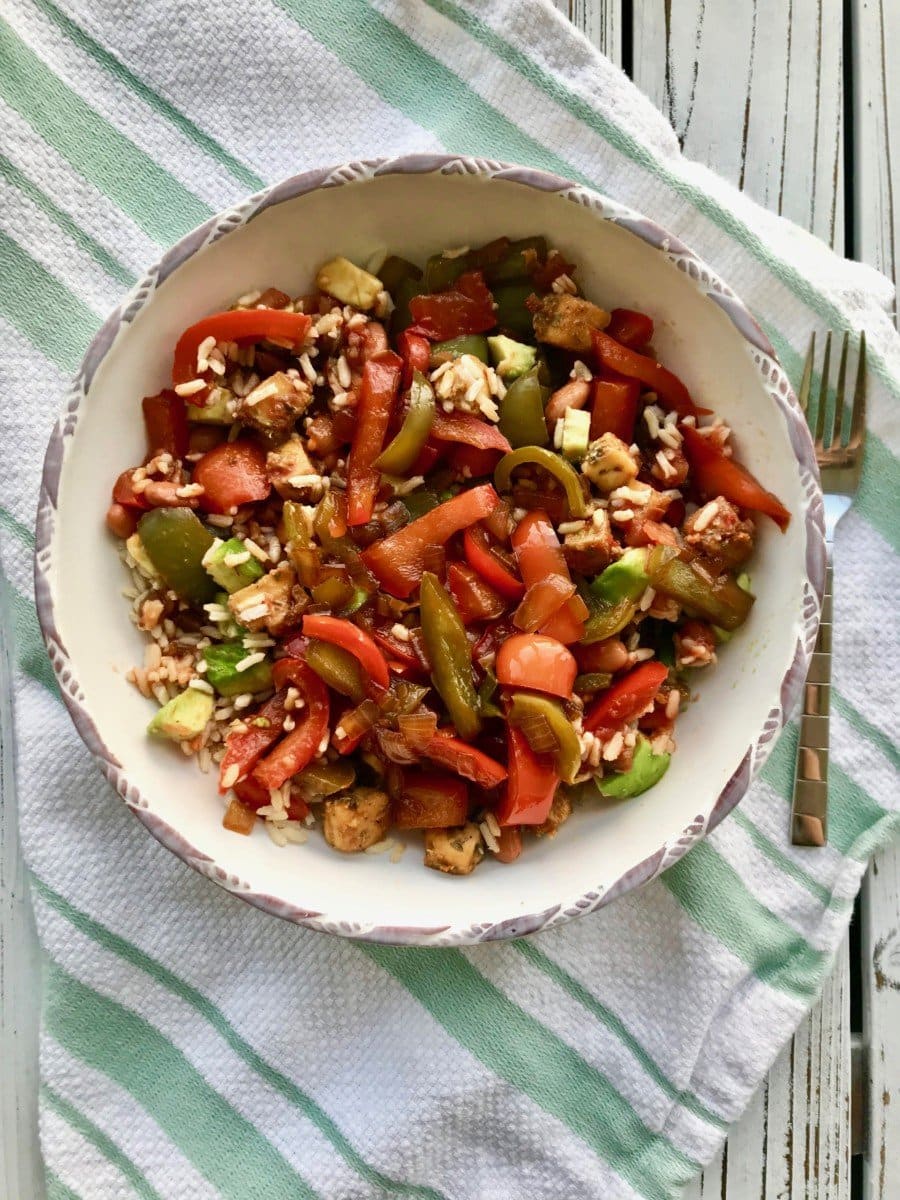 This vegan bowl recipe is:
High in protein
Vegan
Gluten-free
Oil-free
Filling
Flavourful
Cooking the peppers and onions
The peppers and onion in this recipe are cooked in a pan on the stove. I use vegetable broth and tamari to avoid oil, and the tamari gives the vegetables a really nice flavour!
As stated in the recipe below, start with about 2 tablespoons of each vegetable broth and tamari, then add more broth as you need it. Cook the vegetables for as long as you want, until they are the desired texture. I cook them for about 10-15 minutes on a low simmer.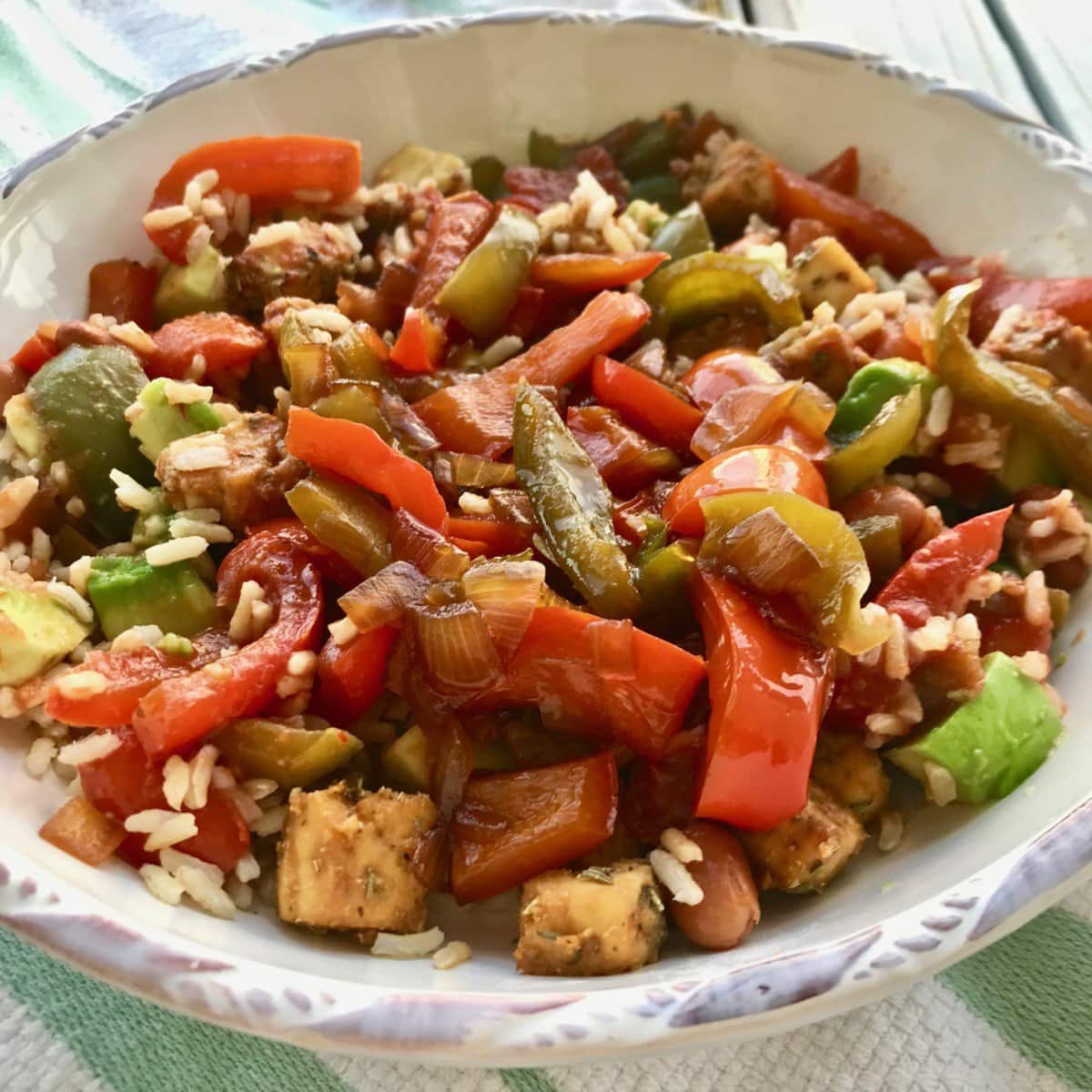 Check out the recipe below. You can see the oil-free crispy tofu recipe here. For this bowl, you will only need about ¼ of this tofu recipe, but I recommend making it all and saving the rest because it's delicious!
Recipe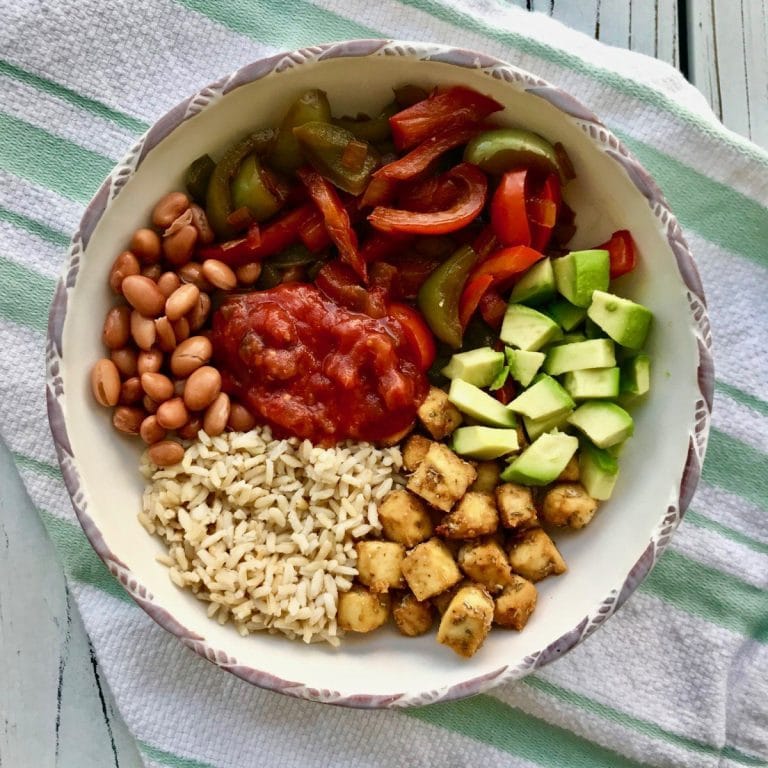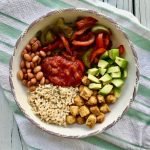 Print Recipe
High-Protein Vegan Bowl
This vegan bowl recipe contains 30 grams of protein and is the perfect tasty meal to boost your energy and fill you up.
Ingredients
For the vegetables
1

medium red pepper

1

medium green pepper

½

small yellow onion

¼

cup

vegetable broth

2

tablespoons

tamari
For the rest of the bowl
½

cup

cooked brown rice

¼

cup

canned pinto beans

¼

cup

salsa

½

avocado
Instructions
Make oil-free crispy tofu (linked in the ingredients above).

While your tofu is in the oven, cook the rice on the stove.

Slice the bell peppers and dice up the onion. Simmer on the stove for 10-15 minutes with the vegetable broth and tamari – start with 2 tablespoon of each, and add more broth as needed.

Add your tofu, peppers and onion, rice, beans, and avocado to a bowl.

Top with salsa and mix together!
Nutrition
Calories:
573
kcal
|
Protein:
30
g