This post contains affiliate links for which I may earn a commission (at no extra cost to you) should you make a purchase. As an Amazon Associate I earn from qualifying purchases. Please see my disclaimer for more information.
This 3 bean chili is vegan, oil-free, and gluten-free. It is easy to make and so warm and comforting. Enjoy it plain or over a bowl of grains with some delicious toppings!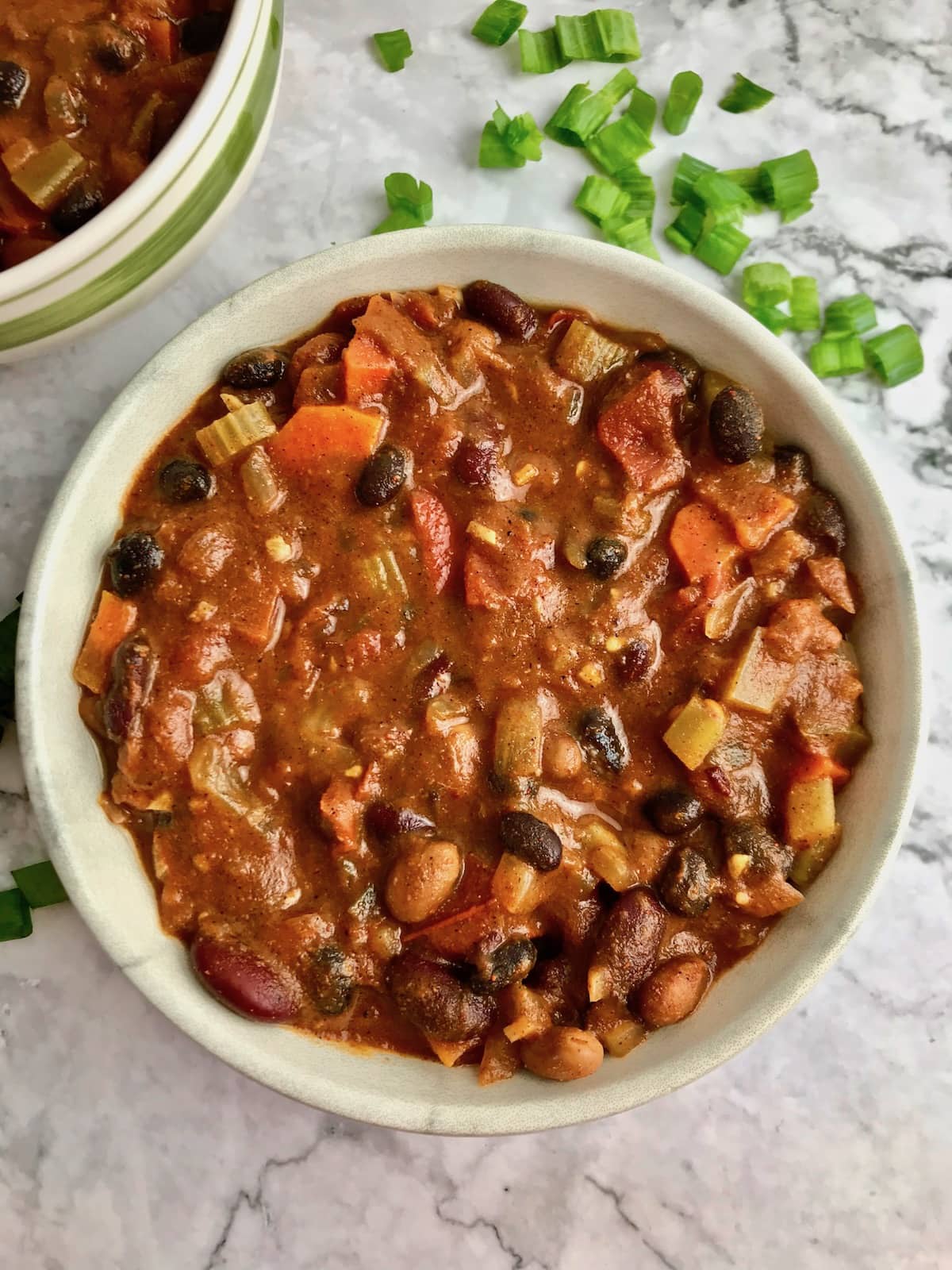 Chili is just one of those meals that makes me feel full and satisfied (similar to this vegetable stew). It's perfect for warming up on a cold day, and I love how easy this recipe is!
I was a bit worried when I made it that it wouldn't taste like a good, authentic chili without any meat, but I don't miss the meat at all in this recipe. It is that good!
Ingredients
Here's what you will need to make this vegan 3 bean chili (keep scrolling for quantities and full instructions):
Yellow onion
Carrot
Celery
Jalapeno pepper
Chili powder
Cumin
Garlic cloves
Oregano
Smoked paprika
Vegetable broth
Tomato sauce
Tomatoes
Canned black beans
Canned dark red kidney beans
Canned pinto beans
Brown rice flour
Water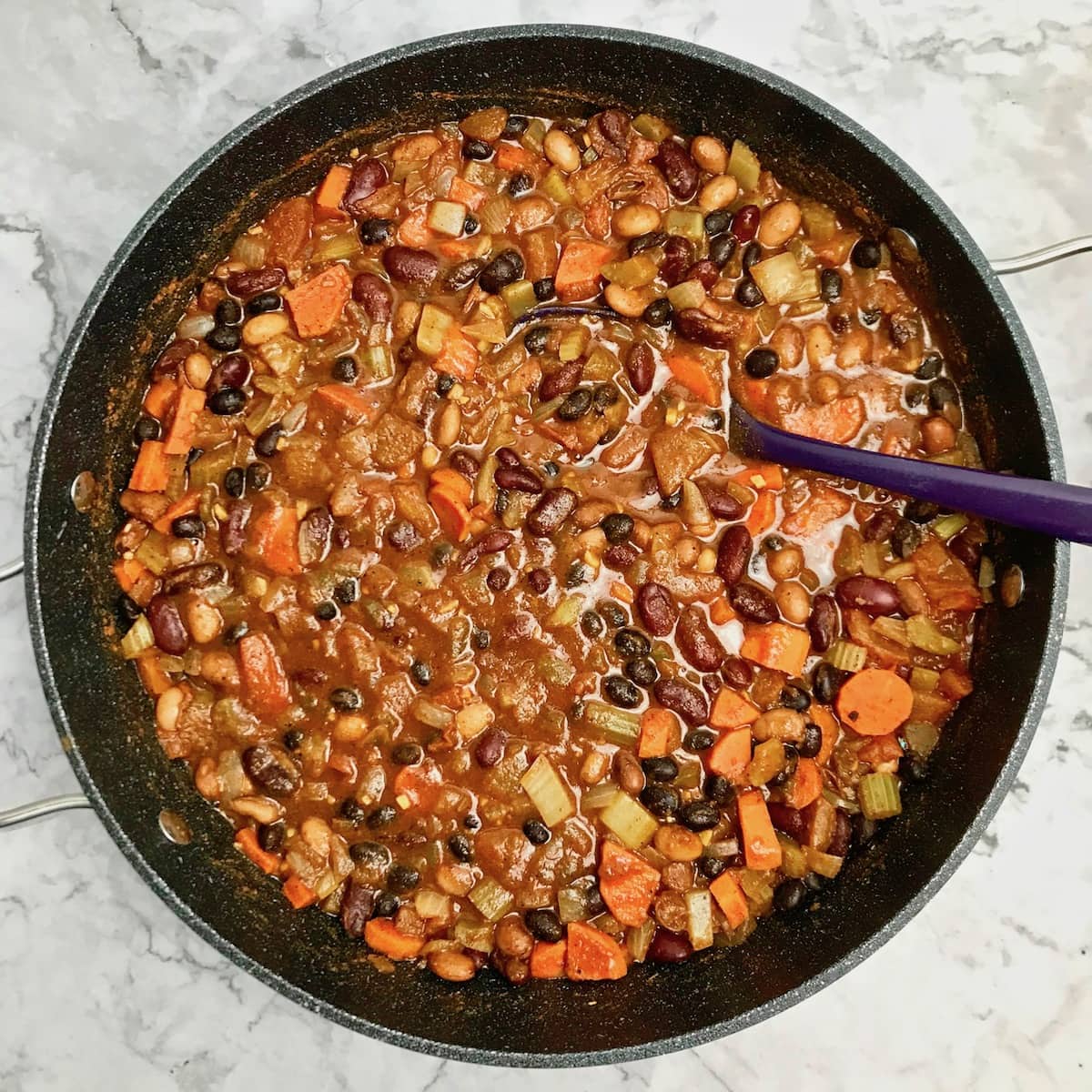 Is chili healthy?
Not all chili is equally healthy, because there are so many variations to how you can make chili!
Some chili has processed meat and oil, and people often top it with dairy-filled ingredients such as sour cream and cheese. These ingredients will definitely lower the nutritional value of a chili recipe.
This vegan 3 bean chili is quite healthy though!
It is packed with beans and vegetables, giving it a lot of fiber and plant-based protein. Beans are a great healthy source of protein, fiber, and iron!
You can read more about the health benefits of beans here.
In a one cup serving, this vegan chili only has approximately 150 calories, 9 grams of fiber, and 8 grams of protein.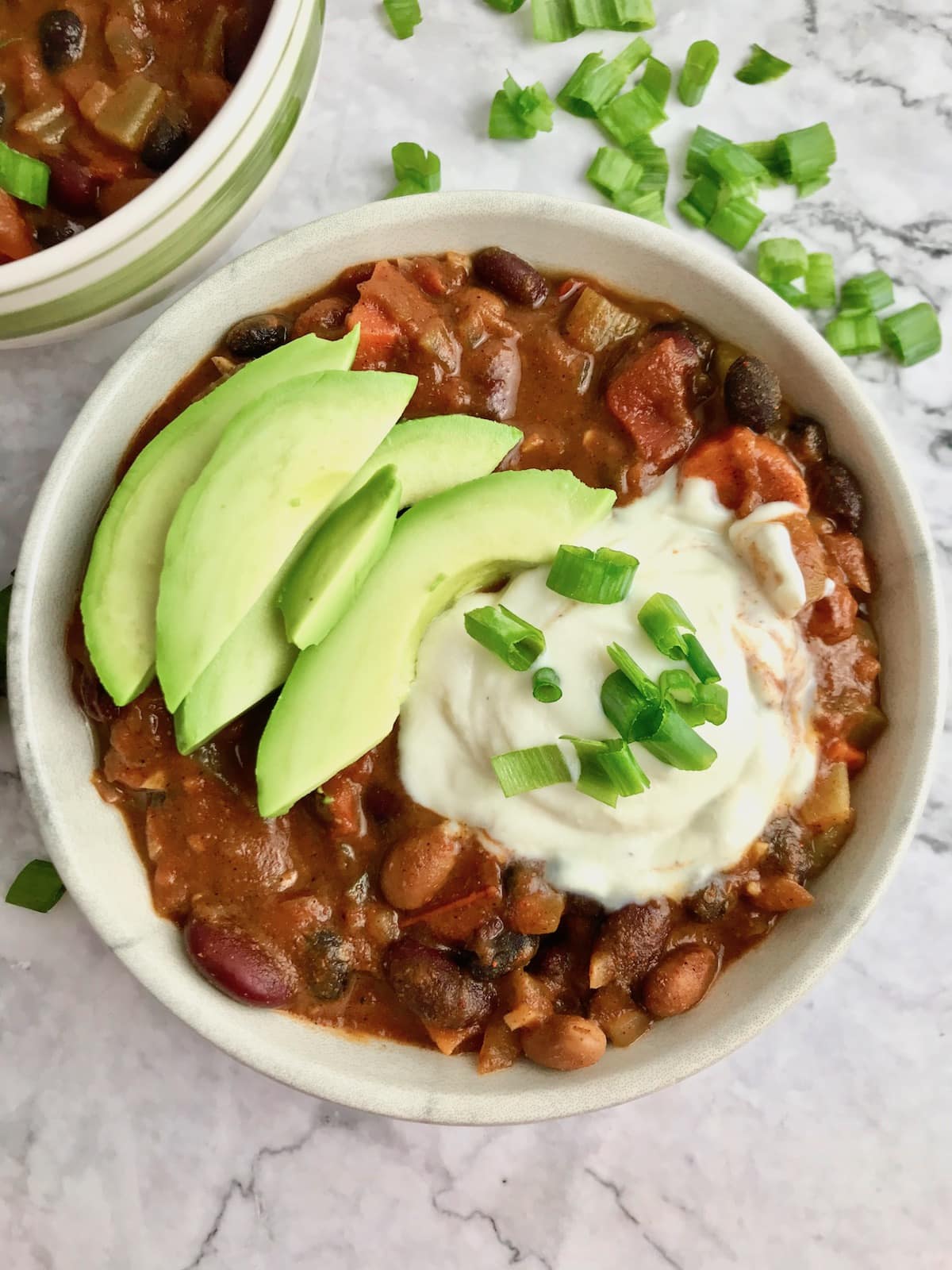 Tips
When you are sautéing the vegetables for this recipe, make sure you don't use any oil if you want this recipe to remain whole foods plant-based compliant. Oil is a processed food with no health benefits, so I use either some water or vegetable broth. Just drizzle a small amount into your pot and monitor the vegetables, stirring them occasionally. If they start to stick, add a bit more liquid.
In purchasing your ingredients for this 3 bean chili recipe, be mindful of sodium content. I suggest buying low sodium vegetable broth (or you can make your own), and make sure that your canned beans and tomato sauce are labeled "no salt added." If you buy these three items without checking how much sodium they contain, they will likely have a lot and the sodium in each serving of chili will be very high!
At the end of the cook time, you will likely want to thicken your chili up a bit more. If you like it to be more thin and liquid-y, you can eat it as is, but to thicken it you can make a slurry. To do this, I like to use brown rice flour. Just mix together 1 tablespoon of brown rice flour and 1 ½ tablespoons of water. Make sure you do this in a separate dish, not directly in the pot. If you just pour the brown rice flour directly into the pot without mixing with water first, it will clump up! So mix it with water until it is smooth, then slowly pour this mixture into your pot while stirring. Your chili should thicken up a bit within a few minutes. If you want it even thicker, you can repeat this process with more flour and water.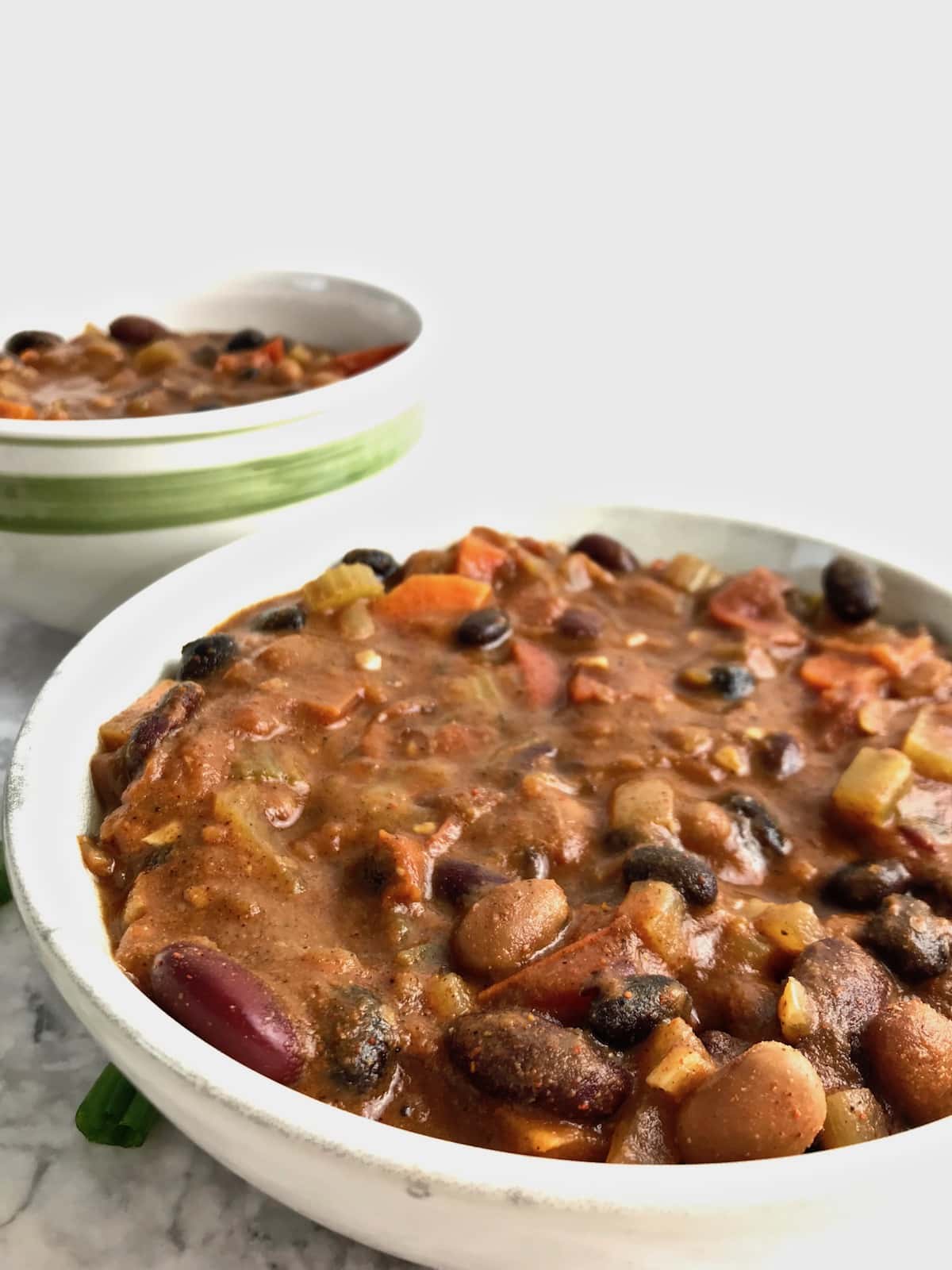 Toppings/How to Serve
This chili is great on its own, but you can pair it with other food as well. Here are some ideas:
Top it with

vegan tofu sour cream

Top it with sliced avocado
Top it with chopped green onion
Pour it over some rice, quinoa, or potatoes
If you want some more help getting started with a plant-based diet, check out this plant-based grocery list!
Recipe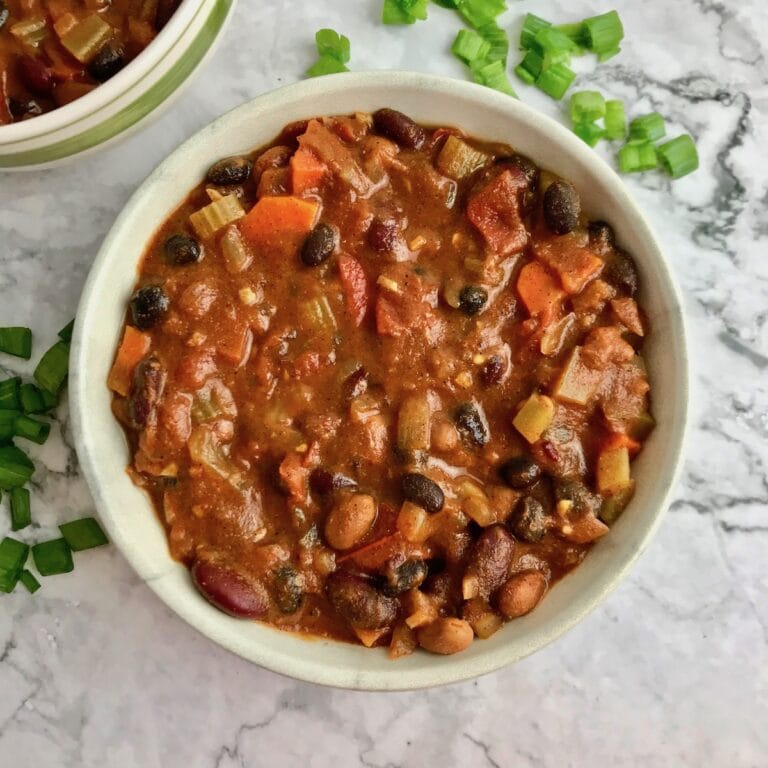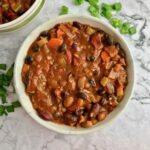 Print Recipe
3 Bean Chili (Vegan + Oil-Free)
This 3 bean chili is vegan, oil-free, and gluten-free. It is easy to make and so warm and comforting. Enjoy it plain or over a bowl of grains!
Ingredients
1

medium yellow onion

(chopped)

1

cup

carrot

(chopped)

1

cup

celery

(chopped)

1

jalapeno pepper

(finely diced, seeds removed)

3

tablespoons

chili powder

1 ½

teaspoons

cumin

2

garlic cloves

(minced)

½

teaspoon

oregano

½

teaspoon

smoked paprika

3

cups

vegetable broth

(low sodium)

½

cup

tomato sauce

(no salt added)

2

cups

tomatoes

(chopped)

1

cup

canned black beans

(no salt added)

1

cup

canned dark red kidney beans

(no salt added)

1

cup

canned pinto beans

(no salt added)

1

tablespoon

brown rice flour

1 ½

tablespoons

water
Instructions
Chop the onion and carrots, and add them to a large pot. Saute with some water or vegetable broth for about 7 minutes. You will only need to add a small amount of water or broth to prevent the vegetables from sticking. Keep an eye on the pot and add a bit more liquid whenever needed. While the onion and carrot are cooking, prep the other vegetables.

Next, add the chopped celery, diced jalapeno, chili powder, cumin, garlic, oregano, and smoked paprika. Make sure you remove the jalapeno seeds or the chili will be very spicy. Saute for 5 more minutes, mixing occasionally, and adding more liquid if needed.

Next, add the vegetable broth, tomato sauce, chopped tomatoes, and beans (drain the liquid from the cans first). Bring to a boil, then reduce to low heat and simmer for 30 minutes, uncovered.

After 30 minutes, you can thicken the chili. In a small dish, mix one tablespoon of brown rice flour with 1 ½ tablespoons of water. Once it is completely mixed, pour this mixture into the pot of chili and mix it in. The chili should thicken in a few minutes. If you still want it thicker, you can repeat this step and allow it to simmer a bit longer.
Notes
This recipe makes 7 ½ - 8 cups of chili. A serving size is one cup. Nutrition facts below are only an estimate.
Store in the fridge for up to 5 days.
Nutrition
Calories:
151
kcal
|
Carbohydrates:
29
g
|
Protein:
8
g
|
Fat:
1
g
|
Saturated Fat:
1
g
|
Sodium:
137
mg
|
Fiber:
9
g
|
Sugar:
5
g
|
Calcium:
98
mg
Nutrition Disclaimer
Nutrition information is an estimate generated from a nutrition calculator. There may be errors here or variations based on ingredients you use.