This post contains affiliate links for which I may earn a commission (at no extra cost to you) should you make a purchase. As an Amazon Associate I earn from qualifying purchases. Please see my disclaimer for more information.
This tofu crumble makes the perfect vegan taco meat. It is oil-free, gluten-free, and absolutely delicious!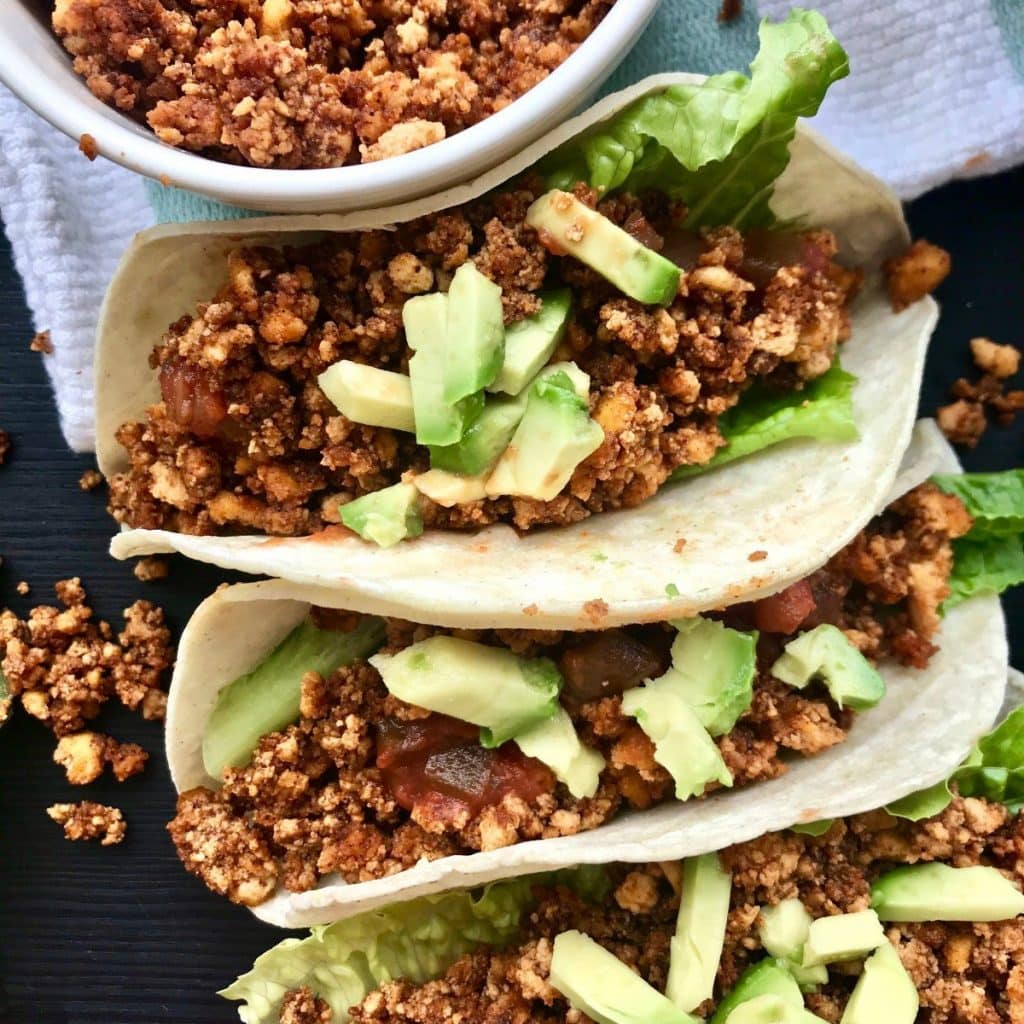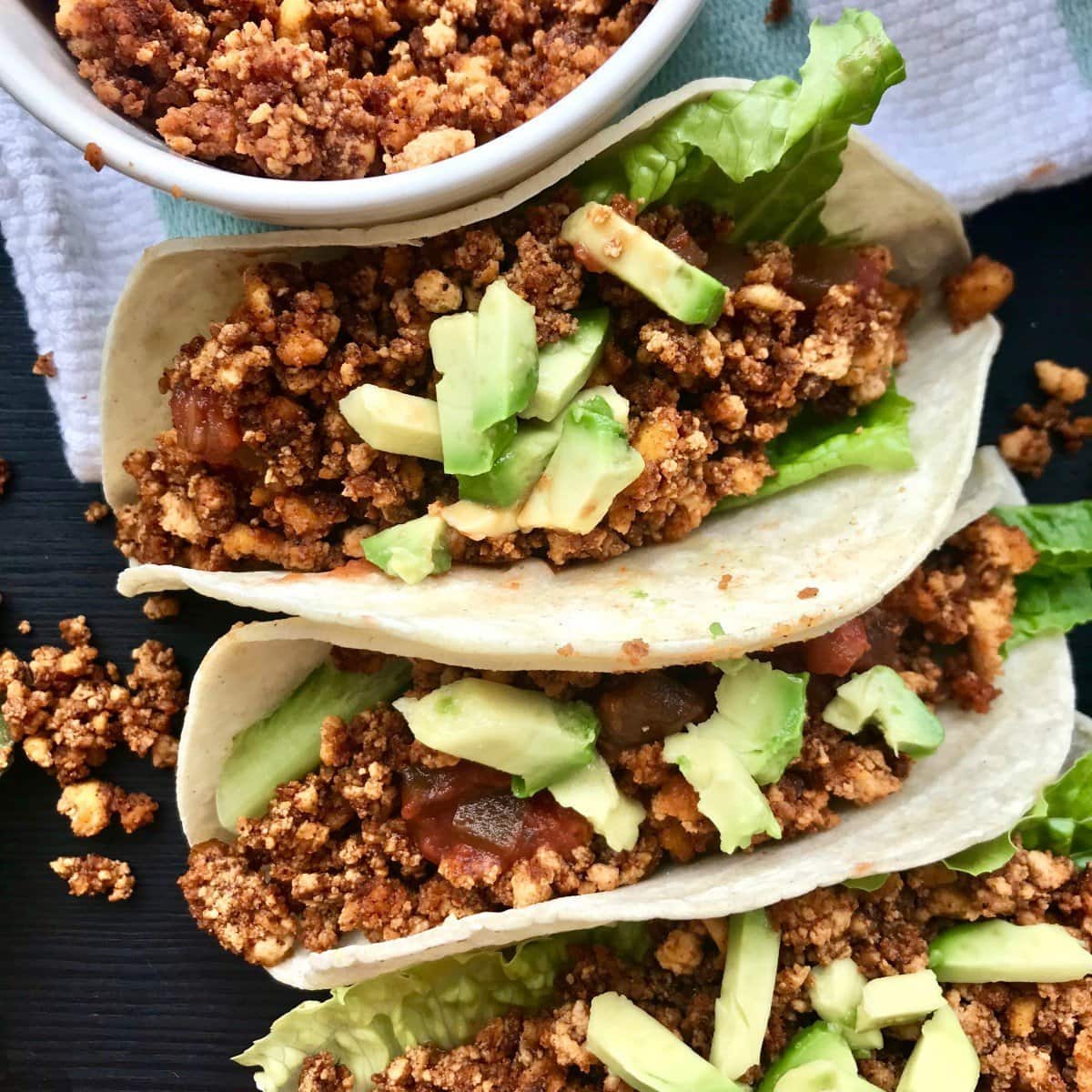 Who doesn't love tacos??
Tacos are something that I always get super excited to have. I feel like tacos are a special meal that I don't have very often, which is why it's such a big deal when I have them.
Since going vegan I haven't had many tacos because I couldn't imagine how a taco could exist without ground beef.
Then I discovered Chipotle.
Chipotle is a fast food restaurant that serves Mexican food, and I admit to sometimes indulging in it when I'm not in the mood to cook. They have an awesome tofu crumble called sofritas that looks similar to ground beef. When I had it for the first time, I was amazed.
So of course, I decided to come up with my own recipe.
I've made this taco tofu crumble 4 times in the past couple of weeks because I wanted to get it just right. And I am somehow still not sick of it. I hope you love it as much as I do!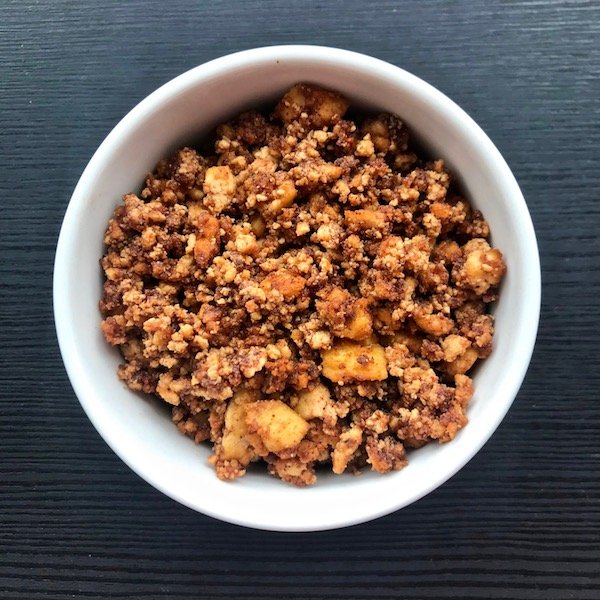 This tofu crumble is:
Vegan
Healthy
Oil-Free
Gluten-Free
Flavourful
Perfect for tacos!
Tips for making this vegan taco tofu crumble
Make sure you press the tofu before crumbling
Before making your tofu crumble, I recommend you press your tofu for at least 30 minutes. I know that a lot of people don't press their tofu if they're going to be crumbling it, but I have tested out not pressing the tofu for this recipe and it didn't turn out that great. It works much better if you press some of the moisture out of it before crumbling, so don't skip this step!
Slice your tofu.

Wrap your tofu before stacking books on it for pressing.
Don't forget to mix the tofu halfway through cooking
Once your tofu is ready to go in the oven, set your timer for 12.5 minutes instead of the total bake time of 25 minutes. This is so that you can mix the tofu around halfway through cooking. This will ensure that the tofu is evenly cooked and gets slightly crispy all around instead of on just one side.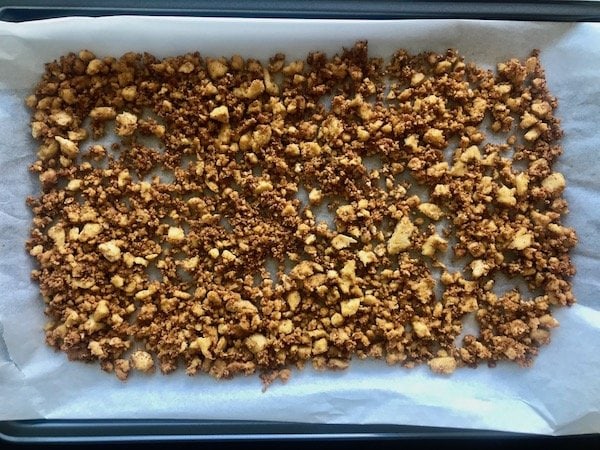 Evenly coat the tofu crumble after cooking
Once you are done cooking the tofu for the total bake time of 25 minutes, you will add 1 tablespoon of tamari and 1 tablespoon of tomato paste. Mix these two ingredients together, then add the tofu and distribute evenly. There will not be much of the paste mixture, so it may seem like you need more, but you only need a thin coating on the tofu. Make sure you spread it out evenly over the tofu so that it's not concentrated in only certain pieces.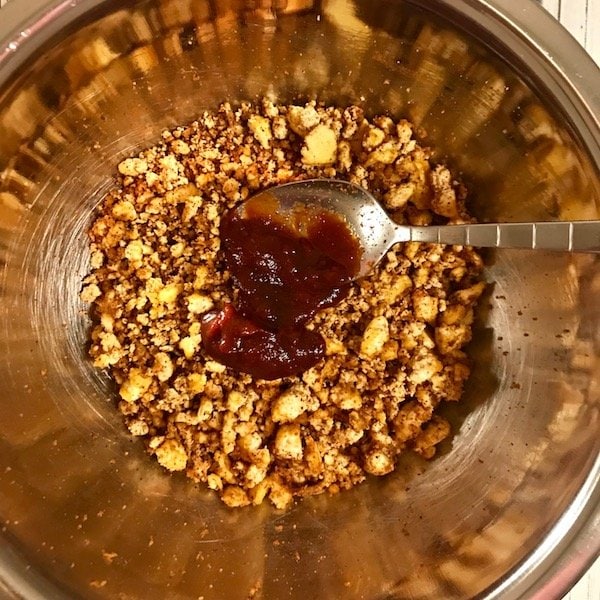 How to assemble your vegan taco
This tofu crumble recipe will create a delicious base for a taco, but you need some toppings to add some more flavour!
If you like to have your tofu crumble in a tortilla, try to find some that are oil-free. I have found plenty of oil-free corn tortillas at various grocery stores. If they feel a bit too firm and breakable, heat them up a bit in the oven or microwave.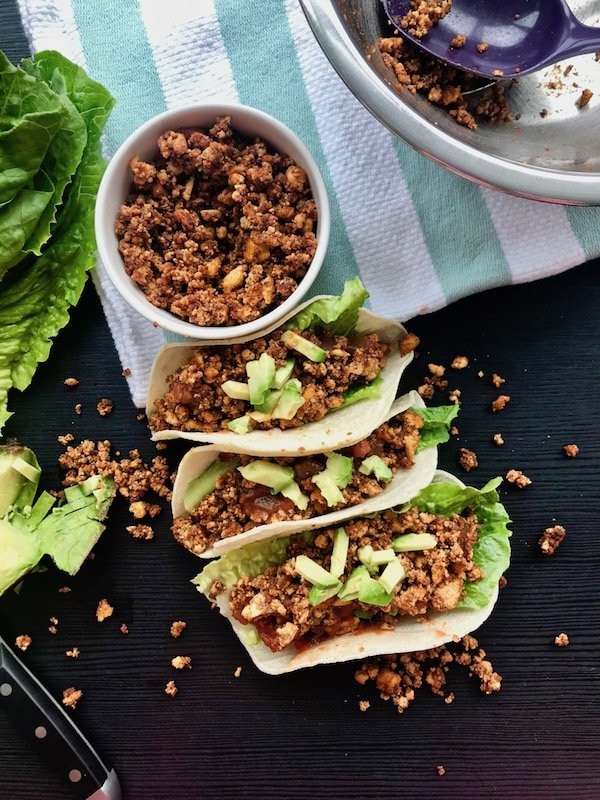 Here are some topping suggestions:
*I like to use refried beans in my tacos because sometimes it's difficult to keep your taco together and whole beans may end up falling out! If using canned refried beans, I recommend checking the ingredients to ensure there are no oils of other unhealthy additives. You can also just mash up some beans on your own and add some spices. I also recommend spreading it down on your tortilla or lettuce wrap before adding other toppings.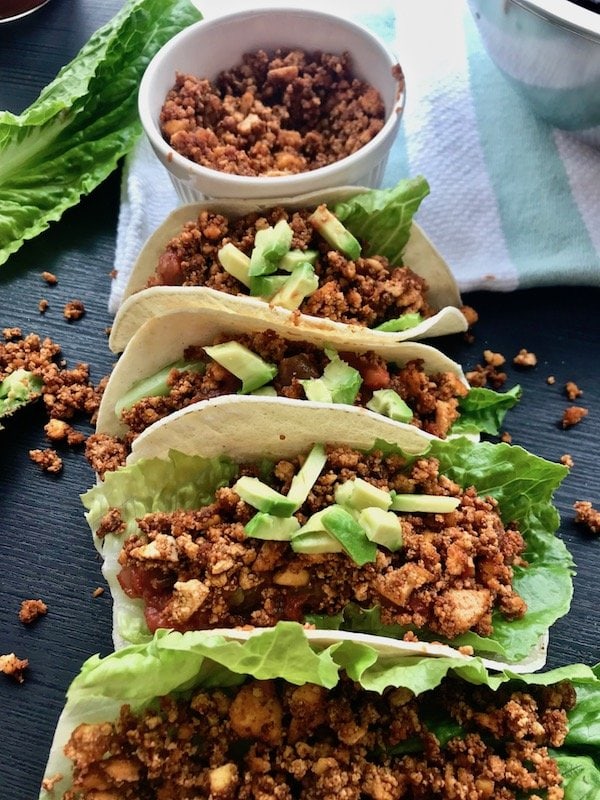 Recipe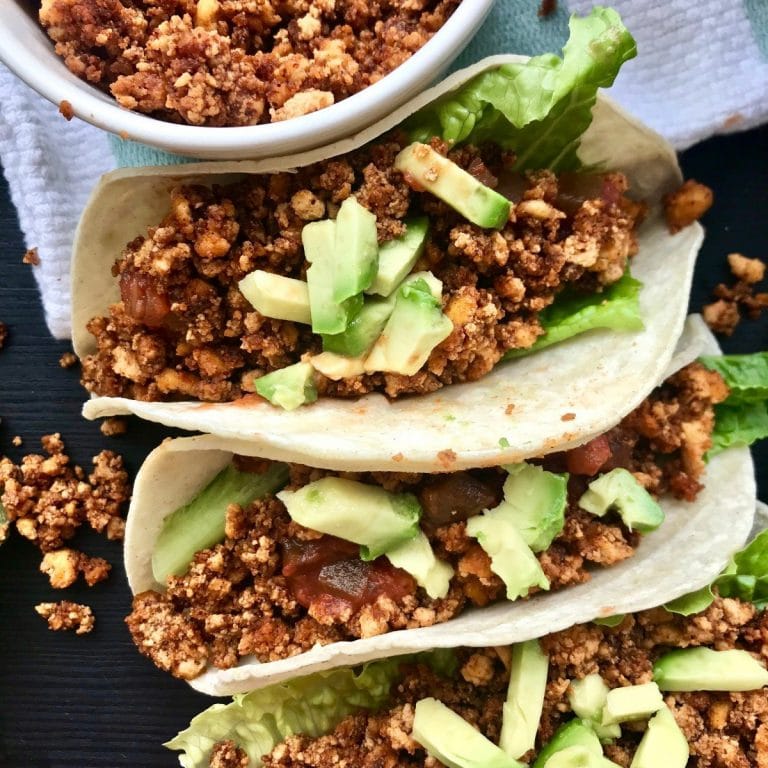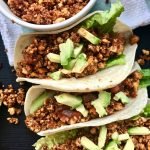 Print Recipe
Tofu Crumble for Vegan Tacos
This tofu crumble makes the perfect vegan taco meat. It is oil-free, gluten-free, and absolutely delicious!
Ingredients
350

grams

extra firm tofu

1

tablespoon

tamari

(low sodium)

1

tablespoon

tomato paste

¼

cup

water

2

tablespoons

chili powder

1

teaspoon

paprika

½

teaspoon

cumin

1

teaspoon

garlic powder

½

teaspoon

onion powder

¼

teaspoon

ground oregano

¼

teaspoon

crushed red pepper flakes

1

tablespoon

cornstarch
Instructions
Preheat oven to 350 degrees Fahrenheit.

Slice the tofu into slabs that are about 1 centimeter thick, then press the tofu for 30 minutes.

To a medium-sized bowl, add everything except for the tofu. Mix it all together evenly.

Once the tofu has been pressed, squeeze it into a crumble with your hands.

Add the crumbled tofu to the bowl and mix until it is evenly coated.

Spread the tofu in an even layer on a baking sheet lined with parchment paper.

Bake in the oven for 12 ½ minutes.

Remove the tofu from the oven and mix it around.

Spread the tofu in an even layer again and bake for another 12 ½ minutes.
Notes
This recipe makes enough tofu crumble for approximately 6 small tacos. You will get about 2.5 cups of tofu crumble from this recipe.
Nutrition information is an approximation for ⅙ of the tofu crumble.
Nutrition
Calories:
105
kcal
|
Carbohydrates:
5
g
|
Protein:
11
g
|
Fat:
5
g
Nutrition Disclaimer
Nutrition information is an estimate generated from a nutrition calculator. There may be errors here or variations based on ingredients you use.