This post contains affiliate links for which I may earn a commission (at no extra cost to you) should you make a purchase. As an Amazon Associate I earn from qualifying purchases. Please see my disclaimer for more information.
At Subway, vegans can order a veggie sub, wrap, or salad. Below you will find all of the bread and topping options for vegans.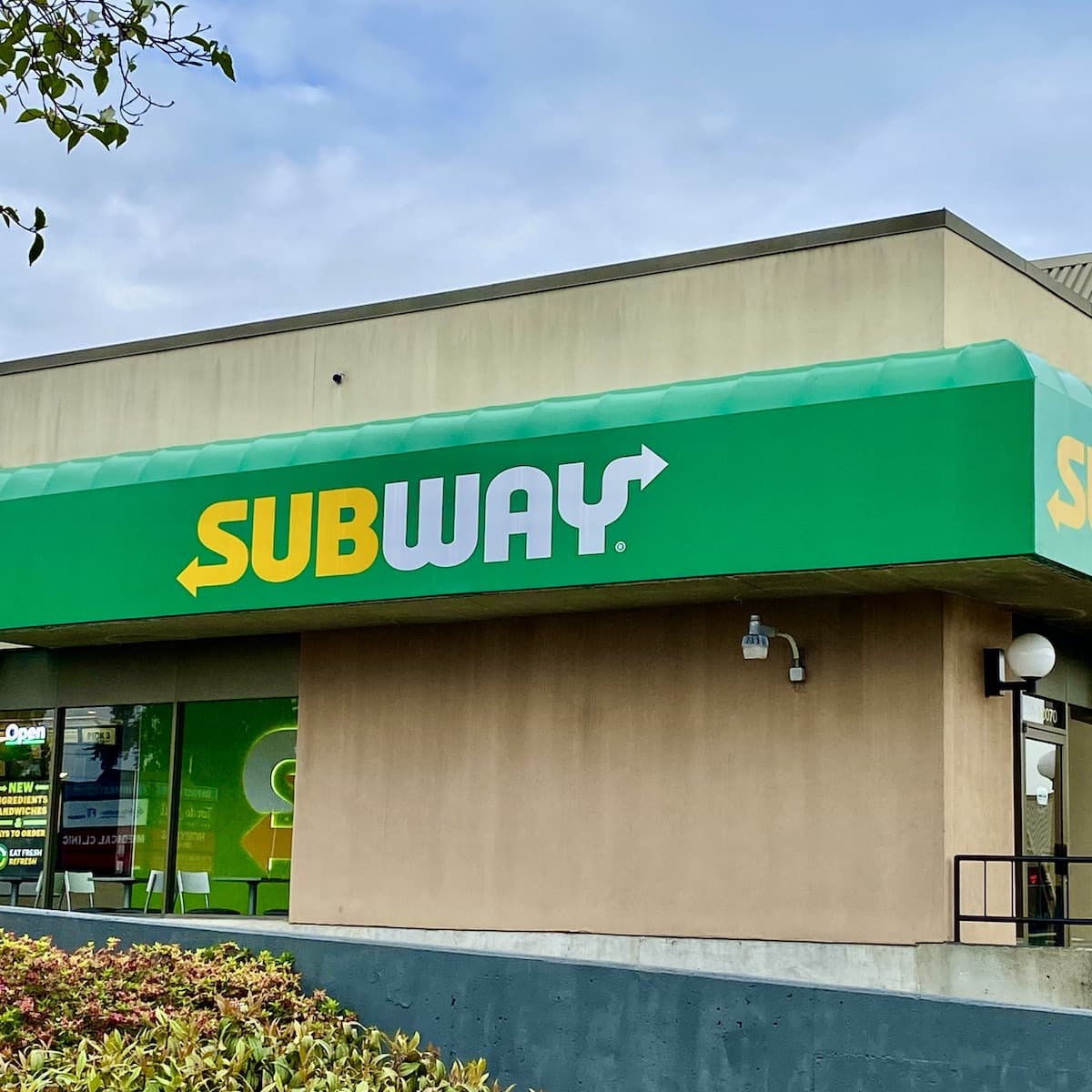 Disclaimer: When eating at any restaurant that is not entirely vegan, cross-contamination with animal products is quite likely. You also have to keep in mind that there are some ingredients that may or may not be vegan at Subway and you'll have to be okay with this uncertainty if you want to eat there.
For example, plenty of the breads contain natural flavor of unknown sources (may be from plants or animals), sugar that may be filtered through bone char, and other ingredients that are sometimes sourced from animals.
If you're okay with these potential issues, keep reading for all of the vegan options at Subway!
*This post is in regards to Subway locations in the United States.
Vegan Options At Subway
At Subway, you can choose to have a vegan sandwich, wrap, or salad. For toppings, you can choose from a variety of vegetables and some locations even have a vegan veggie patty!
At locations that have the veggie patty, you can also order a protein bowl.
Vegan Breads & Wraps
Below are the vegan breads and wraps that vegans can eat a Subway, although there are some questionably vegan ingredients such as sugar that may be processed through bone char, natural flavor, and riboflavin that could potentially be sourced from animals.
Many vegans will be comfortable with these small uncertainties, but if you are not you will have to avoid eating at Subway.
Artisan Italian (white)
Hearty Multigrain
Flatbread, Artisan
Sourdough
Spinach Wrap
Tomato Basil Wrap
Is there a vegan and gluten-free bread option? Unfortunately no. The gluten-free bread at Subway contains egg.
Vegan Protein
Veggie Patty – not available at all locations.
Vegan Condiments, Dressings, and Seasonings
Buffalo Sauce – contains natural butter type flavor, but no milk, so this flavor is likely not animal-sourced.
Mustard
Oil
Sweet Onion Sauce
Sweet Onion Teriyaki Sauce
Black pepper
Oregano
Salt
Vegetables
Some vegetables at Subway contain additives that may or may not be vegan, such as polysorbate 80. Many vegans will be willing to look past this, so it isn't something you should be worried about. Considering the risk of contamination at restaurants and the uncertainty of some other ingredients mentioned above, it wouldn't make much sense to be concerned with this if you are eating at Subway anyways.
You can view the specific ingredients here.
The following vegetables at Subway contain additives:
Banana Peppers
Black Olives
Jalapeno Pepper Slices
Pickles
Vegetables at Subway with no additives:
Cucumbers
Green Peppers
Lettuce
Onions
Avocado (sliced or smashed)
Spinach
Tomatoes
Vegan Sides
Applesauce
Chips – Different Subway locations will carry different flavors of chips. Check ingredients on individual packages.
Vegan Subway Meal Options
Veggie Wrap – Choose a Spinach or Tomato Basil wrap and fill it with a Veggie Patty if available, veggies of choice, and vegan sauce of choice.
Veggie Sandwich - Choose a vegan bread and fill it with a Veggie Patty if available, veggies of choice, and vegan sauce of choice.
Veggie Salad – To a bowl of lettuce, you can add any veggies of choice and even a Veggie Patty if available. Add vegan sauce of choice.
Protein Bowl – Make any footlong sub into a protein bowl with a Veggie Patty where available. Includes a footlong portion of a Veggie Patty, veggies of choice, and sauce of choice.
Subway vegan FAQs
Does Subway have any vegan soups?
No. They all contain milk or meat or both.
Does Subway have any vegan "cheese?"
No.
Does Subway have any vegan cookies?
No. Unfortunately there are no vegan cookies or other dessert options at Subway, unless you consider the applesauce a dessert. The gluten-free brownie does not contain milk, but it does contain egg.
Can you eat vegan and gluten-free at Subway?
If you are vegan and gluten-free, you won't be able to have a sub or a wrap. They do have a gluten-free bread, but it contains egg so it isn't vegan.
You can have a salad with any veggies, and you can even have the Veggie Patty. Keep in mind that cross-contamination may occur, so if you have a serious allergy you should tell the employee who is preparing your food.
More guides to eating out as a vegan