This post contains affiliate links for which I may earn a commission (at no extra cost to you) should you make a purchase. As an Amazon Associate I earn from qualifying purchases. Please see my disclaimer for more information.
This vegan pumpkin pasta is made with healthy, whole-foods plant-based ingredients. The pumpkin sauce is creamy and delicious!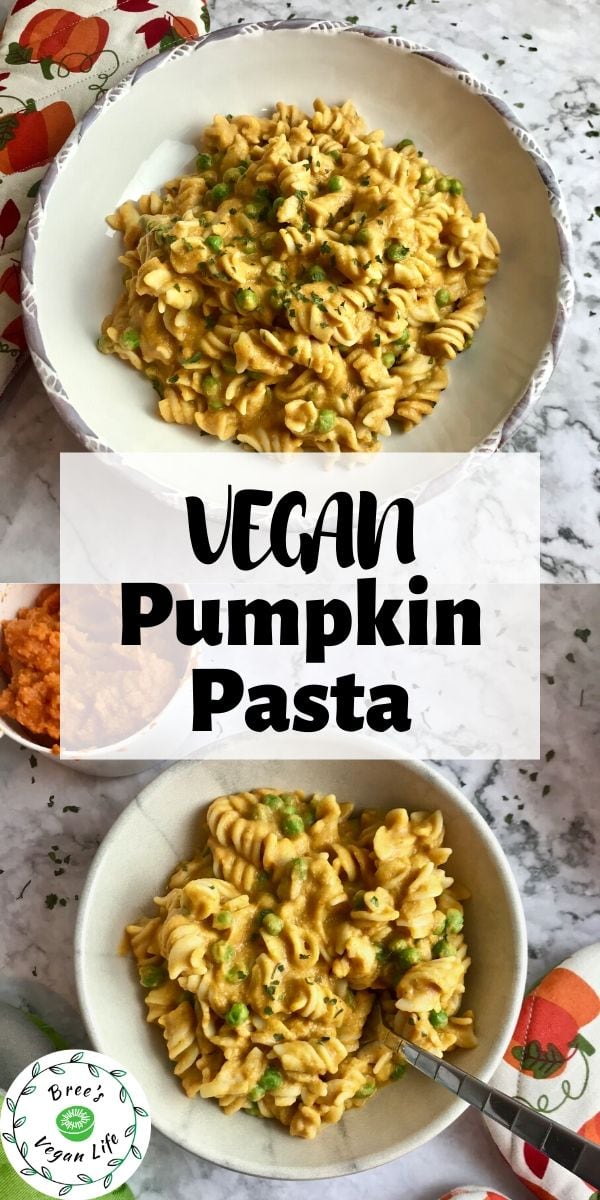 Pumpkin can be used in a surprising number of ways! I'd heard about pumpkin pasta before, but to be honest, I was hesitant to try it.
To me, pumpkin is meant to be the star of sweet foods such as cookies, muffins, pies, etc. I like my pasta to be savoury, so I wasn't sure how this would turn out, but it's perfect!
This vegan pumpkin pasta doesn't taste too strongly of pumpkin, and the other ingredients complement it nicely and make this sauce taste wonderfully savoury!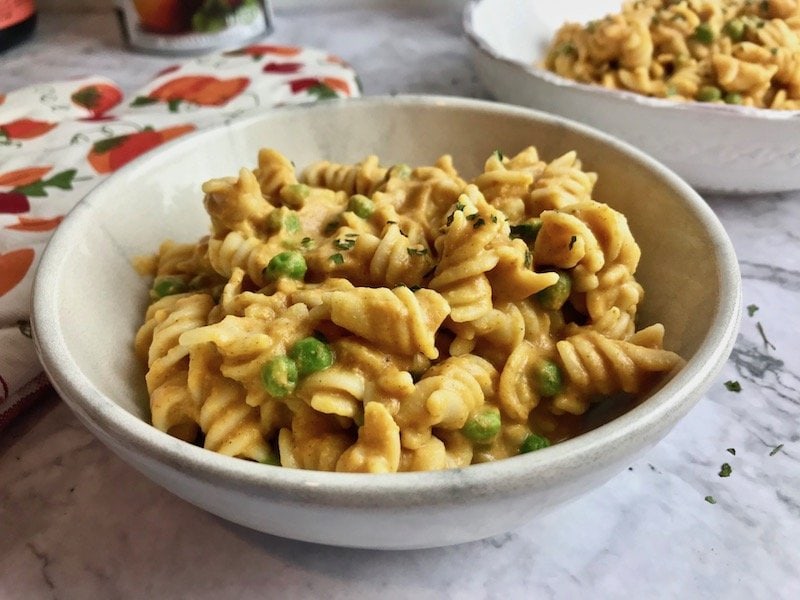 Tips for making this vegan pumpkin pasta
You can use any pasta you want for this recipe, gluten free or not. Using 200 grams of dry pasta will yield the correct amount when cooked to allow the sauce to evenly coat all of the noodles and green peas.
It is optional to add green peas to this pasta. Of course, if you don't want peas you can switch them for another vegetable. In order to have the correct amount of sauce, you should make sure that you use approximately 1 cup of vegetables if replacing the peas. You could also choose to not add any vegetables, in which case your pasta would have more sauce.
Make sure you mix your onion and garlic powder with water before adding to the sauce. If you don't, it may clump up when added directly to the sauce.
If you want less pasta, you can still make the full amount of sauce and use the extra for something else. The sauce can be poured onto any rice or vegetable dish, or even as a cracker or chip dip.
If you want this pasta dish to be the main dish for a meal, you can add some more protein to it. It would be great with some added chickpeas. If you want to keep the pasta as is, I would pair it with something like a bean salad.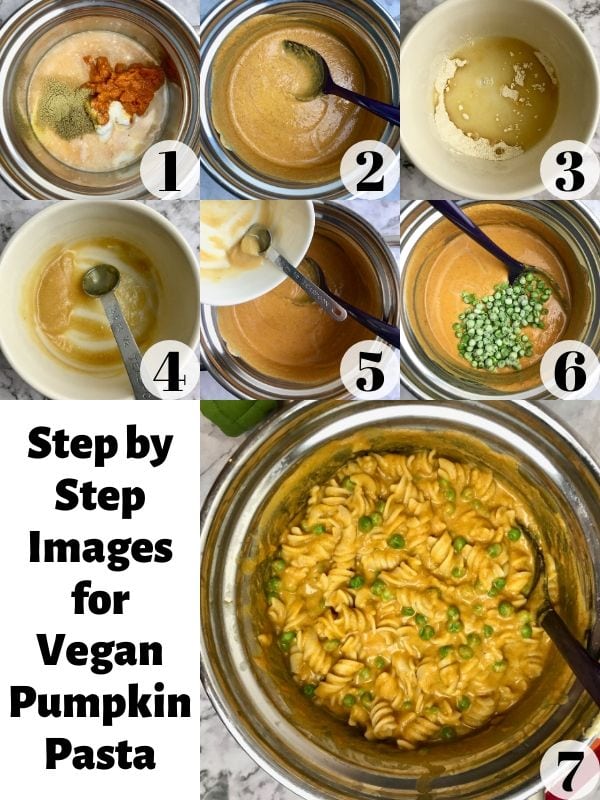 Other ways this pumpkin sauce can be used
If you enjoy this vegan pumpkin sauce, you can make some more and use it in various ways! Here are some suggestions:
Put it on rice
Put it on cooked vegetables, such as broccoli
Put it on potatoes (mashed, baked, boiled!)
Use it as a dip for

tortilla chips

Use it as a dip for crackers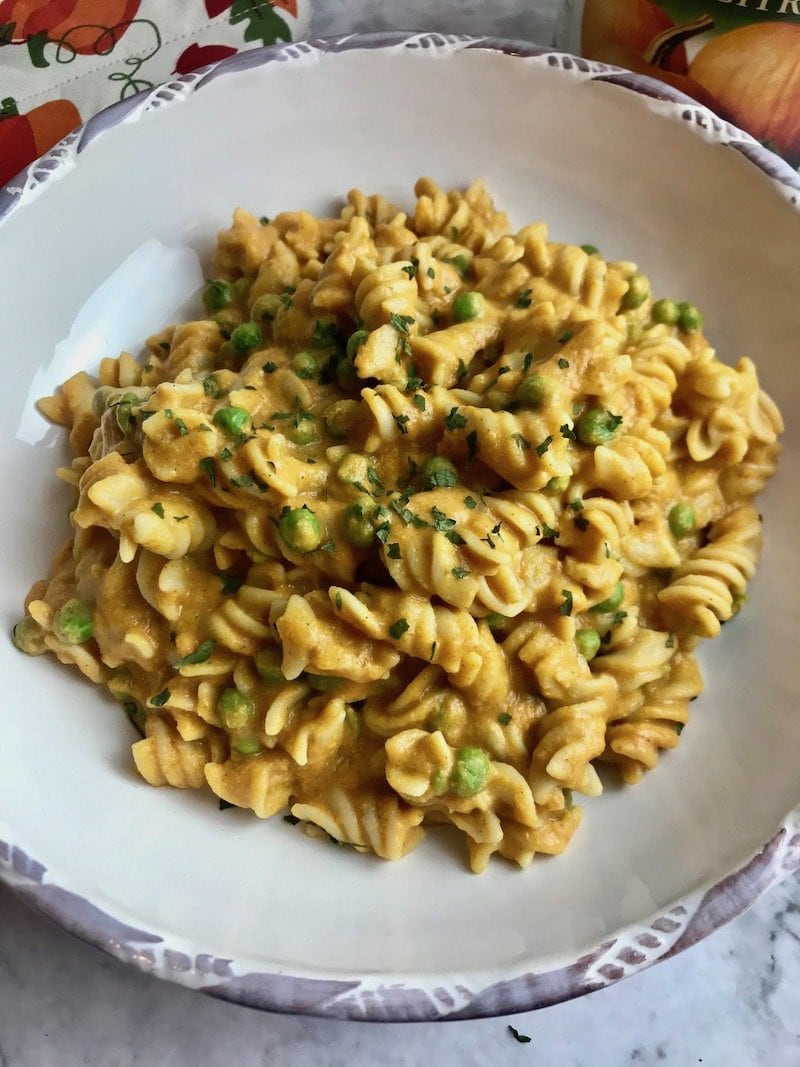 Try out these other healthy pasta sauce recipes: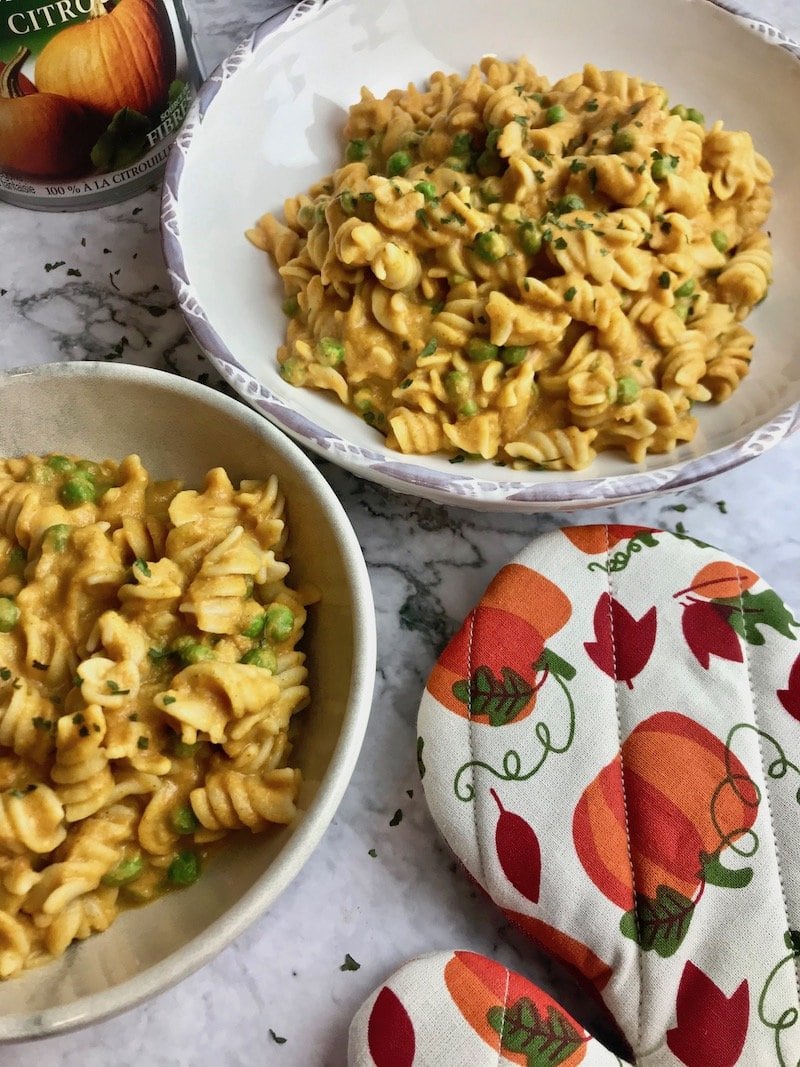 Print Recipe
Healthy Vegan Pumpkin Pasta
This vegan pumpkin pasta is made with healthy, whole-foods plant-based ingredients. The pumpkin sauce is creamy and delicious!
Ingredients
200

g

uncooked pasta

gluten free if necessary

1

cup

pumpkin puree

½

cup

canned coconut milk

¾

cup

vegetable broth

2

tablespoon

nutritional yeast

1

teaspoon

apple cider vinegar

½

teaspoon

ground thyme

½

teaspoon

ground sage

½

teaspoon

paprika

½

teaspoon

onion powder

½

teaspoon

garlic powder

1 ½

teaspoon

water

1

cup

frozen peas
Instructions
Begin cooking pasta on the stove according to the instructions for the pasta you are using. Monitor the pasta while you prepare the sauce.

To make the sauce, combine all ingredients except onion powder, garlic powder, and water in a separate pot and mix thoroughly.

In a small dish, add the garlic powder and onion powder with 1.5 teaspoon of cold water. Mix thoroughly, then add to the pot with the sauce. If you skip this step and add the garlic and onion powder directly to the pot with the other ingredients, they may clump up and be very difficult to mix in.

Add 1 cup of frozen peas, then heat the pot on medium-high heat for approximately 10 minutes, just until the sauce is heated and the peas have thawed.

Add your cooked pasta to the sauce and mix together.
Notes
This recipe makes approximately 2 cups of sauce. 200 grams of dry pasta should yield approximately 3.5 cups of cooked pasta. Combined with the peas, this pasta recipe will yield a total of approximately 4.5 cups.
This recipe will make 3 servings, of approximately 1.5 cups of pasta each.
If you don't want peas in your pasta, you can omit for a saucier pasta or add 1 cup of another vegetable.
Nutrition
Serving:
1.5
cups
|
Calories:
433
kcal
|
Carbohydrates:
70
g
|
Protein:
16
g
|
Fat:
11
g
|
Saturated Fat:
9
g
|
Sodium:
253
mg
|
Potassium:
640
mg
|
Fiber:
9
g
|
Sugar:
9
g
|
Vitamin A:
13393
IU
|
Vitamin C:
24
mg
|
Calcium:
54
mg
|
Iron:
4
mg