This post contains affiliate links for which I may earn a commission (at no extra cost to you) should you make a purchase. As an Amazon Associate I earn from qualifying purchases. Please see my disclaimer for more information.
This crispy tofu has the perfect texture and is easy to make. With no oil, it is healthy and baked in the oven. The perfect addition to any rice bowl!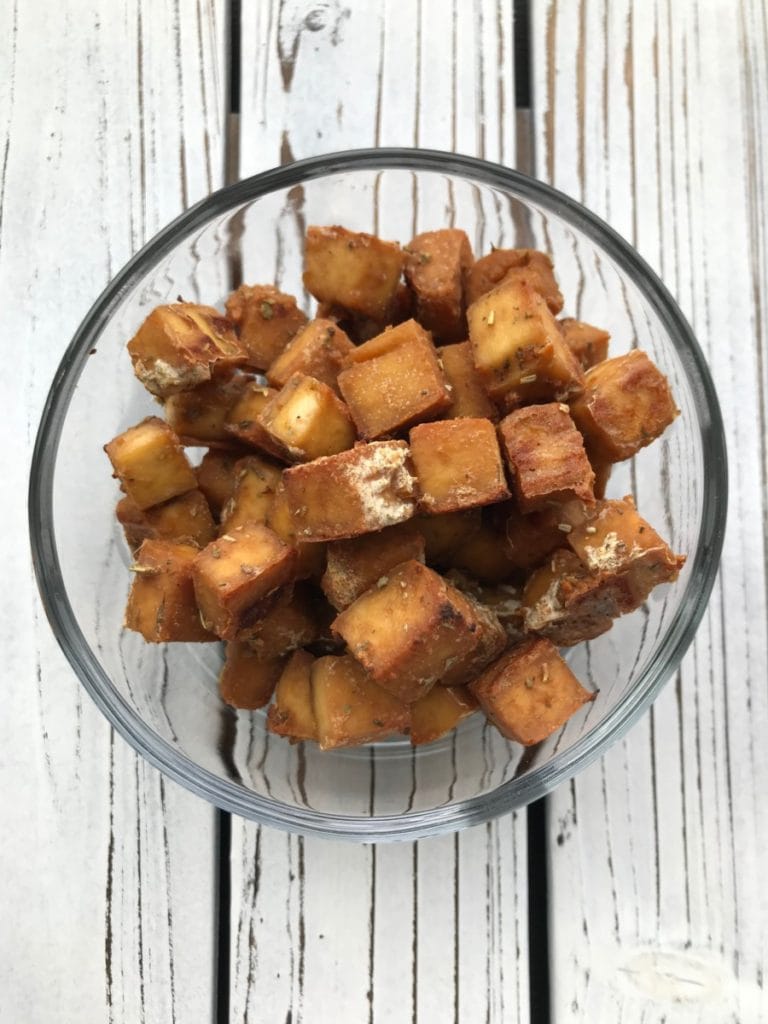 When most people think of vegan or vegetarian food, they immediately think of tofu. However, tofu isn't always part of a no-meat diet, because it doesn't need to be. But I think one of the most common reasons that some vegans don't eat tofu is because they don't like the taste and the squishy texture. I can relate to this issue, but I've got a solution!
When I first started eating a plant-based diet, I stayed away from tofu because I didn't know how to make crispy tofu. I didn't like the taste or the texture, so I never bought it or ordered it at restaurants. Basically, tofu was my food enemy. Once I started becoming more interested in making recipes and eating a wider variety of meals, I decided to give tofu a shot. The first few times I cooked it, I still really didn't enjoy it. It had no flavour and it was way too squishy. I longed for a yummy, crispy tofu cube! If that's what you're looking for, this is the recipe for you.
What is used to make this crispy tofu???
Maple syrup and tamari are key ingredients in many of my recipes, so I decided to try using them to give my tofu some flavour. It turned out delicious with the addition of some Italian seasoning, and the cornstarch really helps to crisp it up.
I often make a batch of this tofu on a Sunday evening and take it to work for lunch during the week. I toss it into rice and veggie bowls, salads, or even just eat it on its own. It tastes even better after it's been in the fridge for a day, so enjoy those leftovers!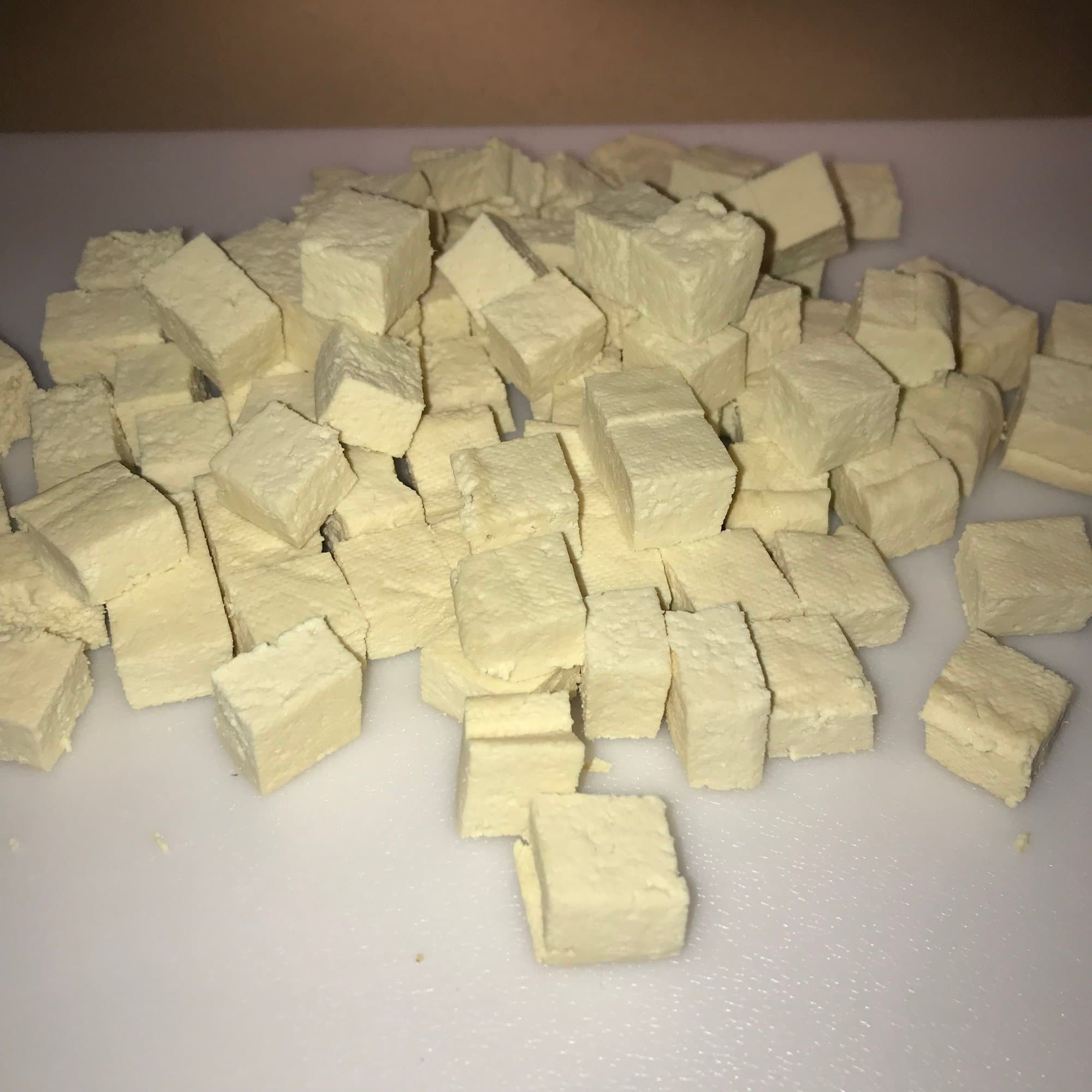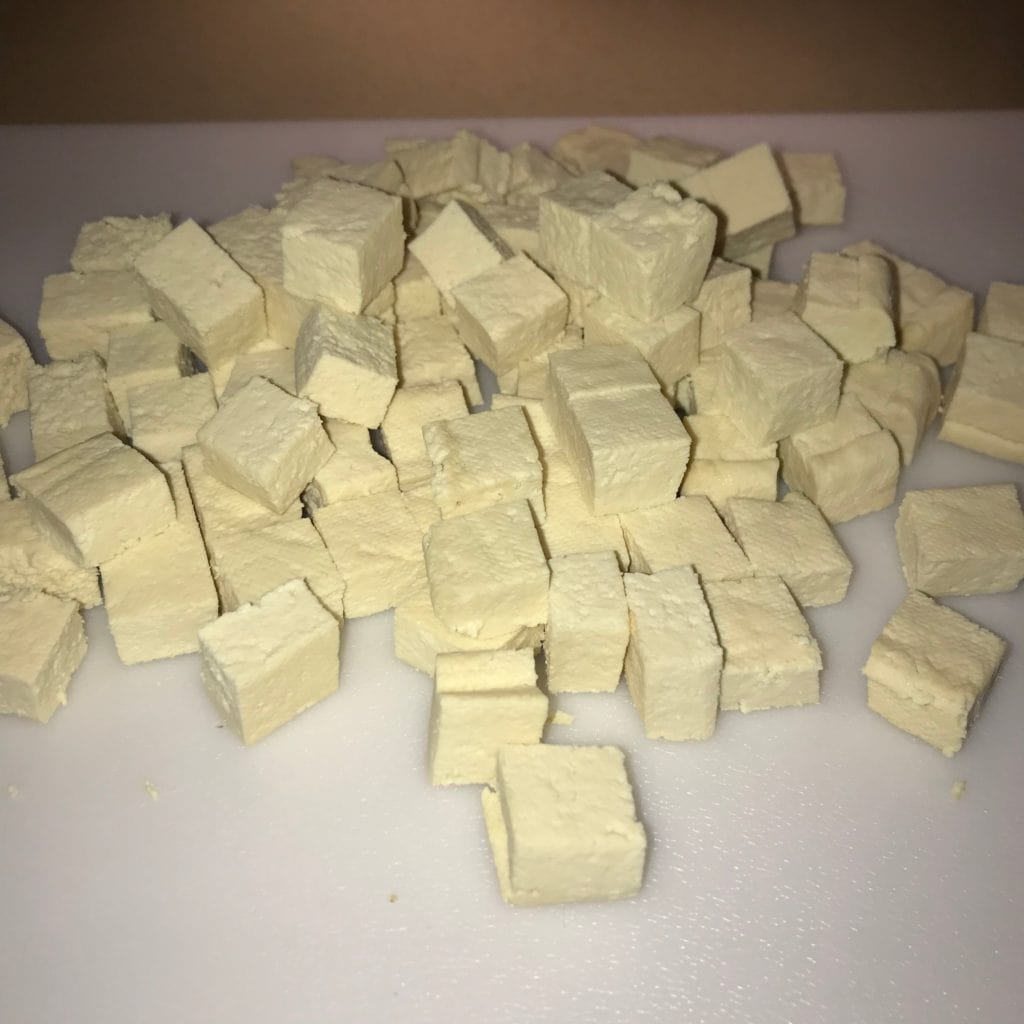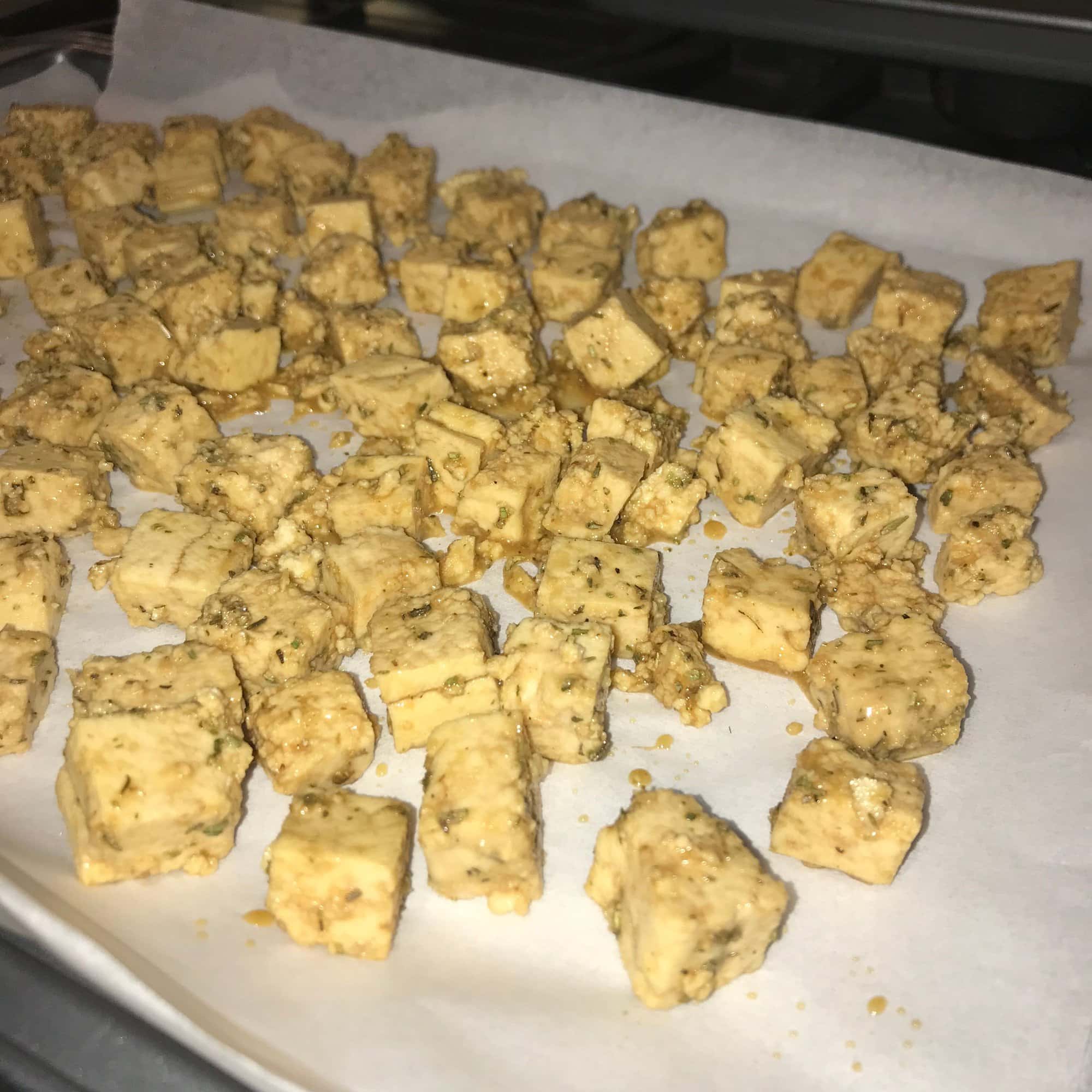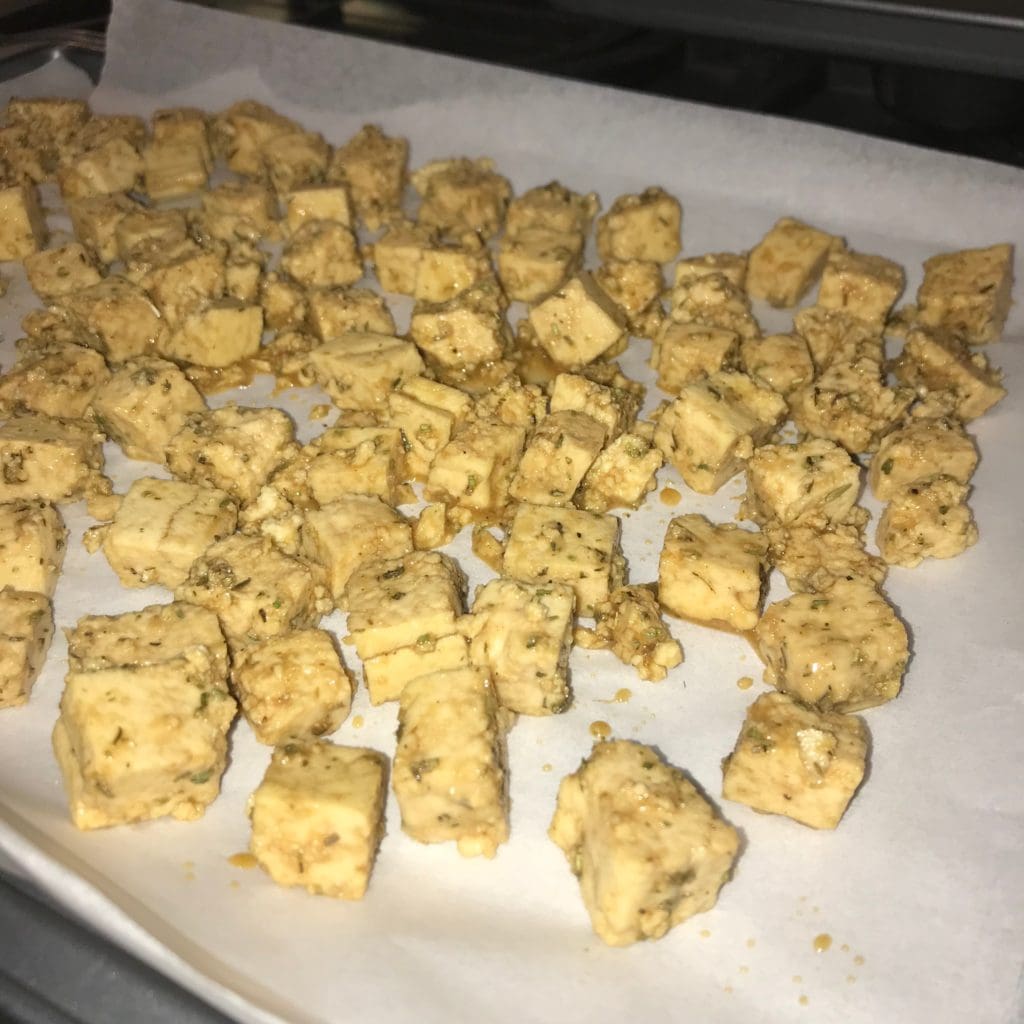 Recipe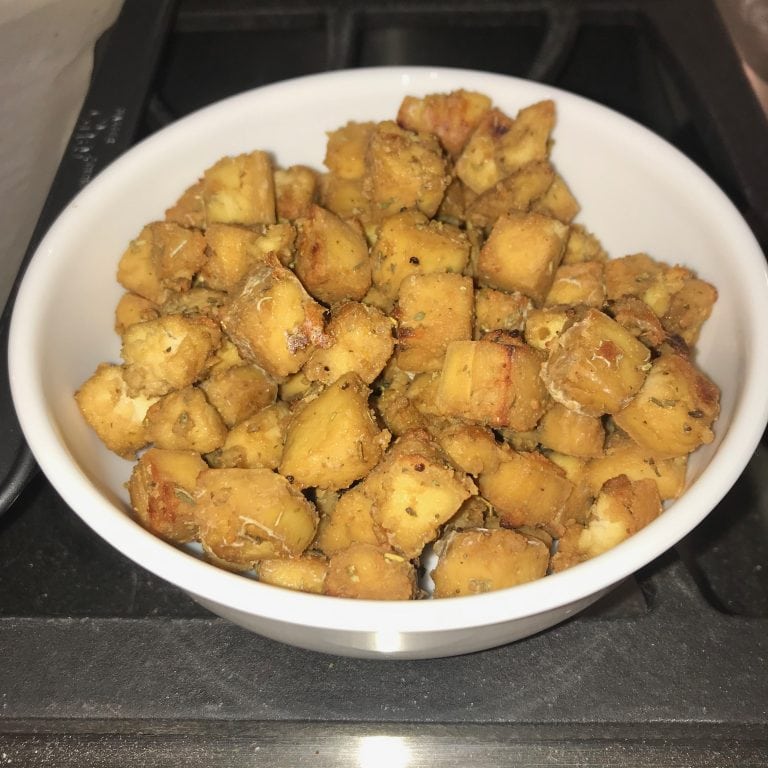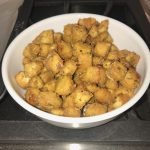 Print Recipe
Oil-Free Crispy Tofu
Ingredients
350

g

extra firm tofu

1.5

tablespoon

maple syrup

1.5

tablespoon

tamari

gluten-free

1

teaspoon

garlic powder

1

teaspoon

Italian seasoning

1

tablespoon

cornstarch
Instructions
Preheat your oven to 400°F.

Drain the tofu and gently squeeze it. Slice it into thin slabs and wrap them in paper towel and/or a dish towel. Press the tofu slabs for at least 30 minutes. You can do this by stacking books on the tofu.

Once the tofu is pressed, chop it into cubes.

In a medium sized bowl, mix the maple syrup, tamari, garlic powder, and Italian seasoning.

Add the tofu cubes to the bowl and mix thoroughly.

Add the cornstarch to the bowl and mix once more.

Spread the tofu cubes evenly onto a baking sheet lined with parchment paper.

Bake in the oven for approximately 25-30 minutes, tossing the tofu around halfway through.
Notes
After baking for 25 minutes, check your tofu to see if it's ready. If it hasn't crisped up much, you can leave it in for 5 more minutes, but keep an eye on it so it doesn't burn.
Nutrition Disclaimer
Nutrition information is an estimate generated from a nutrition calculator. There may be errors here or variations based on ingredients you use.