This post contains affiliate links for which I may earn a commission (at no extra cost to you) should you make a purchase. As an Amazon Associate I earn from qualifying purchases. Please see my disclaimer for more information.
Reusable cloth pads are a great alternative to disposable pads. They are better for the environment, cheaper in the long run because they last years, and better for your body!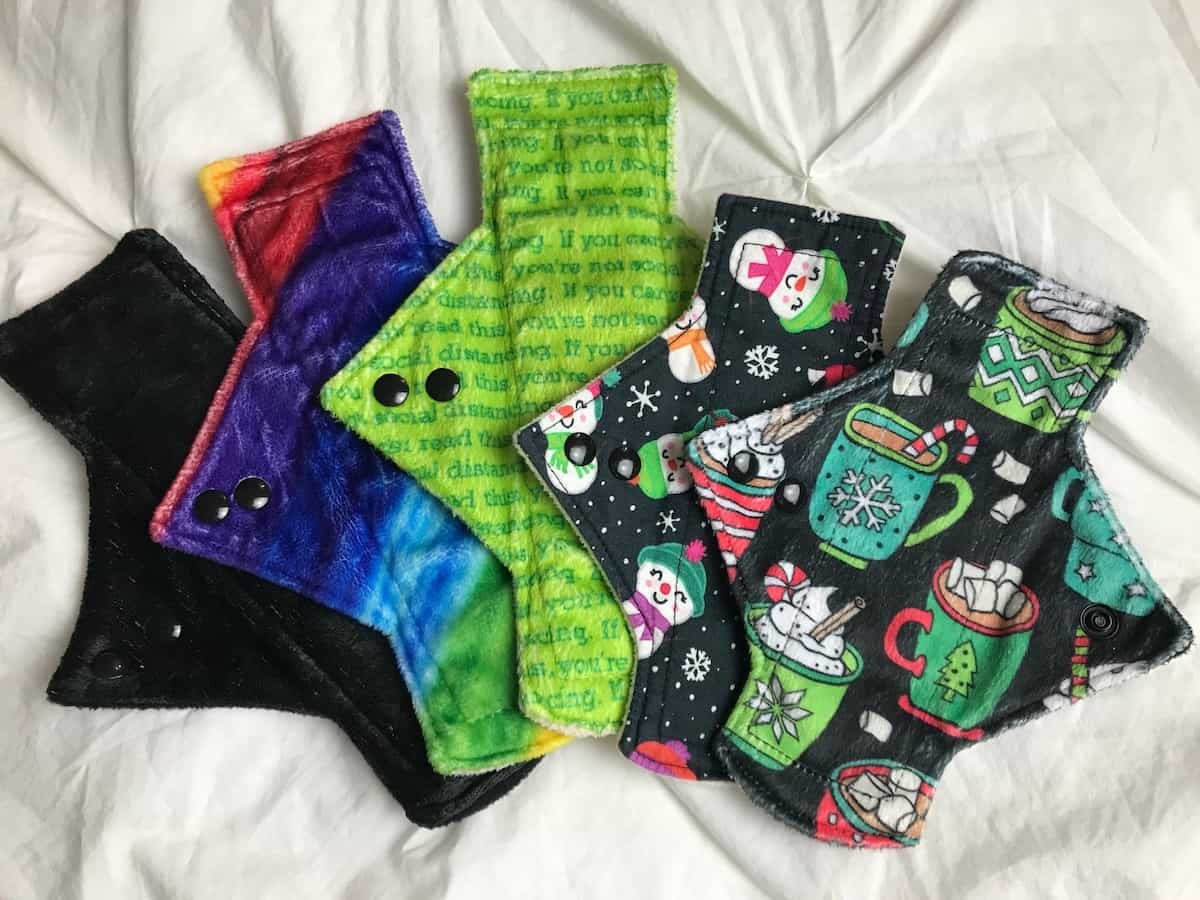 Jump to:
What are reusable pads?
Reusable pads function just like disposable pads, but you wash them and re-use them as opposed to throwing them out.
They have wings that wrap around your underwear and snap together to keep the pad in place. The pad absorbs your blood and when it needs to be changed, you remove it and place a new one in your underwear just like you would with disposables. The only difference is that instead of throwing out the used pad, you wash it and re-use it!
This might sound weird and gross at first, but it's so simple!
Not only are reusable pads easy to use, they will also save you money. Think of all the money you spend on pads and tampons every month for years of your life.
When you buy reusable pads, it will be expensive at first, but once you have enough to get you through a cycle, you can re-use them for 5-10 years.
You can see how much money you'll save by checking out the Savings Calculator on the Tree Hugger Cloth Pads website.
Reusable pads are also better for the environment as they produce much less waste.
Another benefit to reusable pads that many people don't even think about is that they are safer for you. Disposable period products are filled with chemicals that you don't want in your body. Many companies don't even list the ingredients on disposable pad and tampon packaging, likely because they don't want you to be aware of all the nasty chemicals that they are filled with!
With disposable pads, your body is laying against these chemicals all day long. With tampons, you are actually inserting these chemicals directly into your body! Many people have sensitive skin and disposable period products are more likely to cause irritation than reusables.
About Tree Hugger Cloth Pads
Tree Hugger Cloth Pads is an incredible family-run business that makes reusable pads. This is the first brand of reusable pads that I tried and I loved them immediately!
They ship to Canada and the USA.
The materials used for Tree Hugger Cloth Pads are absorbent and perfect for periods.
The insides of the day and night pads have a material called Zorb. This material is used in cloth diapers so you know it is super absorbent!
All of the pads have a water-resistant fleece backing as well, and there are three different fabric options for the tops of the pads.
Top fabric options:
Click here to explore the different sizes and fabrics of Tree Hugger Cloth Pads.
I have tried all three fabrics and I like each one for different reasons. The minky and cotton topped-pads are super fun because they come in a lot of different prints.
Some women even get excited for their period so they can use their beautiful pads! That's one thing I love about this company as opposed to other reusable pad companies. They are constantly getting new prints that are fun and colorful.
Minky is the most stain-resistant of the fabrics, but so far I don't have any stains on the bamboo or cotton-topped pads either.
The bamboo is the fastest-absorbing, so they are great for anyone with a heavier flow. They don't come in a bunch of fun prints, but if you don't care about that you'll love the bamboo-topped pads.
Cotton is the thinnest fabric and feels the lightest. It's great for hot days or for anyone who wants a less bulky pad.
These pads come in four different sizes and thicknesses:
Pantyliners: contain one layer of cotton flannel inside and they come in two lengths.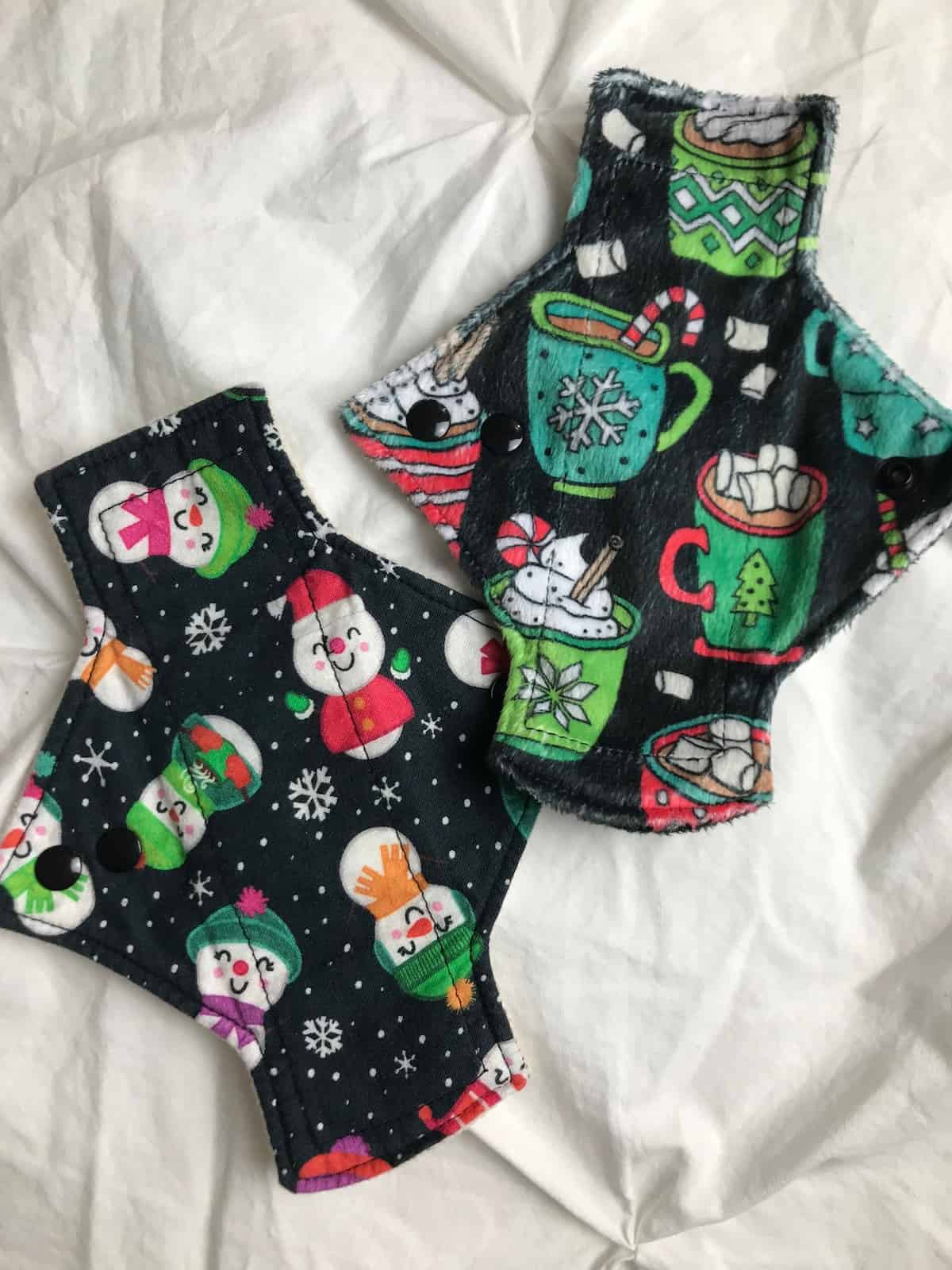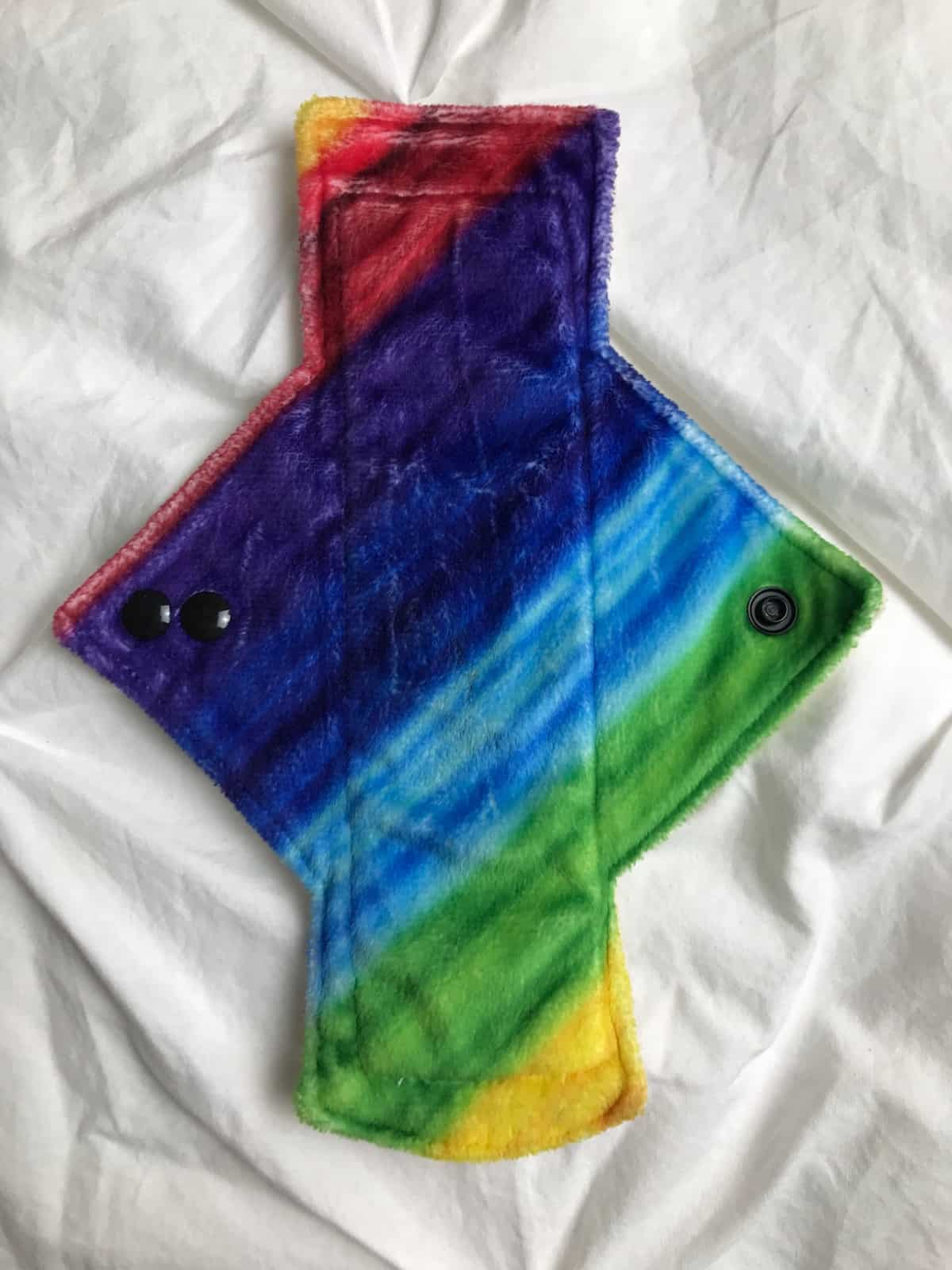 Night/Postpartum Pads: contain two layers of Zorb and are longer and wider, with two snaps on the wings instead of just one.
Tip: Make sure you wear these pads the correct way! The pretty side goes face up and the back label goes against your underwear.
How many do you need?
The number of pads that you need will vary from person to person. It depends on how heavy your period is and how many days it lasts.
You also have to consider how often you do laundry. If you are going to be washing pads in your regular laundry load every day, you won't need as many.
Some people wait until the end of their cycle to wash all of their pads together. In this case you would obviously need more.
I do laundry everyday and I just toss my pads right in with everything else, so I don't need too many pads for my cycle. I really only need five pads and a few liners because I do laundry everyday, but I have some extras because I love the patterns!
Buying these pads becomes kind of a hobby that you can't stop because you'll want more and more cool prints!
How I wash them
According to the instructions from Tree Hugger Cloth Pads, you can simply toss your used pads in the wash with all of your other laundry. They say you can do this without even rinsing your pads, but I like to always rinse them first because I feel like that will reduce the chance of stains.
I also feel a bit weird about throwing them in with all my clothes without rinsing out most of the blood, but that's just my personal preference.
I give them a rinse and squeeze them until the water runs clear, then they are ready to go into my washing machine with everything else.
Any regular detergent will be fine for these pads, but make sure you do not use any fabric softener. The company has stated that using fabric softener on these pads will reduce their absorbency.
The detergent I have been using lately is Nellie's Laundry Soda.
After washing, these pads can even be tossed into the dryer! No need to air dry them, but you can if you want to. I usually just set them on my drying rack for a bit because they usually aren't very wet when they come out of the wash. I find they air dry very quickly.
Pros of Tree Hugger Cloth Pads
Like most reusable pads, Tree Hugger Cloth Pads are definitely safer than disposable pads. Disposable pads are typically filled with harmful chemicals, and most boxes I have seen don't even list the ingredients, so we don't really know what's in them.
Tree Hugger Cloth Pads are made with a few safe materials that you don't need to worry about having up against your body for a few days per month for years of your life!
Tree Hugger Cloth Pads are also more comfortable than disposables in my opinion. I have tried all three of their top materials (cotton, bamboo, and minky) and they are all comfortable.
These reusable pads are also incredibly easy to clean. That was honestly one of my biggest concerns before switching to reusable pads, but it is so easy and not at all gross. You can just throw them in the wash with your regular clothing!
These pads come in beautiful patterns!
This company is very ethical. Their pads are sewn by women in Canada in their homes, not in a factory. For every pad they sell, this company also plants a tree! They work with organizations in other countries to have these trees planted.
They have a Facebook group where you can ask questions and it's just nice to see a group of women who use cloth pads without judgment.
Cons of Tree Hugger Cloth Pads
They take slightly more effort to use. They are not difficult to use, but washing them is slightly more work than throwing them out. This is especially true if your pads get any stains and you want to remove them, but even then it doesn't take too much effort.
They are more challenging to use when out or on vacation. If you are out in public or at work you can carry clean pads with you, and you can also buy a wet bag to store used pads in when you are out. This would require you to have a big enough purse to put your pads in which for some women may be an issue, especially if you need to change your pad often.
They can be bulkier than some disposable pads. I don't find Tree Hugger Cloth Pads too bulky, but some people might. Disposable pads are sometimes bulky anyways, but if you are used to using thin disposable pads this may be an adjustment for you.
They don't accept returns, but that is expected for this type of product. You probably won't want to return them anyways!
I hope you give these pads a shot and I hope you love them as much as I do! You can purchase Tree Hugger Cloth Pads here.