This post contains affiliate links for which I may earn a commission (at no extra cost to you) should you make a purchase. As an Amazon Associate I earn from qualifying purchases. Please see my disclaimer for more information.
This spirulina smoothie is healthy and delicious! It is completely dairy-free and vegan, and has a yummy fruity taste that blends well with the spirulina.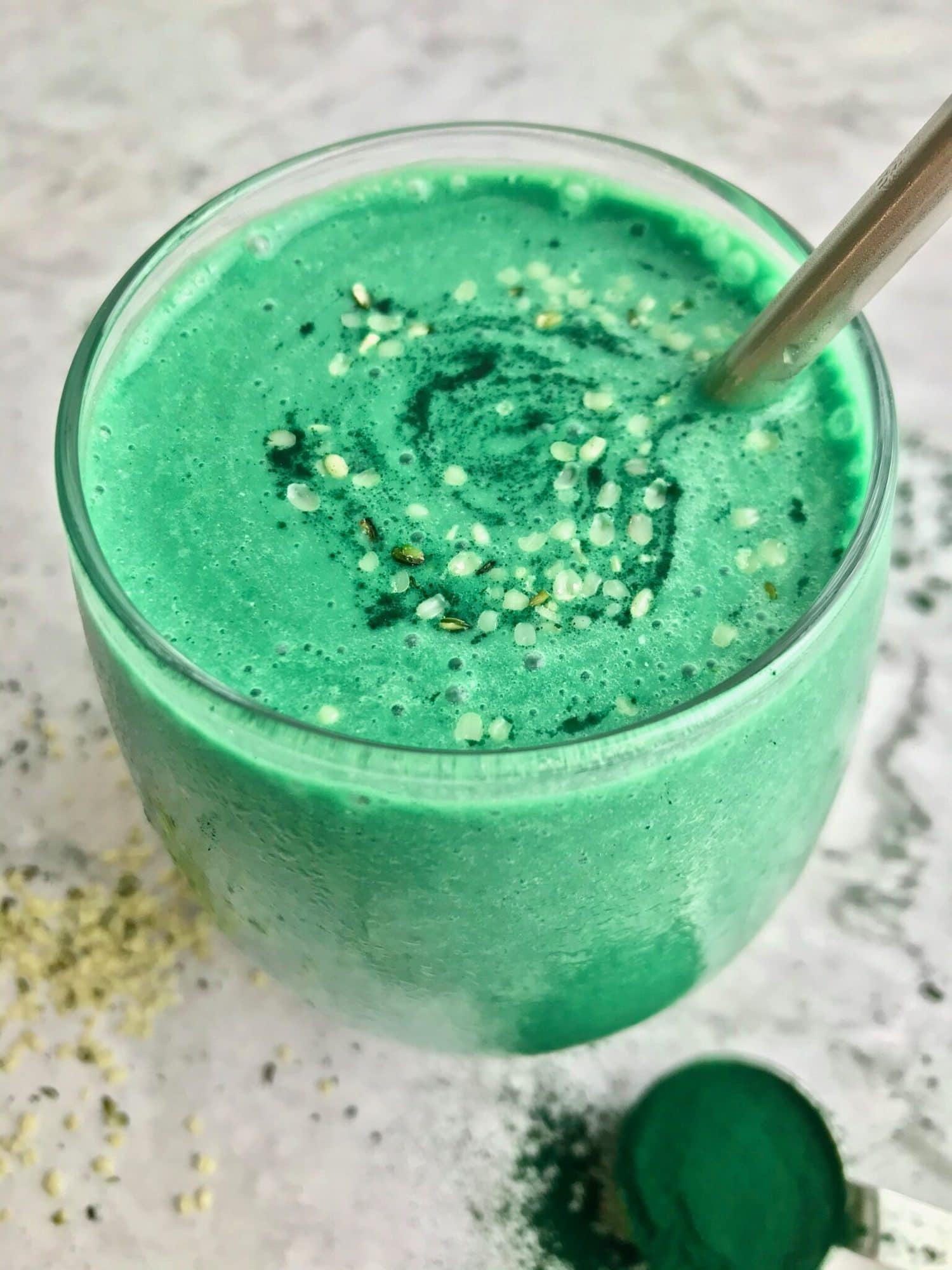 Spirulina is a blue-green algae that is often mentioned for it's health benefits. It is also often mentioned for it's awful taste! So how can you make it more palatable? Put it in a smoothie!
I still remember the first time I tried spirulina. I had no clue what it really was, but I had been hearing about how healthy it is, so I bought some at my local health food store and just mixed it into a glass of water. That was a mistake!
Spirulina on it's own isn't very appetizing, but when added to a smoothie it can taste delicious! You need to make sure you have the correct ratio of spirulina to fruit in order to mask the taste of the spirulina. This is why you'll notice that this spirulina smoothie only has 1 teaspoon of spirulina, but that is still a decent serving size!
Ingredients
*Scroll down to the recipe card for quantities and instructions.
- spirulina powder
- frozen pineapple
- frozen banana
- hemp seeds
- almond milk
- lemon juice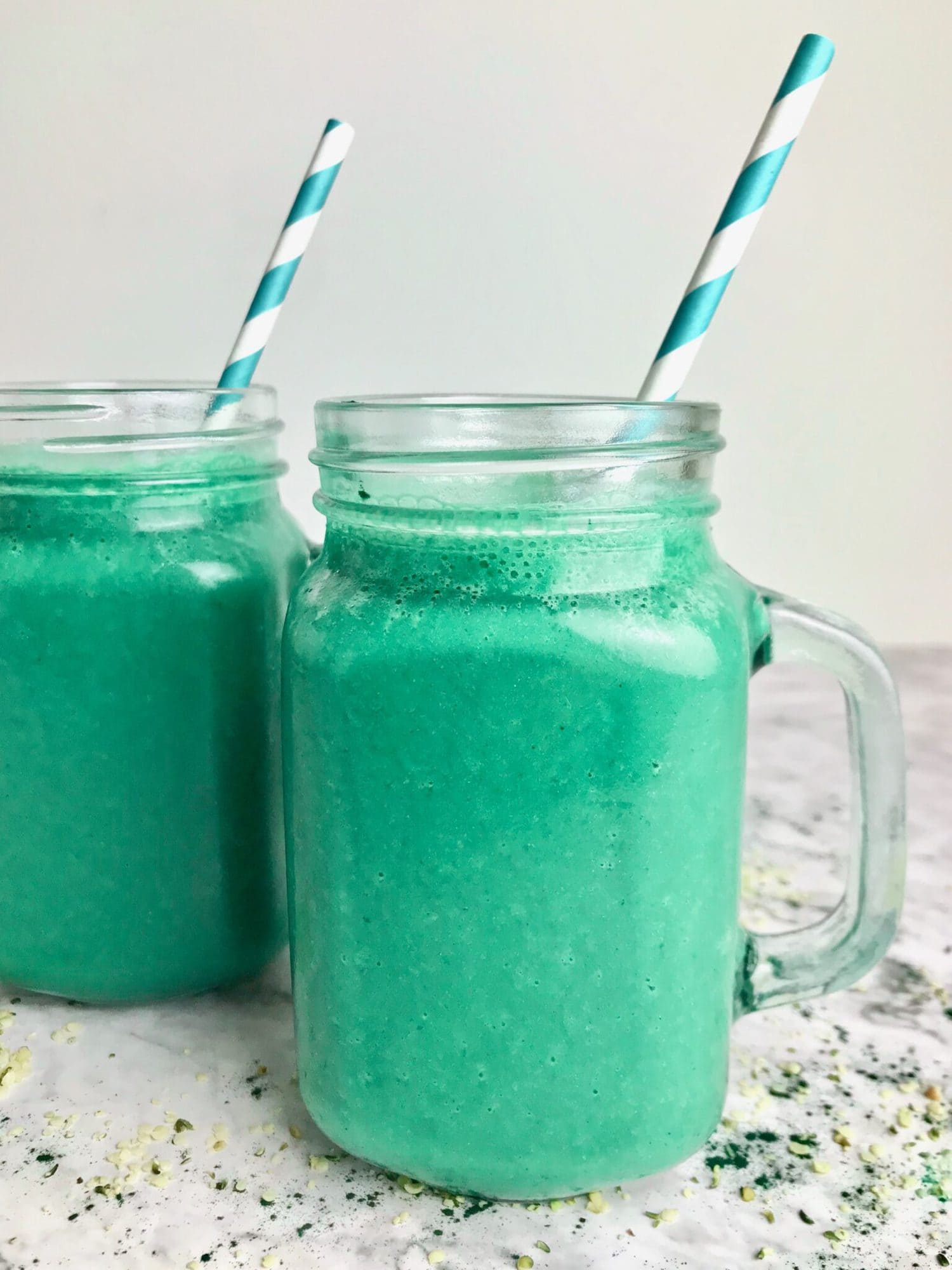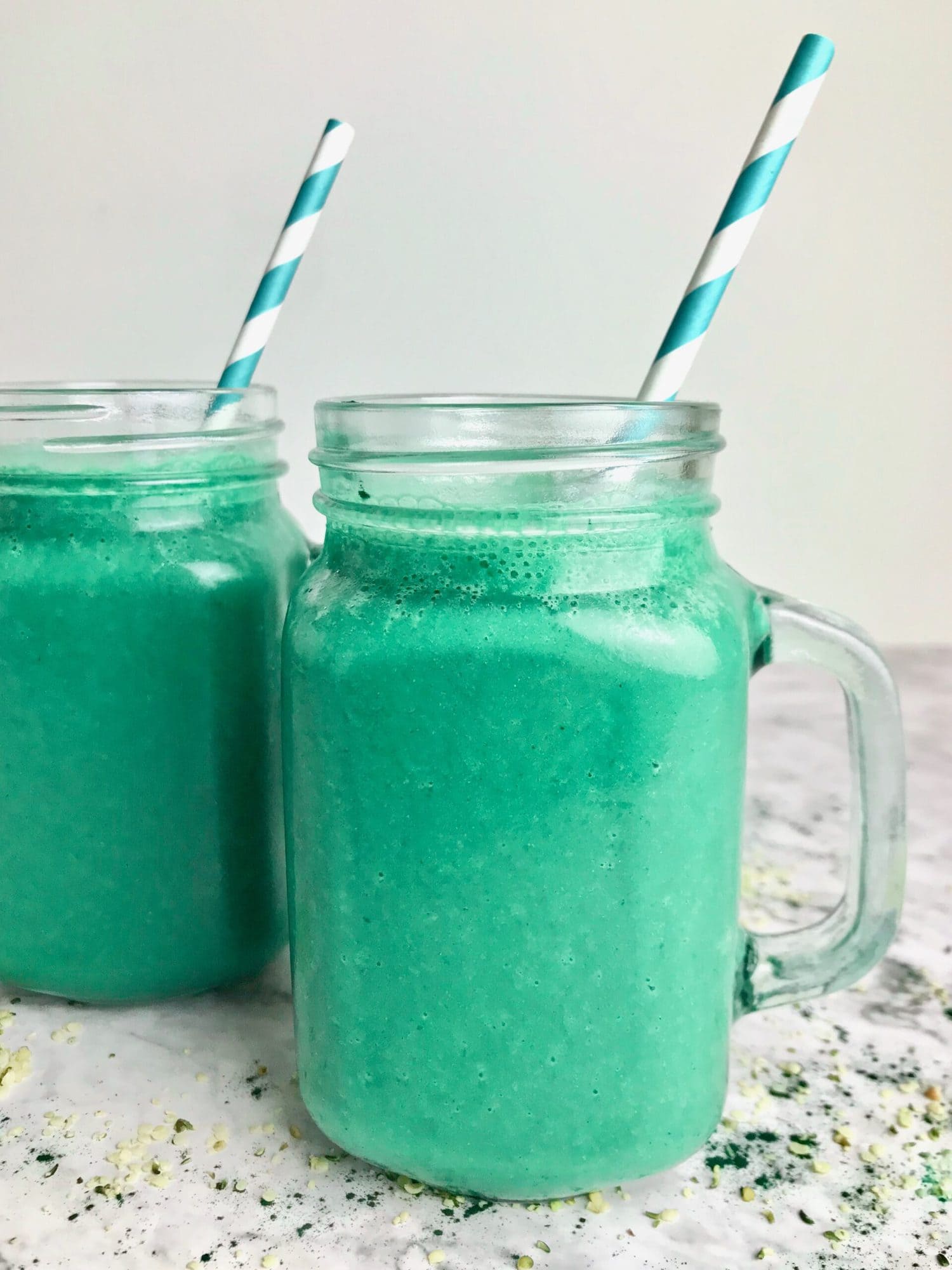 What is spirulina?
Spirulina is a blue-green algae that grows in oceans and lakes, and is often called a "superfood." It is high in calcium, niacin, potassium, magnesium, B vitamins, and iron. It also contains omega-3 fatty acids, making this a great supplement to a vegan diet.
It is great to add a bit of spirulina to your diet, but it won't cover all of your nutrient needs because you would need to consume it in obscene quantities to get enough iron, omega-3s etc. It still contributes to your daily nutrient needs, but don't solely rely on it for any specific nutrient.
For example, I add some spirulina to my smoothie almost everyday to give myself some extra omega-3 fatty acids, but I also take a more concentrated omega-3 supplement.
It's also just fun to add spirulina to smoothies because it often creates a beautiful colour when blended with fruit!
Because spirulina is a dietary supplement, you should check with your doctor before consuming it if you have any health concerns.
You can learn more about spirulina here.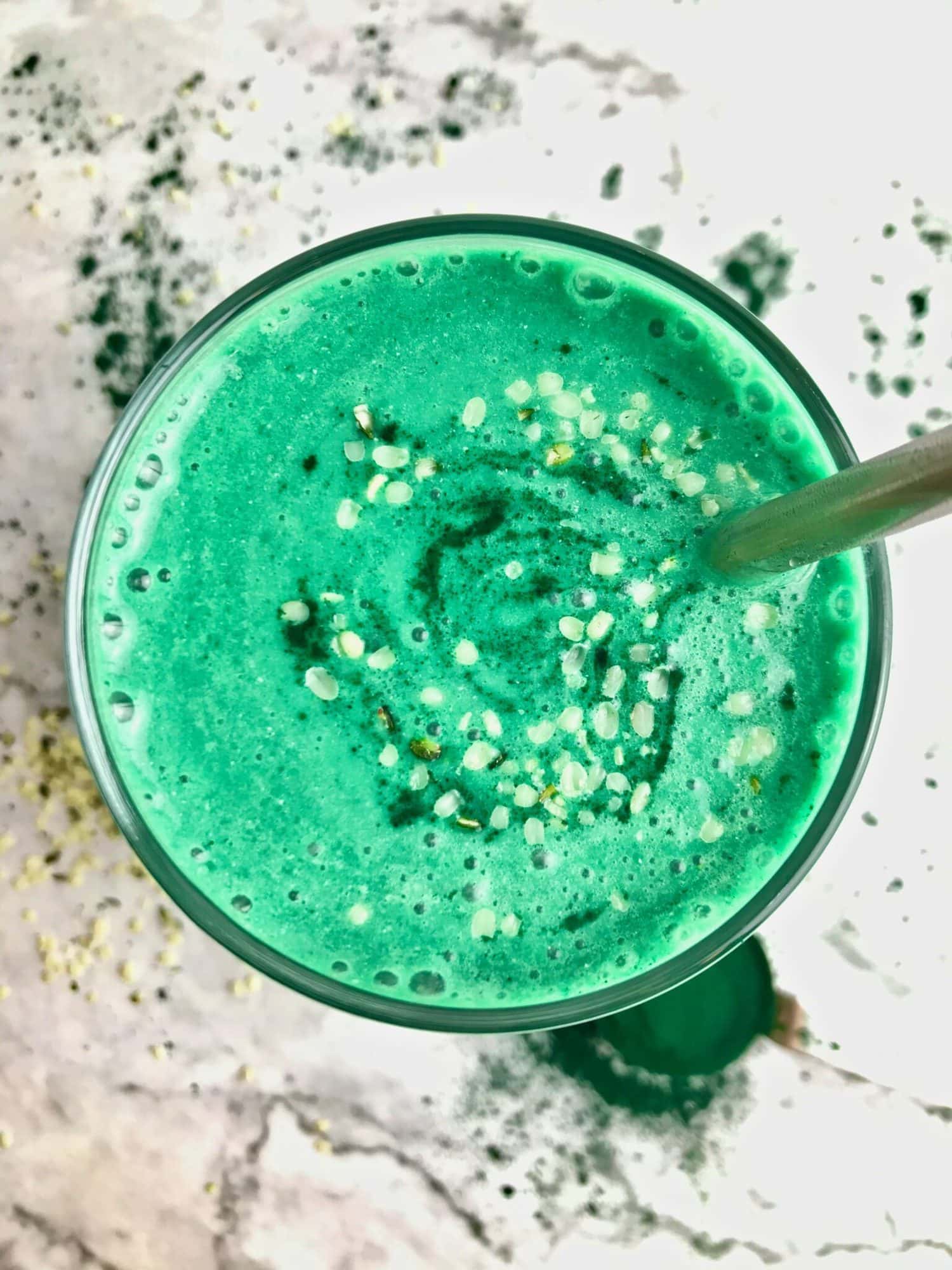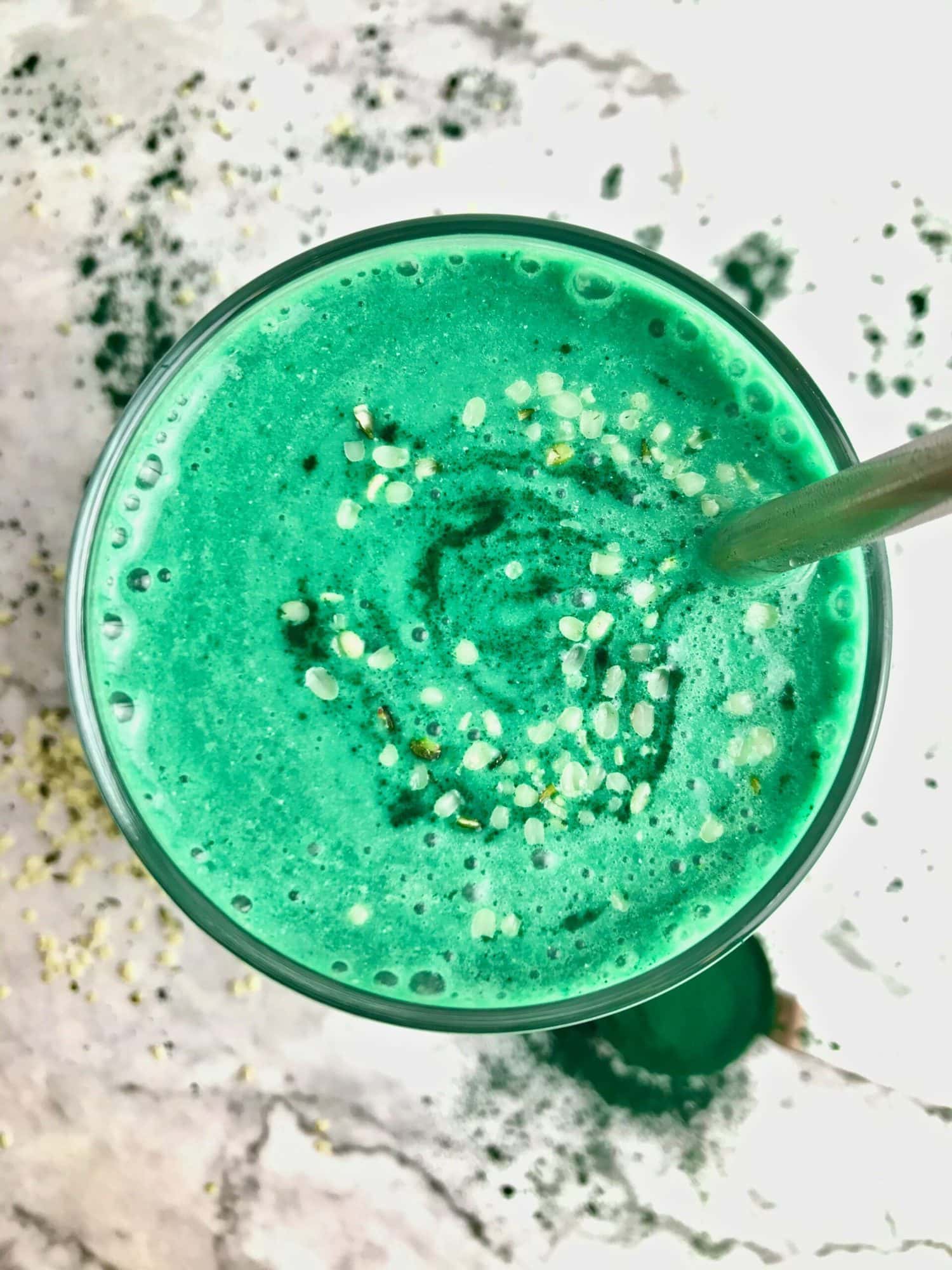 Tips and substitutions
As with any smoothie, this one is pretty simple. Just blend all of the ingredients together. But here are some tips on what ingredients to use:
Use spirulina that is in powder form so that it can be easily blended. This recipe uses 1 teaspoon of spirulina powder, but you can of course use more if you don't mind the taste!
Hemp seeds are recommended for added healthy fat and protein, but they can be omitted. You could also replace them with chia seeds or flax seeds.
I highly recommend using both frozen pineapple, and frozen banana, as opposed to unfrozen. Blending them frozen creates a thicker, creamier texture.
I use almond milk for this spirulina smoothie, but I think oat milk or cashew milk would taste good as well.
Feel free to adjust the level of lemon juice. You may not want to add any at all, but if you find the taste of the spirulina to be a little too strong, the lemon juice will help!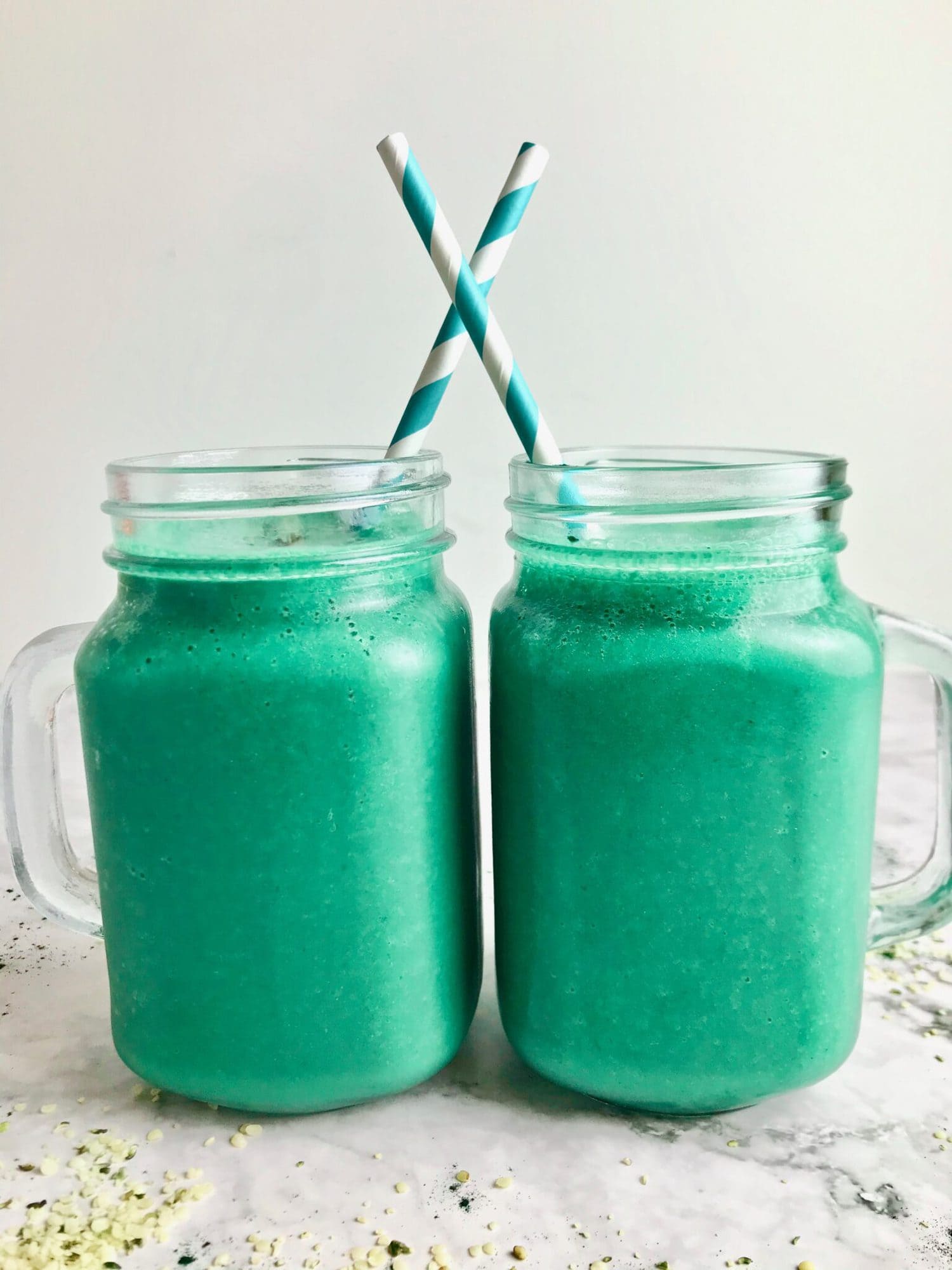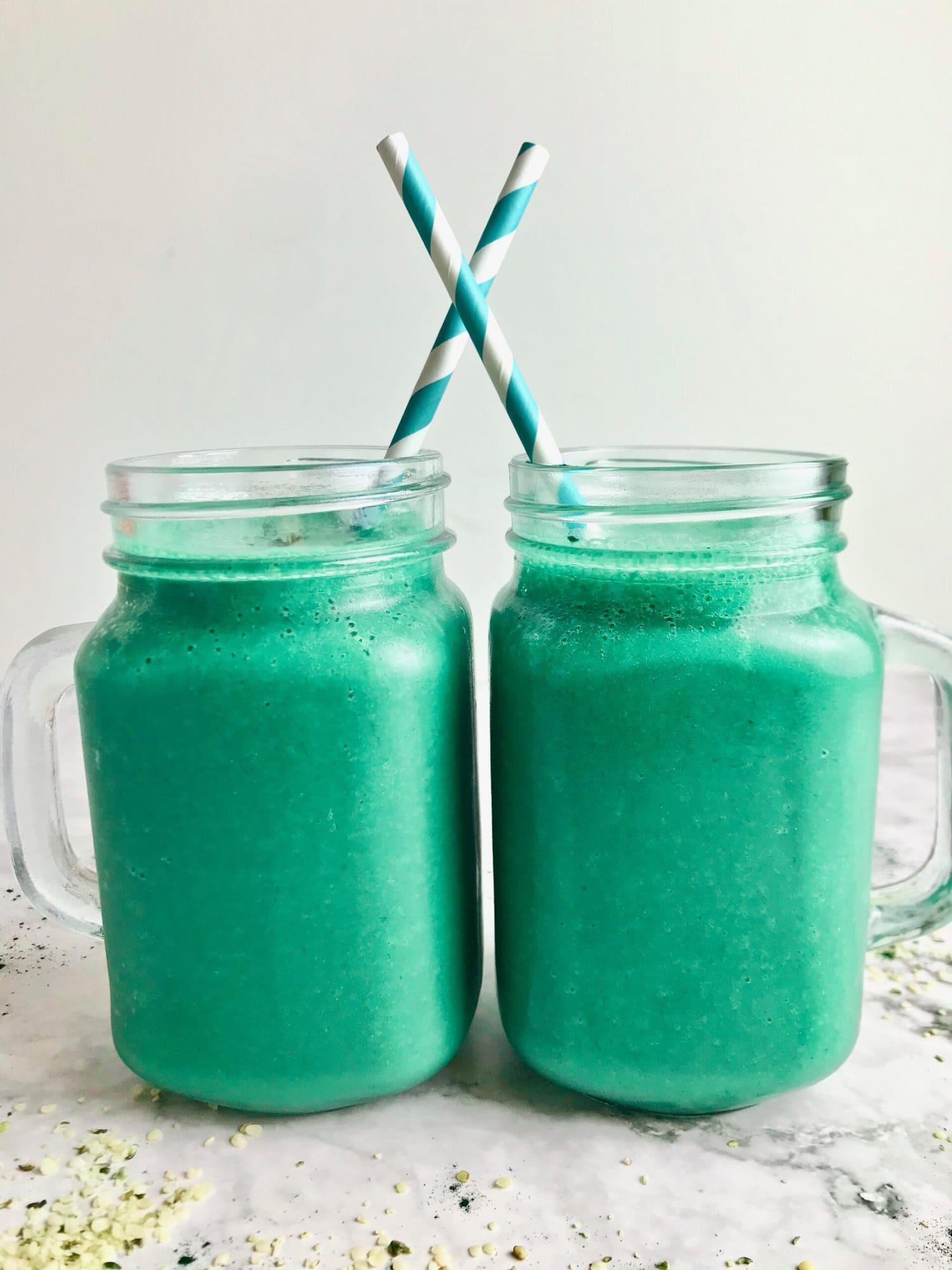 Other healthy smoothies:
Check out this plant-based grocery list and these plant-based books if you want to learn more about how to get started with a plant-based diet.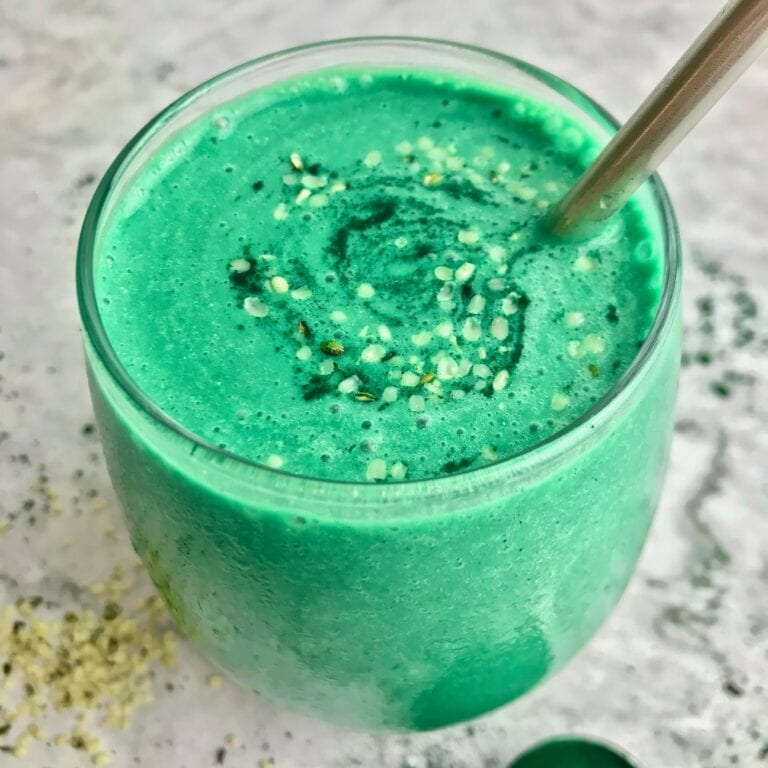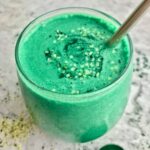 Print Recipe
Spirulina Smoothie
This spirulina smoothie is healthy and delicious! It is completely dairy-free and vegan, and has a yummy fruity taste that blends well with the spirulina.
Ingredients
1

teaspoon

spirulina powder

1

cup

frozen pineapple

1

frozen banana

1

tablespoon

hemp seeds

¾

cups

+ 2 tablespoons almond milk

(or more if needed)

1

teaspoon

lemon juice

(freshly squeezed)
Instructions
Add all ingredients to a blender and blend until smooth. Drink immediately.
Notes
If you don't have a high-powered blender, you may need to add some more milk to get things moving.
Nutrition information is only an approximation.
Nutrition
Calories:
311
kcal
|
Protein:
10
g
|
Fat:
10
g
|
Fiber:
6
g
|
Iron:
4
mg