This post contains affiliate links for which I may earn a commission (at no extra cost to you) should you make a purchase. As an Amazon Associate I earn from qualifying purchases. Please see my disclaimer for more information.
These lemon poppy seed cookies are vegan, gluten-free, and oil-free. If you like lemon, you will love these cookies.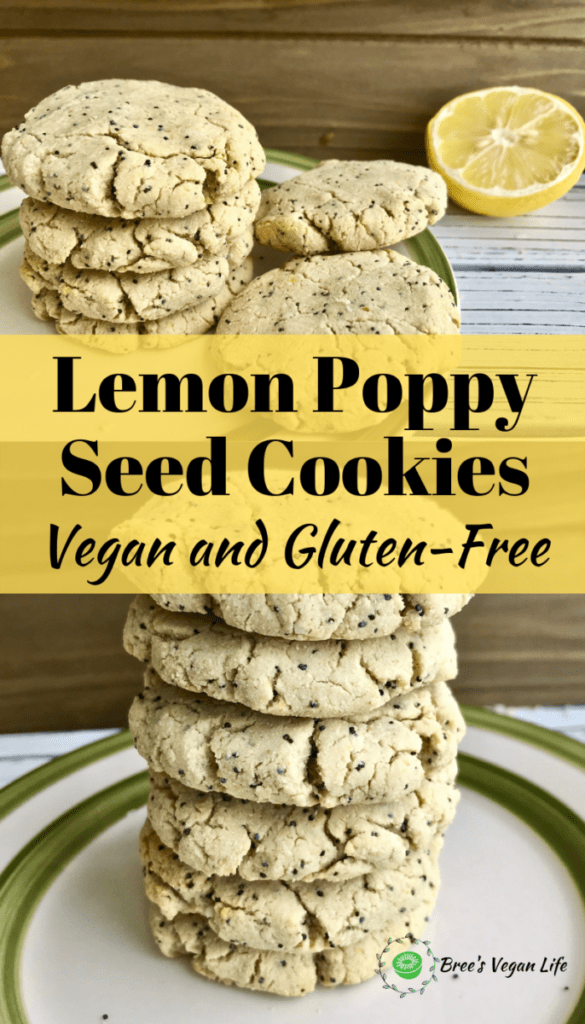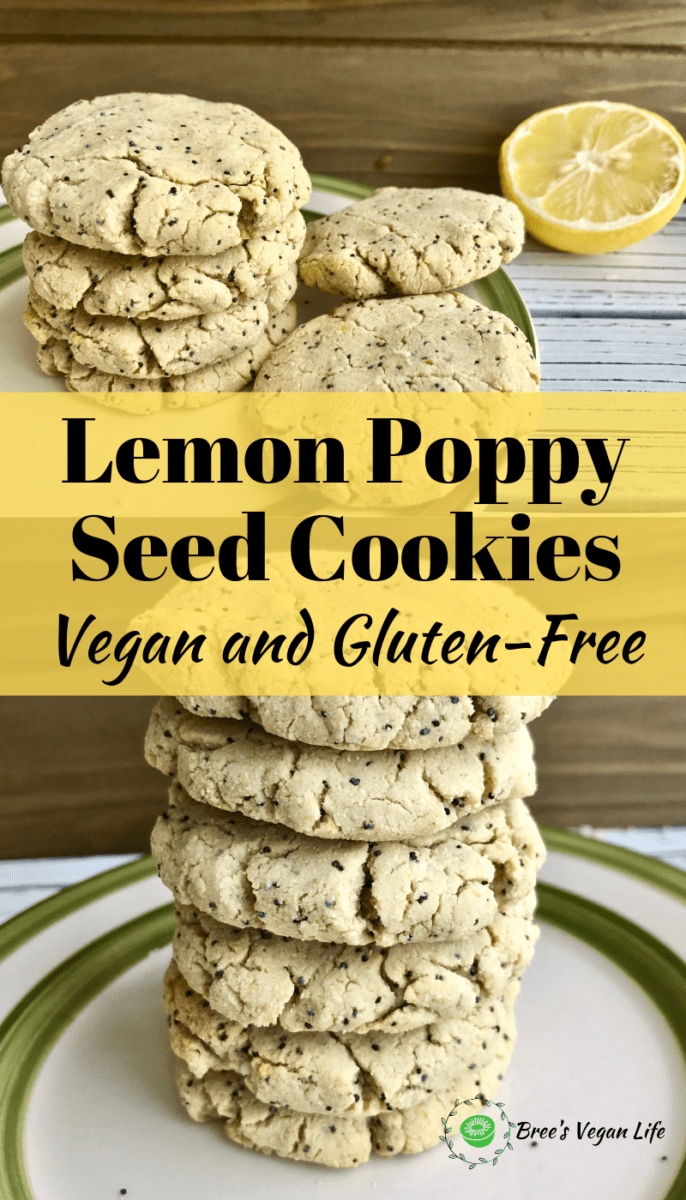 Lemon poppy seed is a classic muffin flavour that I have loved for years. I love muffins, but I'm really more of a cookie girl. They are usually smaller and have less calories and are super easy to just grab and bite into on the go! So, I decided to try making some lemon poppy seed cookies and they turned out great!
I tested out some variations of these cookies over the past few weeks, so I have been eating them a LOT. My boyfriend and I recently went on a little road trip from Vancouver, BC to Seattle, WA, and I brought along a container of these cookies. The texture lasted pretty well over the course of a few days and I ended up eating about 10 of them over one long weekend. It's safe to say I really like these cookies.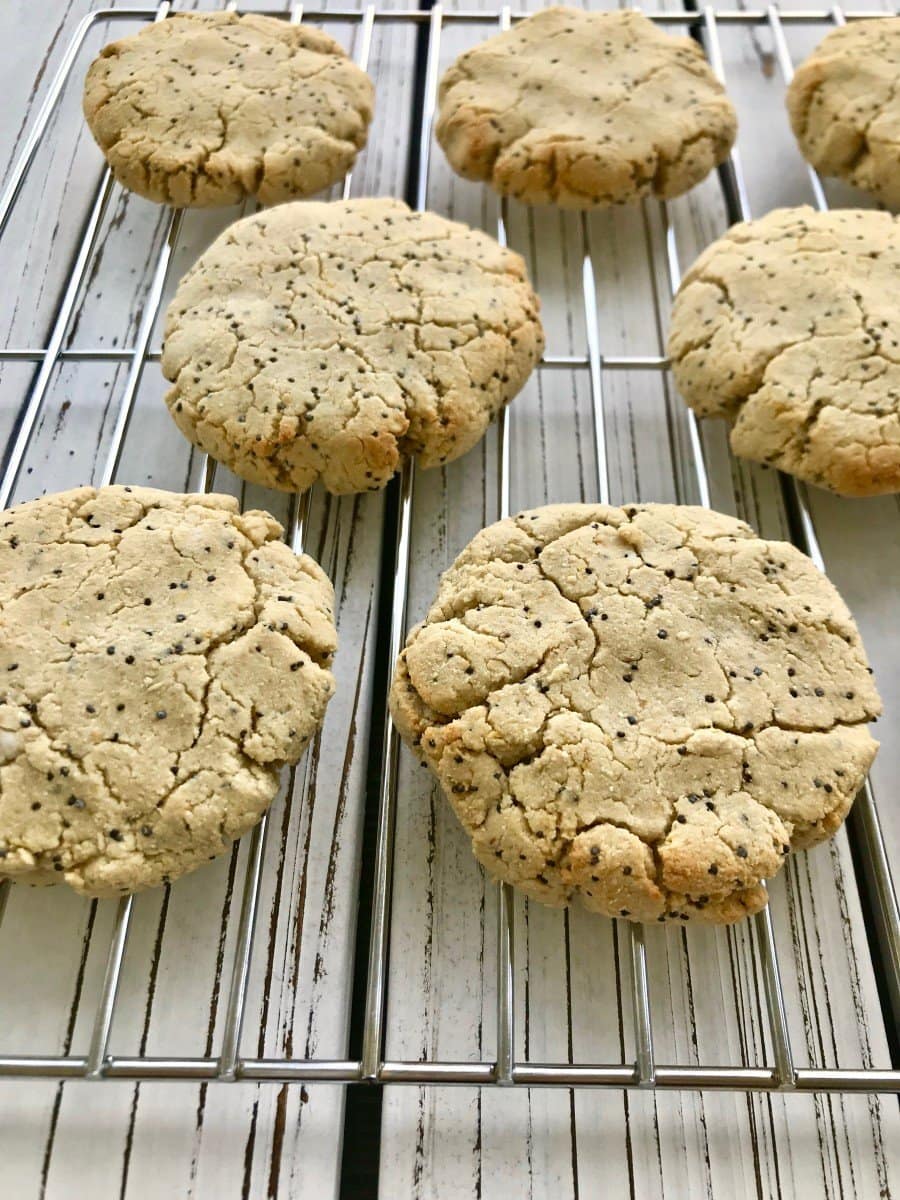 The best part is, I didn't even have to feel guilty about eating so many of them! These cookies have no refined sugar and only 6 tablespoon of maple syrup for a batch of about 16 cookies. The ingredients are healthy, whole foods that you can consume even if you're trying to lose weight (but maybe don't binge out on them like I did lol).
For these lemon poppy seed cookies, you will need:
1 cup oat flour
1 cup coconut flour
½ cup tapioca flour
½ tsp baking soda
1 tsp vanilla extract
4 tsp lemon juice
4 tsp lemon zest
½ cup coconut butter
6 tbsp maple syrup
½ cup almond milk
4 tbsp applesauce
4 tsp poppy seeds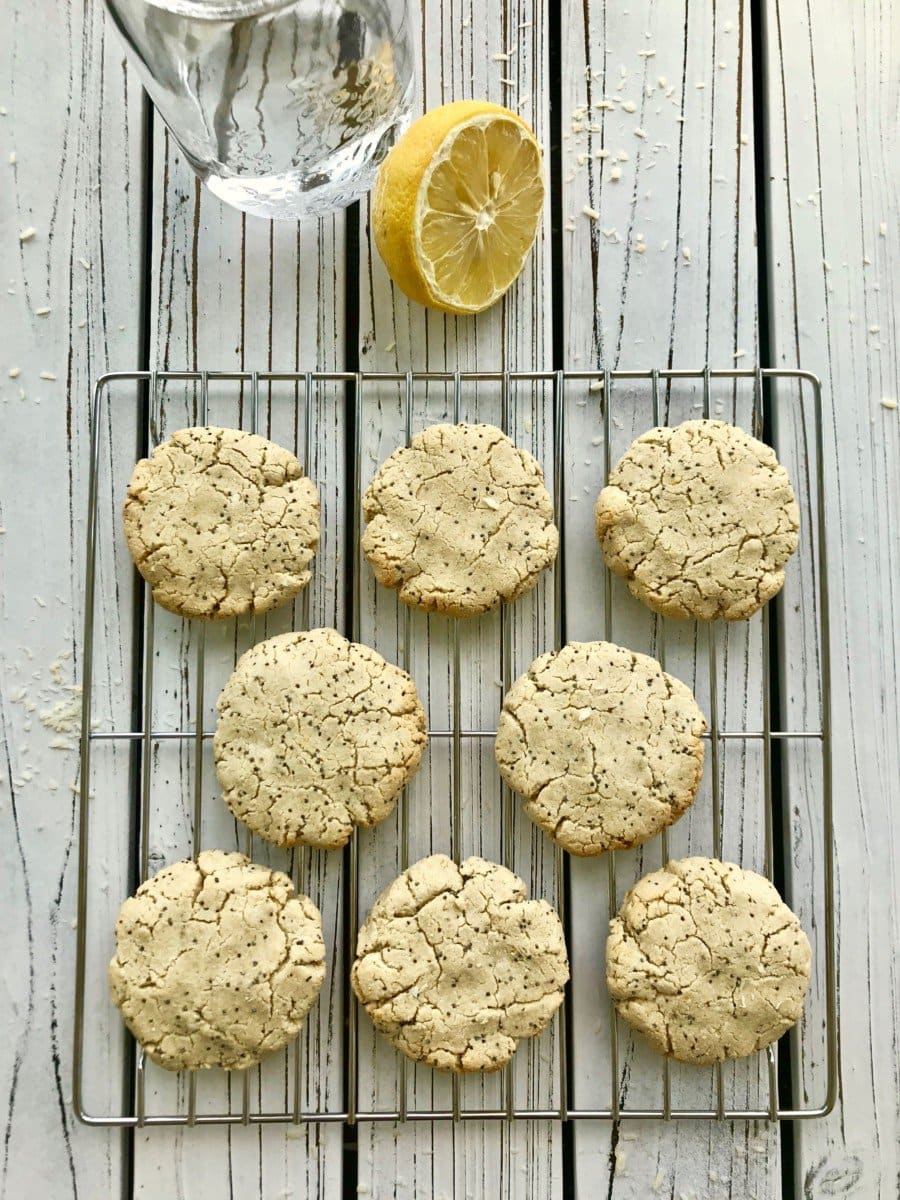 How to make these cookies
Simple overview
Making these cookies is ridiculously easy. Just mix all of the ingredients in a bowl, form the dough into balls, and press the dough balls onto your baking sheet (covering it with parchment paper will prevent sticking). Then bake at 350 degrees Fahrenheit for 13-15 minutes.
How many lemons will you need?
For the lemon zest, you will need to grate the skin of about 4 lemons to get 4 teaspoon of zest. You can then use one of the lemons to get 4 tsp of lemon juice for this recipe and save the rest of the lemons in the fridge for a few days. Then you can use them for another recipe or make some lemon water with them, so they don't go to waste.
Baking length for these cookies
Bake time will always vary depending on the oven you are using. I have made these cookies many times, and they are always ready somewhere between 13 and 15 minutes. However, keep an eye on them and check them a little sooner to make sure they don't burn! You should take them out when they are just starting to get a bit golden around the edges.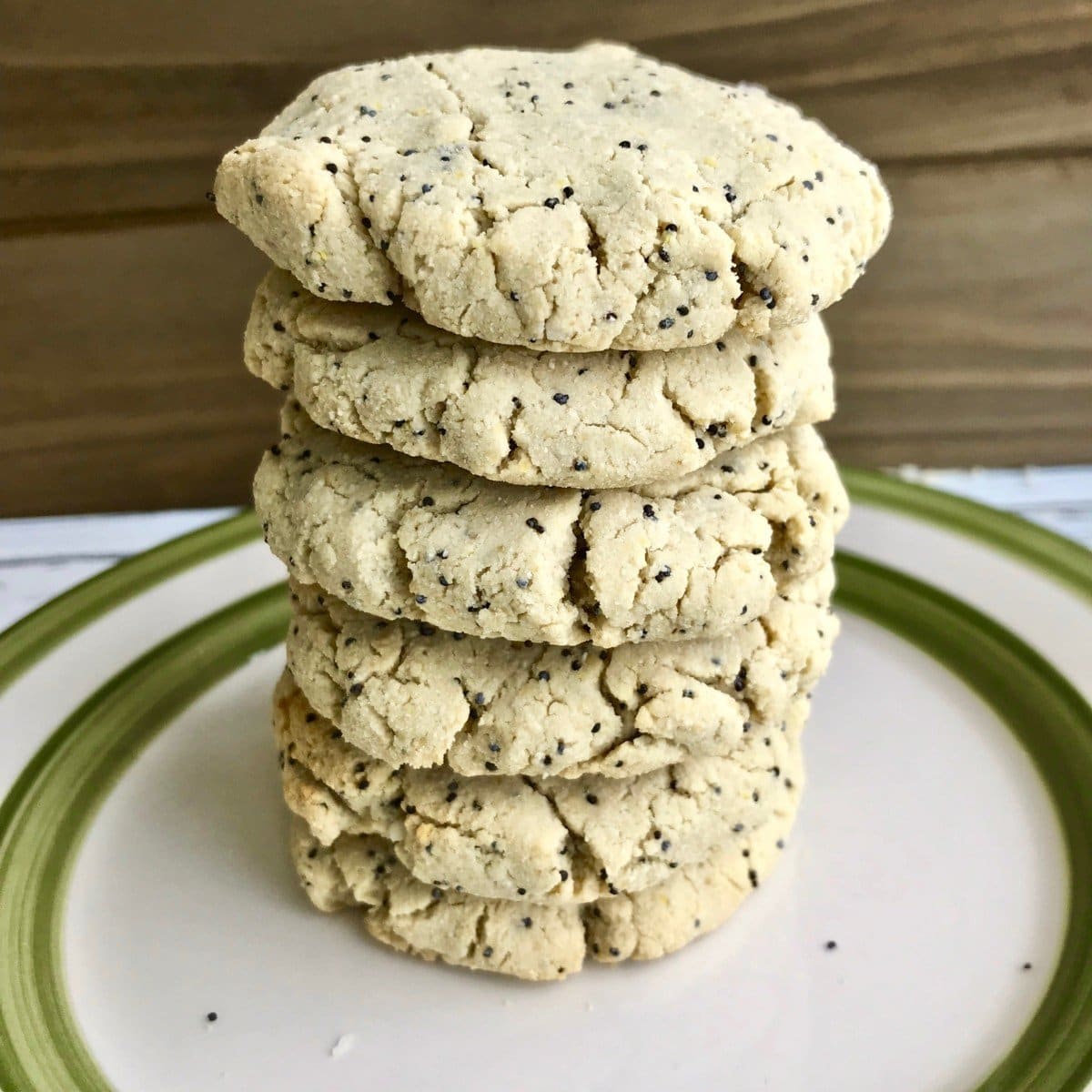 These lemon poppy seed cookies are:
Healthy
Soft
Vegan
Gluten-free
Sweet
Oil-free
Refined sugar-free
These lemon poppy seed cookies are easy to make and great for an on-the-go snack. Pack them for school or work to give yourself a healthy, tasty treat during the day.
If you want more healthy vegan cookies, check out this recipe for soft plant-based peanut butter cookies.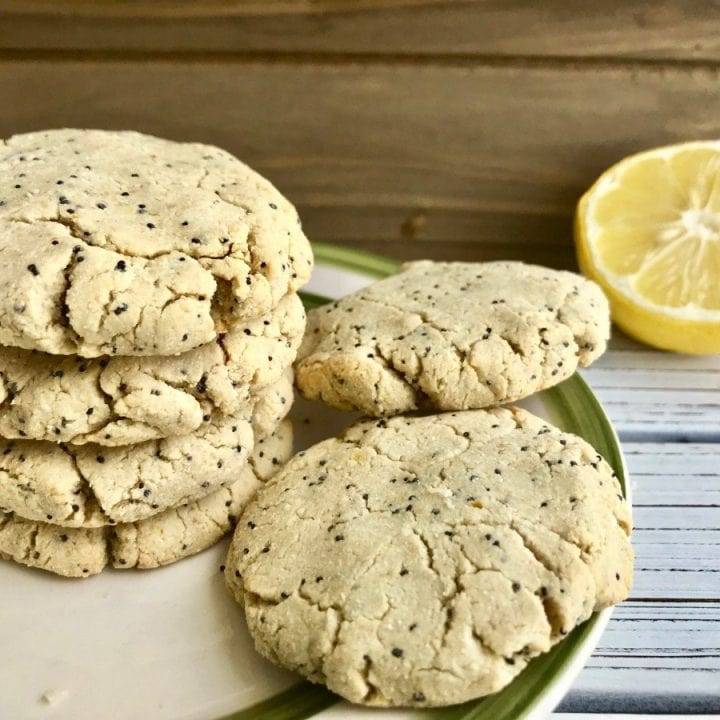 Print Recipe
Lemon Poppy Seed Cookies
These lemon poppy seed cookies are vegan, gluten-free, and oil-free. If you like lemon, you will love these cookies.






Ingredients
1

cup

oat flour

1

cup

coconut flour

½

cup

tapioca flour

½

teaspoon

baking soda

1

teaspoon

vanilla extract

4

teaspoon

lemon juice

4

teaspoon

lemon zest

½

cup

coconut butter

6

tablespoon

maple syrup

½

cup

almond milk

4

tablespoon

applesauce

4

teaspoon

poppy seeds
Instructions
Preheat your oven to 350°F.

Mix all ingredients in the order listed.

Form balls using approximately 2 tablespoon of dough.

Flatten the balls of dough onto a baking sheet lined with parchment paper.

Bake in the oven for 13-15 minutes, until the edges begin to get golden.
Notes
Makes approximately 16 cookies.
Store in an airtight container at room temperature or in the fridge.
Nutrition
Calories:
131.66
kcal
|
Carbohydrates:
19.43
g
|
Protein:
2.66
g
|
Fat:
4.66
g
|
Saturated Fat:
2.01
g
|
Sodium:
64.18
mg
|
Potassium:
52.87
mg
|
Fiber:
4.17
g
|
Sugar:
5.84
g
|
Vitamin C:
1.22
mg
|
Calcium:
34.69
mg
|
Iron:
0.75
mg