This post contains affiliate links for which I may earn a commission (at no extra cost to you) should you make a purchase. As an Amazon Associate I earn from qualifying purchases. Please see my disclaimer for more information.
Did you know that a lot of towels are not vegan? It seems like most would be, but unfortunately a lot of towels are made with dyes that aren't vegan or materials that aren't vegan.
I have only found one towel company that is certified by Vegan Action, and that company is Delilah Home. Vegan Action is a well-know vegan certification around the world, so I trust that they wouldn't certify anything that isn't truly vegan!
Delilah Home sells a variety of towels and bed sheets, all of which are certified vegan! If you want the comfort of knowing that no animals were harmed in the making of your towels, you need Delilah Home towels!
All of Delilah Home's products have the following certifications:
Global Organic Textile Standard (GOTS)
OneCert
Organic Trade Association
Green America
Textile Exchange
Vegan Action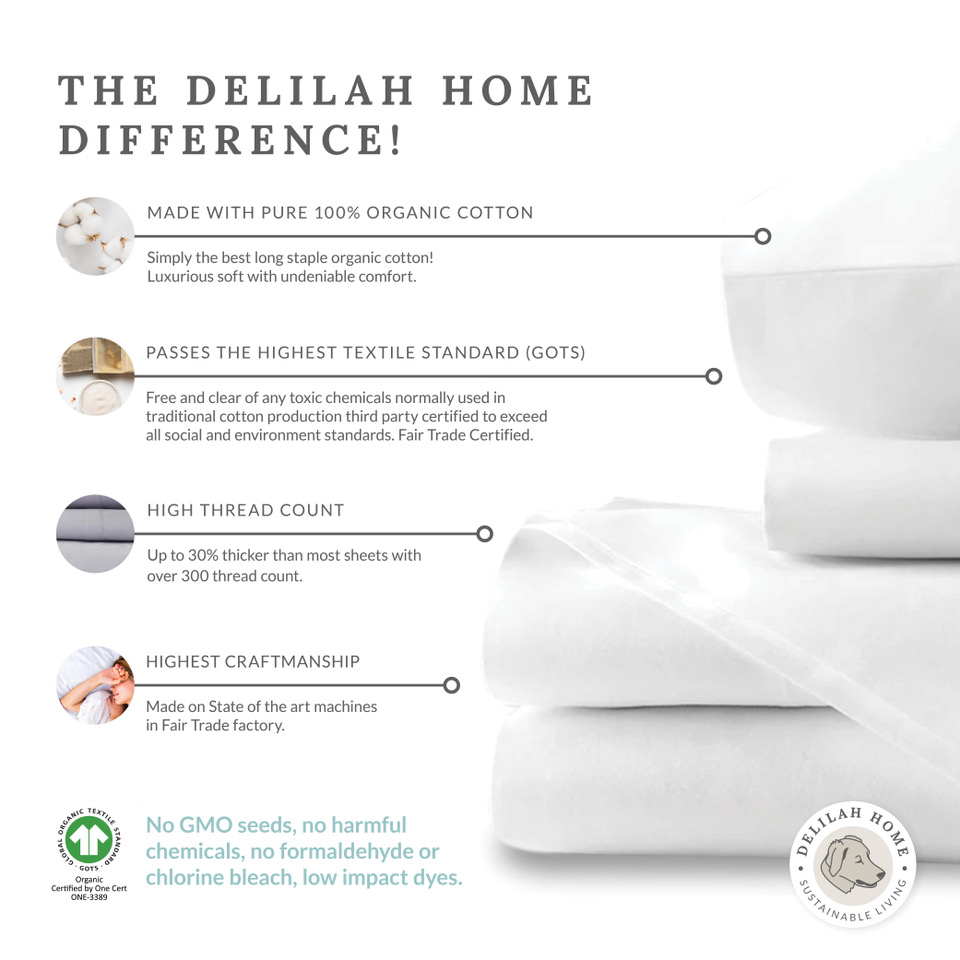 Organic cotton towels
Delilah Home uses organically grown cotton to make their towels, which is not only better for your body and the environment, but also for the people farming it.
How does organic cotton farming protect the environment? No toxic chemicals are used, which means they aren't seeping into the ground, water, air, and food supply.
Unfortunately, this is what happens during the production of conventionally grown cotton that is not organic.
Toxic chemicals and pesticides that are often used in cotton production can be very harmful to the people farming it and can cause them serious health issues. This is not an issue with organically grown cotton.
The materials used in Delilah Home's products do not contain allergenic, carcinogenic, or toxic chemicals that are often found in cotton towels.
Vegan bath towels
All of Delilah Home's towels are made with 100% organic cotton that is soft and plush! These towels are super absorbent and thicker than most towels.

Delilah Home 100% Organic Cotton Towels, 6 piece set (2pcs 13x13, 2pcs 16x30, 2 pcs 30x54)
Delilah Home's line of bath towels includes the following sizes:
Bath towels (30" x 54")
Extra large bath sheets (36" x 72")
Face towels (13" x 13")
Hand towels (16" x 30")

They come in the following colors:
White
Ivory
Natural
Mineral Green
Light Gray

Delilah Home 100% Organic Cotton Towels, 30-Inch by 54-Inch, (2 pack) - $59.99
from:
Delilah Home LLC
Vegan beach and pool towels
Delilah Home also makes beach and pool towels that are made from 100% organic cotton.
Their Sunset Beach Towels are 36 inch by 70 inch.
These beach towels come striped with white and the following colors:
Their Kiawah Beach Towels are slightly larger at 40 inch by 70 inch. They come in a pattern that can be selected in white and mineral green or white and blue.
Vegan kitchen towels
If you want some certified vegan kitchen towels, Delilah Home has those too! And like all of their other towels, they are made with 100% organic cotton.
These kitchen towels come in a checkered pattern in the following colors:
White and beige
White and sea blue
White and tan
White and blue
These kitchen towels measure 20" by 28" and come in a pack of four.
More vegan products
If you're vegan or just trying to incorporate more vegan products into your life, you may be interested in these posts: